Event Staging & Performance Bandstands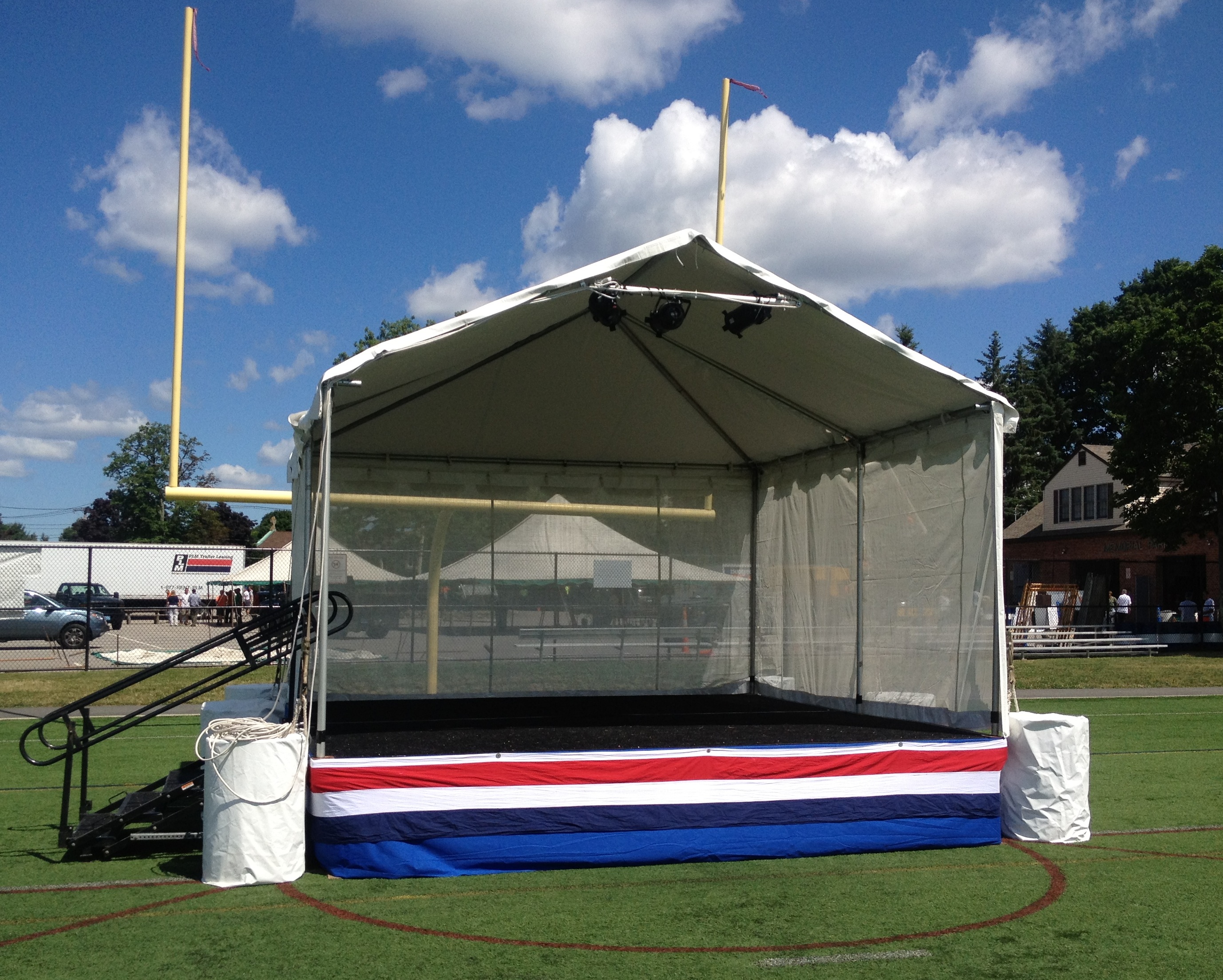 Atent for Rent has a wide range of inventory available to create the perfect custom stage tailored specifically to your event! We install everything from small bandstands for casual 4th of July celebrations to custom staging that remains in use all summer long. There are so many tents in our inventory the possibilities are endless.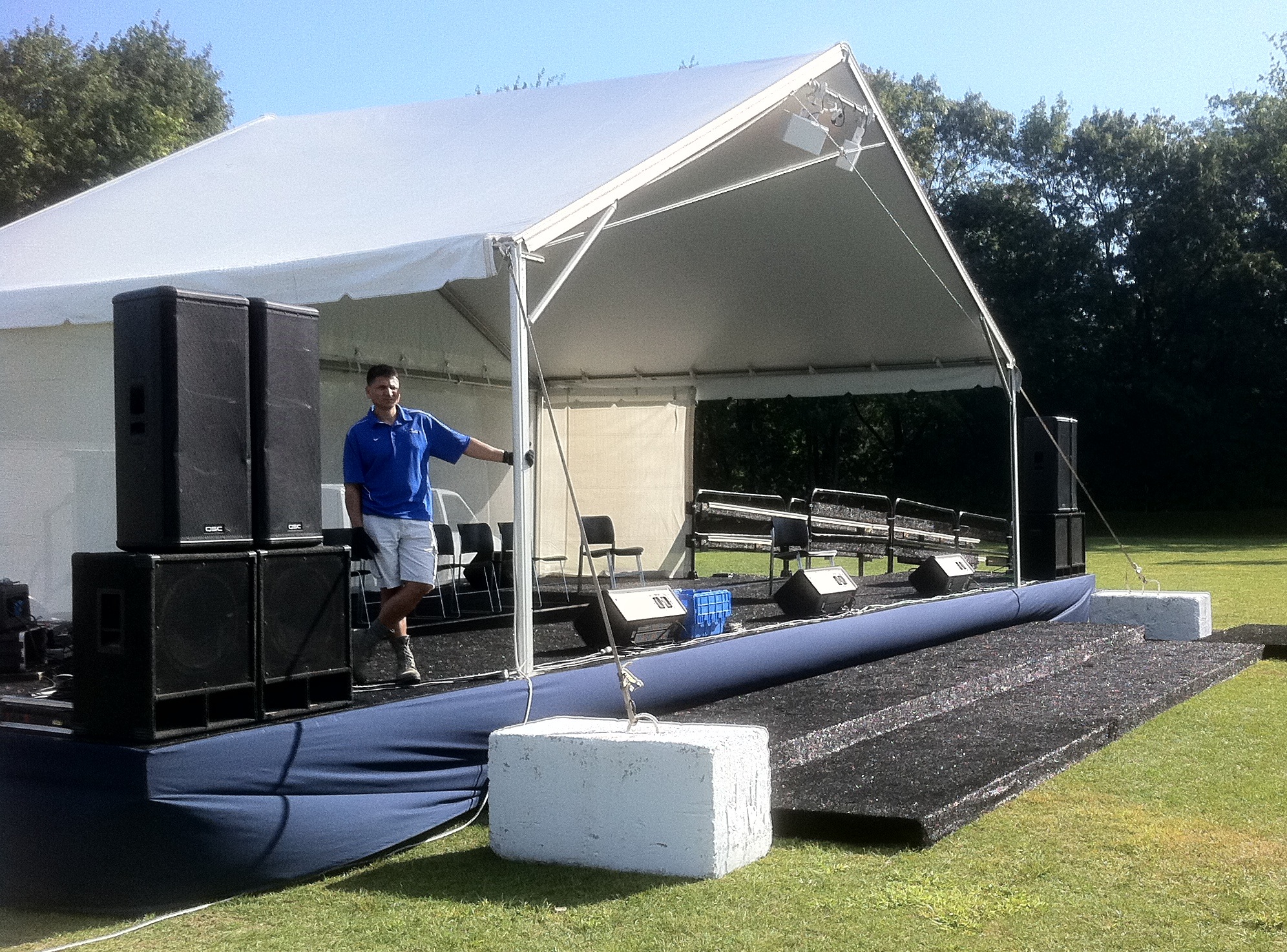 There are two main styles of tents that we commonly use to create these sheltered performance platforms. A hip end tent that slopes down on the end and a gable end tent that has flat end. The flat end is great for installing against houses and building and also to gain more overall cubic footage or "headspace" under the tent. We use both styles to create some of the custom bandstands by simply installing only one end on the tent and leaving the front side open for your viewing pleasure!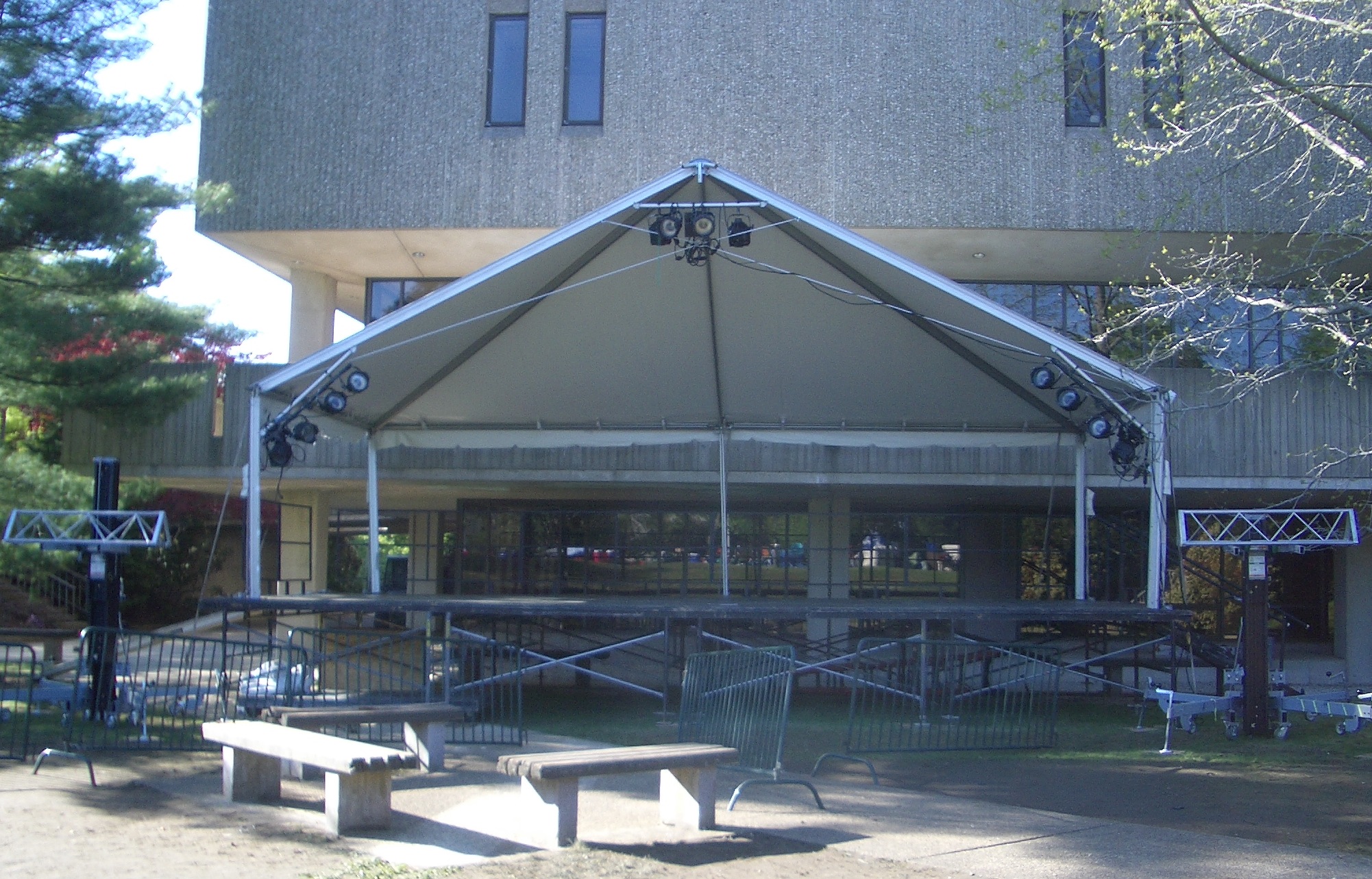 We can use concrete weights or water barrels to secure the tent when staking is not permitted, enabling us to install on most surfaces. There are several accessories that we offer such as sidewalls, lighting, sound systems, turf, skirting, railings, stairs, ramps and even a new electric lift.
Our engineer on staff, Jimmy focuses largely on permitting our events. The codes and restrictions vary from city to town, are ever changing and enforced uniquely across the board. The staging systems we install meet and often exceed the codes necessary to satisfy the requirements to ensure a safe event for your performers and your guests.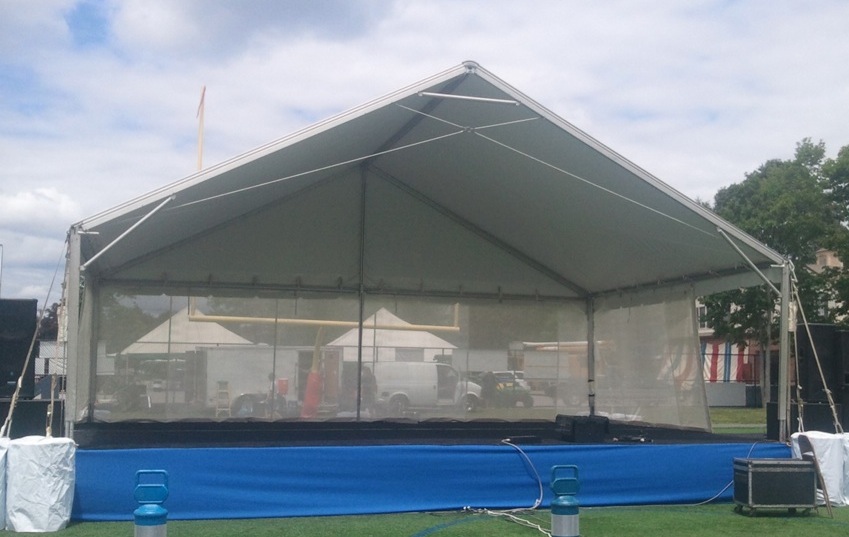 We have the capabilities to create custom and site specific CAD drawings when necessary. Depending on the scale of the event, it is often the case that inspectors will require these drawings to approve the necessary permits. Jimmy is very patient and knows how to handle the inspectors as well as work with the clients to ensure everyone is happy!
Stages are used for so many applications, including commencements, weddings, bar/bat mitzvahs, awards ceremonies, open houses, lectures, speeches, parades, political events, fundraisers, and of course for performances!
Good Old Easter Memories & Fun New Traditions!
We all remember those creepy Easter bunnies hopping all over town this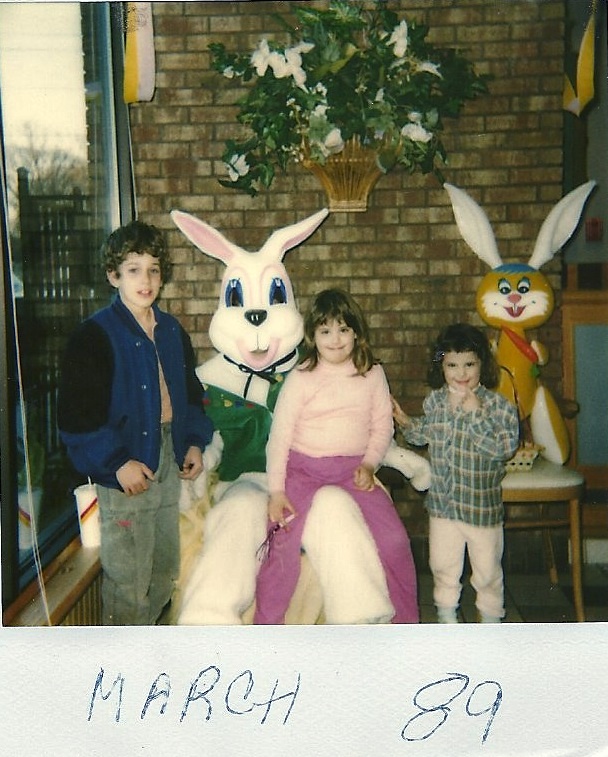 time of year. I really don't recall much from when I was 4 years old, but I absolutely remember this picture taken in the corner of Burger King. I don't remember what I ate or what toy I got with my meal, but I remember thinking two things very specifically:
1. I think I might be a little scared of the Easter bunny!! I'll just look evil and that freaky bunny thing will fear me instead!
2. I HATE this plaid sweater my mom always makes me wear that she no doubt picked up for me on family Wednesdays at the Salvation Army! (more…)
"Quigs" & The James Quigley Fund: An Inspirational Story!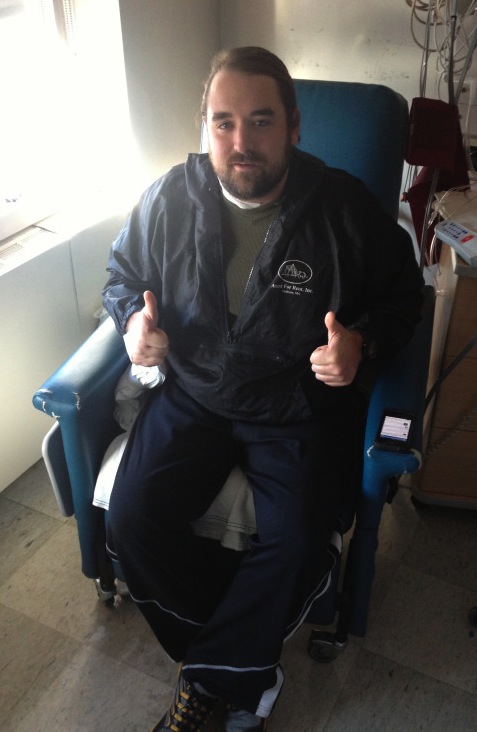 Jimmy has been with Atent for Rent since 2004. We have seen him grow into the respectable burly man he is today! He is our Permit Expert and In-house Engineer, a valued worker, and a great friend! But more than anything else he is an inspiration to so many of us.
Jimmy, or as I like to call him "Quigs" or "Quigley", embarked on a very unique, difficult journey in August 2011. Doctors unexpectedly discovered a softball size tumor on his adrenal gland, that had spread to his kidney and spots on his lungs. Jimmy was diagnosed with Malignant Pheochromocytoma. It had to be scary for him and a lot to handle and manage at his young age. But he has persevered and kept his head held high, with his luscious golden hair growing out to donate to Locks of Love.
All of Jimmy's family and friends know just how lucky we are to have him in our lives. His
 good spirit and strong will encourage us every day. His girlfriend, Kathryn Aldrich started a website The James Quigley Fund, that documents his journey and helps raise awareness about Pheochromocytoma. She has been an immense support to Jimmy. One of his best friends and former Atent for Rent extraordinar, "Huff" started a group to support Jimmy as well, Track the Huff.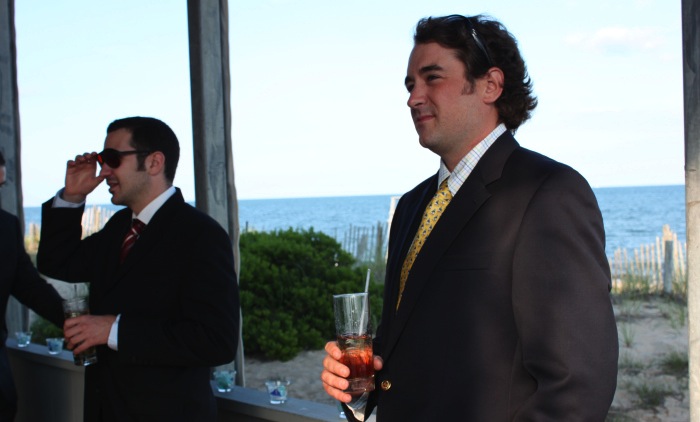 Despite all of the tests, treatments, surgeries, scans, medications and medical bills, Quigs is always in good spirits, joking, laughing, of course doing by far the best impersonnations I have ever heard! I have the privilege to work with Jimmy every day and his infectious personality has truly inspired me. We all have a lot on our plates as life is generally complicated these days. When I need to vent about my family or work, he is ready to listen. I know I am not alone here. So many people have expressed their love and respect for Jimmy over these past years.
Last night at work, I was nonchalantly tossing out an idea that perhaps Atent for Rent could host a Fundraising event to help bring people together to support Jimmy. The idea was well perceived by the owner and the few people left in the office. Not a minute later, Kevin from Boston's Baddest Burger walked in the door to rent some equipment and asked if Jim still worked here. Of course, I burst out about how ironic that was to the gentlemen. He handed me his business card and said he would absolutely be a part of anything that was to support Jimmy. It just reminded me how many people Jimmy has impacted, and how important it is to me to support him on this journey! Please go to thejamesquigleyfund.org to learn more about Jimmy and Pheochromocytoma and click here to donate.
Thank you!
Atent for Rent Hosts ARAM Meeting
Last week Atent for Rent transformed its warehouse into an event space as they opened their doors to several vendors and leaders in the industry, hosting a dinner conference for the American Rental Association of Massachusetts. The featured speaker of the night was the Massachusetts State Police Truck Team.
Under a Magnificent Canopy
A Canopy style tent is sure to add comfort and ambiance to your outdoor functions, transforming a patch of grass into a backyard party experience! When planning an event in a backyard a canopy tent allows you some relief from the sun or rain without sacrificing the beauty of your surroundings. They are aesthetically pleasing, making them perfect for social events like company outings, showers, birthdays and graduation parties.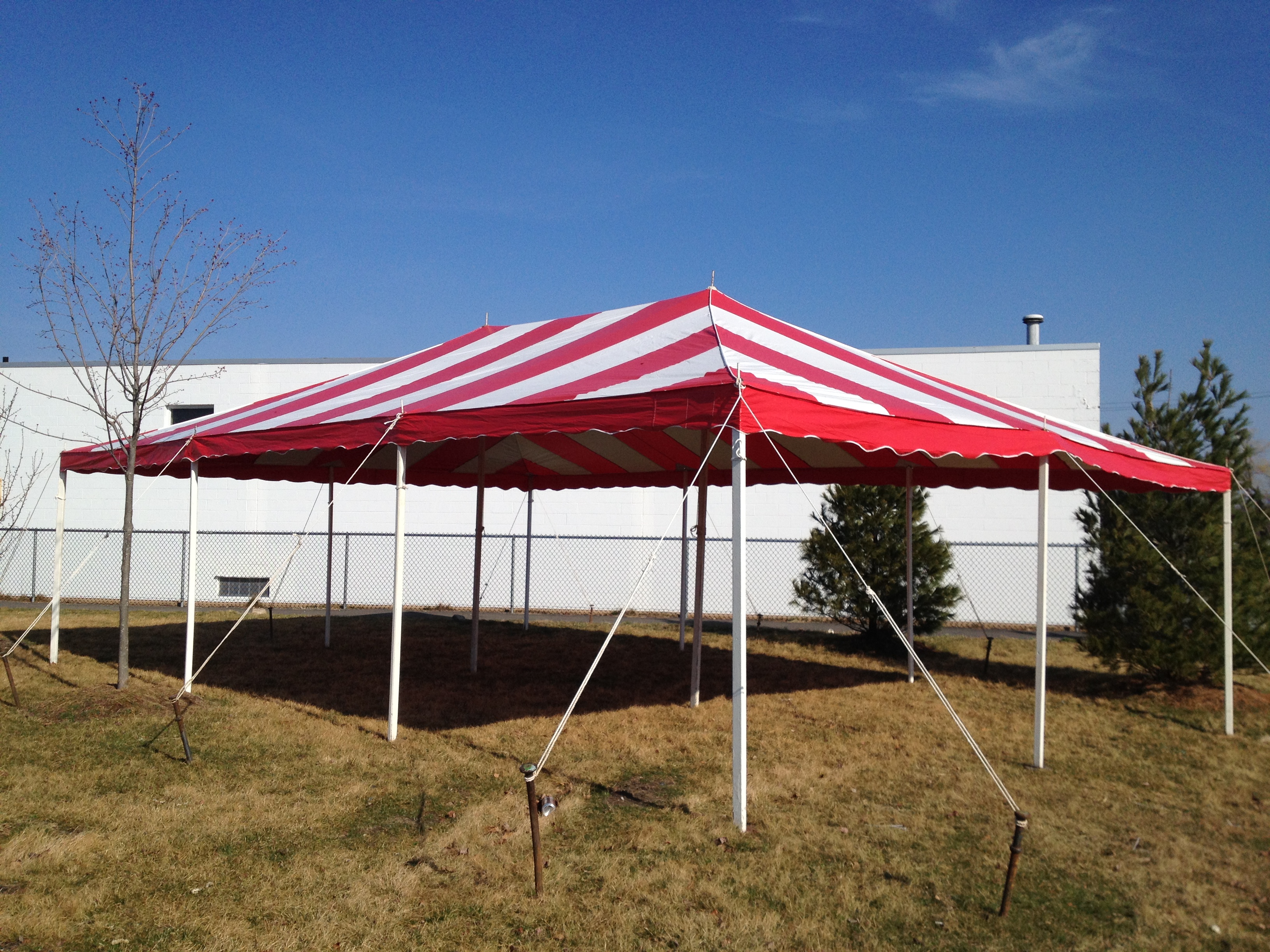 The Canopy tents are small center pole tents that are supported by a system of poles and guy ropes. They require 10 feet larger than their actual dimensions and need to be staked. The lack of a sidewall makes the canopy perfect for warm weather. The Canopy also allows for a less expensive alternative to some of the more complex tents that allow sides. The simplicity of this tent also enables us to allow our customers to install and remove on their own to save even more money!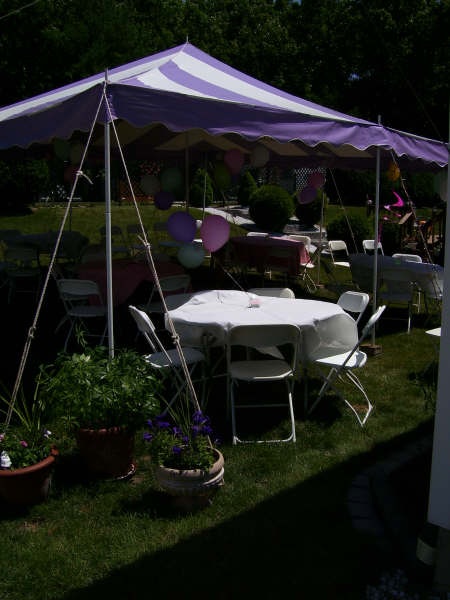 You can pick the tent up a few days prior to your event and return it to us a few days after. This gives you time to decorate the tent and get ready for the party ahead of time and leaves you in no rush to break it down afterwards. You should be enjoying the party as well! The poles on the canopy tents conveniently breakdown to fit in any sized car. (Well maybe not a Smart car)
So, whether you are having a BBQ, school function, yard sale, open house or just want to throw a good party, our canopy tents could be just what your looking for.  Email us to rent a canopy tent for your next party or event at your home or at your business, whatever your needs, let us help you set the scene.
Check out this instructional video of how to install the canopy, should you decide to save some bucks and do it yourself!   Click here to view video