We all remember those creepy Easter bunnies hopping all over town this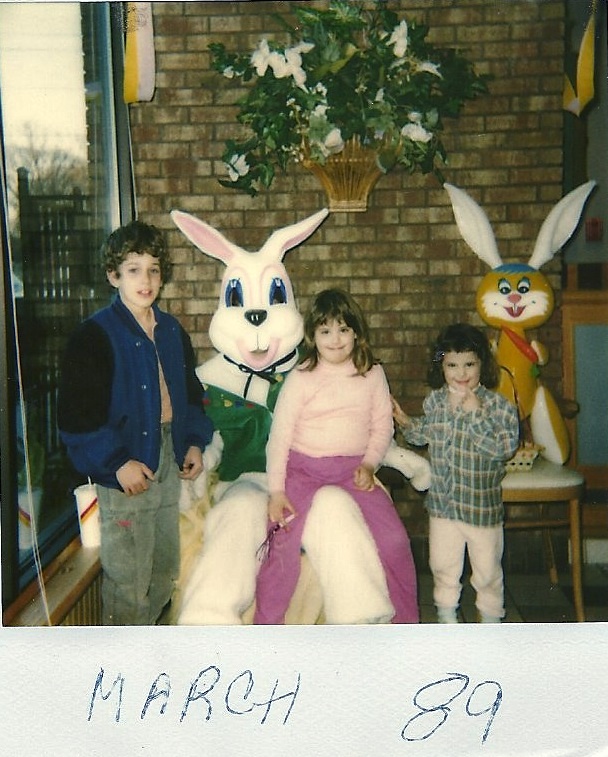 time of year. I really don't recall much from when I was 4 years old, but I absolutely remember this picture taken in the corner of Burger King. I don't remember what I ate or what toy I got with my meal, but I remember thinking two things very specifically:
1. I think I might be a little scared of the Easter bunny!! I'll just look evil and that freaky bunny thing will fear me instead!
2. I HATE this plaid sweater my mom always makes me wear that she no doubt picked up for me on family Wednesdays at the Salvation Army!
That life altering picture with THE Easter bunny aside, there were many other traditions that included easter egg hunts, grand dinners, going to church and baskets full of mediocre candy like peeps and jelly beans.  I also remember despising those floral pastel dress mom picked out for me. I guess it never really was my favorite holiday, and my sister ALWAYS scavenged up more candy than me. (We made sure to count every piece to be sure)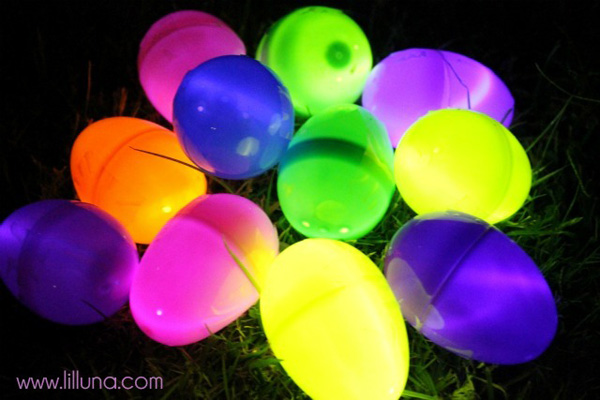 This year I thought I might spice Easter up a bit. I did a little research of my own to try to pass on some unique, fun, exciting Easter Traditions… I thought I would share! I found this cool idea for a night time egg hunt on Lil' Luna's Blog. This would certainly make it a little more challenging and would be fun both indoors or outdoors!
My sister mentioned this one to me and I loved it, I saw it last year from a great blogger full of
super crafty ideas, JustLiveLifeHappy.com. Have the kids plant magic jelly beans into the ground a few days before, water daily, and on Easter morning they will grow into Lollipops! I suppose we just hope for no rain (or snow here is NE!!!) Easter morning, or of course you could always rent a tent! You just might need the extra space if your hosting Easter this year.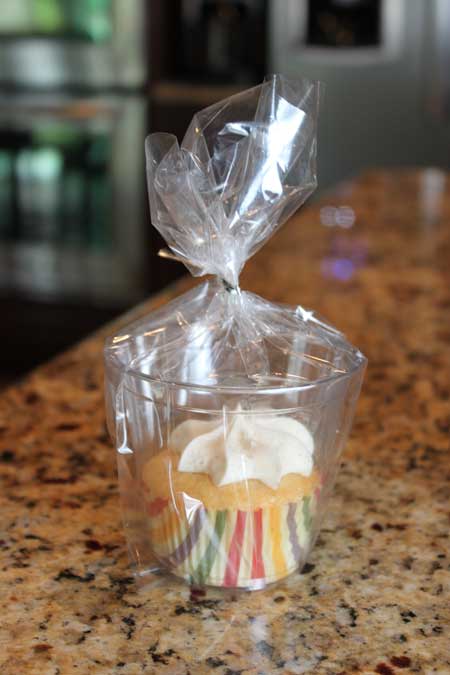 If you love making cupcakes (that are not too complicated) I recommend this very inexpensive book for a steal of 1.99 you can own it! (100 Best Cupcake Recipes) It contains an amazing recipe for Carrot Cake Cupcakes with cream cheese/sugar filling, maple syrup cream cheese frosting garnished with a orange peel shaving! So yummy!! I plan to make them for my co-workers and wrap inside a clear cup with some festive ribbon! (A great idea I saw on in Pinterest, originally from CookieMadness.net)
Thanks for reading, Happy Easter! I hope everyone enjoys their encounters with the Easter Bunny this year! Check out this link and this one too for some super sketch-tastic Easter bunny classics!