Last week Atent for Rent transformed its warehouse into an event space as they opened their doors to several vendors and leaders in the industry, hosting a dinner conference for the American Rental Association of Massachusetts. The featured speaker of the night was the Massachusetts State Police Truck Team.
The meeting proved to be very informative and beneficial, perhaps even a little entertaining. The officer speaking had a sense of humor just enough to keep everyone alert until almost 10 o'clock that night! There is so much information one evening just scratches the surface, and even they have a tough time keeping up with and understanding all the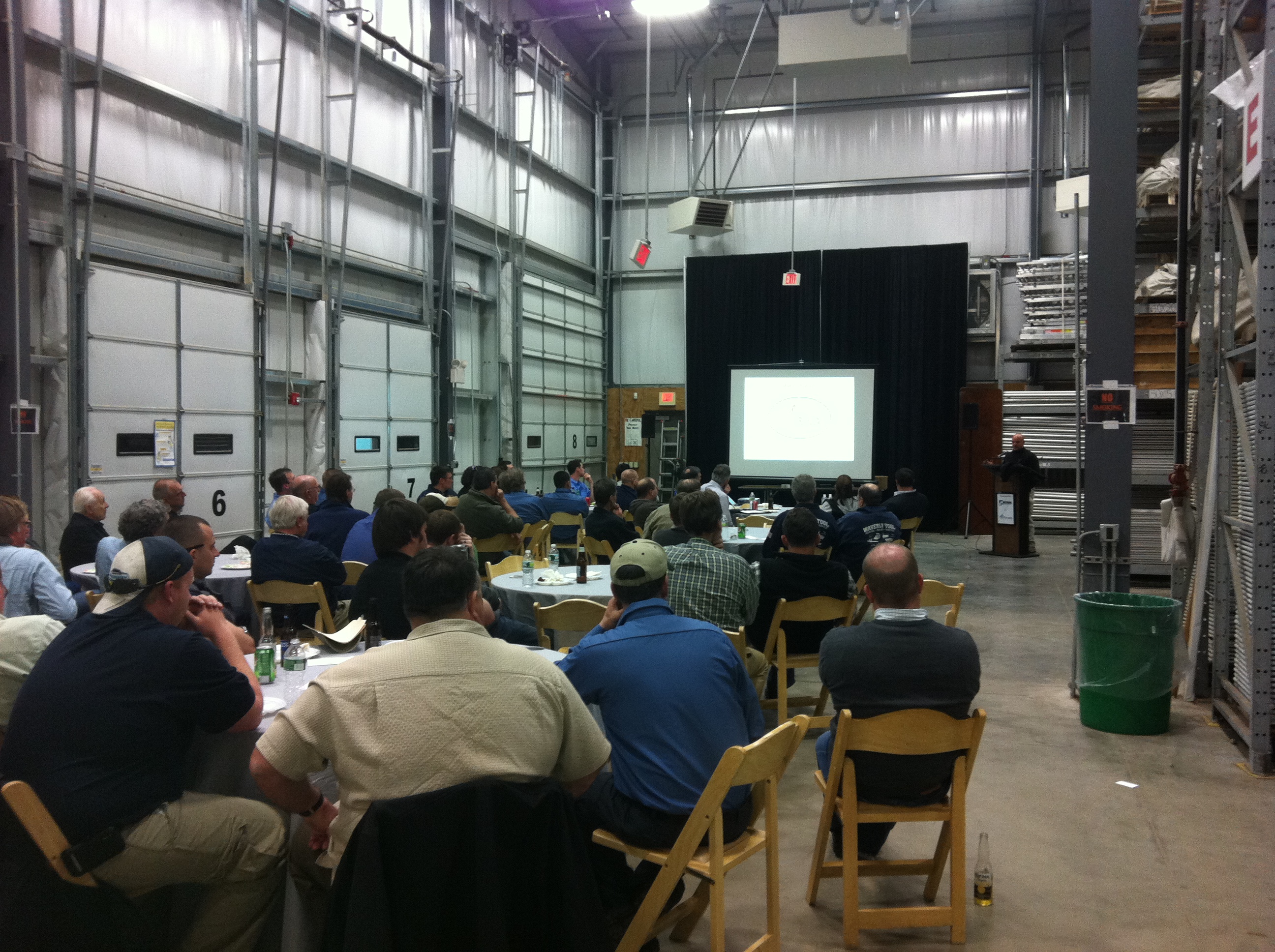 requirements. Many of the attendees being local rental companies in the event industry, we are not always the first to learn about the ever changing and often misinterpreted laws regarding commercial vehicles/licenses. The more we expand our businesses, the greater
our needs for larger, more effective vehicles becomes.
Unfortunately this also means we have more hoops to jump through to keep our fleets in compliance with regulations such as annual and random inspections, IFTA, DOT, IRP insurance requirements, proper licensing, medical cards, & safety requirements such as fire extinguishers, first aid kits, maintenance and driving logs. It becomes a lot to manage and keep on top of, especially since much of our business here in New England is seasonal. Once we all kick into survival mode during the busy season, it becomes increasingly difficult to monitor all of the drivers responsibilities to keep up with the daily circle checks, record keeping and maintenance (no matter how minor, every light, horn, and safety item must be in order).
We often lean on our insurance agents, the internet or the dreaded RMV to guide us and educate us, so this opportunity to ask questions and get feedback was really great! I think we can all agree that being shuffled into the Registry and navigating different sources and language on the web usually leaves us more confused and with more questions. We learned a lot and also learned we have a lot to learn!
We want to thank everyone for a great turnout and for allowing us to be a part of the event. We also would like to thank Anchor Industries and Tentwares for sponsoring the event and of course, thank you to the American Rental Association of MA and the Massachusetts
State Police Truck Team. We appreciate what you do for us and we will do our best to keep up with the requirements, licenses, etc., perform our circle checks daily, and keep everyone safe on the roads!