Rent a Tent For Any Event: Weddings, School, Corporate!
The beautiful, fall weather makes it the perfect time for outdoor festivities. How can you turn your backyard into your dream location for your party? When you rent a tent, there are many different ways that you can customize it to your personal style and needs.
Do you have an upcoming wedding? School function? Corporate event?
Here are some suggestions to perfect your event with our multiple tent options:
Wedding
An outdoor wedding is the thing Pinterest boards are made of. Before you get started pinning pictures of flowers and tablecloths, don't forget about the tent essentials.
Create the perfect setting for your outdoor wedding.
For an outdoor wedding, you need a space where guests can mingle and you can dance the night away. Let the Victorian tent be this backdrop for your beautiful, summer wedding. With its tall, white peaks and exaggerated pitch, this suspension tent has high, spacious ceilings that will bring elegance and grandeur to your event.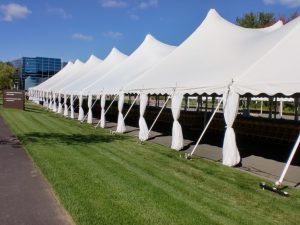 If you want to truly make the outdoor scenery a part of your wedding, try the clear frame tent instead.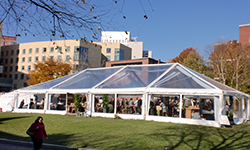 With transparent walls and ceiling, this tent is perfect for giving your guests a subtle taste of the outdoors. Let the sun shine in during the day, or the stars twinkle at night. (Even better, with the clear frame tent, there's no chance that a little bit of rainfall will ruin your day!)
Turn your tent into your fairytale wedding.
What's the key to setting the mood and creating an ambience of warmth and sophistication? Good lighting.
For a truly beautiful sparkle, nothing is more timeless and elegant than a delicate chandelier. But when hung up in a tent outside, this traditional lamp fixture becomes a delightfully whimsical feature that is as eye-catching as it is brightening. But if you're looking for lighting that's a little more refined, but just as elegant, consider bistro lighting. Strung throughout the ceiling of your tent, these tiny bulbs will gently illuminate the tables and delight your guests!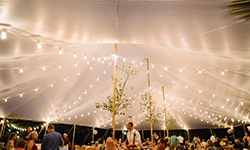 When you want to give your dancing feet a rest, give yourself a space to sit that's just as fun as the dancefloor. And what's more fitting for a wedding than a romantic sweetheart table? Include this special table among your wedding décor and you and your partner will have the best seat in the house all night long.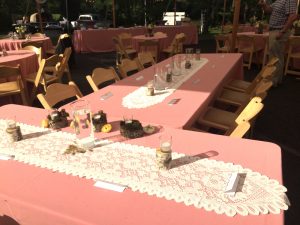 And don't forget about seating for your guests! To give them a space that is as comfortable as it is stylish, consider our selection of wooden garden chairs. Available in black, white, or a natural finish, these wooden chairs will add a rustic elegance to your affair.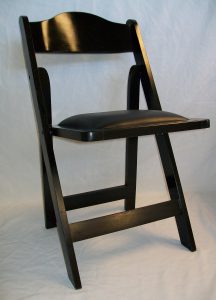 Or maybe you're looking for something a little more pristine? Take a more traditional approach to your wedding décor with our ballroom chairs, available in white, silver, fruitwood or gold.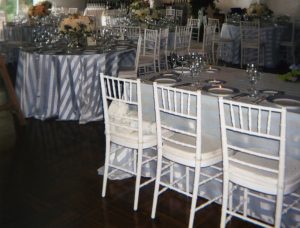 School function
The next time you need to host a graduation event, team dinner or any other school function, rent a tent to transform your backyard into the coolest party scene. With the right touch, you can turn your backyard into a party scene that will please both the staff, students and the parents.
Make your backyard the sweetest hang-out spot in town.
For a school function that won't make kids groan with boredom, the canopy tent is the top choice. The vibrant, striped pattern or white is a stand-out point piece – one the kids are sure to love.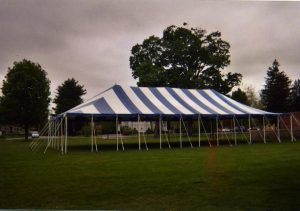 Looking for another style tent that's just as fun, but also a little more sophisticated? Take a look at the sailcloth tent. With its high peaks adorned with small flags, this tent looks like you brought the circus to your very own backyard.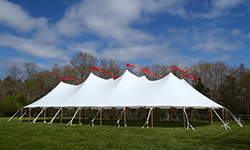 Accessorize Your Tent!
Now that you've set the stage for your school function, it's time to turn up the volume with a few, fun accessories.
Looking to impress the young crowd? LED lighting is a great way to keep the tent lit and bring a bit of color onto the scene. Our LED lights fasten onto the tents' poles so that you can bring bright color to the whole party.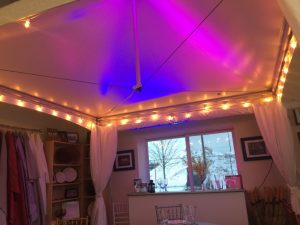 If you want lighting that brings together mature sophistication and child-like fun, why not give paper lanterns a try? After all, there's a reason you'll see paper lanterns all over Pinterest party boards: they're one of the best options for lighting that's both whimsical and refined.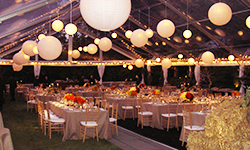 To add some life to your tent expertly for a school function, there's one very important element you don't want to miss: music. Use one of our DJ tables to play the right tunes and keep the guests having fun!
When there's a lot of kids at the party, you want to keep the seating arrangement simple. Use our round or rectangular tables (or a mix of both) to give your guests somewhere to sit that won't get in the way of the dance floor!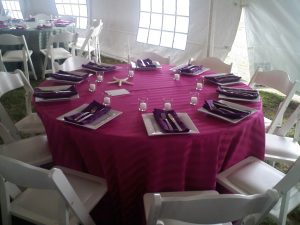 Finally, if you're hosting a school function for children, don't forget to accommodate the extra small ones. Use some of our special children's chairs to make sure that every guest has a seat at the party.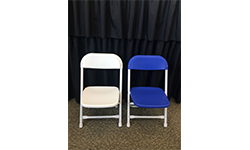 Corporate Event
Was your last work party unbearably boring? Don't make the same mistake again. Instead, rent a tent to host an outdoor party that will put a smile on your colleagues' faces. Also try our extra large Jenga game or Cornhole.
Think about your audience.
When renting a tent, make sure that the frame suits the audience. For example, the colorful canopy tent? While its whimsicality is great for a kids' party, it may not the best choice for an elegant corporate event.
Instead, when selecting a tent for corporate event, the standard frame tent is the way to go. The classic, white style leaves you plenty of room to get creative with decorations, or you can stick to a simple, clean aesthetic.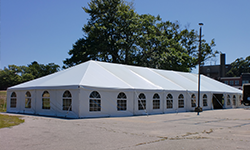 Keep it classy and professional.
Colorful, LED lighting may not be the best pick for a professional atmosphere. Instead, to brighten up your corporate event, trying using string lights. These strands of tiny bulbs are a classic: polished, timeless, but with enough power to light up a room!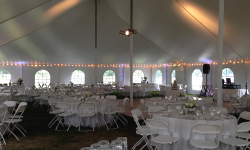 Want to double up on lighting? For the standard frame tent, par lights are another perfect match. Mounted on the tents' poles and ceiling, these lights will softly illuminate the party from above while staying up and out of the way!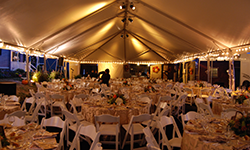 At a corporate event, there's one mood you do not want to recreate: the mood of the office! Instead of tables with a rigid seating chart, use a beverage station and food service to let your guests mingle and enjoy the party space.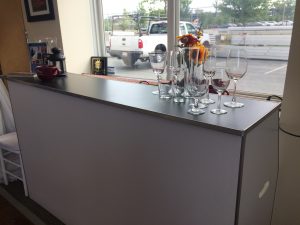 Moreover, to prevent your corporate event from looking too much like a wedding, here's a tip: steer clear of the ballroom chairs. Instead, try a mix of barstools to give your event a vibe that's a little less garden-party and a little more cosmopolitan.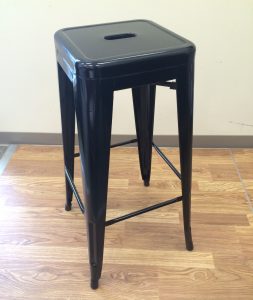 How can you transform your backyard into a space fit for a wedding, a school function, or a corporate event?
Rent a tent from A Tent For Rent and get creative with your setup!
Use our Event Builder to find the perfect tent, lighting, and furnishings for your event.
Visit A Tent For Rent to get started.
How to Keep Your Tent Cool During the Summer
The beautiful weather in July is perfect for an outdoor party. But, sometimes, it can also be just a little too hot to handle! Don't let the heat ruin your party. When the thermometer starts getting high, use these tips to keep your tent cool and comfortable.
Here's how to keep your tent cool during the summer:
Select a cooling device.
To keep the inside of your tent cool (and to keep you and your guests from sweating!), use a cooling device. Check out some options:
Cool boxes
Cool boxes are large, stand-up boxes that you can put in the corner of your tent to keep the whole atmosphere cool.
What makes this different than a traditional fan?
The tank evaporates water and makes your tent like an ocean breeze: the air above remains a bit cooler, since the water is evaporating and cooling it down. Though cool boxes do not help against humidity, they oscillate and create a very generous breeze of air that is 10 degrees cooler than room temperature. To see some of the cool boxes available at Atent For Rent, click here.
Fans
When it comes to fans, you have a few options. With smaller, hanging fans, you can position these on the tent's posts throughout the tent for distributed cooling. Or, you can use bigger, stand-up fans in the tent's corners for maximum, powerful air circulation. To see some of the fans available at Atent For Rent, click here.
A/C rentals
If you have an extra large tent that you want to keep exceptionally cool, consider an A/C rental.  A/C will pack a more powerful punch than most cool boxes and fans. With A/C rentals from Atent For Rent, we can pump air-conditioning directly into your tent, creating a perfectly cool environment so that you can enjoy your party, no matter the heat.  To see some of the A/C rentals available at Atent For Rent, click here.
Add an element of water to your party.
A cooling device will definitely get the job done, but if you want to keep your tent cool and add a bit of flair to your party, consider adding an element of water. (Particularly, if you're hosting an event with children, a little bit of water is great way to keep them cool and entertained.)
Sprinklers
If you're putting up a tent in your backyard, try positioning a few sprinklers around the tent. The misting water will not only help to keep everyone cool, but it will also give the kids a chance to run around outside and play and burn off some energy (so that the adults can finally have a moment to relax!). Just remember, don't put the sprinklers too close to the tent, or suddenly all of the guests will get splashed!
Water inflatables
Another great way to keep cool during an outdoor, summer event is with water inflatables. Use these in conjunction with your tent to complete the party experience. Find great water inflatables, like the Big Kahuna or the Double Splash from our friends at Busy Bee Jumpers. For a party with kids, a water inflatable will help to keep them cool and it will act as an extra party delight!
Pick the right tent to stay cool.
While adding cooling devices and elements of water will help to keep your tent cool on these hot, summer days, it is also important to pay attention to what kind of tent you are using to begin with. At Atent For Rent, we offer specific styles of tents that are designed to help keep you cool: the Canopy, Victorian, and Frame style tents. All of these tents employ blockout fabric. This special material does just what it claims: it "blocks out" the sun, thus, significantly reducing the amount of heat entering your tent. To browse all of the tents available at Atent for Rent, click here.
Are you cool enough?
July is the perfect time to rent a tent for an outdoor party. But you're also going to want to find ways to beat the heat on these hot, summer days. First, find the best tent for a summer, outdoor party. Then, to keep your tent cool, check out the available cooling devices at Atent For Rent. 
To reserve a tent and supplies for your upcoming party, contact us!
Turn Your Backyard Into a Party With a Tent Rental
The month of June is a big party season. There are graduation parties, weddings, and summer cookouts. Sick of searching for the perfect venue for your event? Rent a tent and you can host your next summer party right at home in your own backyard!
Here's how to turn your backyard into a party with a tent rental:
How can you decorate your backyard?
To turn your backyard into a great, summer party, it's not just about the tent, but also about the decorations. Pay attention to colors, textures, and layout to create the ideal landscape for your special event.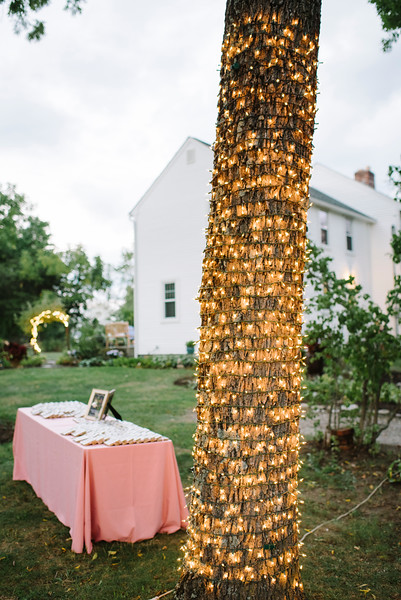 Lights
Lighting is the key for setting the mood for your party. Think about your options:
Christmas lights
First, think about your colors: do you want elegant, all-white lights or a fun strands of multi-colored bulbs?
Christmas lights are a great option for many different kinds of events because they are extremely versatile and inexpensive.
Try hanging these sparkling strands from the ceiling or along the walls. They also look great spiraled around tent poles or tree trunks. Or, you can even mix strands of Christmas lights among flowers in a table setting.

Paper lanterns
To make a bold statement with lighting, try using paper lanterns. They come in a variety of different shapes and colors, so you can have anything from soft, white globes to flashy, blue star-shapes.
To illuminate the tent, hang rows of paper lanterns from the ceiling. In lieu of candles, place a couple of paper lanterns on each table as a unique centerpiece. Or, create an enticing entrance to your rented tent by lining a pathway with paper lanterns.
Furnishings
When you rent a tent, you can transform your backyard into any kind of party you desire. It also ensures protections from the elements whether it be the sun or rain. One of the first things to consider is how you will furnish your tent.
Dance floor
If you plan to spend your party dancing the night away with your guests, then you'll need a proper dance floor.
At Atent for Rent, you can choose from two different kinds of dance floors, a traditional wooden parquet floor or a New England style plank floor.
Don't have a dance party without a proper place for you and your guests to show off your moves! Visit Atent for Rent to browse the available dance floors for your backyard party.
Tables and chairs
The tables and chairs that you choose will greatly affect the landscape and ambience of your party.
Do you want lots of small, intimate tables where guests can enjoy quieter conversations? Or do you want a long, communal table where everyone is seated together?
Next, when it comes to decorating your tables and chairs, remember that this your chance to really get creative! You can use traditional, white tablecloths and candles if you're seeking a classic, elegant style. Or, add color and texture with hundreds of linens to choose from neon colors to burlap runners from 80s parties to rustic weddings.
To find the tables and chairs that you need, visit Atent for Rent.
Which tent should you choose?
When planning your backyard party, the style of tent that you choose is extremely important. This will set the tone for your whole event. Here are some of your options: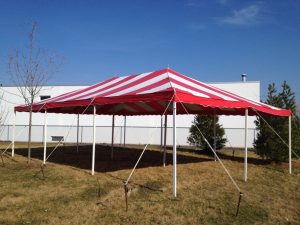 Canopy tent
The canopy tent is a tension tent support by center poles with guy lines along the perimeter. This type of tent is the most cost effective and it is available for customer pick up as well as installed by Atent for Rent.
Take a look at the types of canopy tents available at Atent for Rent here.
Sailcloth tent
The sailcloth tent is a pole tent with rounded edges and a transparent top. To make a bold statement for you backyard party, the sailcloth tent is an excellent choice. With its wooden poles and high peaks in the ceiling, it will be a striking figure in your backyard.
Learn more about the sailcloth tents at Atent for Rent here.
Victorian tent
Like the canopy tent, the Victorian tent is supported by a center pole with guy lines along the perimeter. But this style of tent offers a little something extra and is available in larger sizes.
The Victorian tent features tall, white peaks with an exaggerated pitch. Erected in your backyard, this style of tent will create a setting of elegance and grandeur for your party.
Click here to check out the victorian tents available at Atent for Rent.
Frame tent
The frame tent is the most versatile tent and is offered in a number of unique sizes to fit in just about any space imaginable. This tent has a frame inside that supports the tent eliminating the need for center poles and out guys.
The frame tent can also be secured with weights so it can be installed over patios, pavements, cement or brick. It is a great option when staking is not permitted or when the site is narrow or limited in size.
Click here to check out the frame tents available at Atent for Rent.
More tips for renting a tent:
Of course, decorating the tent for your backyard event is the most fun part of the party-planning process. But there are a few more things to think about along the way.
Save money
Planning a party can sometimes end up being an expensive undertaking. Fortunately, there are some easy ways for you to cut costs.
When it comes to renting a tent, save money by picking it up yourself! If you are close to your tent supplier and have room in your car to manage the load, this is a quick and easy way to avoid delivery fees and save a little extra money.  
Plan ahead
When planning a special event, there are a lot of little details that need to come together. One thing that you do not want to leave until the last minute is the tent.
Many people think that they can put off reserving their tent until only a month before the event. Unfortunately (especially in the month of June when it is the height of party season), tents will be booked up very quickly. To ensure that you have the tent you want for your special event, make a reservation at least four months in advance.
Do you have a special event coming up? Contact Atent for Rent to reserve your tent now.
The beautiful weather in June makes it the perfect time to plan a party.
Instead of spending time looking for a decent venue for your special event, rent a tent and host your party in your very own backyard! With a bit of creative, DIY decoration, you can turn your backyard into party central – and save money along the way.
Find the perfect tent to rent for your backyard party at Atent for Rent! Browse our different styles of tents and our available lighting, tables, chairs, and dance floors.
To reserve a tent for your upcoming event, click here.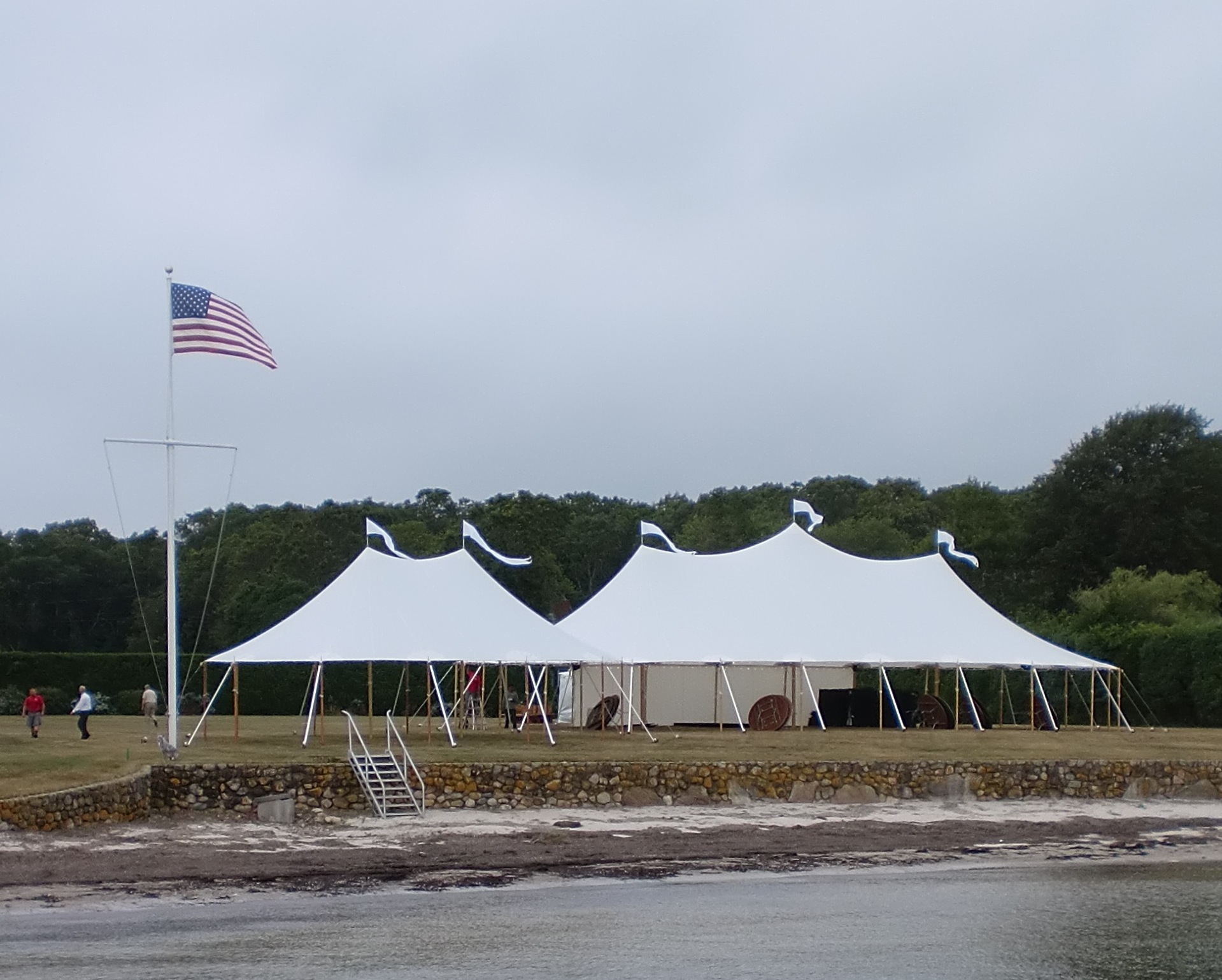 The Sailcloth tent is relatively new to the tenting industry. The concept was born about 30 years ago, but it only really set sail recently in the past few years gaining popularity across the country. The sailcloth tent design was created in Massachusetts, targeting clients in many sailing communities along the east coast, but has since boomed across the nation.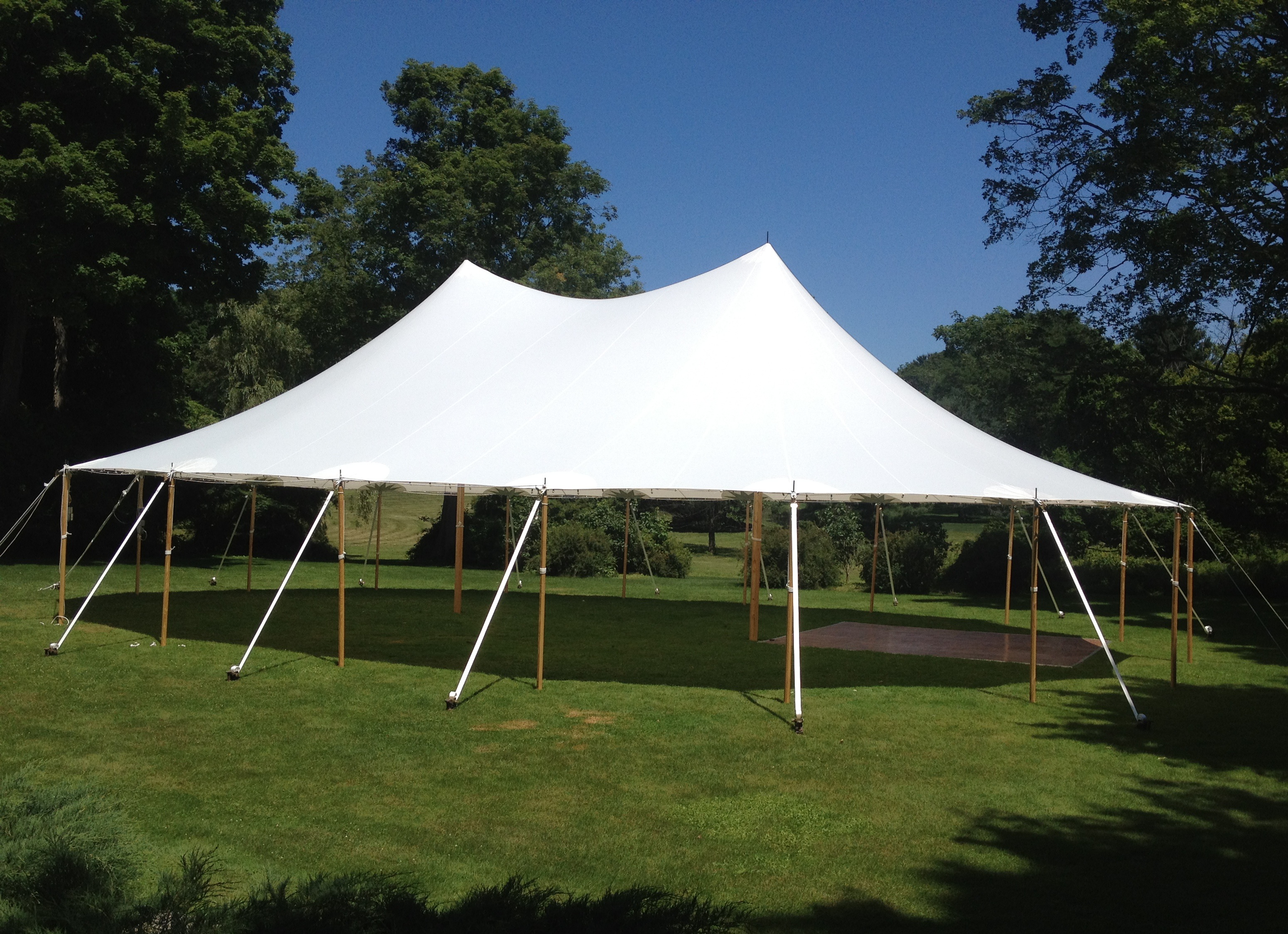 The sailcloth tent differs from the rest of the tents we carry in many ways. It is constructed of a sailcloth material as opposed to the tradition vinyl tent tops. The translucent fabric allows light to flow inside the tent during daytime events and beams an a amazing glow when lit up for evening events. The tent has a more natural feel with this fabric top and wooden side and center poles.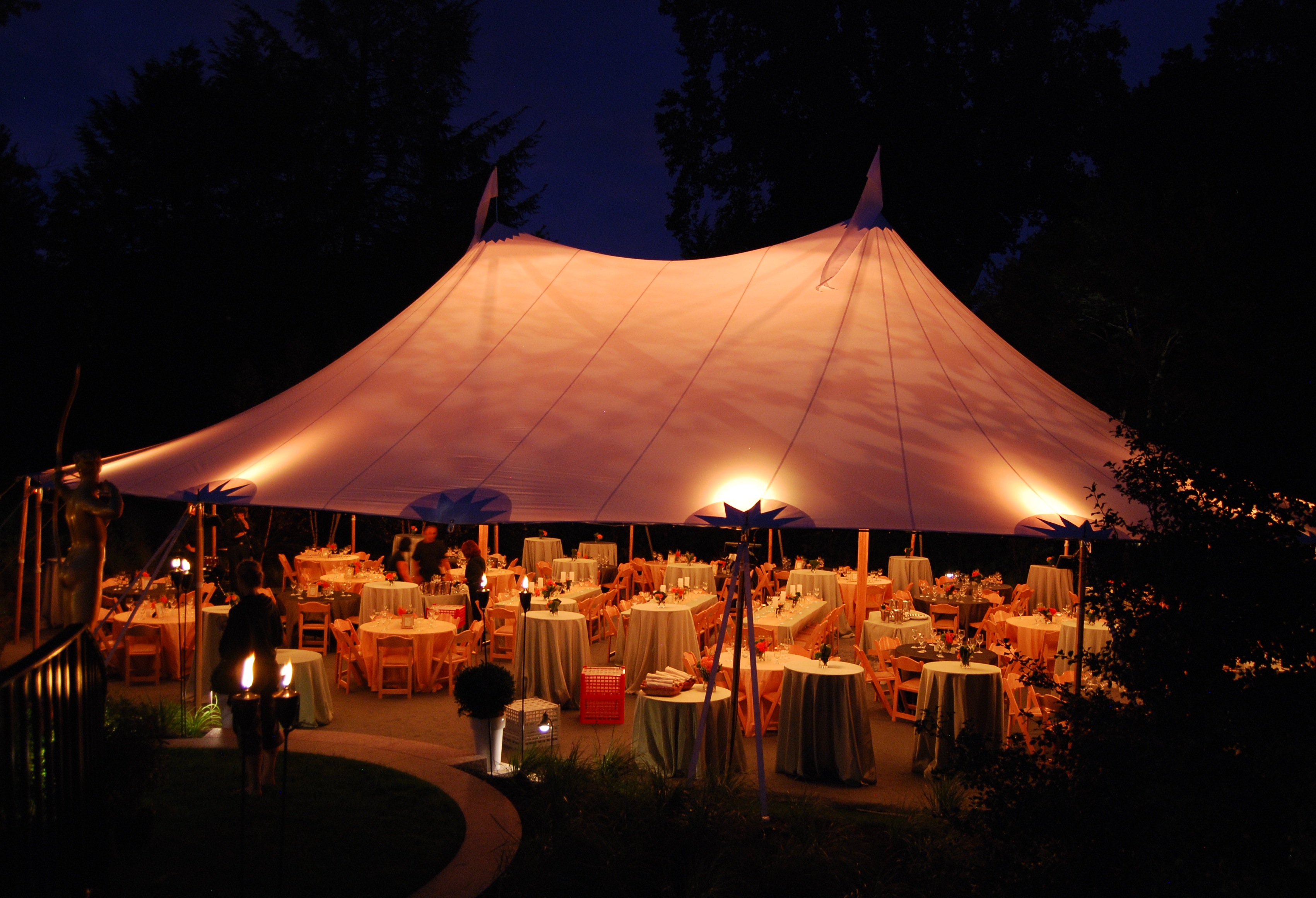 We are excited to have the sailcloth tents in our inventory and available for our clients to rent for their functions. The sailcloth tents offer a sleek style that can be enhanced and dramatized with decorations and lighting, but also looks amazing as is, on its own. The clean interior and lack of valance around the perimeter gives the tent a very smooth, magical look that is simply elegant.
Check out this link to the manufacturer's website for even more information on Tidewater Tents.
The Elegant Victorian Tent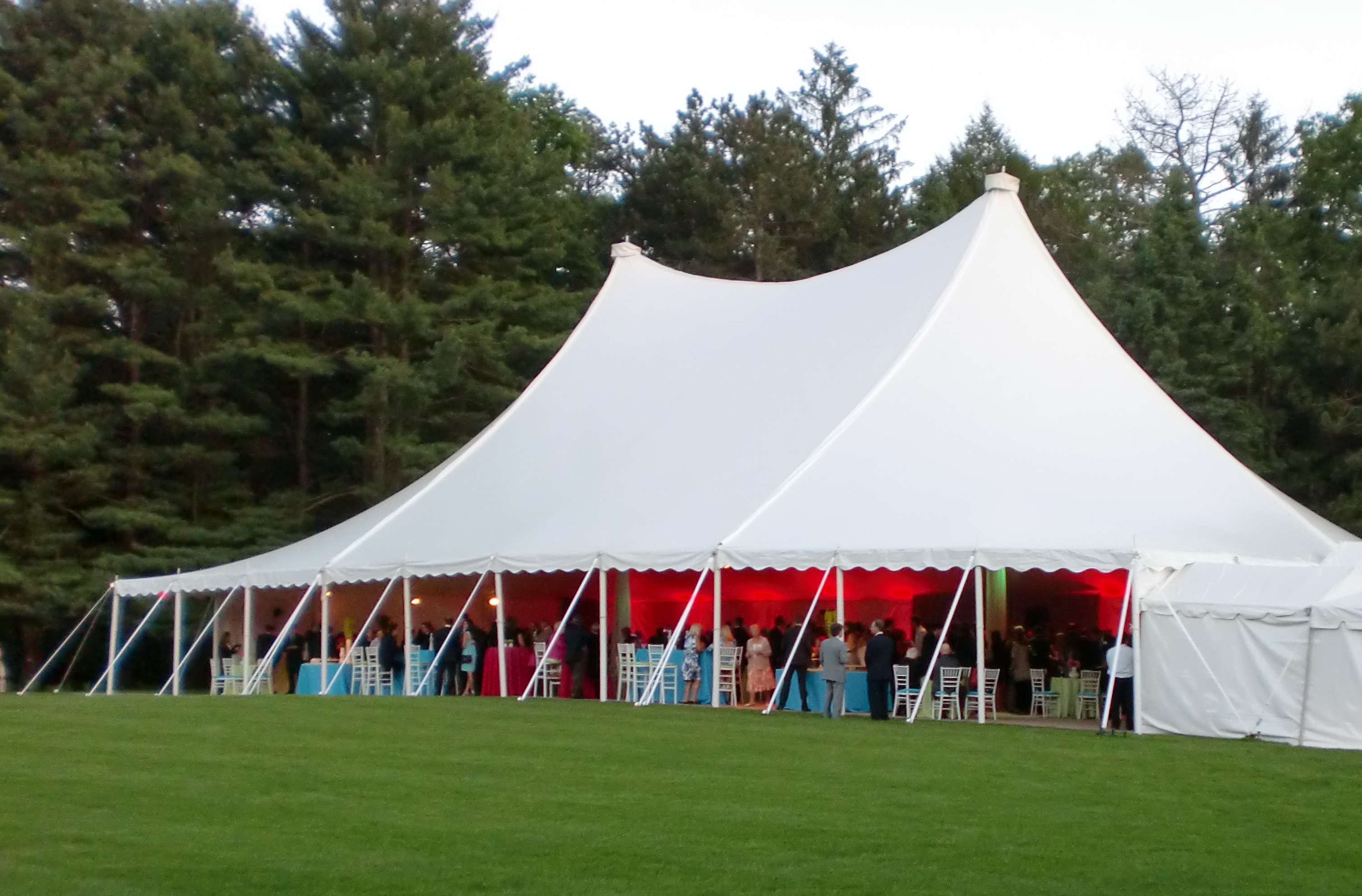 The Victorian Style tent offers the same benefits of the party tent with an added elegance. Often referred to as a Century tent or a High Peak Pole tent, the Victorian tents have exaggerated peaks giving them a grander appearance from both the interior and the exterior. The high ceilings and peaks are a great backdrop to create a majestic space for your event!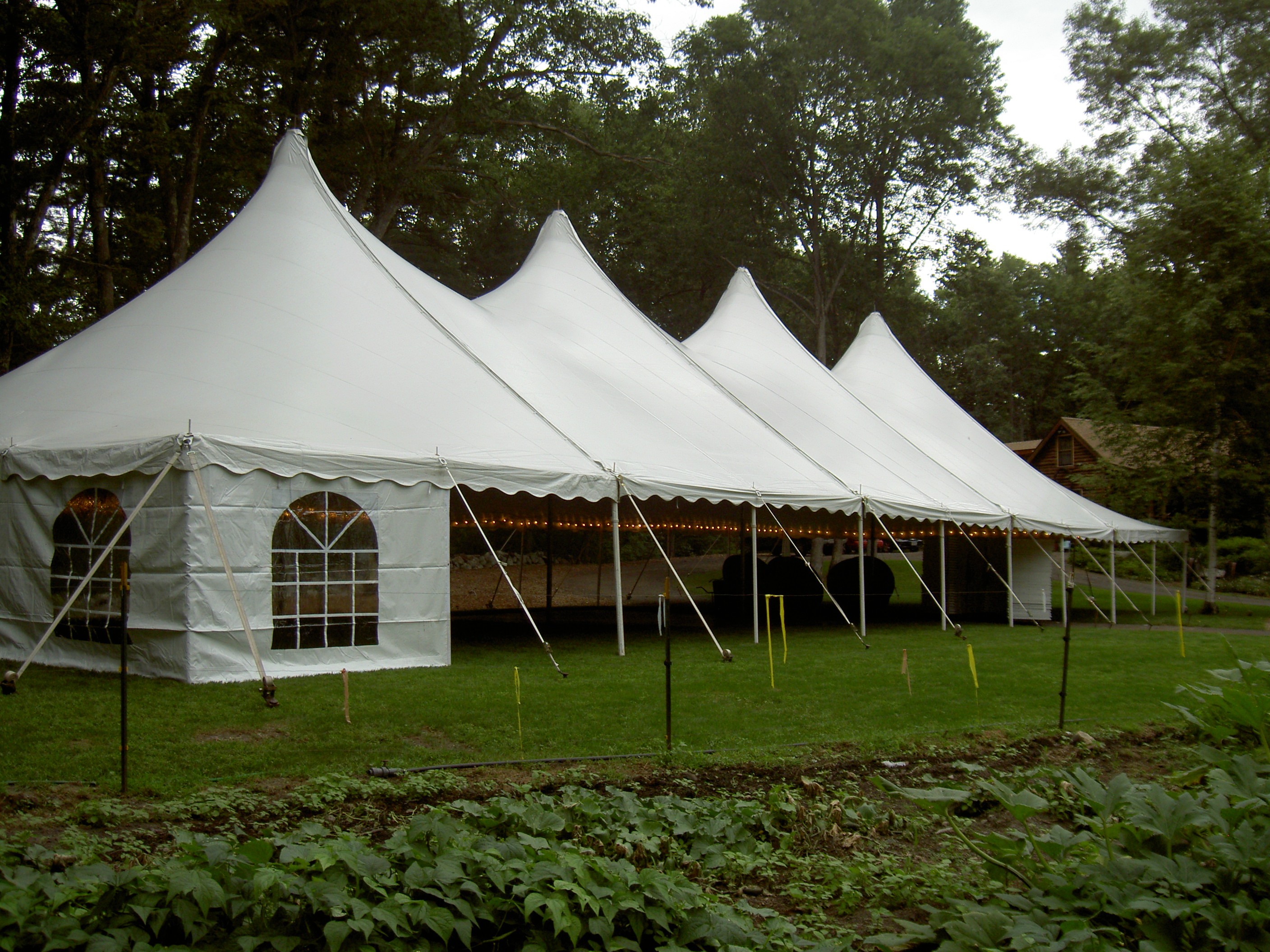 We stock sizes ranging from 20′ x 20′ to 120′ x 700′ in the Victorian style. These tents can be installed on grass or staked into the pavement. If staking is not permitted we can use concrete blocks or weights to secure the guy ropes as well. The Victorian tent is used for a wide range of events including weddings, corporate events, galas, auctions, fundraisers, church festivals, and commencements.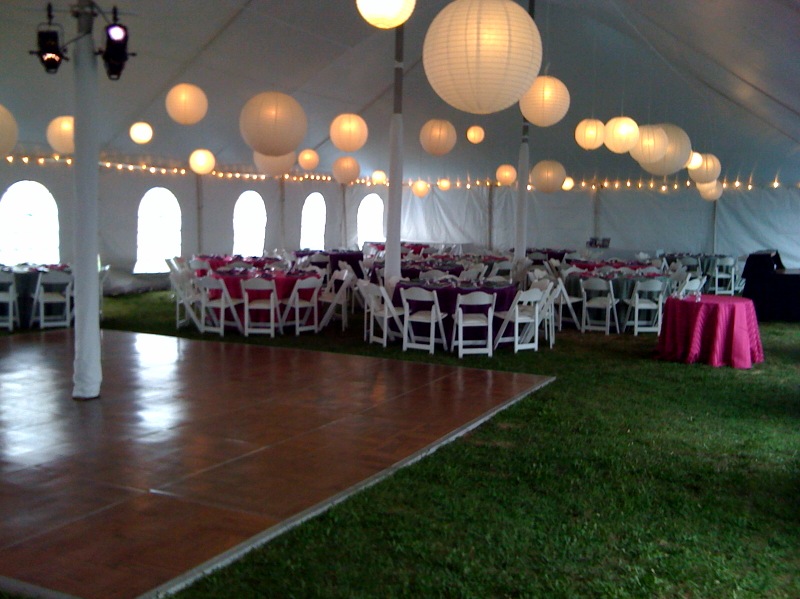 The Victorian tent has a very clean, seamless interior. It it is supported by large center poles, side poles, and guy ropes. Unlike the frame tent with an aluminum pipe interior, the Victorian tent is an empty canvas. Many clients will project images or monograms on the fabric of the tent, or use other lighting such as paper lanterns or string lights to enhance the sleek style of the tent.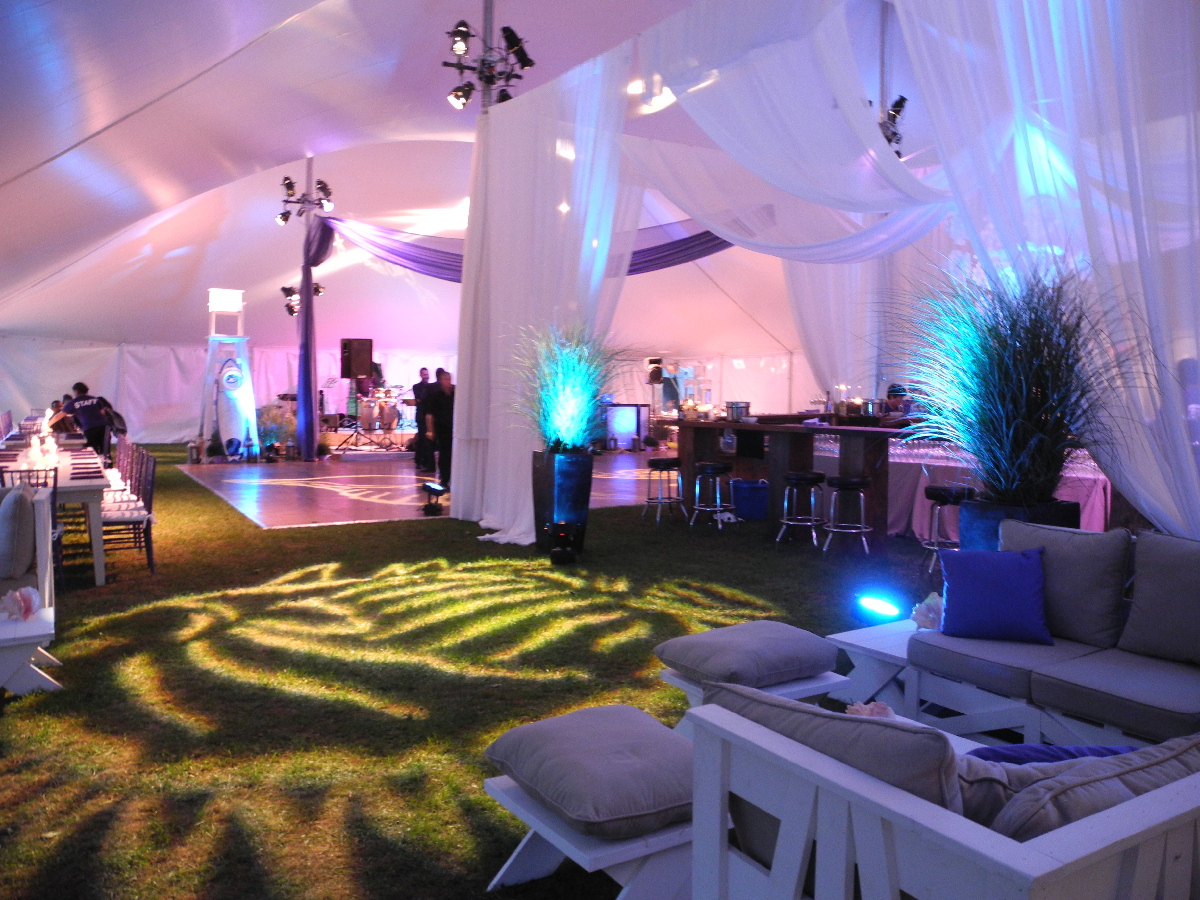 There is no limit to the accessories, enhancements and decorations that can be added to the Victorian tent to create a space unique to your event and style. We have white sheer leg drapery that can be installed on the center or side poles. Some of our clients use greenery, ribbon, fabric, lights or other accessories to enhance the poles, while others choose to leave them as is and let them blend into the rest of the decor. In our years of experience we have seen some very impressive transformations to our tents. You can check out more photos on our Facebook Page or on our Website!
The Boston Marathon: Start to Finish!
Our office is open on Marathon Monday as it marks the beginning of our busiest season. It is a nice, quiet day in the office with several businesses and town halls closed, even some roads inaccessible. Still sometimes I think we all wish we could break away from work and join the hustle and bustle on the streets and in the city surrounding the Marathon. For those of you participating and running to support a cause or family member, friend etc. we certainly wish you the best of the luck! At least those of us not able to attend in person can read about it online.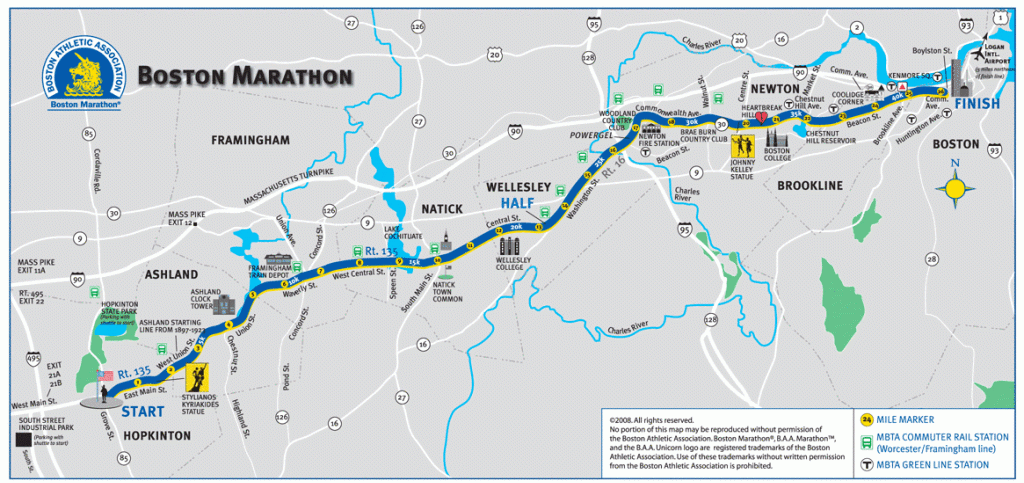 In addition to being a historic sporting event, the Boston Marathon has become an inspiration for many. There are countless participants that are running with the encouragement of someone or something great backing them. This year there are participants and parents running to honor the victims on Newtown. The Marathon has set up a special marker at the end of the 26th mile to honor the victims as well. For those everyday people who train, sacrifice, and dedicate themselves to this event are amazing! Although I have never participated it is no secret that this race is true journey that tests the physical and emotional limits of most people.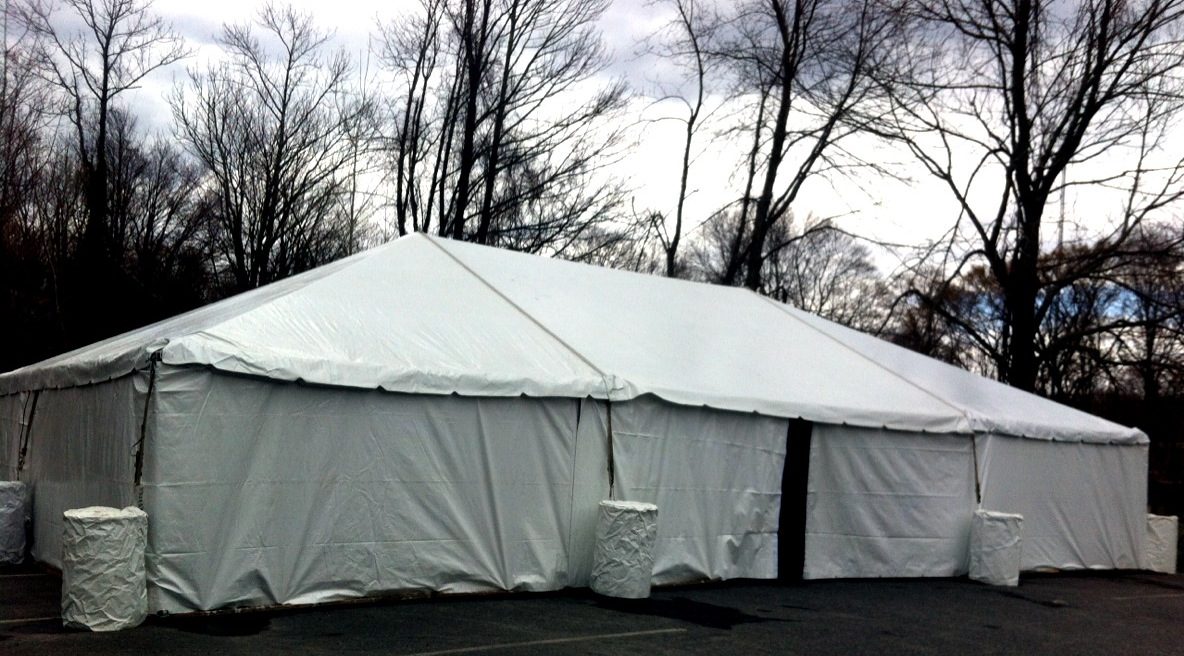 We install a 30′ x 50′ tent in Hopkinton and more in Newton for the MGH Marathon Team. The MGH team runs to support fighting kids' cancer and has raised nearly 8 million dollars since being established in 1998. The Museum of Science team is running to raise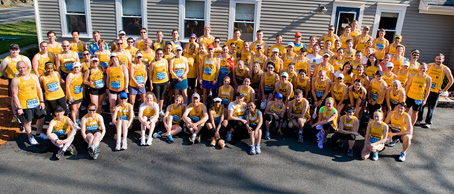 funds for traveling programs that bring science to over 100,000 students annually. Brigham & Women's Team Stork runs to raise money for healthier babies and moms! All very important causes and impressive feats of monies raised and goals accomplished!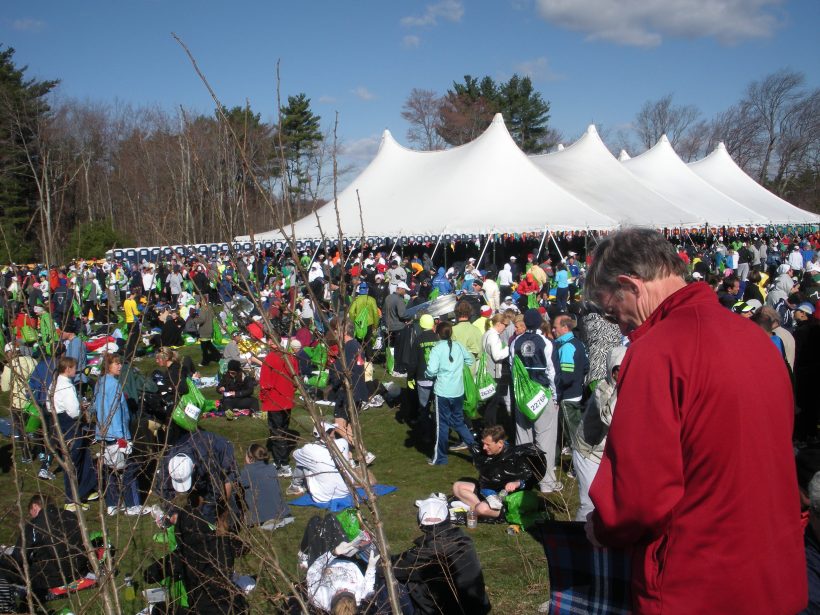 The "Chronicles of the Traveling Runner" is a great post by a woman who ran the Marathon in 2011. She documented her experience very well. This is an interesting read and insight into the marathon runner's world.
So, let's take a step back. How did it all begin? The legend has it that in 490 B.C., a soldier, Pheidippides, ran from a battlefield in Marathon, Greece to Athens to deliver the message of victory, moments after he collapsed and died. Known as the original marathon course, the Athens Marathon course runs from Marathon Bridge to Olympic stadium, 24.85 miles (40,000 meters).  At the first Olympics games in 1896 the legend was honored by a marathon event that ran the course. The U.S. participated in the event and was inspired to begin our own Marathon that began the very next year in April of 1897. The Boston Marathon is now the oldest annual marathon in the world! Runners come from all over the world to participate in one of the most difficult marathon courses! Check out this link to see more about Heartbreak Hill, a unique Boston Marathon feature, and its relation to these statues: What inspired the Creation of the Tortoise and Hare in Copley Square?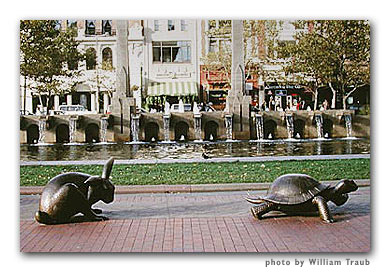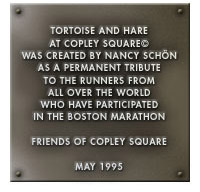 Today, there are marathons that take place all over the world. The standard distance has become 26 miles although it had previously varied over years and places. In 1908 it is said that the race was extended from 25 miles to 26.2 miles so the race could start from Windsor Castle and finish in front of the royal box at White City Stadium. The New York City Marathon runs through all five boroughs and over four bridges. It is one of the largest marathons in terms of participants with over 45,000 finishers in 2010. But for those of us from Boston, there is no other like the Boston Marathon. Good Luck Everyone!!
Need More Space? Hosting Impromptu Dinners & Events at Your Home
Don't let your "cozy" dining room or small entertaining space keep you from hosting large dinner events or holiday parties. There are many ways to create valuable space using your deck, patio, yard, and perhaps even the garage. We have seen some incredible transformations to these spaces for a range of events using our tents, drapery, lighting, furniture and accessories.
Atent for Rent also has a very talented fabrication team that can create custom sidewall for many porches or patio areas that already have an existing roof structure. We have several size frame tents in stock that can be installed on adjustable legs, with sides, rain gutters, lighting heat, air conditioning, flooring and more. You can essentially create another room in your house!
The frame style tent is a "free
standing" structure with a metal frame that supports the tent top. The frame tent is still secured by staking or with weights to be sure it remains safe and in place. The pole style tents just have center poles and side poles with guy ropes that support the tent. This makes them easier to install, but they require additional space and have more restrictions. The frame tent can be installed right against the house or existing structure. It can also be installed in smaller yards or on a patio or driveway for homeowners in the city with limited yard space or as an extension of the garage space. Personally I think the garage can be a little tacky, but if done right it can look great. Check out this link on How to Covert a Garage Into a Party Hall.
My niece's 2nd birthday was an impromptu garage party thanks to a hurricane. I had a moonwalk and a tent, but I was afraid to even set them up. Her 1st birthday was a success with great weather. We rented a 10′ x 20′ frame tent and had the band, Beatles for Sale, set up under the tent because it was so sunny and hot! That is one thing you can be certain to be unsure about in New England… the weather!
There are a lot of ways to decorate and use the new space. I love the concept of utilizing existing furniture
and accessories to really bring the warmth and decor from your home into the new space. You might use plants, patio furniture, lighting, artwork or tables from inside your home to accessorize. Atent for Rent has fabricated custom drapery for the clear top tents to hide the metal frame and adda great accent to the tent. It looks amazing! You can see the stars at night with the clear top. If it is cloudy and rainy, you win too because you rented a tent! Now you can listen to the rain outside and see it pour down the sides of the tent while you and and your guests party on!