The summer in New England is prime outdoor party time. There are graduation parties, weddings, birthdays, showers and summer cookouts. Tired of searching for the perfect venue for your event? Rent a tent and you can host your next party right at home in your own backyard!
Here's how to turn your backyard into a party with a tent rental:
How can you decorate your backyard?
To turn your backyard into a great, summer party, it's not just about the tent, but also about the decorations. Pay attention to colors, textures, and layout to create the ideal landscape for your special event.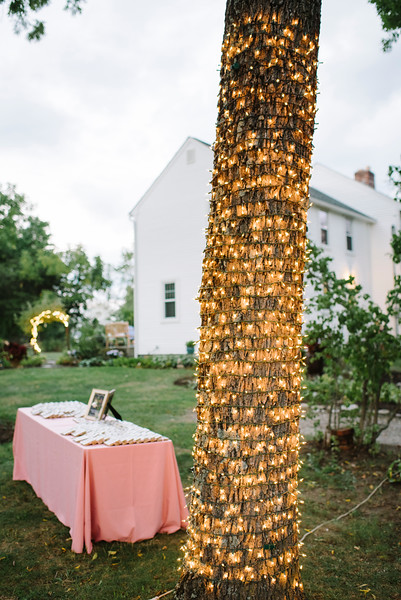 Lights
Lighting is the key for setting the mood for your party. Think about your options:
Christmas lights
First, think about your colors: do you want elegant, all-white lights or a fun strands of multi-colored bulbs?
Christmas lights are a great option for many different kinds of events because they are extremely versatile and inexpensive. You can add these yourself for very little cost, or no cost if you have some hanging around from the holidays.
Try hanging these sparkling strands from the ceiling or along the walls. They also look great spiraled around tent poles or tree trunks. Or, you can even mix strands of Christmas lights among flowers in a table setting.

Paper lanterns
To make a bold statement with lighting, try using paper lanterns. They come in a variety of different shapes and colors, so you can have anything from soft, white globes to flashy, blue star-shapes. They are a fun way to add color even with no light inside.
To illuminate the tent, hang rows of paper lanterns from the ceiling. In lieu of candles, place a couple of paper lanterns on each table as a unique centerpiece. Or, create an enticing entrance to your rented tent by lining a pathway with paper lanterns.
Furnishings
When you rent a tent, you can transform your backyard into any kind of party you desire. It also ensures protections from the elements whether it be the sun or rain. One of the first things to consider is how you will furnish your tent.
Dance floor
If you plan to spend your party dancing the night away with your guests, then you'll need a proper dance floor.
At Atent for Rent, you can choose from two different kinds of dance floors, a traditional wooden parquet floor or a New England style plank floor.
Don't have a dance party without a proper place for you and your guests to show off your moves! Visit Atent for Rent to browse the available dance floors for your backyard party.
Tables and chairs
The tables and chairs that you choose will greatly affect the landscape and ambiance of your party.
Do you want lots of small, intimate tables where guests can enjoy quieter conversations? Or do you want a long, communal table where everyone is seated together?
Next, when it comes to decorating your tables and chairs, remember that this your chance to really get creative! You can use traditional, white tablecloths and candles if you're seeking a classic, elegant style. Or, add color and texture with hundreds of linens to choose from neon colors to burlap runners from 80s parties to rustic weddings.
To find the tables and chairs that you need, visit Atent for Rent.
Which tent should you choose?
When planning your backyard party, the style of tent that you choose is extremely important. This will set the tone for your whole event. Here are some of your options: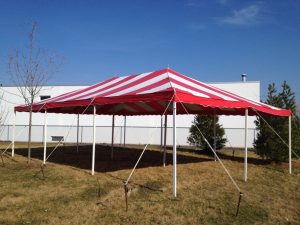 Canopy tent
The canopy tent is a tension tent support by center poles with guy lines along the perimeter. This type of tent is the most cost effective and it is available for customer pick up as well as installed by Atent for Rent.
Take a look at the types of canopy tents available at Atent for Rent here.
Sailcloth tent
The sailcloth tent is a pole tent with rounded edges and a transparent top. To make a bold statement for you backyard party, the sailcloth tent is an excellent choice. With its wooden poles and high peaks in the ceiling, it will be a striking figure in your backyard.
Learn more about the sailcloth tents at Atent for Rent here.
Victorian tent
Like the canopy tent, the Victorian tent is supported by a center pole with guy lines along the perimeter. But this style of tent offers a little something extra and is available in larger sizes.
The Victorian tent features tall, white peaks with an exaggerated pitch. Erected in your backyard, this style of tent will create a setting of elegance and grandeur for your party.
Click here to check out the Victorian tents available at Atent for Rent.
Frame tent
The frame tent is the most versatile tent and is offered in a number of unique sizes to fit in just about any space imaginable. This tent has a frame inside that supports the tent eliminating the need for center poles and out guys.
The frame tent can also be secured with weights so it can be installed over patios, pavements, cement or brick. It is a great option when staking is not permitted or when the site is narrow or limited in size.
Click here to check out the frame tents available at Atent for Rent.
More tips for renting a tent:
Of course, decorating the tent for your backyard event is the most fun part of the party-planning process. But there are a few more things to think about along the way.
Save money
Planning a party can sometimes end up being an expensive undertaking. Fortunately, there are some easy ways for you to cut costs.
When it comes to renting a tent, save money by picking it up yourself! If you are close to your tent supplier and have room in your car to manage the load, this is a quick and easy way to avoid delivery fees and save a little extra money.  
Plan ahead
When planning a special event, there are a lot of little details that need to come together. One thing that you do not want to leave until the last minute is the tent.
Many people think that they can put off reserving their tent until only a month before the event. Unfortunately (especially in the month of June when it is the height of party season), tents will be booked up very quickly. To ensure that you have the tent you want for your special event, make a reservation at least four months in advance.
Do you have a special event coming up? Contact Atent for Rent to reserve your tent now.
The beautiful weather in the summer makes it the perfect time to plan a party.
Instead of spending time looking for a decent venue for your special event, rent a tent and host your party in your very own backyard! With a bit of creative, DIY decoration, you can turn your backyard into party central – and save money along the way.
Find the perfect tent to rent for your backyard party at Atent for Rent! Browse our different styles of tents and our available lighting, tables, chairs, and dance floors.
To reserve a tent for your upcoming event, click here.