Do I need Permits for My Event?
Clients are generally surprised to learn that a permit may be required for their event rentals. As an event company we are very involved with many of the local Building and Fire Departments. We work diligently to stay up to date on the state building and fire codes and the town by-laws. We are always educating ourselves and our clients as the policies are ever-changing and in many cases becoming more strict.
If you are installing a small canopy for a backyard party chances are you just need a simple building permit for the tent. However, if it is 400 square feet or less you are off the hook in most towns. Some of the more complex installations with larger tents, heat, power, sidewall, large guest counts, etc. will require more advance permitting from several departments.
We have updated our technology so we are able to provide to scale internal and external diagrams. These are great for the client to get a sense of the space and setup on site. Scaled plans are also required by most towns or cities. Officials want to make sure there is adequate egress, aisles, spacing between furniture, etc. to provide safe flow for your guests in the event of an emergency.  As a tent contractor we maintain a Construction Supervisor License, Insurance and provide flame certificates for all of our tent and sidewalls. We also have several staff with gas fitters licenses for installing and permitting heaters as well as an electrician on staff for temporary power needs and permitting.
Some cities such as Boston require a special G-28 License for tent permitting and they also do their own fabric testing. If you are hosting an event in the City it is important to work with a vendor who is familiar with the process and has the necessary items to ensure your event is not hung up in permitting. Most cities and towns appreciate vendors who have their ducks in a row so to speak, it makes the process easier on them as well. We have established good rapport with all of the towns and cities in Massachusetts that we have worked with, easing the process for us and our clients. These towns know to expect a proper installation with all the safety protocol met or exceeded from Atent for Rent.
So, if you are planning to have a large scale event at your residence or public venue we recommend you ask your vendor if permits will be required and if this is something they can handle for you. You can also call the Town Hall yourself or look online. Many Town Departments have information online and sometimes you can even apply online to save on running costs. We understand permits can add to the cost and logistics of planning an event, but they are designed to look out for your best interest and the safety of your guests.
Rent a Tent For Any Event: Weddings, School, Corporate!
The beautiful, fall weather makes it the perfect time for outdoor festivities. How can you turn your backyard into your dream location for your party? When you rent a tent, there are many different ways that you can customize it to your personal style and needs.
Do you have an upcoming wedding? School function? Corporate event?
Here are some suggestions to perfect your event with our multiple tent options:
Wedding
An outdoor wedding is the thing Pinterest boards are made of. Before you get started pinning pictures of flowers and tablecloths, don't forget about the tent essentials.
Create the perfect setting for your outdoor wedding.
For an outdoor wedding, you need a space where guests can mingle and you can dance the night away. Let the Victorian tent be this backdrop for your beautiful, summer wedding. With its tall, white peaks and exaggerated pitch, this suspension tent has high, spacious ceilings that will bring elegance and grandeur to your event.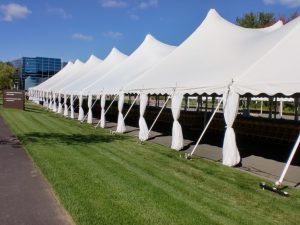 If you want to truly make the outdoor scenery a part of your wedding, try the clear frame tent instead.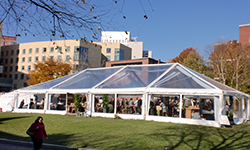 With transparent walls and ceiling, this tent is perfect for giving your guests a subtle taste of the outdoors. Let the sun shine in during the day, or the stars twinkle at night. (Even better, with the clear frame tent, there's no chance that a little bit of rainfall will ruin your day!)
Turn your tent into your fairytale wedding.
What's the key to setting the mood and creating an ambience of warmth and sophistication? Good lighting.
For a truly beautiful sparkle, nothing is more timeless and elegant than a delicate chandelier. But when hung up in a tent outside, this traditional lamp fixture becomes a delightfully whimsical feature that is as eye-catching as it is brightening. But if you're looking for lighting that's a little more refined, but just as elegant, consider bistro lighting. Strung throughout the ceiling of your tent, these tiny bulbs will gently illuminate the tables and delight your guests!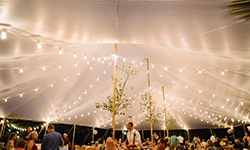 When you want to give your dancing feet a rest, give yourself a space to sit that's just as fun as the dancefloor. And what's more fitting for a wedding than a romantic sweetheart table? Include this special table among your wedding décor and you and your partner will have the best seat in the house all night long.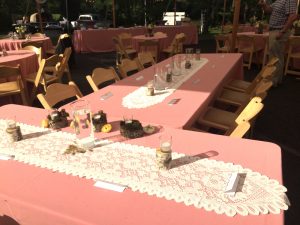 And don't forget about seating for your guests! To give them a space that is as comfortable as it is stylish, consider our selection of wooden garden chairs. Available in black, white, or a natural finish, these wooden chairs will add a rustic elegance to your affair.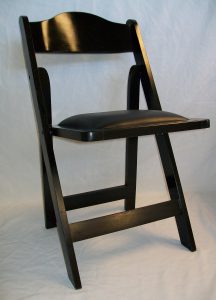 Or maybe you're looking for something a little more pristine? Take a more traditional approach to your wedding décor with our ballroom chairs, available in white, silver, fruitwood or gold.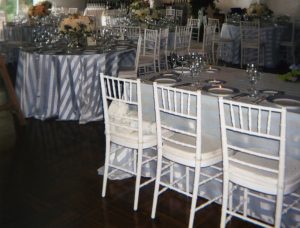 School function
The next time you need to host a graduation event, team dinner or any other school function, rent a tent to transform your backyard into the coolest party scene. With the right touch, you can turn your backyard into a party scene that will please both the staff, students and the parents.
Make your backyard the sweetest hang-out spot in town.
For a school function that won't make kids groan with boredom, the canopy tent is the top choice. The vibrant, striped pattern or white is a stand-out point piece – one the kids are sure to love.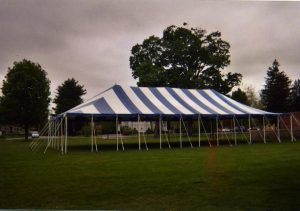 Looking for another style tent that's just as fun, but also a little more sophisticated? Take a look at the sailcloth tent. With its high peaks adorned with small flags, this tent looks like you brought the circus to your very own backyard.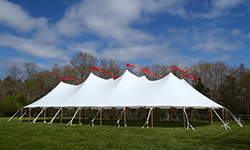 Accessorize Your Tent!
Now that you've set the stage for your school function, it's time to turn up the volume with a few, fun accessories.
Looking to impress the young crowd? LED lighting is a great way to keep the tent lit and bring a bit of color onto the scene. Our LED lights fasten onto the tents' poles so that you can bring bright color to the whole party.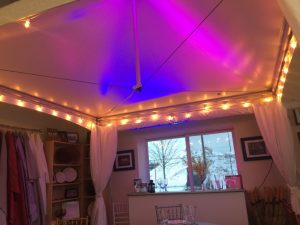 If you want lighting that brings together mature sophistication and child-like fun, why not give paper lanterns a try? After all, there's a reason you'll see paper lanterns all over Pinterest party boards: they're one of the best options for lighting that's both whimsical and refined.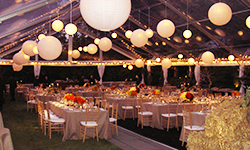 To add some life to your tent expertly for a school function, there's one very important element you don't want to miss: music. Use one of our DJ tables to play the right tunes and keep the guests having fun!
When there's a lot of kids at the party, you want to keep the seating arrangement simple. Use our round or rectangular tables (or a mix of both) to give your guests somewhere to sit that won't get in the way of the dance floor!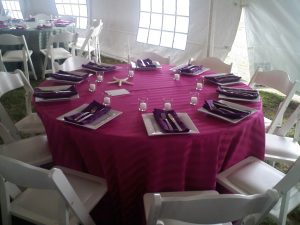 Finally, if you're hosting a school function for children, don't forget to accommodate the extra small ones. Use some of our special children's chairs to make sure that every guest has a seat at the party.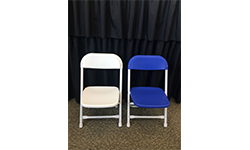 Corporate Event
Was your last work party unbearably boring? Don't make the same mistake again. Instead, rent a tent to host an outdoor party that will put a smile on your colleagues' faces. Also try our extra large Jenga game or Cornhole.
Think about your audience.
When renting a tent, make sure that the frame suits the audience. For example, the colorful canopy tent? While its whimsicality is great for a kids' party, it may not the best choice for an elegant corporate event.
Instead, when selecting a tent for corporate event, the standard frame tent is the way to go. The classic, white style leaves you plenty of room to get creative with decorations, or you can stick to a simple, clean aesthetic.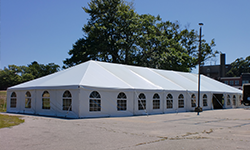 Keep it classy and professional.
Colorful, LED lighting may not be the best pick for a professional atmosphere. Instead, to brighten up your corporate event, trying using string lights. These strands of tiny bulbs are a classic: polished, timeless, but with enough power to light up a room!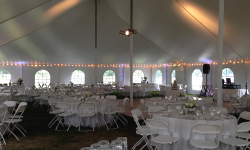 Want to double up on lighting? For the standard frame tent, par lights are another perfect match. Mounted on the tents' poles and ceiling, these lights will softly illuminate the party from above while staying up and out of the way!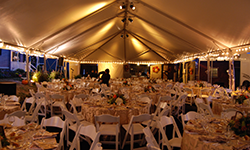 At a corporate event, there's one mood you do not want to recreate: the mood of the office! Instead of tables with a rigid seating chart, use a beverage station and food service to let your guests mingle and enjoy the party space.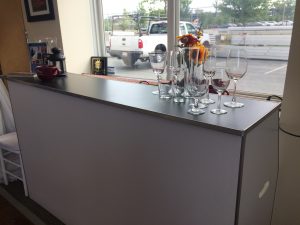 Moreover, to prevent your corporate event from looking too much like a wedding, here's a tip: steer clear of the ballroom chairs. Instead, try a mix of barstools to give your event a vibe that's a little less garden-party and a little more cosmopolitan.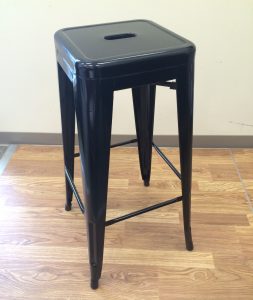 How can you transform your backyard into a space fit for a wedding, a school function, or a corporate event?
Rent a tent from A Tent For Rent and get creative with your setup!
Use our Event Builder to find the perfect tent, lighting, and furnishings for your event.
Visit A Tent For Rent to get started.
How to Keep Your Tent Cool During the Summer
The beautiful weather in July is perfect for an outdoor party. But, sometimes, it can also be just a little too hot to handle! Don't let the heat ruin your party. When the thermometer starts getting high, use these tips to keep your tent cool and comfortable.
Here's how to keep your tent cool during the summer:
Select a cooling device.
To keep the inside of your tent cool (and to keep you and your guests from sweating!), use a cooling device. Check out some options:
Cool boxes
Cool boxes are large, stand-up boxes that you can put in the corner of your tent to keep the whole atmosphere cool.
What makes this different than a traditional fan?
The tank evaporates water and makes your tent like an ocean breeze: the air above remains a bit cooler, since the water is evaporating and cooling it down. Though cool boxes do not help against humidity, they oscillate and create a very generous breeze of air that is 10 degrees cooler than room temperature. To see some of the cool boxes available at Atent For Rent, click here.
Fans
When it comes to fans, you have a few options. With smaller, hanging fans, you can position these on the tent's posts throughout the tent for distributed cooling. Or, you can use bigger, stand-up fans in the tent's corners for maximum, powerful air circulation. To see some of the fans available at Atent For Rent, click here.
A/C rentals
If you have an extra large tent that you want to keep exceptionally cool, consider an A/C rental.  A/C will pack a more powerful punch than most cool boxes and fans. With A/C rentals from Atent For Rent, we can pump air-conditioning directly into your tent, creating a perfectly cool environment so that you can enjoy your party, no matter the heat.  To see some of the A/C rentals available at Atent For Rent, click here.
Add an element of water to your party.
A cooling device will definitely get the job done, but if you want to keep your tent cool and add a bit of flair to your party, consider adding an element of water. (Particularly, if you're hosting an event with children, a little bit of water is great way to keep them cool and entertained.)
Sprinklers
If you're putting up a tent in your backyard, try positioning a few sprinklers around the tent. The misting water will not only help to keep everyone cool, but it will also give the kids a chance to run around outside and play and burn off some energy (so that the adults can finally have a moment to relax!). Just remember, don't put the sprinklers too close to the tent, or suddenly all of the guests will get splashed!
Water inflatables
Another great way to keep cool during an outdoor, summer event is with water inflatables. Use these in conjunction with your tent to complete the party experience. Find great water inflatables, like the Big Kahuna or the Double Splash from our friends at Busy Bee Jumpers. For a party with kids, a water inflatable will help to keep them cool and it will act as an extra party delight!
Pick the right tent to stay cool.
While adding cooling devices and elements of water will help to keep your tent cool on these hot, summer days, it is also important to pay attention to what kind of tent you are using to begin with. At Atent For Rent, we offer specific styles of tents that are designed to help keep you cool: the Canopy, Victorian, and Frame style tents. All of these tents employ blockout fabric. This special material does just what it claims: it "blocks out" the sun, thus, significantly reducing the amount of heat entering your tent. To browse all of the tents available at Atent for Rent, click here.
Are you cool enough?
July is the perfect time to rent a tent for an outdoor party. But you're also going to want to find ways to beat the heat on these hot, summer days. First, find the best tent for a summer, outdoor party. Then, to keep your tent cool, check out the available cooling devices at Atent For Rent. 
To reserve a tent and supplies for your upcoming party, contact us!
Turn Your Backyard Into a Party With a Tent Rental
The month of June is a big party season. There are graduation parties, weddings, and summer cookouts. Sick of searching for the perfect venue for your event? Rent a tent and you can host your next summer party right at home in your own backyard!
Here's how to turn your backyard into a party with a tent rental:
How can you decorate your backyard?
To turn your backyard into a great, summer party, it's not just about the tent, but also about the decorations. Pay attention to colors, textures, and layout to create the ideal landscape for your special event.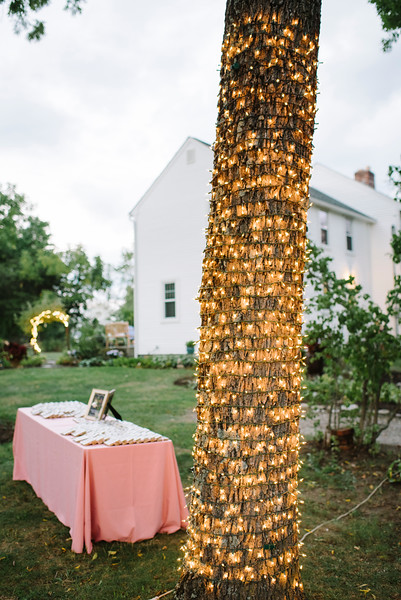 Lights
Lighting is the key for setting the mood for your party. Think about your options:
Christmas lights
First, think about your colors: do you want elegant, all-white lights or a fun strands of multi-colored bulbs?
Christmas lights are a great option for many different kinds of events because they are extremely versatile and inexpensive.
Try hanging these sparkling strands from the ceiling or along the walls. They also look great spiraled around tent poles or tree trunks. Or, you can even mix strands of Christmas lights among flowers in a table setting.

Paper lanterns
To make a bold statement with lighting, try using paper lanterns. They come in a variety of different shapes and colors, so you can have anything from soft, white globes to flashy, blue star-shapes.
To illuminate the tent, hang rows of paper lanterns from the ceiling. In lieu of candles, place a couple of paper lanterns on each table as a unique centerpiece. Or, create an enticing entrance to your rented tent by lining a pathway with paper lanterns.
Furnishings
When you rent a tent, you can transform your backyard into any kind of party you desire. It also ensures protections from the elements whether it be the sun or rain. One of the first things to consider is how you will furnish your tent.
Dance floor
If you plan to spend your party dancing the night away with your guests, then you'll need a proper dance floor.
At Atent for Rent, you can choose from two different kinds of dance floors, a traditional wooden parquet floor or a New England style plank floor.
Don't have a dance party without a proper place for you and your guests to show off your moves! Visit Atent for Rent to browse the available dance floors for your backyard party.
Tables and chairs
The tables and chairs that you choose will greatly affect the landscape and ambience of your party.
Do you want lots of small, intimate tables where guests can enjoy quieter conversations? Or do you want a long, communal table where everyone is seated together?
Next, when it comes to decorating your tables and chairs, remember that this your chance to really get creative! You can use traditional, white tablecloths and candles if you're seeking a classic, elegant style. Or, add color and texture with hundreds of linens to choose from neon colors to burlap runners from 80s parties to rustic weddings.
To find the tables and chairs that you need, visit Atent for Rent.
Which tent should you choose?
When planning your backyard party, the style of tent that you choose is extremely important. This will set the tone for your whole event. Here are some of your options: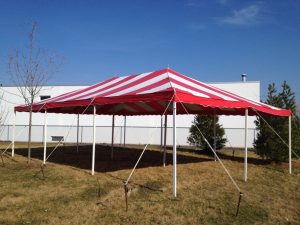 Canopy tent
The canopy tent is a tension tent support by center poles with guy lines along the perimeter. This type of tent is the most cost effective and it is available for customer pick up as well as installed by Atent for Rent.
Take a look at the types of canopy tents available at Atent for Rent here.
Sailcloth tent
The sailcloth tent is a pole tent with rounded edges and a transparent top. To make a bold statement for you backyard party, the sailcloth tent is an excellent choice. With its wooden poles and high peaks in the ceiling, it will be a striking figure in your backyard.
Learn more about the sailcloth tents at Atent for Rent here.
Victorian tent
Like the canopy tent, the Victorian tent is supported by a center pole with guy lines along the perimeter. But this style of tent offers a little something extra and is available in larger sizes.
The Victorian tent features tall, white peaks with an exaggerated pitch. Erected in your backyard, this style of tent will create a setting of elegance and grandeur for your party.
Click here to check out the victorian tents available at Atent for Rent.
Frame tent
The frame tent is the most versatile tent and is offered in a number of unique sizes to fit in just about any space imaginable. This tent has a frame inside that supports the tent eliminating the need for center poles and out guys.
The frame tent can also be secured with weights so it can be installed over patios, pavements, cement or brick. It is a great option when staking is not permitted or when the site is narrow or limited in size.
Click here to check out the frame tents available at Atent for Rent.
More tips for renting a tent:
Of course, decorating the tent for your backyard event is the most fun part of the party-planning process. But there are a few more things to think about along the way.
Save money
Planning a party can sometimes end up being an expensive undertaking. Fortunately, there are some easy ways for you to cut costs.
When it comes to renting a tent, save money by picking it up yourself! If you are close to your tent supplier and have room in your car to manage the load, this is a quick and easy way to avoid delivery fees and save a little extra money.  
Plan ahead
When planning a special event, there are a lot of little details that need to come together. One thing that you do not want to leave until the last minute is the tent.
Many people think that they can put off reserving their tent until only a month before the event. Unfortunately (especially in the month of June when it is the height of party season), tents will be booked up very quickly. To ensure that you have the tent you want for your special event, make a reservation at least four months in advance.
Do you have a special event coming up? Contact Atent for Rent to reserve your tent now.
The beautiful weather in June makes it the perfect time to plan a party.
Instead of spending time looking for a decent venue for your special event, rent a tent and host your party in your very own backyard! With a bit of creative, DIY decoration, you can turn your backyard into party central – and save money along the way.
Find the perfect tent to rent for your backyard party at Atent for Rent! Browse our different styles of tents and our available lighting, tables, chairs, and dance floors.
To reserve a tent for your upcoming event, click here.
Winter Construction Tents
Typically in New England construction work comes to a halt as the cold weather rolls in and the snow starts to pile up. Our climate controlled tents will make sure the show goes on. Completing projects on time means saving money and keeping production going straight through winter. Atent for Rent's vast array of tents, combined with heaters, generators, lighting and more are the complete package to create a climate controlled environment for your job site.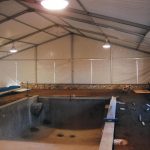 Although we have tented several pools for summer events, winter construction tents are much more popular. Pool enclosures, in particular just may be the most popular construction tents we build. Installing these tents and structures over a large hole in the ground in freezing temperatures certainly makes for a difficult installation but our experienced crews have become very accustomed to working under special conditions and circumstances. They have the knowledge and determination to complete installations on even the most complicated job sites.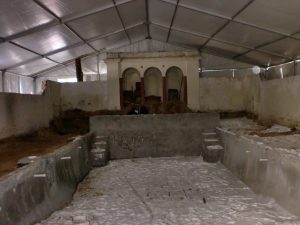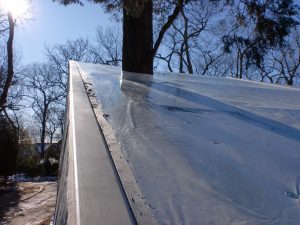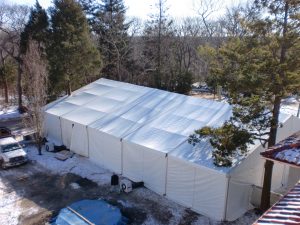 You may notice in the photos above there is a large tree poking through the top of the tent! That is definitely a custom installation to keep the large tree in tact for the client. This structure allowed the pool restoration work to continue through the cold winter months. Although pool construction is one of the our most common winter project tents we have installed tents for a number of other job sites. One of our most unique installations might be the tent we installed on the dry dock so their crews could repair and repaint the ship's anchor.
Our tent experts have battled the elements to make way for a tent installation as well. In some cases contractors are a little late to the punch and the snow has already started to fly before a site is tented. The crews do their best to clear the site for the tent and once the heat is cranking any remaining snow will melt away. The tent has to continue to be maintained in the event of snow by snow raking the top or heating the tent to keep the new flakes melting as they land on the warm tent vinyl.
Typically when we think of renting a tent we imagine a wedding, graduation or some other outdoor summer party, but tents can be used in so many more applications in the construction trade, from routine maintenance on a transformer to covering playgrounds, pools, driveways, stone walls, job sites and much more.
The Mid-Atlantic Tent Renters Association (MATRA) was started in 1987 with the aim of providing a forum for various tenting industry professionals to help and educate each other about safety and new products. MATRA has grown immensely since its inception, with a full executive board, board of directors, numerous members, scholarships for the children of tent renters, and an annual Tent Show.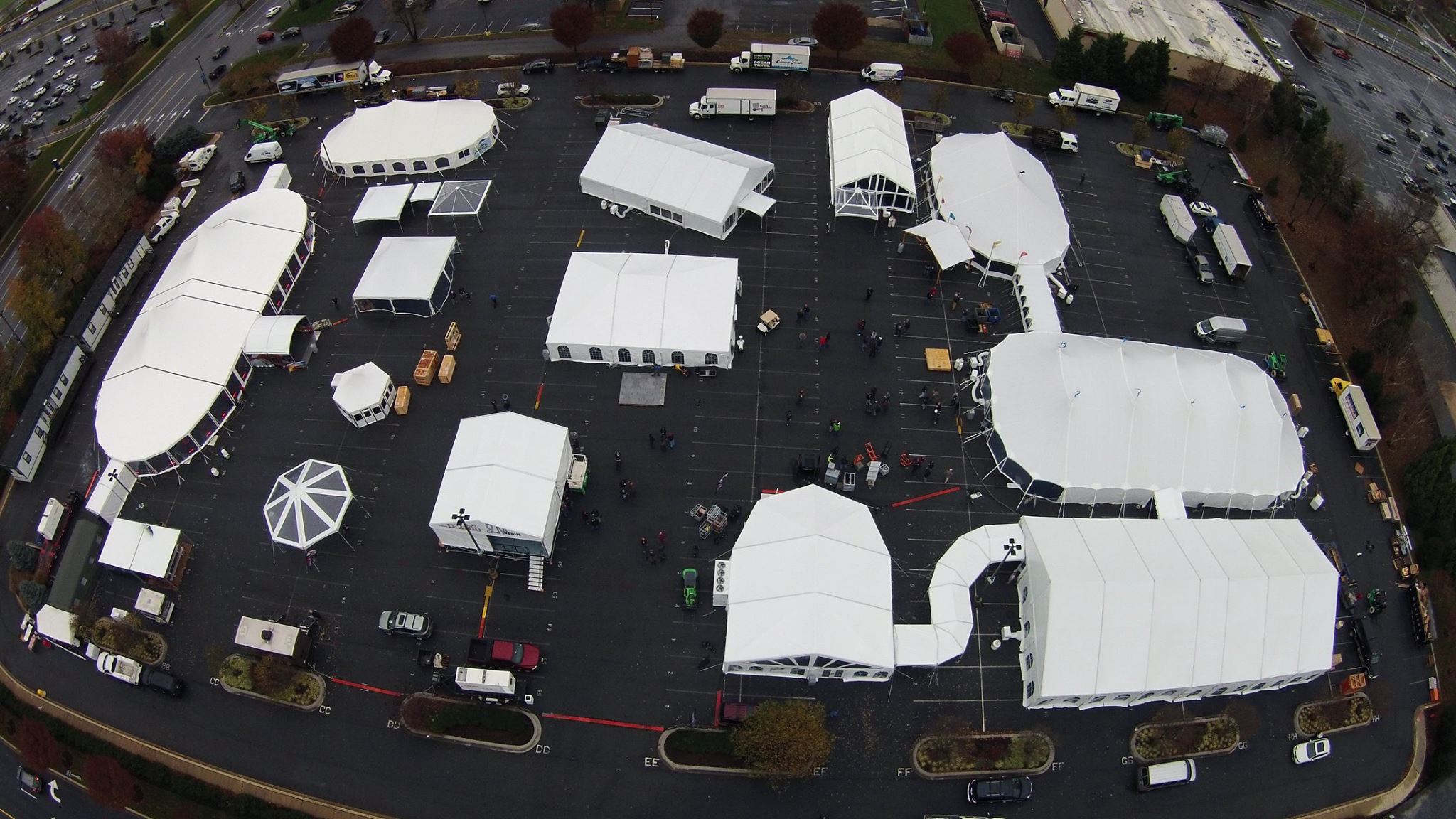 The annual Tent Show is the gem of MATRA. It is hosted at a different location each year, all across the mid-Atlantic region. The Tent Show is not only fun for the hundreds of attendees and many organizers, but provides the opportunity to mingle with like-minded people AND learn about the newest and most innovative products on the market. The MATRA Tent Show also organizes many workshops, highlighting different trends in the market with a special focus on safety.
One product that we discovered at the 2012 MATRA Tent Show is the Block and Roll ballast system. These innovative weights have allowed us to phase out our water barrel weighting system to a safer, more easily completed, and more visually appealing weighting system. This saves us time and money, allowing us to pass the savings on to our customers. The concrete Block and Roll weights are specially designed and are perfect for the tenting industry. They allow a more transportable but heavier ballast to secure even the biggest tents. Securing a tent properly is something that tent companies should take very seriously. When dealing with hundreds, even thousands of pounds of steel and fabric, and unpredictable weather of the Atlantic coast, tents must be installed and secured properly to prevent damage and harm. Check out this video showing the effects of a windy day on a frame tent. Luckily no one was hurt. They probably didn't use Block and Roll ballasts.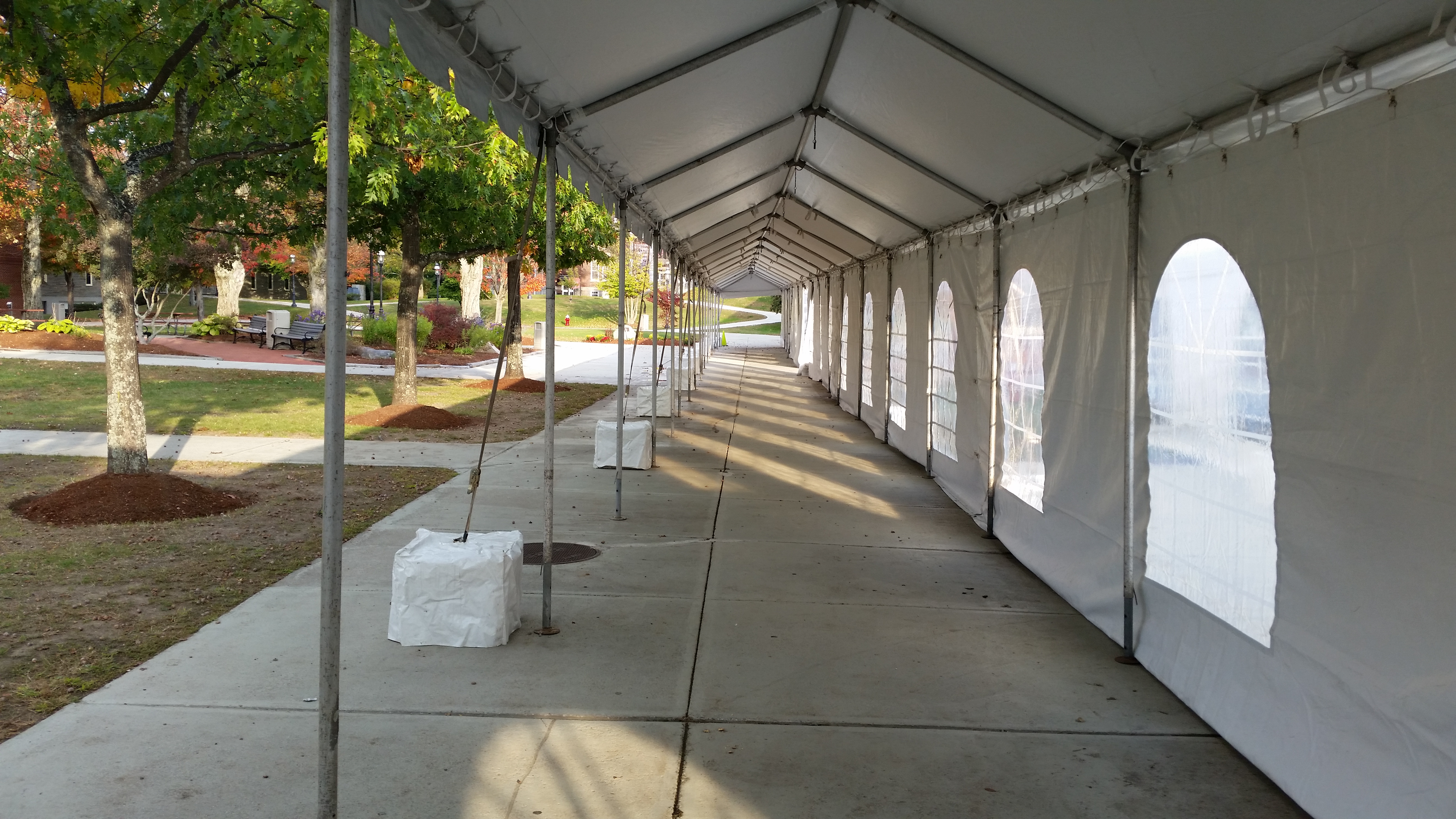 Another great new product that has changed our ways is the Dura-Trac flooring system. Prior to finding this great product, we hand constructed each of our floors with a sleeper system of 2" x 4"s, a subfloor, and a finished floor on top. This method was time consuming, labor intensive, and costly for our customers. With the discovery of Dura-trac, we can provide a strong, durable, and attractive flooring for nearly any surface, all while saving money for our customers. We also feel great about having a greener approach, both with our flooring and with our ballast system.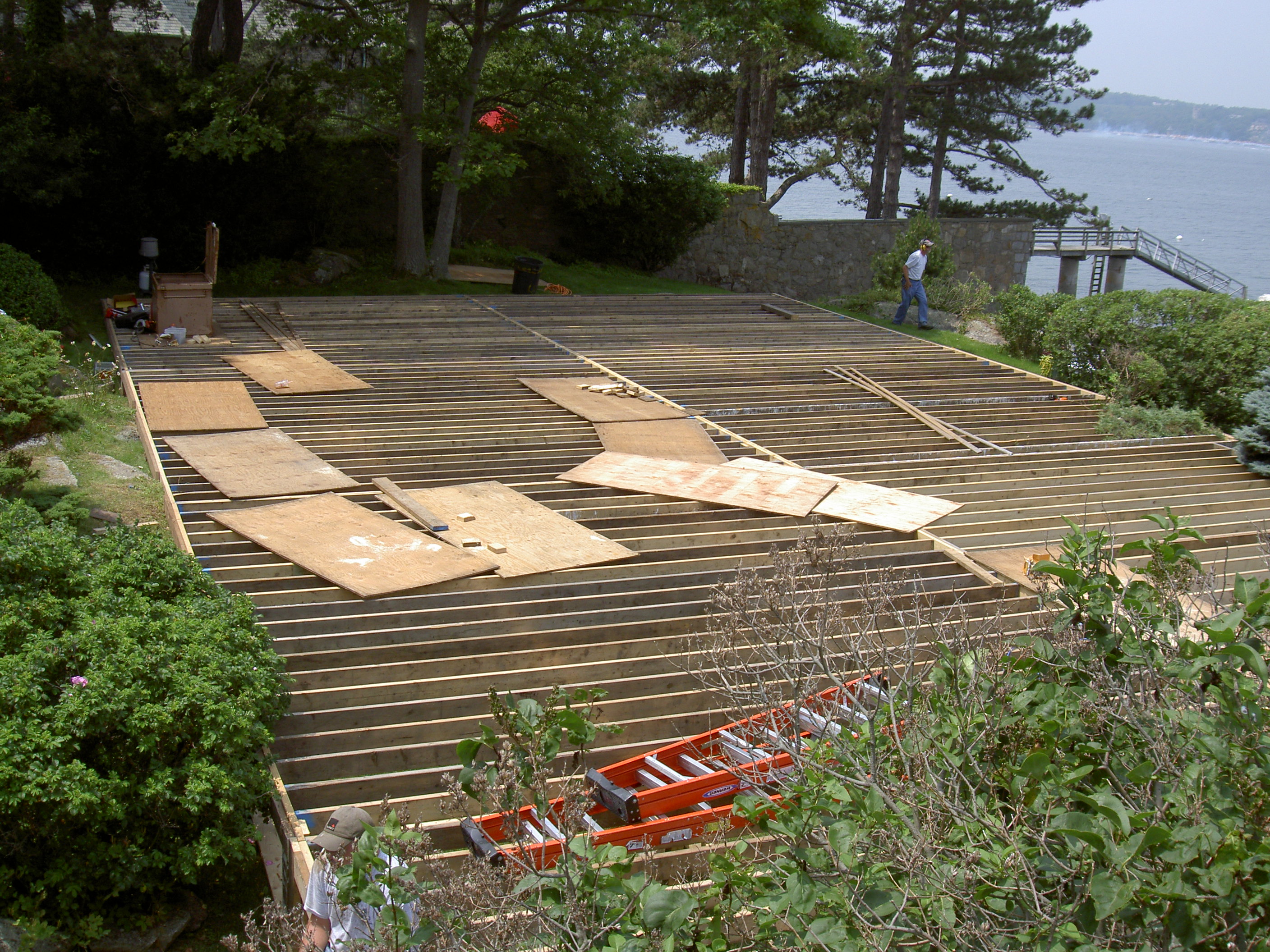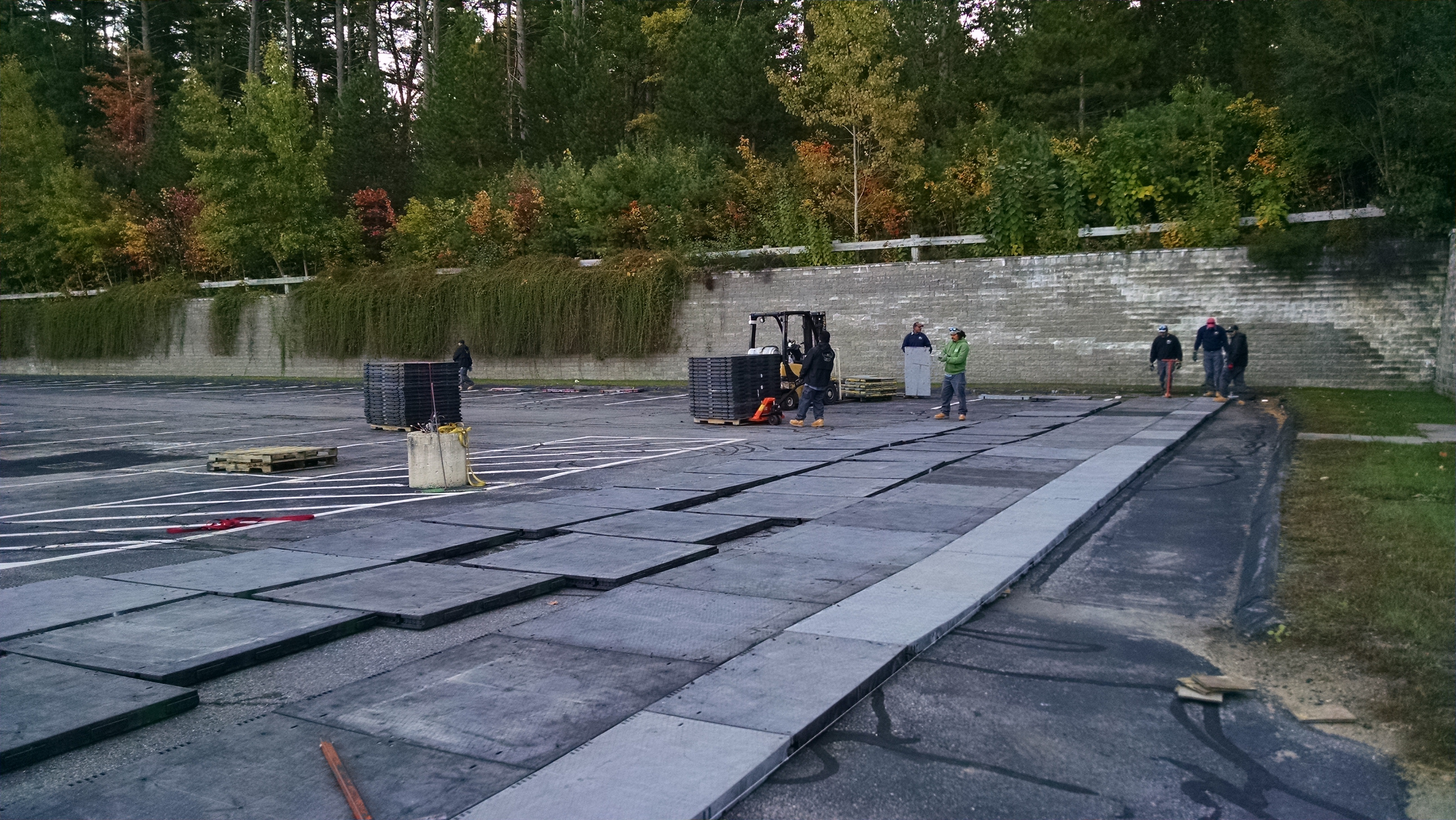 We love seeing new products at the Tent Show. Over the past few years, the popularity of the Sailcloth tent has grown immensely. From the beautiful baby shower in the back yard, to the casual graduation party, to the extravagant ocean-side wedding, the sailcloth style tent is perfect for any occasion (and one of my personal favorites!). This year at the MATRA Tent Show, we are seeing innovations in the sailcloth tent, including Germany-based Losberger Industries offering a sailcloth fabric in a Clearspan structure. This is the first time we have seen such a product– perhaps it is a new trendsetting style.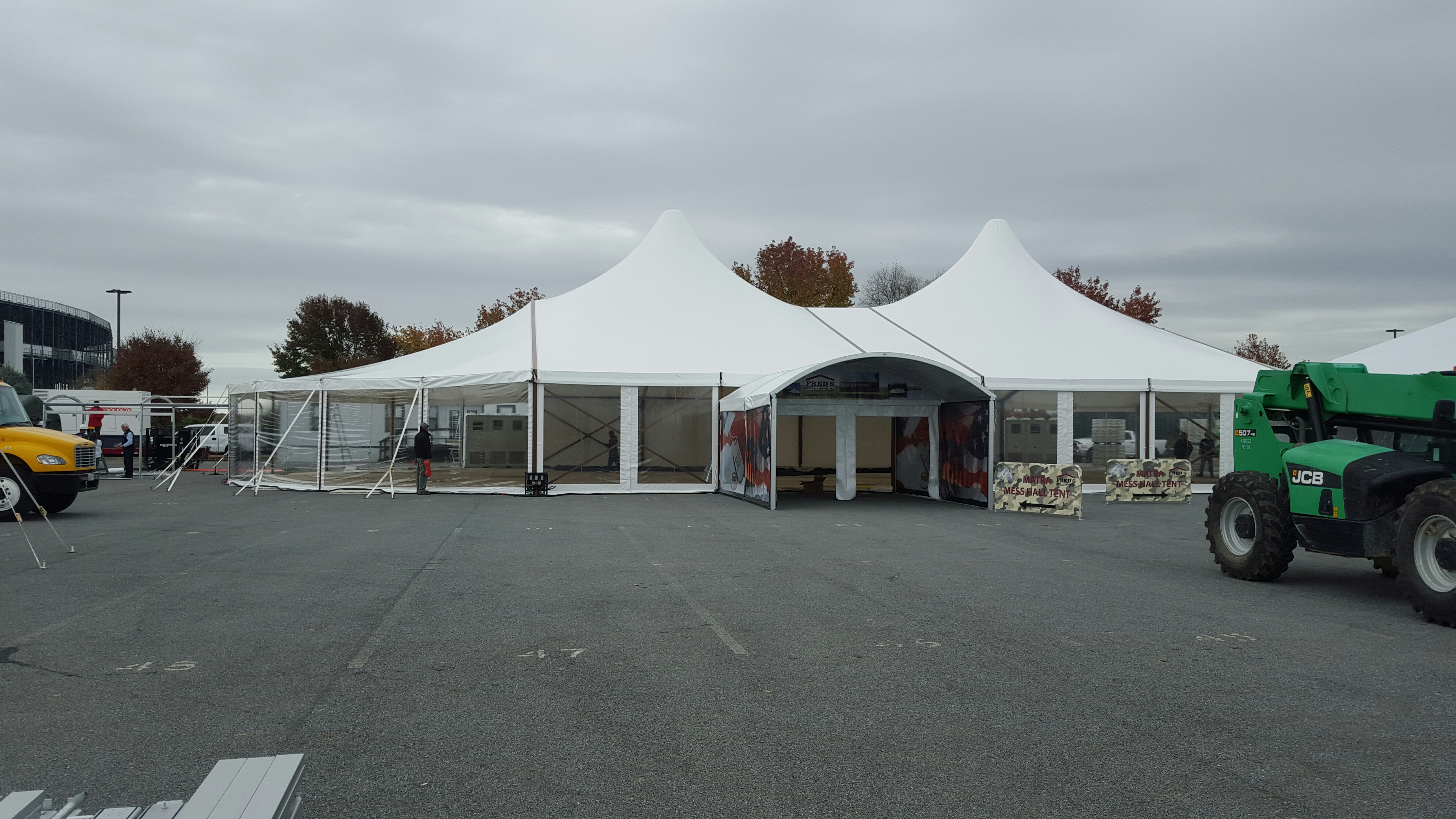 MATRA gives the chance for tent industry professionals to learn from each other, get little known tips and tricks of installation, learn about and purchase new products, and of course, allows all attendees to have a fun. Because we all know, boys will be boys.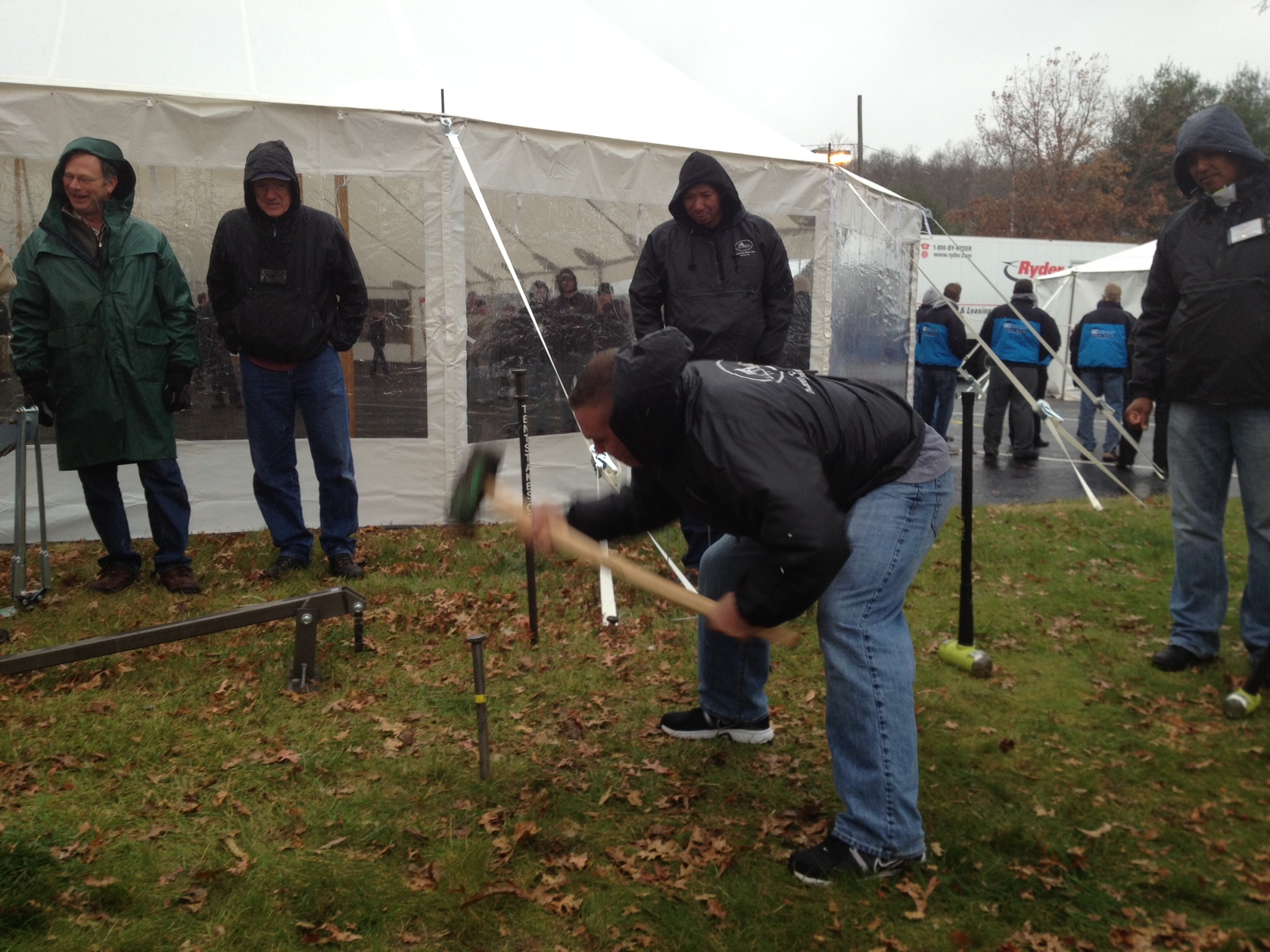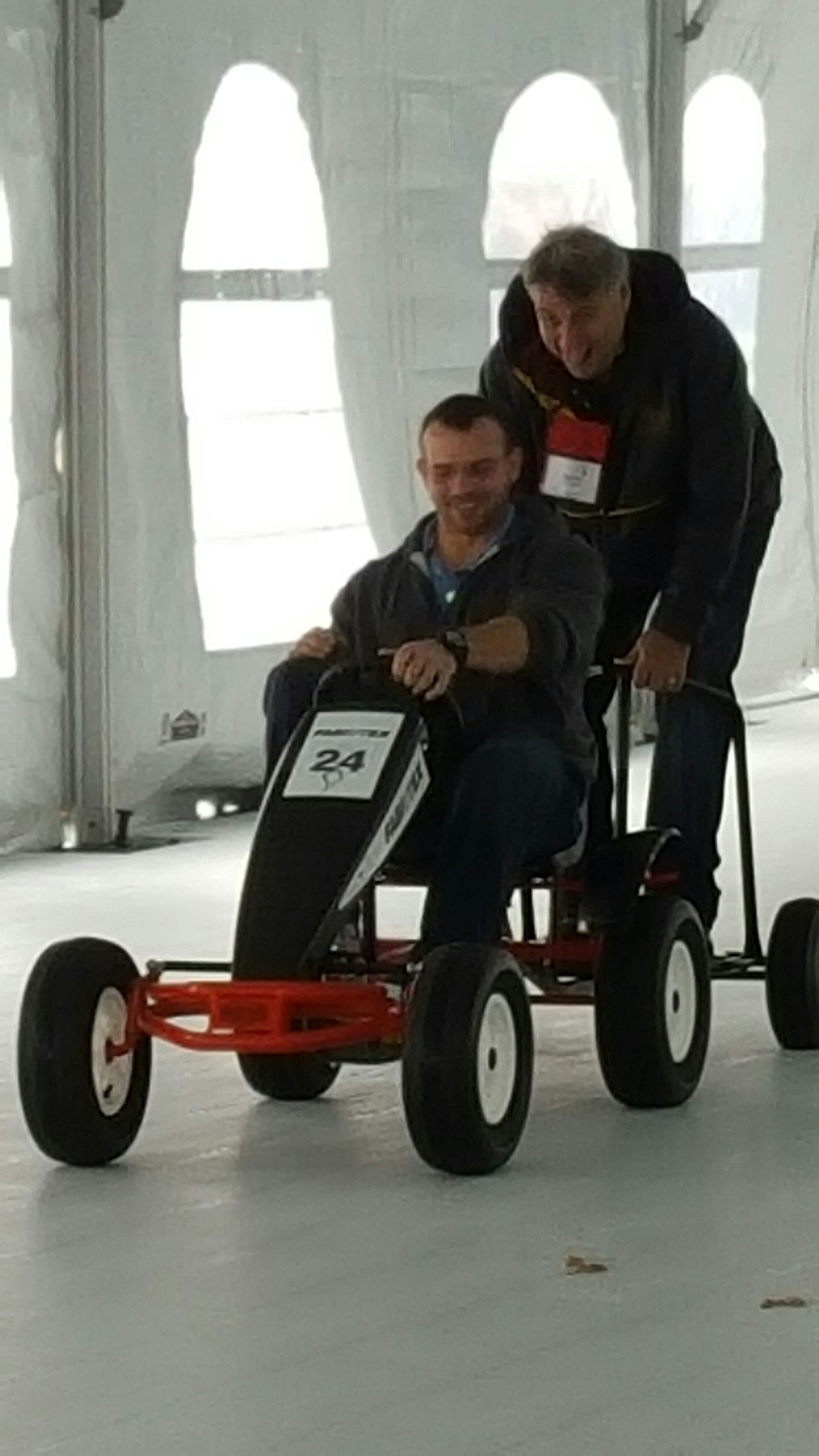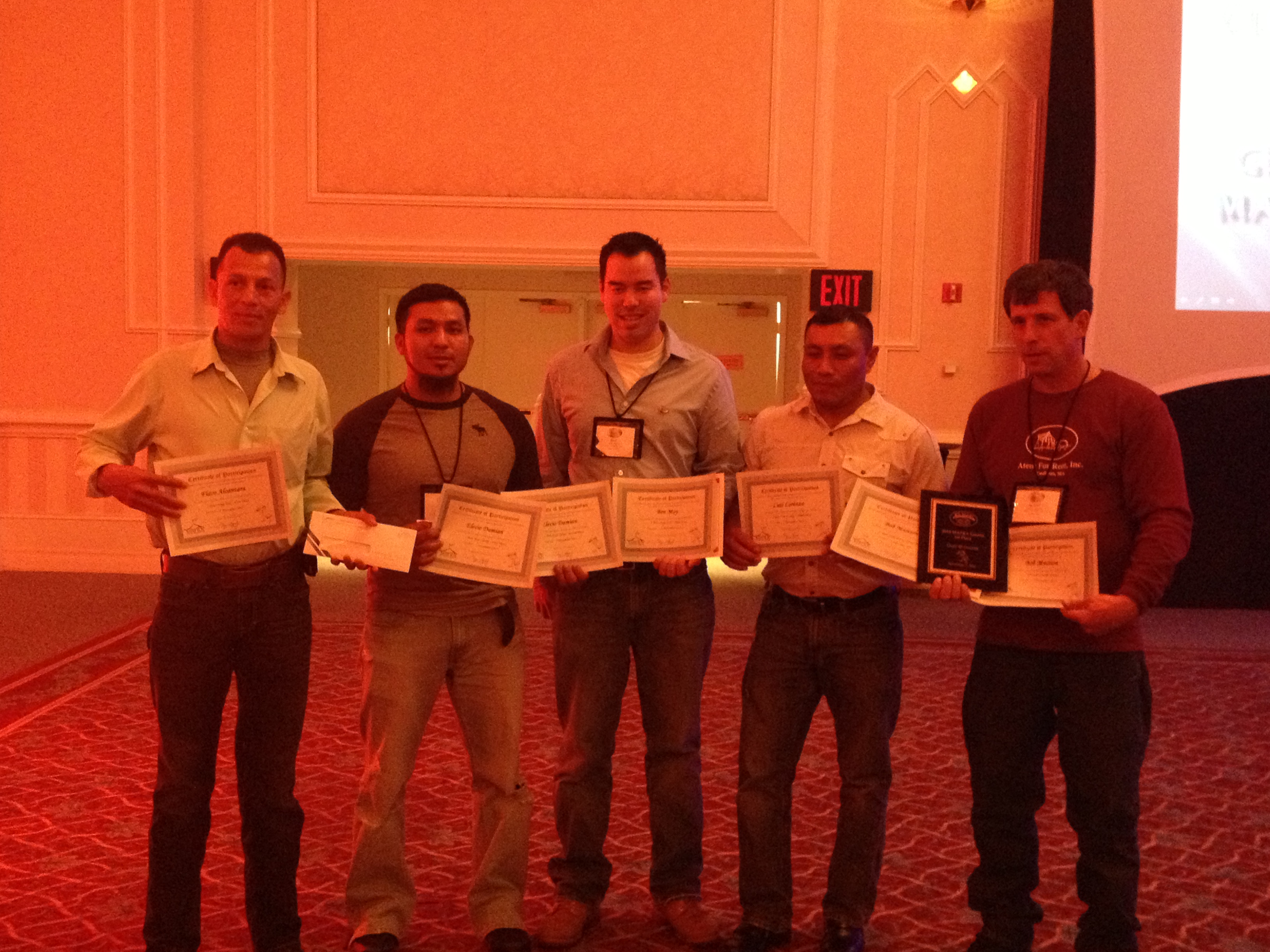 Food trucks are a great addition to any event. They are fun, convenient, full of variety and, most importantly, they are tasty! From burgers, to grilled cheese, to cookies, to ice cream, to bahn mi, you are guaranteed to find whatever fare you crave for your big event.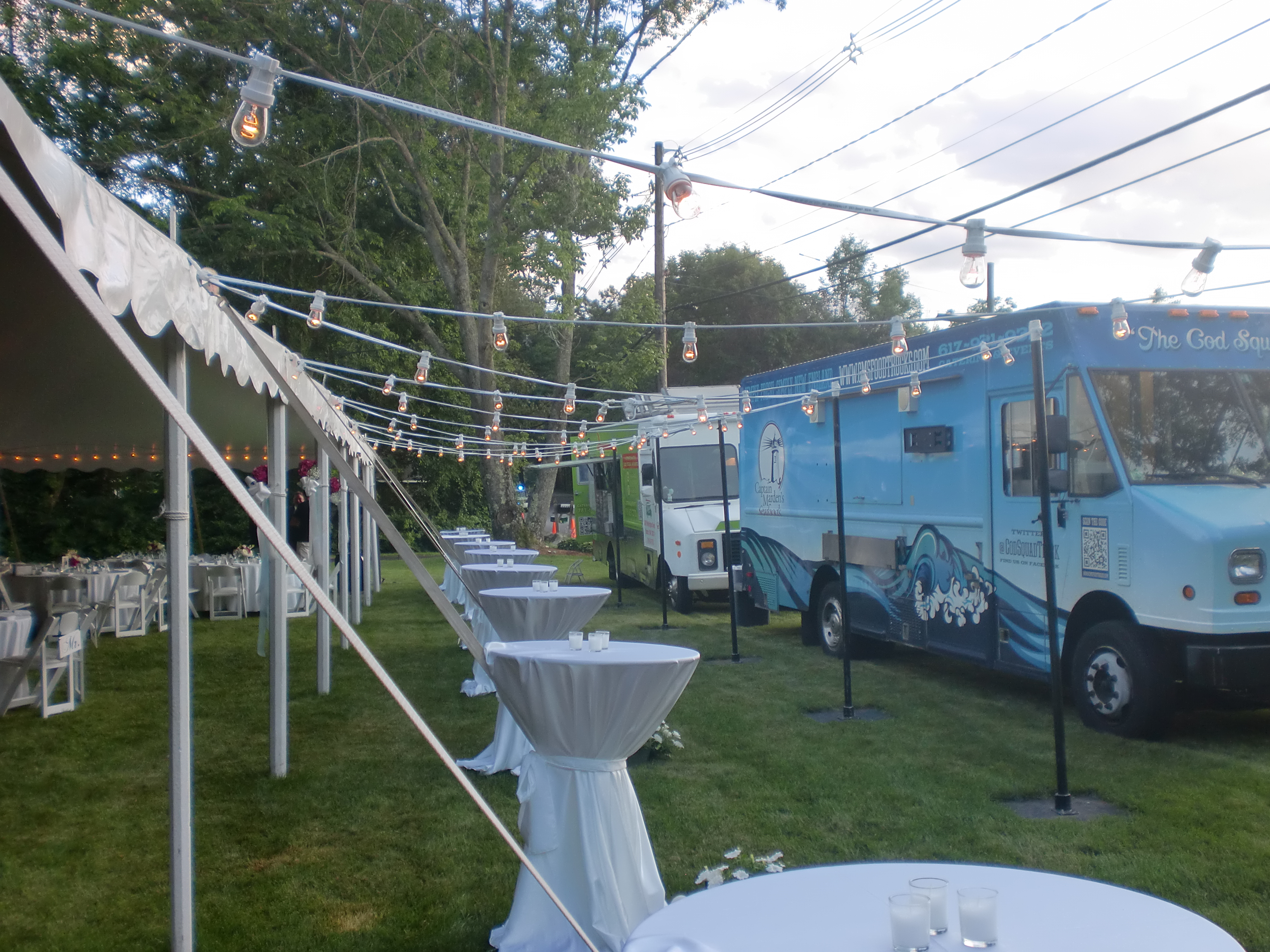 Boston has a growing food truck scene and now hosts multiple festivals and markets where you can sample a variety of cuisines. When planning for your event, check out the SoWa Market at www.newenglandopenmarkets.com. This annual market is open every Sunday from May 4 – October 26, 2015 from 10am – 4pm. SoWa Market has more than 35 food truck vendors, highlighting the best that Boston has to offer.
If you're looking for a more competitive edge to your food truck hunt, check out the Providence/Boston Food Truck Showdown on June 6th at India Point Park in Providence, RI. This festival puts Boston and Providence's best food trucks head-to-head, and YOU decide which you like best. For more information, click here.
How about a cookie or cupcake truck at your child's birthday party? Or perhaps a taco truck at the next big graduation party? Or maybe a truck that serves up seaside delicacies at your next beach party? Or go off the beaten path and have your whole wedding catered by food trucks! This tradition has been popular for late night snacking after dancing all night and building a hefty appetite, but bringing in the trucks for the main course makes for an exciting (and delicious!) alternative to traditional catering. And bonus! Food trucks usually do not require additional power distribution or dishware from an outside vendor. Though keep in mind that not everyone may like the offerings, so two or more food trucks might be a good idea. And also remember that most food is made to order, so wait time should be a consideration. Consider having either stationary or passed hors devours during cocktail hour. No one likes "hangry" wedding guests.
Last year we did the tents for one of our favorite wedding set ups. This couple wanted something unique so they made the food mobile. As you can see in the above picture, they created a casual dining area covered by bistro lights to connect their main tent with their food truck area. This wedding was certainly one that all the guests will remember.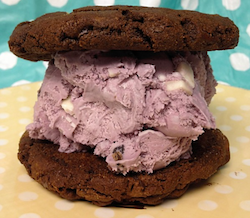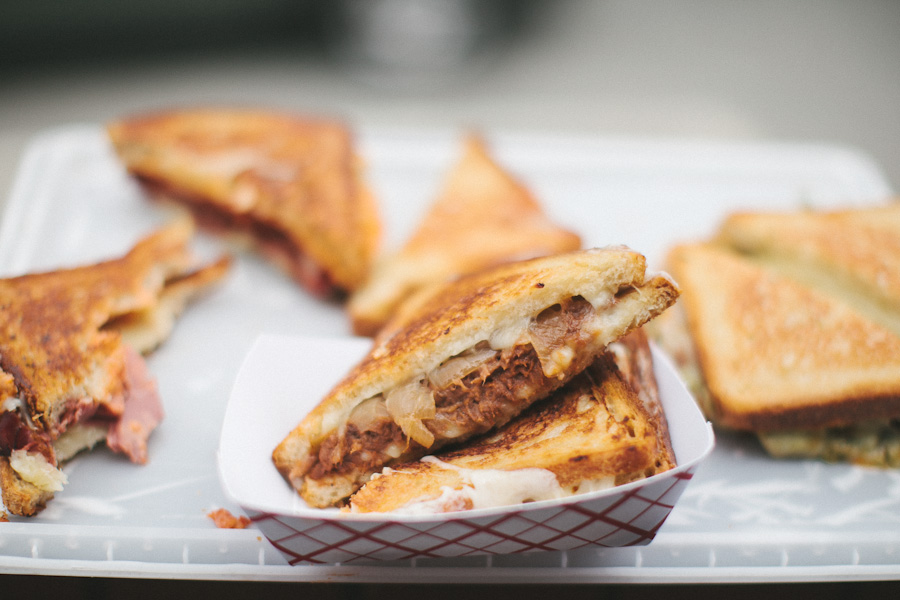 Some of our staff favorites for local food trucks are Roxy's Gourmet Grilled Cheese, Teri-Yummy, Mei Mei Kitchen, and The Cookie Monstah.
This year marks the 25th year of festivals at Harpoon Brewery. Harpoon is a Boston-based brewery that was founded in 1986 by three friends who enjoyed beer and decided to brew the beers they loved, making them always available for themselves and their friends. The brewery started on the Boston waterfront in a single warehouse space and now has two fully operational brewery locations, one in Boston, MA and the other in Windsor, VT.
Harpoon hosts multiple functions throughout the year and supports various charities throughout New England through their Harpoon Helps initiatives. In addition to the many events each month, they have 5 festivals each year.
Atent for Rent has been working with Harpoon since their first OctoberFest in October of 1990. The scale of the event has grown immensely and they now house over 20,000 people over the weekends of the May HarpoonFest and the OctoberFest events. Along with their growing guest count, their tent needs have increased along with it.  The tents for the OctoberFest in 2015 covered over 27,000 square feet, providing ample space for their record-breaking event.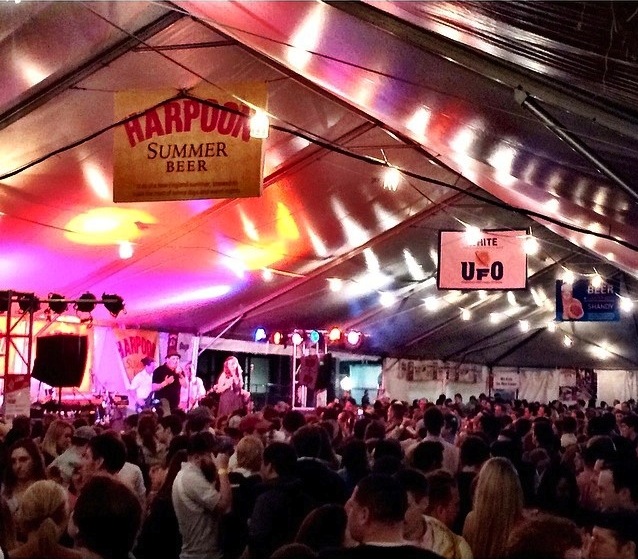 The festivals are events loved by people all around New England, and are particular favorites amongst college students in Boston. Take a look at these photos courtesy of event-goers, doesn't it look fun? This year's HarpoonFest is taking place May 16 and 17, 2015. Cover charge is 20.00 (cash only!) and includes a souvenir pint cup, one (1) drink ticket. In addition to the great beer, there are tons of local bands playing live and many food vendors. Of course, you must be 21+ to enter.
The event is rain or shine, but don't worry- we have you covered.
To learn more, visit http://www.harpoonbrewery.com/festivals.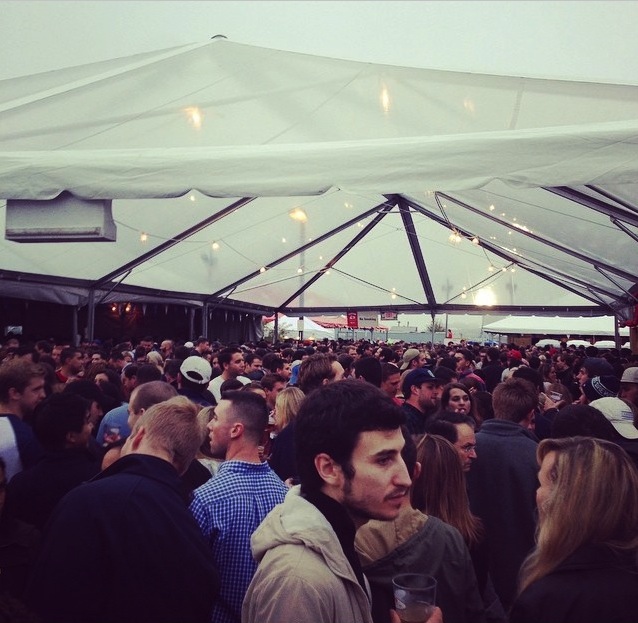 Advancing Technology in the Tent Industry
Remember the days when we used encyclopedias and phone books? We do too, but just barely! With technology constantly around us and readily at our fingertips, it's difficult to recall times like those.
Of course, advancing technology has changed every aspect of day-to-day life and it is no different here at Atent for Rent. From the way we store and wash our equipment, to the way we write orders and communicate with customers, we utilize helpful technological tools daily. One of favorite tools is Google Earth, we use it all the time! With Google Earth, we can get an idea of a customer's yard and even measure to have an idea of what will fit.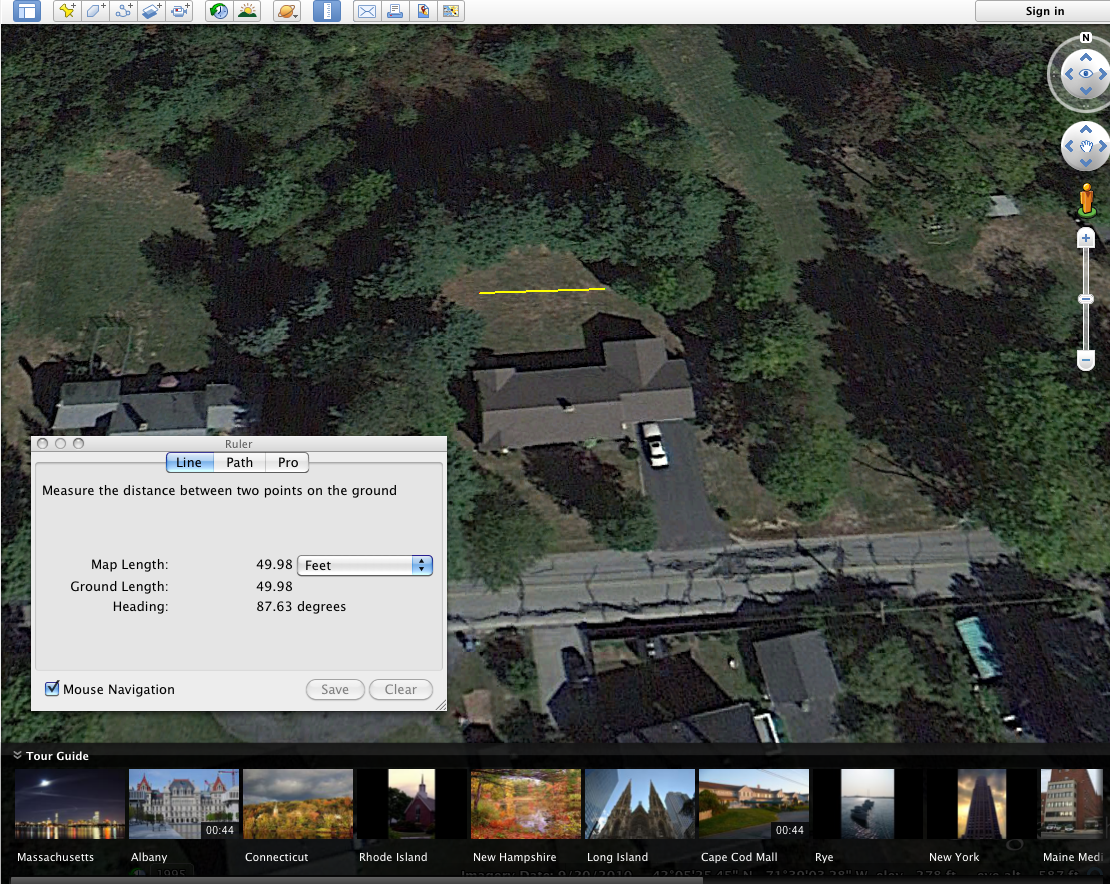 From there, we can impose a to-scale CAD diagram on top of a Google Earth image like we have done here. This helps give our installers an idea of the layout, and helps our customers visualize how the tent will fit in their space.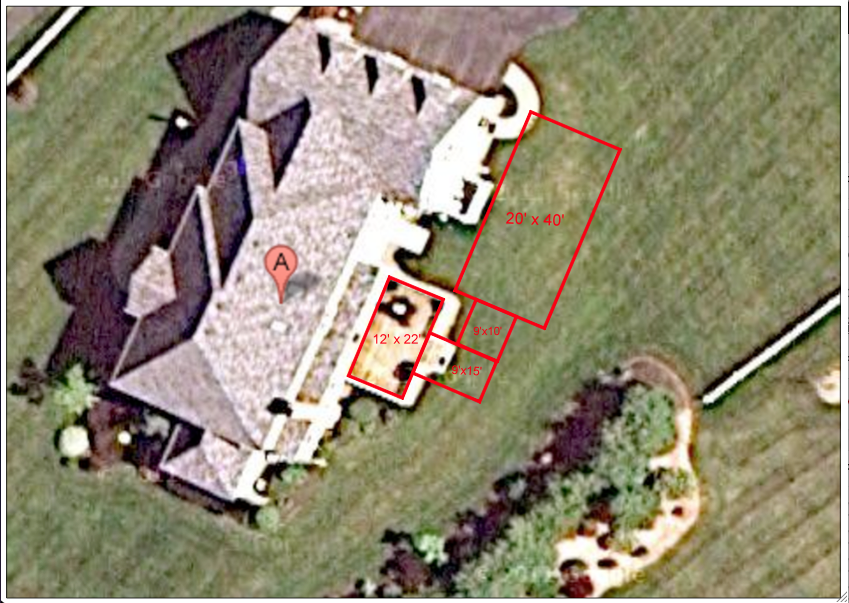 We have even happened to come across a number of Google Earth images showing our tents in them.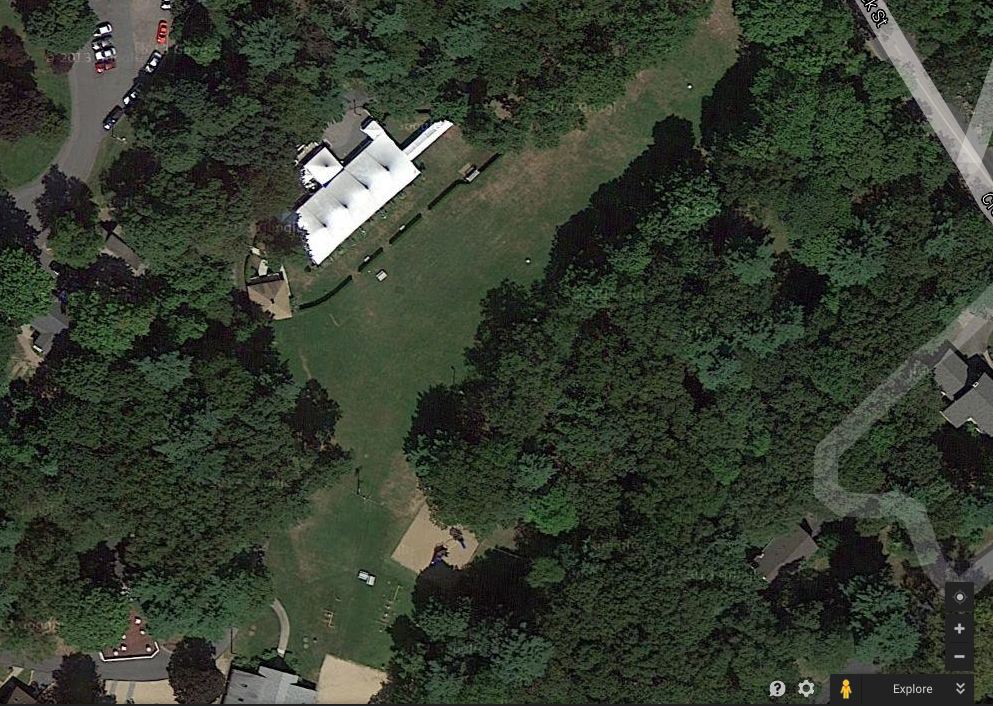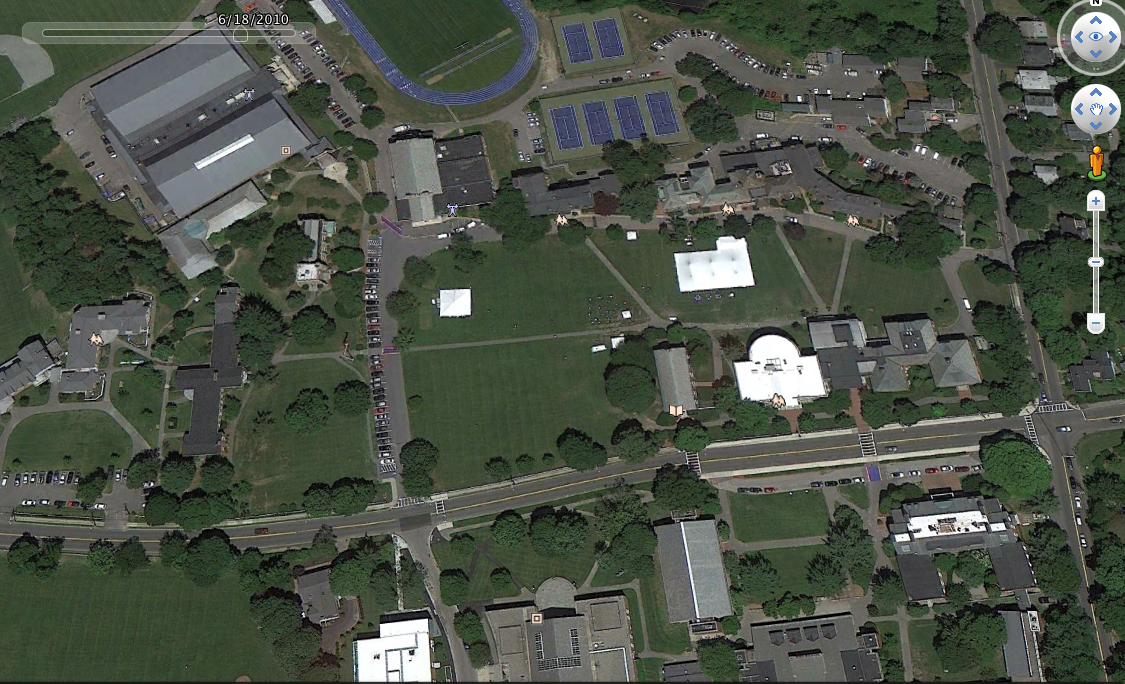 Though not as grand or wondrous as the Egyptian Pyramids, we still get pretty excited to see our handy work captured in internet history. And take a look at the beautiful peacock that some boats (possibly accidentally) created, now captured forever.
You have quite the eye for art, Google Earth.
Just like everything else, Google Earth has its flaws too. Take a look at this image that was captured—let's hope the bridge doesn't actually look like that!
We encourage our customers to use this as a tool when planning for your upcoming event. And as always, if you need assistance or have any questions, we are always here to help.
Congrats Graduates! Commencement 2015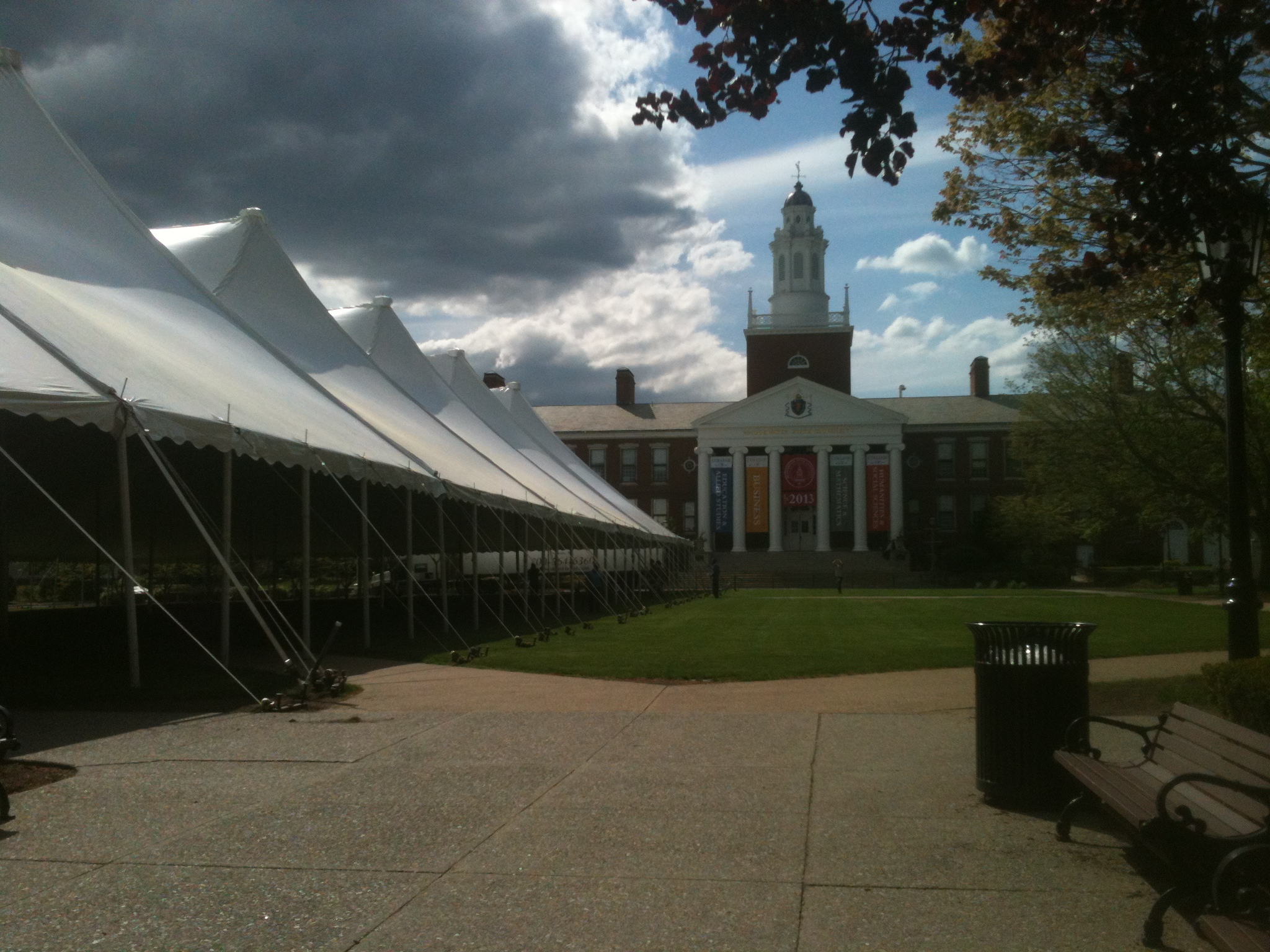 Here at Atent for Rent we are gearing up for the busiest of our seasons- Commencement Season. The 10,000+ square foot tents are being washed, chairs and stages being inventoried, and pipe and drape counted and cleaned.
Boston is known for a few things, notably its health care, its historic charm, and its many top rated colleges. In celebration of the graduates completing years of intense schooling, the colleges and the universities in the area plan weekend-long events. While students wrap up their final exams and papers, colleges and universities focus on beautifying their grounds and preparing for thousands of attendees.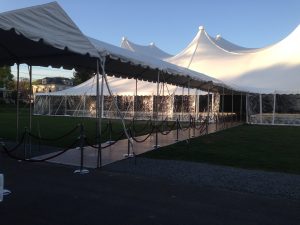 The third weekend in May is historically the busiest for Atent for Rent. This year is no different. We prepare for commencement season starting as early as the year prior, working with university officials to make the following year's commencement that much more memorable than the last. Not only does the actual installation take a lot of planning, but also requires many logistics in preparation for the events. Towns require multiple permits, public safety officials on site, and crowd control to ensure the safety off all graduates and attendees.
 During commencement season this year, we will install over 335,000 square feet of fabric. That is the equivalent of 7.69 acres, 71 NBA basketball courts, over 6 White Houses, and nearly 4 Versailles Palaces! In addition to the tents, we provide nearly 60,000 chairs. Then we do flooring, staging, and lighting for nearly all of these tents. Needless to say, we stay busy here during commencement season.  Our crew of 60, office staff of 8, and fleet of 12 trucks and 2 tractor trailers work around the clock to meet the needs of our clients. Take a look at this incredible time-lapse video installing one of the large commencement tents.
To all the graduates in and around Boston- Congratulations!
Just yesterday I saw flowers poking up through the dirty snow. Is spring finally here? (Forget about the fact that just got snow two days in the past week!)
It was a long, cold, ruthless winter for all of us here in Massachusetts, taking a toll on even life-long New Englanders. It was the same story in the tenting industry but as they say, the show must go on!
With record snowfall and prolonged cold temperatures, this winter presented a unique set of challenges.
 Our customers and crews cleared patios of up to 4' of snow to create the space for special events. And even when not installing on patios, the ground was frozen for so long that it was impossible in some cases to drive in stakes to secure the tent, even with the help of our heavy machinery. But thanks to our experience, a little ingenuity, and a lot of manpower to clear the snow, we were able to install tents in all kinds of conditions.
Here you see a tent that is normally easily staked into the ground but in this case we were limited to using concrete weights to secure it.
Despite the challenges, we helped create many successful events this winter. In the construction world, however, the challenges hindered many jobs from being completed on schedule.  Fortunately, we were able to help with a number of jobs throughout the state.  Take a look at this pool construction that continued without interruption thanks to our tent. A heated tent gives construction crews a dry, warm space to complete their tasks despite Mother Nature's rude interruptions. 
The only question is, can we all take a dip in July?
Just imagine a venue filled with white and silver glistening with your candle-lit tables, snow flakes and crystals hanging from white branches that are scattered throughout, hot cocoa served during cocktail hour, a horse-drawn sleigh to welcome your guests as they arrive, a quiet snow falling outside.
The Winter Wonderland is a popular theme for both weddings and seasonal parties. The options for décor are endless, and if done well, can create a cozy and beautiful setting for any special event.
There are many websites with ideas to make your Winter Wonderland come to life. Just look at some of these venues that have been transformed here and here. And don't forget the tablescape, white flowers, some mercury glass, and candles will transform your venue. If your budget doesn't allow for Swarovski crystals to light up the sky, don't worry– there are plenty of budget conscience ideas for beautiful decor. White fabric, glitter and white spray paint, carefully chosen lighting, and a commitment to giving a little elbow grease will change your space from drab to fab! Check out these simple and inexpensive yet beautiful snowballs and these tips for handmade faux mercury glass. Silver, glitter, and white ornaments in a glass centerpiece can also spruce things up on a budget. Oh, and don't forget Gypsophilia—You know, the filler flowers you know as baby's-breath that you usually pick out from your fresh bouquet and throw away. Yeah, those flowers. They are inexpensive and look like snow!
A great way to change your space is to bring in some branches. Go ahead– take a walk in the woods and cut down some 6-8' branches (just don't let your neighbors catch you) and some smaller ones for your centerpieces. Use white and glitter spray paint to change their look.
You can also purchase white huckleberry willow branches (or something similar) that already have glitter and sparkle at stores like A.C. Moore or Michael's.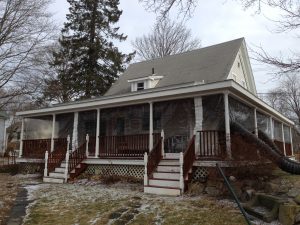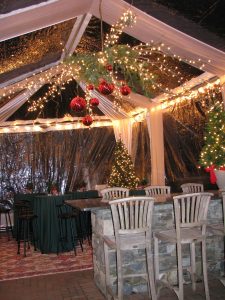 Thought a tent wasn't an option for your Winter Wonderland event? Think again. A tent is an option any time of year, but keep in mind there can be some obstacles when putting up a tent in the winter. You will have to clear any snow before your tent crew arrives to install the tent, and will need to keep the snow from piling up on the roof of the tent (if you want, you can hire our crew to do this). You may need a full floor built under the tent and will certainly need sidewall and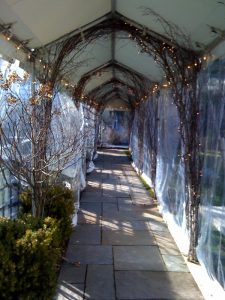 heaters to keep your guests warm. You can even enclose and heat your covered porch to give your home or venue a little extra square feet. You may also want a walkway tent to prevent your guests from ever going out into the cold.
If your budget and stress level allows, you can rent a tent and have a unique and beautiful space to create your Winter Wonderland.
Stay warm and happy planning!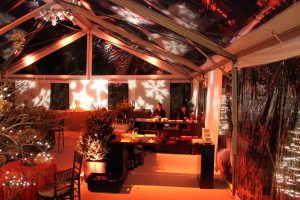 It may have taken a while to arrive, but summer is now in full swing! From summer weddings, to graduation parties, to clambakes on the beach, the summer is a perfect time of year to have an outdoor function.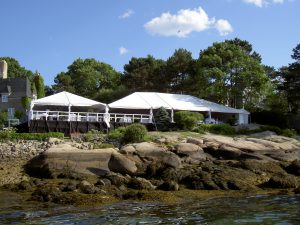 The ocean is an ideal backdrop to any function, but there are things to keep in mind when planning a tented event ocean-side. First, consider your land. Will you be on the beach with soft sand? Will you be on a rocky ledge overlooking the water? Varying factors like these will affect the installation of your tent.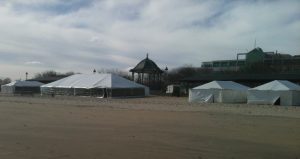 This fundraising event decided to place their tent on the beach. Installing on the beach can present some logistical considerations but it certainly makes for an unforgettable event! Take into considerations the ground—Is it a hard, packed sand? Or perhaps it's soft sand? Also take into consideration the wind. Installing a tent oceanfront usually requires using extra long (60"!) stakes to secure it. It may even require a Frame Tent, which will provide additional support in case of high winds. All that said, even best-laid plans can need changing—so keep an eye on that weather forecast, confer with your tenting specialists, and be prepared to adjust plans accordingly!
Speaking of high winds, don't forget the fast passing, stormy weather that New England summers often bring. In this area, especially towards the Cape and Islands, we are known for short lived but strong, and sometimes dangerous, storms. While it may interrupt your party, keep everyone's safety in mind when it comes to stormy weather. A heavy rain, or even gusty winds, should not affect your event (some of our tents are engineered for winds as high as 50mph) but if thunder and lightning rolls around, best to move indoors until it passes.  We do not recommend holding the tent in place while the storm passes, like these party-goers did here.
While your land and weather may determine the style tent you need, you will still be able to customize many other things. Consider a cleartop tent and clear sidewall to take in the amazing views and ocean side sunsets.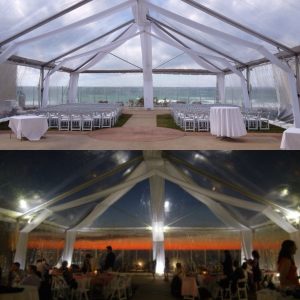 And of course, there is the ever-popular Sailcloth Tent, perfect for summer or beach functions.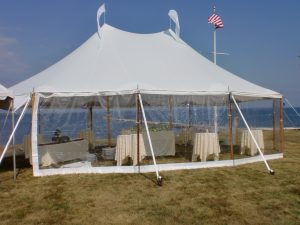 Perhaps you are just too afraid of what your hair might look like if you do have an outdoor function in the summer (Massachusetts does average 88% humidity during summer days, after all). If this is the case, we have solutions for you. First, consider leaving that sidewall off the tent completely. An enclosed tent will act like a greenhouse and trap the hot air. It is usually best to leave the wall off to allow the air to move. Another option is to use mesh sidewall, which will allow some airflow but will help keep out those pesky mosquitoes! You may also consider adding pedestal fans. These 30" industrial fans will get the air moving and help everyone stay cool. And did you know it's possible to cool a tent using air conditioning? Though it can be costly, it is often a worthwhile luxury to complete your perfect wedding or function.
So whether you planning your wedding, a summer clambake (you might even be serving the best oysters around), or just a party on the beach, we can help you make it beautiful and unforgettable.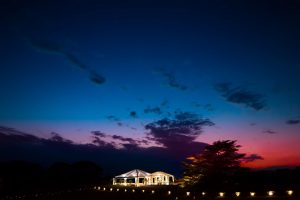 The Historic Endicott Estate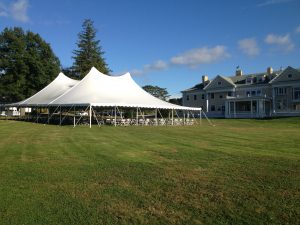 The Endicott Estate in Dedham is one of our favorite venues to work with. Situated on a 15 acre plot just outside the city, the grounds have large old trees, a beautitful gazebo and an expansive lawn for tents of all sizes. Dedham is a town rich in history and the Estate is just a small glimpse into it's past.  The Dedham Historical Society does a great job maintaining artifacts and documents keeping the town's history thriving.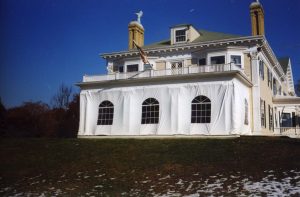 The mansion was rebuilt in 1904 after a fire destroyed the original property, inspiring Henry Bradford Endicott, the owner of a multi-million dollar shoe company, to rebuild a new, grandeur, more expansive estate! The house was left to the town after Henry's daughter died in 1967.  Since then it has been used for a range of events, public, private, formal, informal, small and large.
Aside from weddings, corporate events, and meetings, several annual events and special town celebrations are held at the Estate.  The 43rd Annual Bay State Antique Auto Club Car Show will be held this year in July at the Estate, and just this past weekend in April the James Joyce Ramble took place.  The first 10K Ramble hit the ground running in 1984 with 244 runners and has grown into the thousands with runners of all varieties winding through the streets of Dedham past several Historical Landmarks rooted deep in the town's History.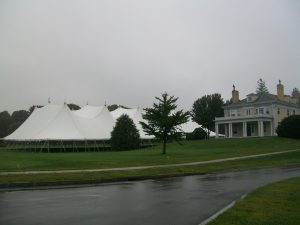 For Dedham's 375th Anniversary, we installed one of our larger tents, spanning across the lawn 120 feet x 220 feet.  The house also has two beautiful porticos that can also be utilized for cocktail hours or smaller events.  Our manufacturing team has fabricated custom window sidewall enclosures for the porticos so they can be used in cold or inclement weather. Lighting and heat can be added as well.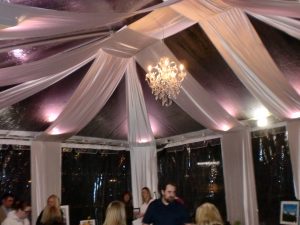 If it is raining we rent umbrellas or can install a marquee to connect the tent to the house. For a bridal show held at the Estate we featured custom staging that expanded the portico to create a larger tented area connected to the house. The options are endless! If you are considering a venue for your next event, it is definitely worth checking out.   The caretakers and event coordinators are great to work with and very helpful! Check out their website, www.endicottestate.com, for more information, to see the floor plan of the estate, and for more great photos!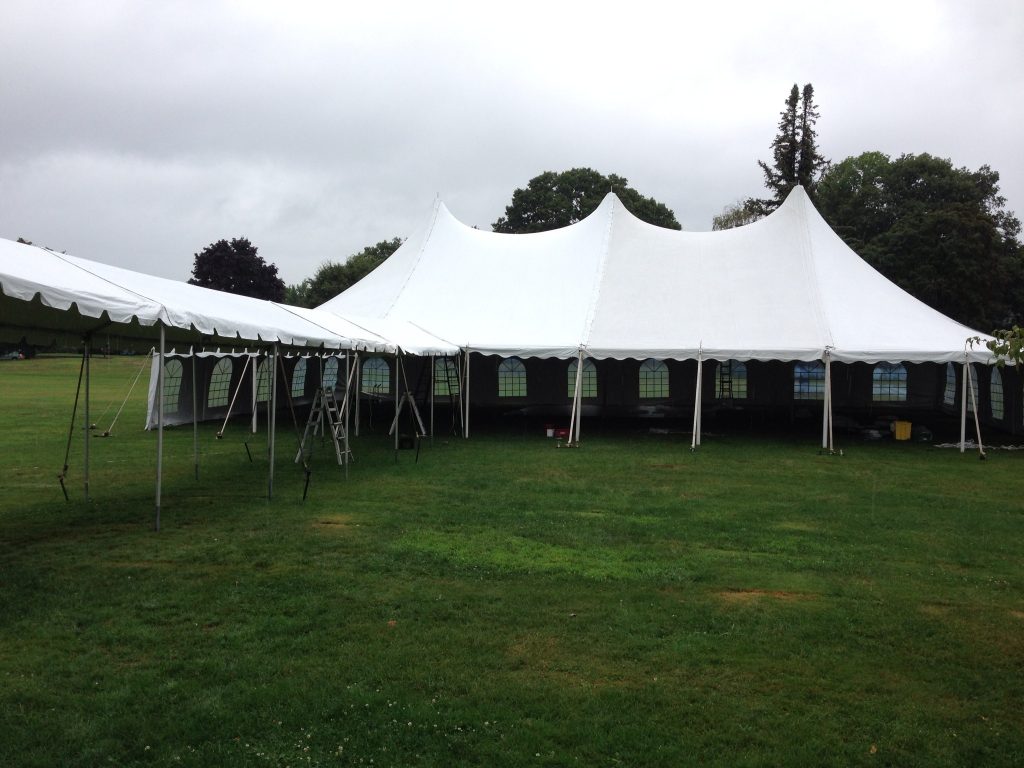 Outdoor Winter Holiday Parties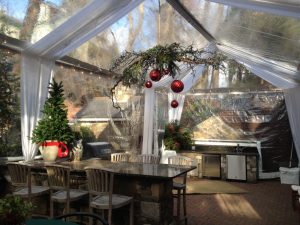 This winter we had several events on the calendar that were confronted with unpredictable New England weather. If you can pull it off, a party in the winter, surrounded by the white covered ground and snowflakes falling overhead, can be fun and magical! A client featured in a previous post for their Thanksgiving gathering came back to the drawing board when they wanted to expand the space for a larger Holiday party.
The outdoor entertaining areas on this property are naturally beautiful with unique stonework, solid surface counters, amenities of a kitchen and other custom features. Creating a patio enclosure was the perfect way to extend the entertaining area into the outdoors and utilize the stunning space. Installing clear fabric on the top and sides of the tent allows you to feel like you are standing outside while staying warm and dry!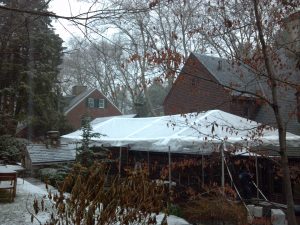 The sales team did a great job measuring the site to fit the perfect tent into the tight area, maximizing all the usable space. The manufacturing department created the tent drapery and custom sidewall to fit around the client's stonework and countertops. Once on site, the installers took extreme care building the frame in the somewhat restricted area and wedged the tent perfectly into place.
The new enclosed patio area was stunning when it all came together with the lighting, drapes, chandelier, tables, decorations and of course, the ice sculpture!! It snowed during the event, making for an exciting night for the host and party-goers as they watched the snow fall down right above them through the clear top tent! Despite the weather, or maybe in part due to the weather, the party was a huge success!
Atent for Rent loves to hear back from our clients "post event".  It is often time a journey from start to finish for anyone hosting or planning an event and we are happy to be able to help and be a positive part of the process.  Having the opportunity to work with several varieties of experienced vendors gives us any opportunity to learn and expand through our events as well.
We would love to share a little feedback we received recently from some of our clients and thank them for taking the time!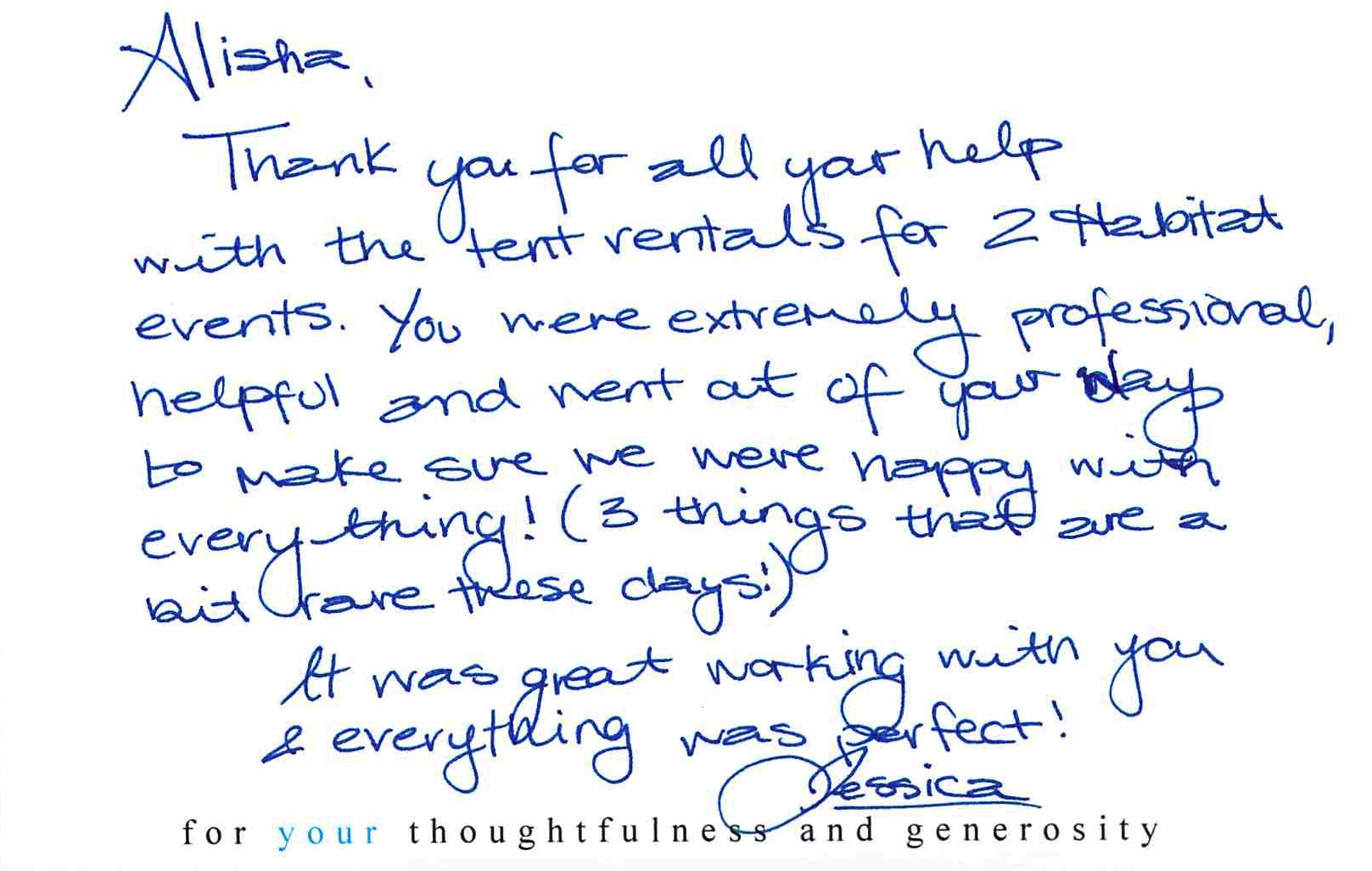 Atent for Rent was thrilled at how great these events went and happy also to have thoroughly satisfied clients and guests. While every planner loves having things go well and just fall into place as planned, we all know every event has the potential for last minute changes and needs.  We are available 24/7 and will always try to help even if it isn't our typically areas of expertise.  There just isn't much we won't do to make sure your event is a success!
Planning a Benefit or Fundraiser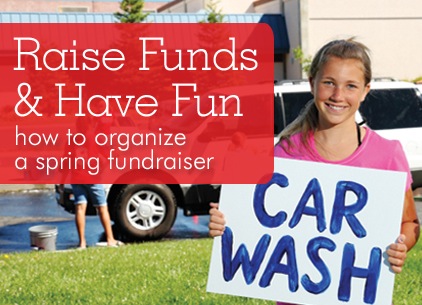 Fundraising events come in many forms: formal galas, car washes, sporting tournaments, bake sales, walks or runs, raffles, etc. If you have decided to take on the task of coordinating or hosting a fundraising event, you don't have to be overwhelmed and stressed out. Enjoying what you are doing and why you are doing it is important to your success and will help you along the way. It is no secret, the goal of a fundraiser is to raise funds. Every expense you incur must be carefully considered.
When you make educated choices on where to spend money and where to cut back, you can substantially increase your profits. It requires a unique balance of effort, creativity, donations, volunteers, sponsors and participants to be successful. No one likes going around asking for hand-outs, but it is an appropriate time to ask a favor of friends, family, the community or perhaps someone you have helped out in the past. It might also be appropriate to trade goods or services for advertisement or sponsorship benefits.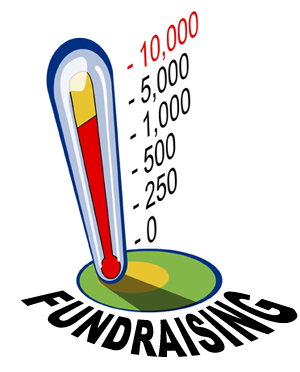 One of the first steps is to create a committee that will work together from start to finish to plan the event. Several people will want to get involved, ask people and groups that are affected by the cause or family and friends if it is for a specific person. Now, together as a group, you must set a date, pick a venue and create a goal. Pick a date a few months away at least, so you have adequate time to plan all the fine details and create a buzz about the event. There are many venues that might be willing to donate their space or cut you a deal: local town facilities, schools, estates, churches, halls, parks, etc. Perhaps someone who is part of organizing the event has a private residence that would be suitable as well.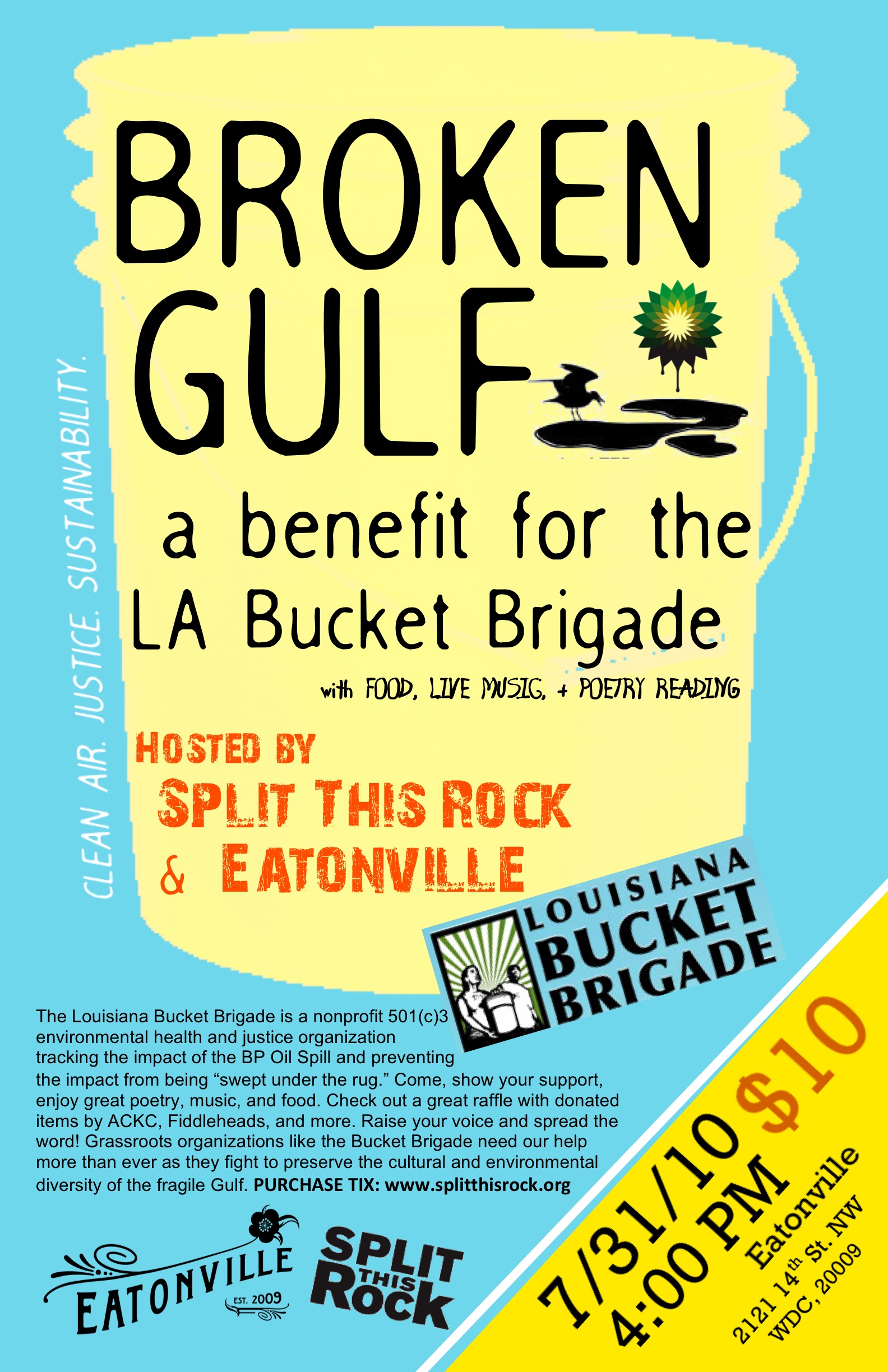 After you have a date and location locked down, you must create awareness, get the word out! Print up some brochures and literature, create mailing lists for friends and family or other targeted audiences. Create signs to hang at local businesses and brochures to leave with them. Printing T-Shirts, water bottles, wrist bands, etc. to sell and use to promote the event can be a great idea and produce revenue as well. The best way to market the event is in person, explain what you are doing and why they might want to be a part of it. Speak to local businesses that you frequent or in the area you are hosting the event; there are a lot of people who are willing to help if you ask.
Now that you have the location, the date and the support you need, plan-plan-plan to make it an event to remember. Making the event fun and hands on will help stimulate your guests to participate in the fund raising! Many benefits host a live or silent auction and have entertainment such as a band/DJ or comedian and guest speakers. A dunk tank or photo booth can be fun too!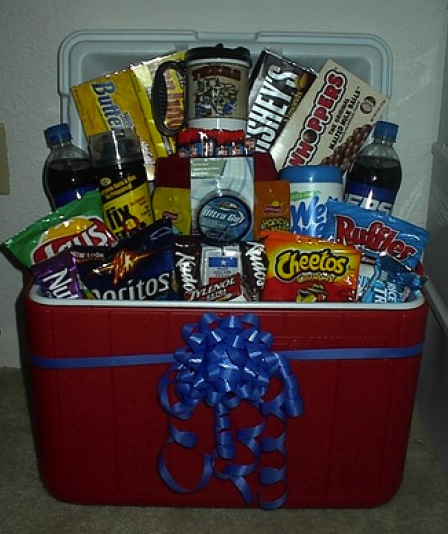 Raffles are alway a hit, many times donations are made in the form of gifts rather than cash and raffles are a great way to create a fun friendly competition. Sometimes a big ticket item like a flat screen TV can attract more attention to the raffle and generate ticket sales in advance. Creating themed "baskets" is a great way to target individual people who tend to be more likely to participate if there is something they are interested in. You can even get creative with the "baskets" using things such as an ice pail for a wine raffle, a wash pail for a car detailing kit, a dog bed, flower box, lunch box, wagon, tool box, cooler, etc. Some ideas for themed raffle items might also include a family day out, camping items, beach gear, movie night in, candy or for the gambler, scratch tickets. Check out this link for some great ideas all mapped out for you!
The ideas are unlimited and the potential rewards are priceless. If you have the passion, drive and support to make the event a success… it will all come together in the end!
Corporate Clearspan Tent Rentals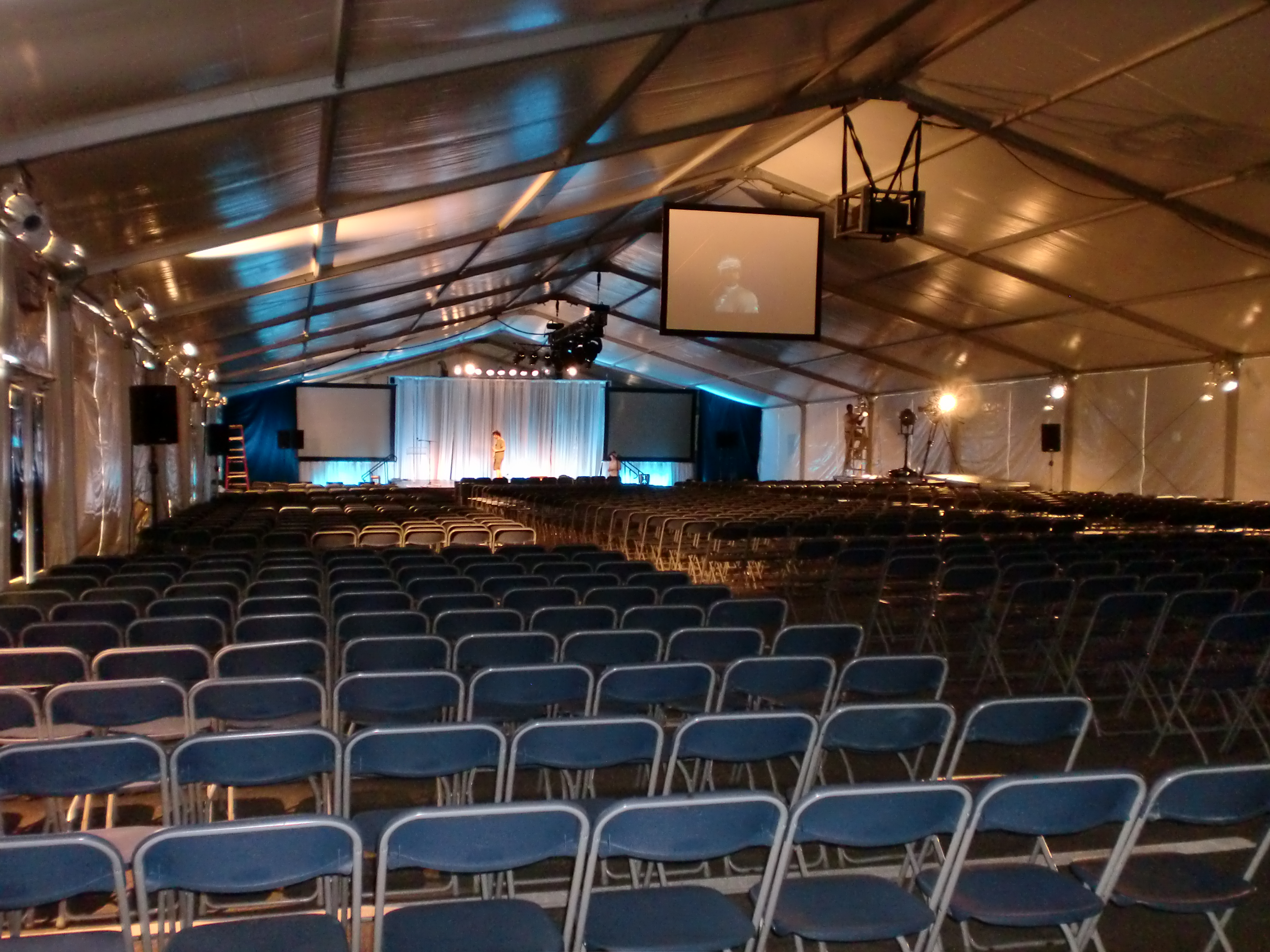 Many corporate clients use tents to create a temporary venue unique to their event or function. Whether it is a large presentation, product launch, ribbon cutting, annual company meeting, or small gathering there are many ways to utilize the blank tent canvas, accessorizing and customizing it to fit your needs.
Atent for Rent has a wide variety of tents that are just the right style or perhaps combination of styles perfect for your next corporate event. The Clearspan structure can accommodate small informal as well as very large, complex events. Often times at corporate gatherings there are a series of events, presentations, dinners, team building exercizes, etc. and the venue must adapt to each event. Tents are the perfect solution!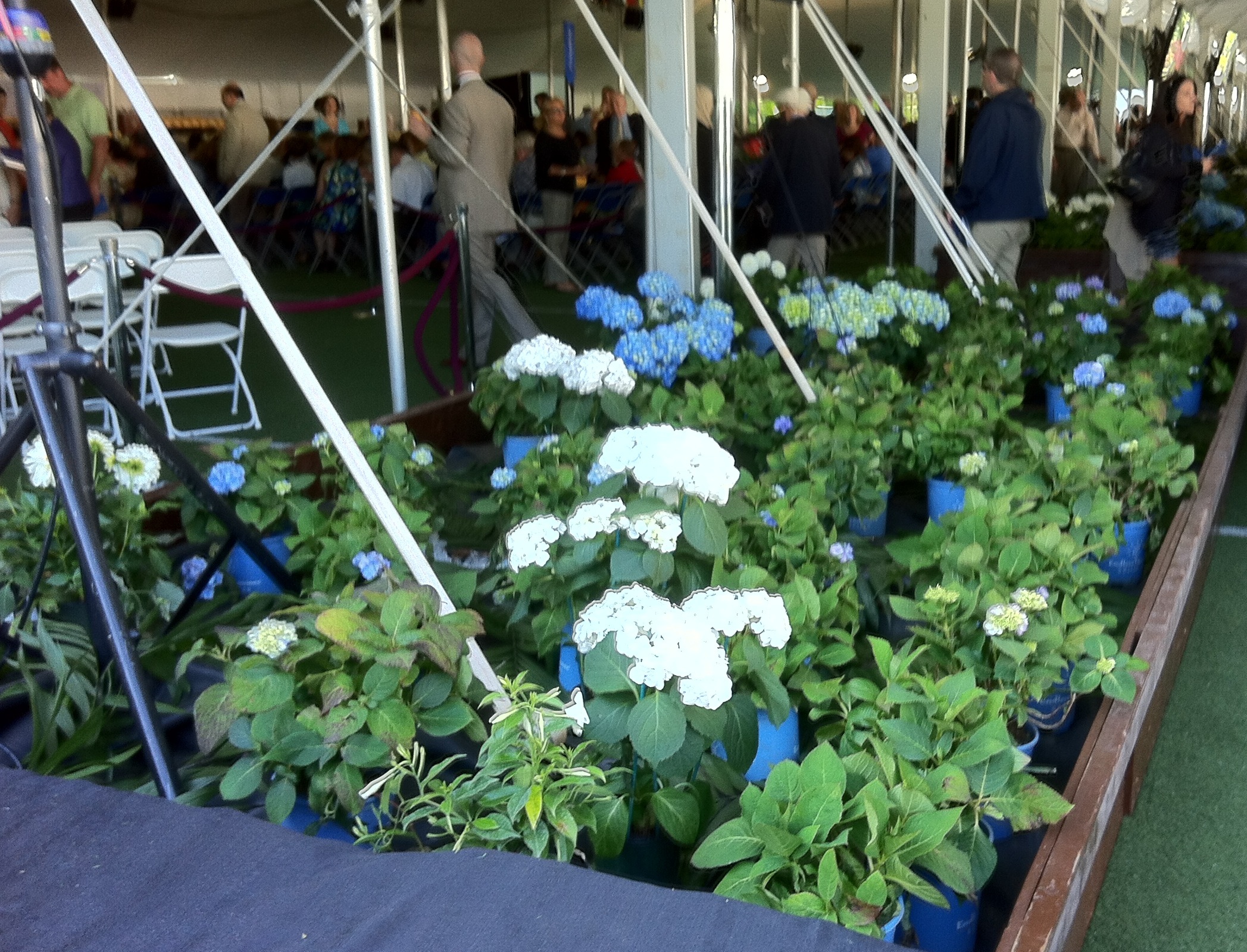 These large engineered clearspan structures can be installed on a variety of surfaces. Our licensed CDL drivers can tractor in truckloads of large concrete blocks to site to secure the tent. The manufacturing crew fabricated white vinyl covers to hide the concrete and give the block a clean look. We have also installed custom flower boxes and black banjo fabric to cover the blocks.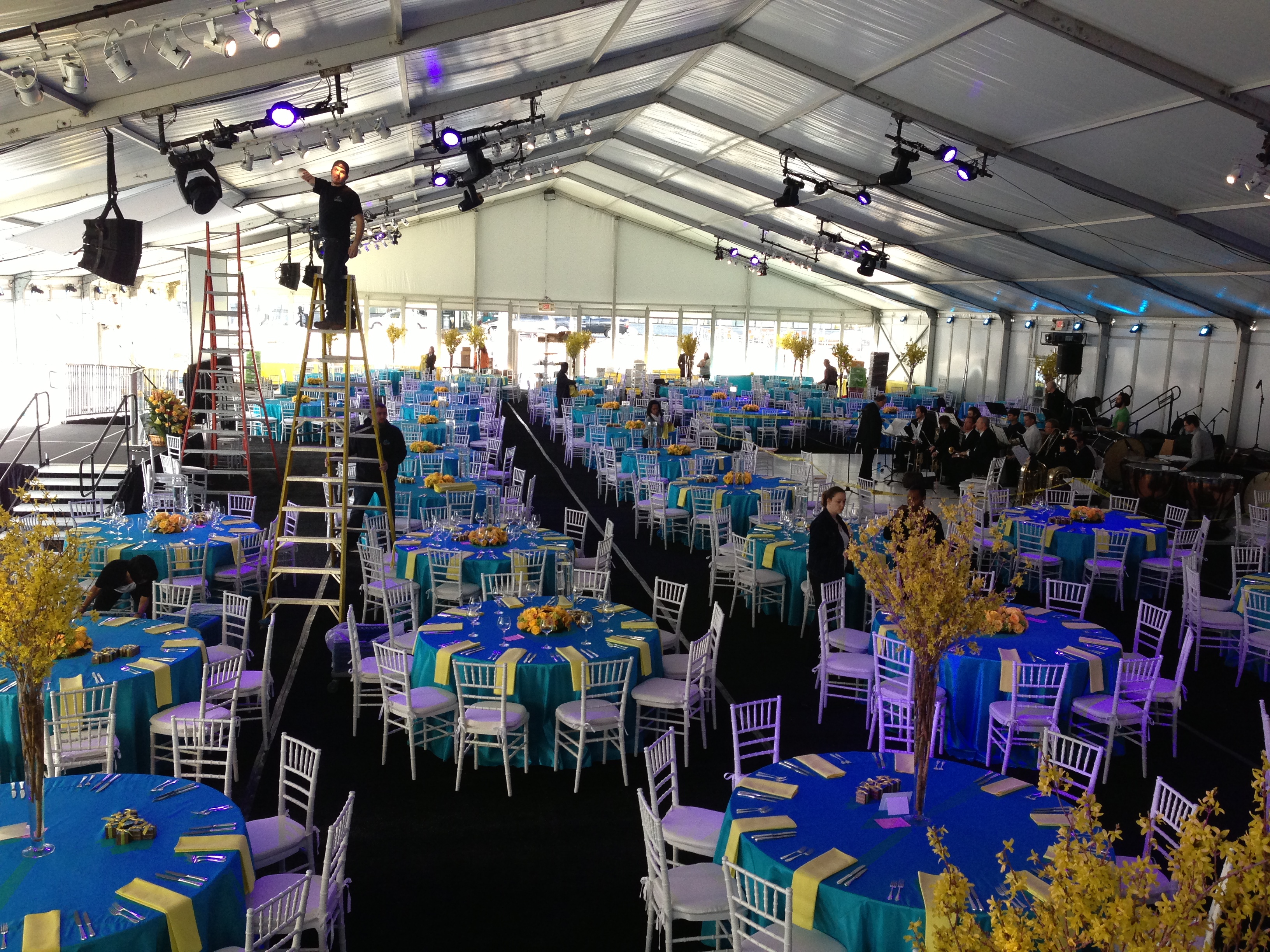 The metal frame structure that supports the tent allows the tent to stand erect without any center poles. This lack of poles allows for unobstructed views within the tent, and the frame structure is great to secure lighting, projectors and screens to the interior ceiling of the tent.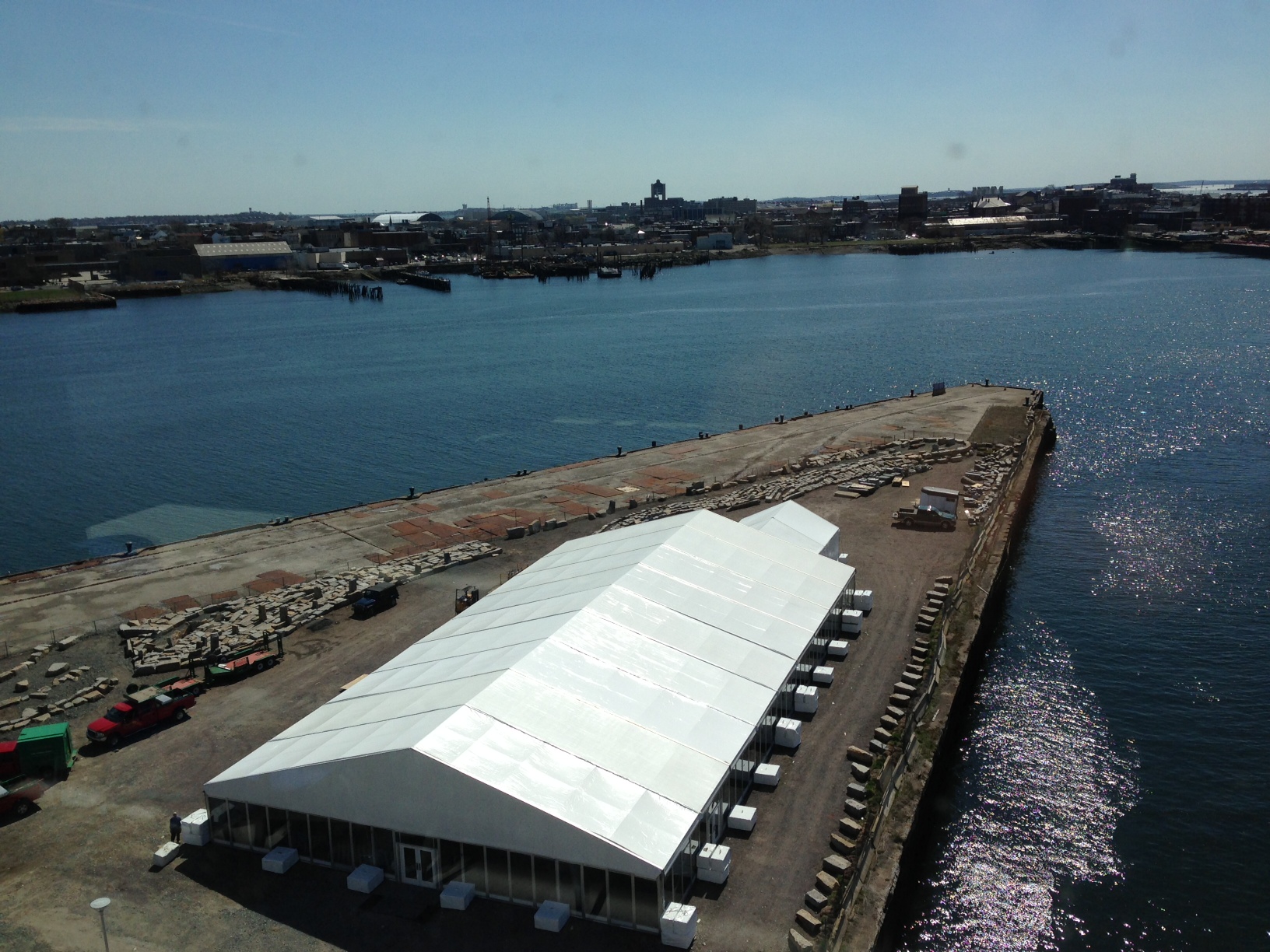 The heavy duty engineered frames can withstand higher winds and more inclement weather than the traditional pole style tents. We installed solid glass windows on this structure to minimize noise from the wind and city surroundings. The white walls blocked out the construction views, while the clear walls accentuate the city views, and the view of the establishment that was celebrating its grand opening events.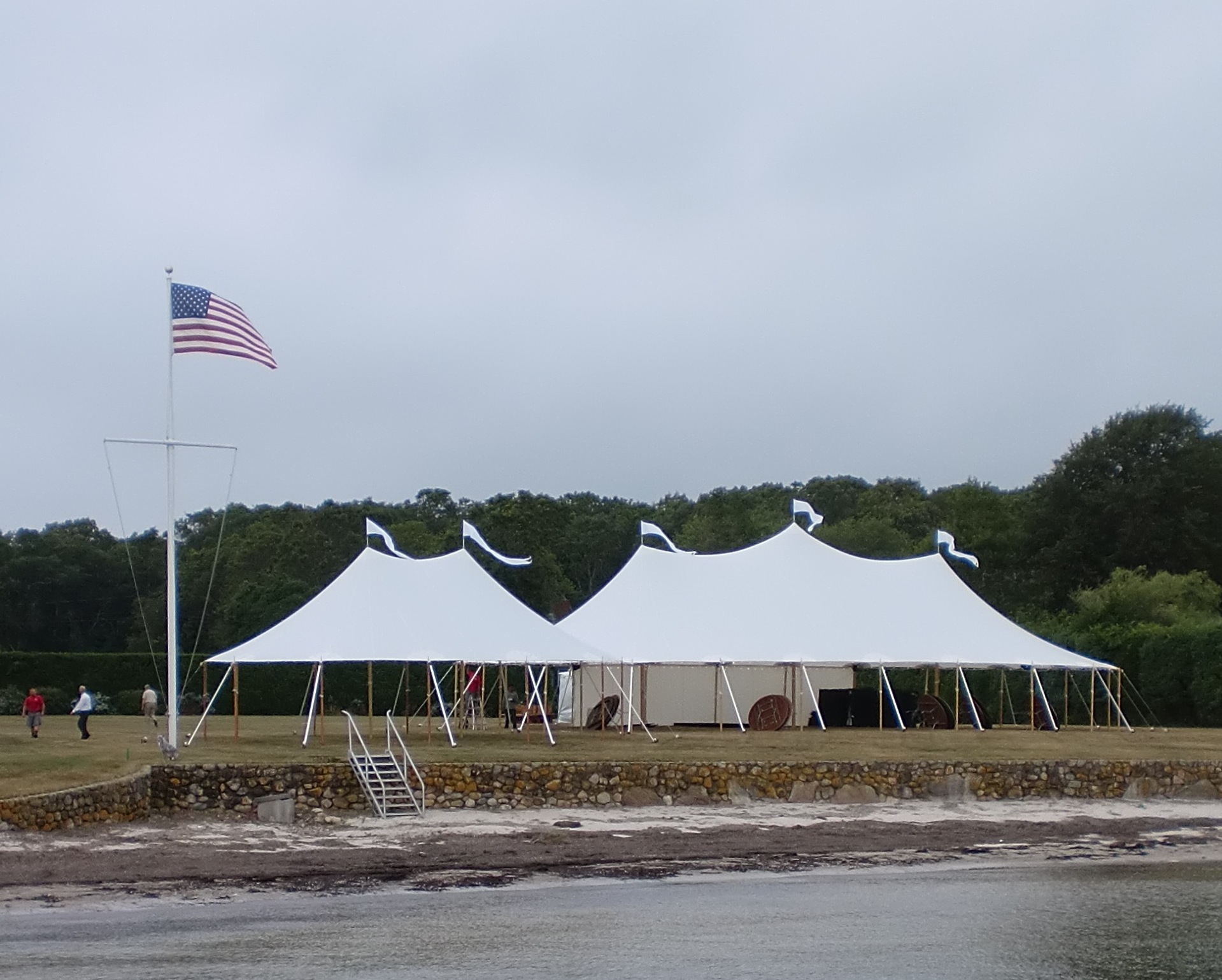 The Sailcloth tent is relatively new to the tenting industry. The concept was born about 30 years ago, but it only really set sail recently in the past few years gaining popularity across the country. The sailcloth tent design was created in Massachusetts, targeting clients in many sailing communities along the east coast, but has since boomed across the nation.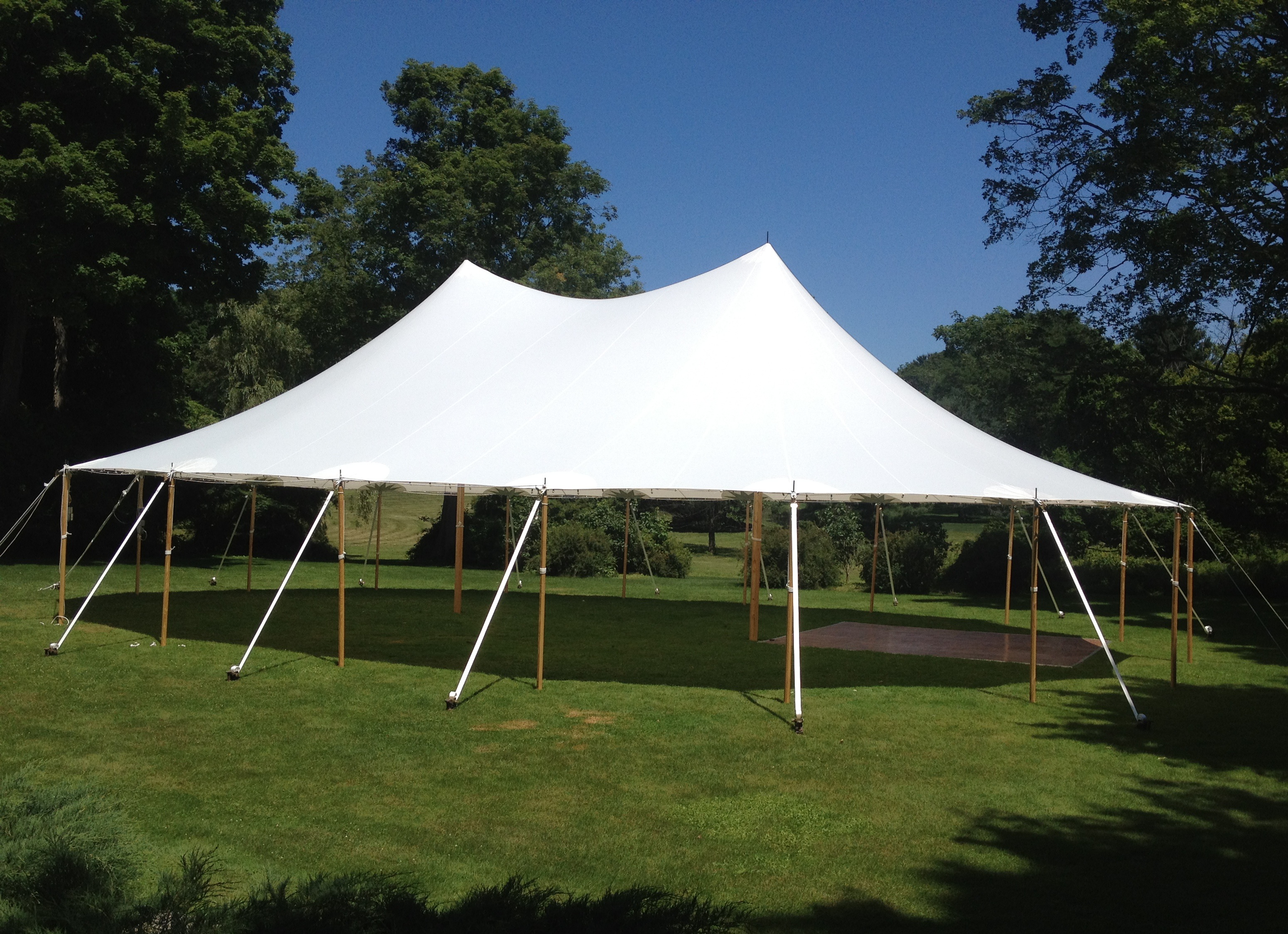 The sailcloth tent differs from the rest of the tents we carry in many ways. It is constructed of a sailcloth material as opposed to the tradition vinyl tent tops. The translucent fabric allows light to flow inside the tent during daytime events and beams an a amazing glow when lit up for evening events. The tent has a more natural feel with this fabric top and wooden side and center poles.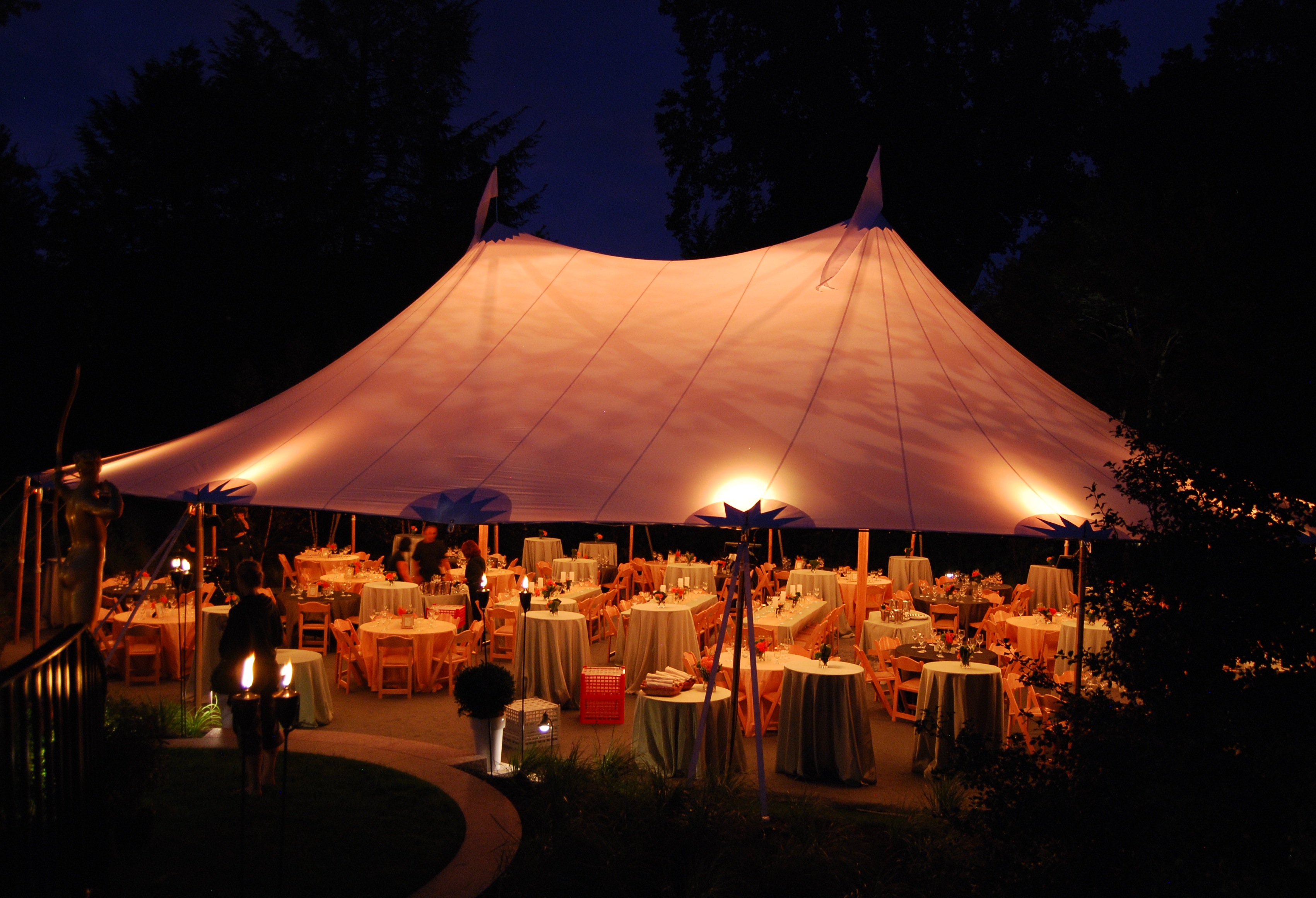 We are excited to have the sailcloth tents in our inventory and available for our clients to rent for their functions. The sailcloth tents offer a sleek style that can be enhanced and dramatized with decorations and lighting, but also looks amazing as is, on its own. The clean interior and lack of valance around the perimeter gives the tent a very smooth, magical look that is simply elegant.
Check out this link to the manufacturer's website for even more information on Tidewater Tents.
The Functional Frame Tent
The Frame style tent is more adaptable to its surroundings, allowing for more custom installations than the traditional pole tents. The frame tent, as you might imagine, has a frame structure that allows it to stand freely without the support of center poles and guy ropes. The structure makes it more capable to handle strong wings and snow loads. Although the frame tents are free-standing and do not rely on the tension of guys ropes, we still secure them with stakes, blocks, water barrels, etc. for added safety.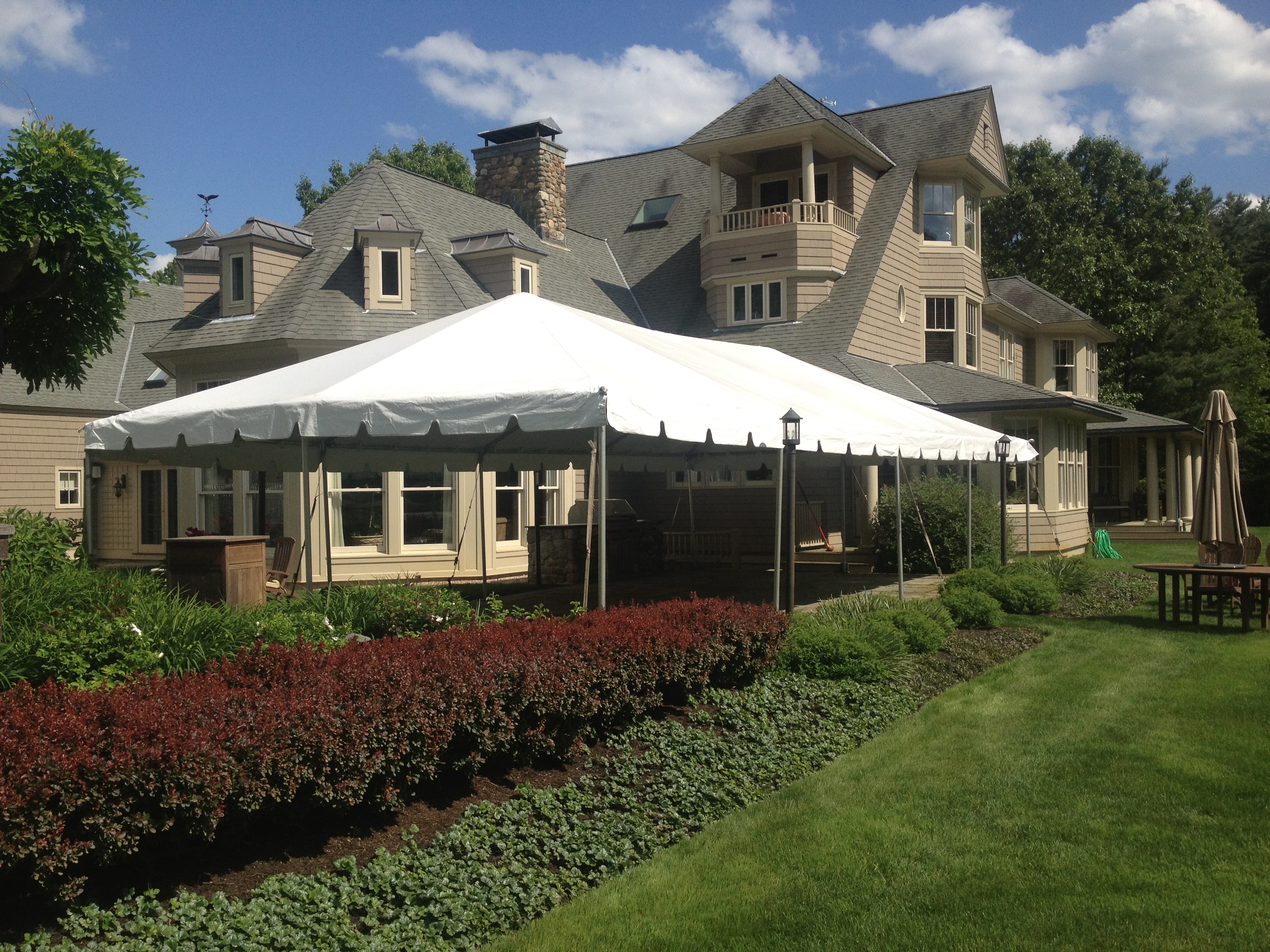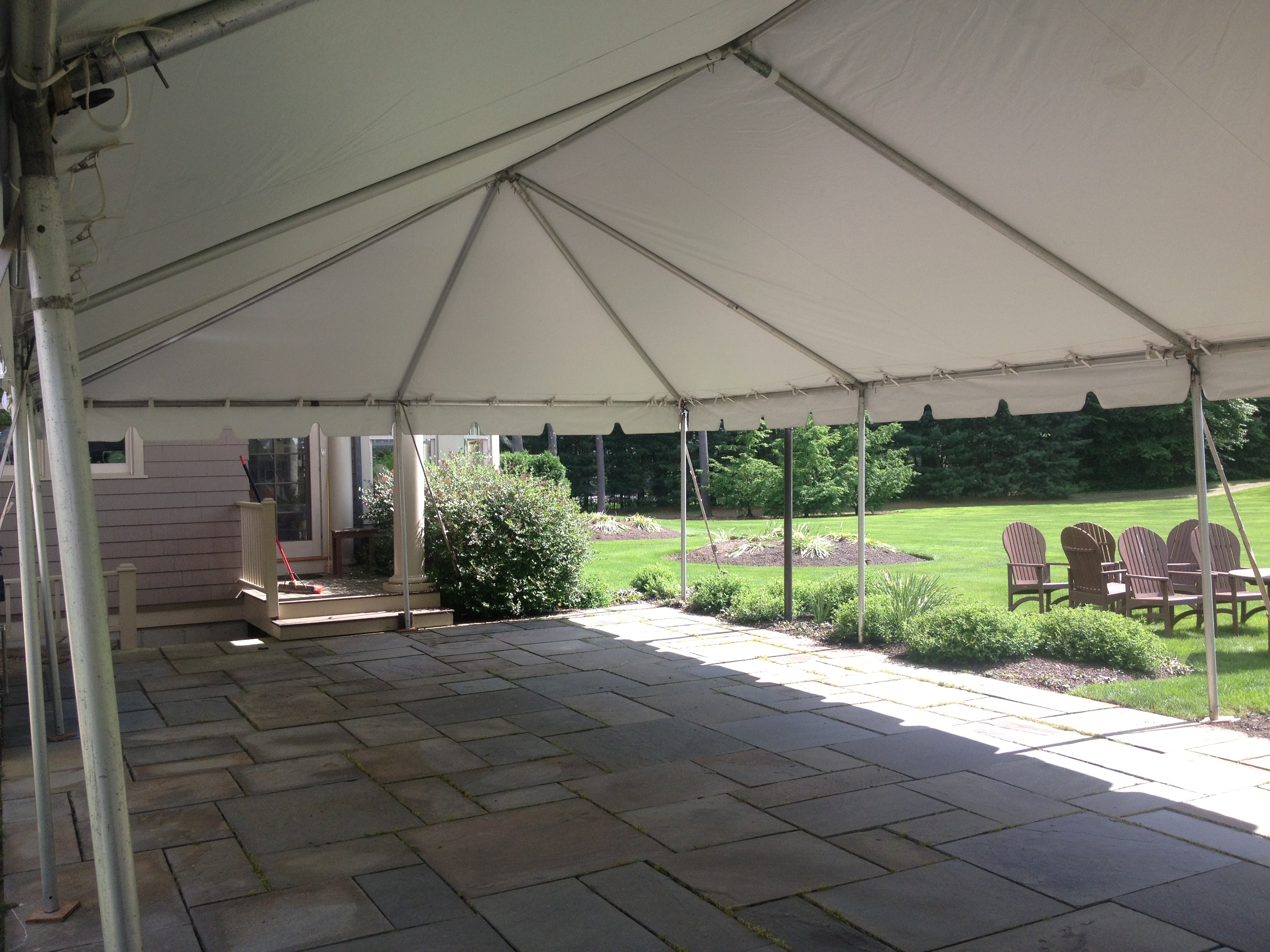 The stakes or weights on the frame tent can be installed close to the tent, creating more walking room around the tent and enabling it to be installed where there is limited space available. The frame tent is often used on construction sites where machinery might have to drive around and even under the tent. Frame tents are also commonly used on driveways, parking lots, or even on grass when customers prefer not to stake through the ground. We installed a 20′ x 40′ frame tent for a groundbreaking event in this time lapse video!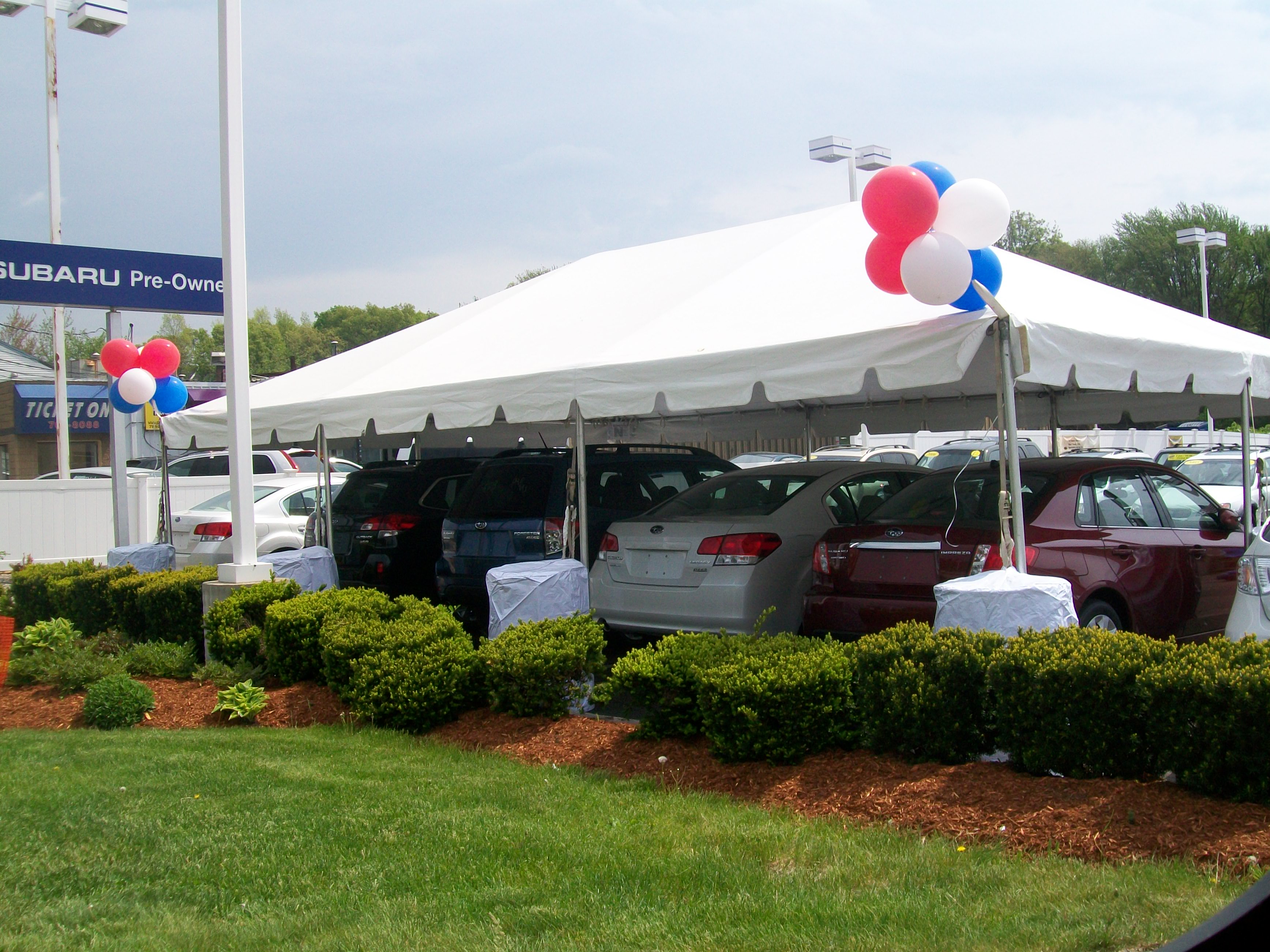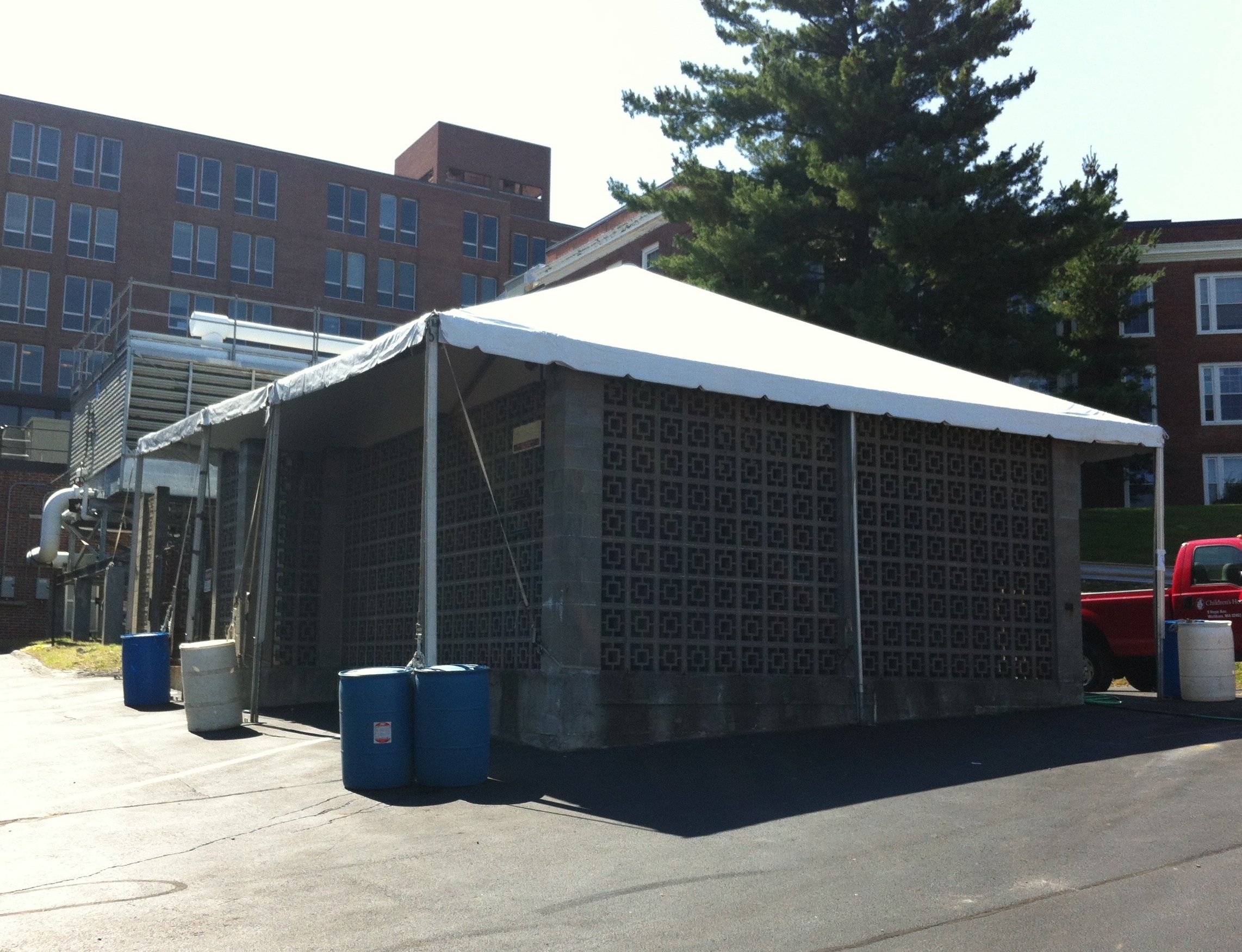 Frame tents are also used often for corporate events, commencements and weddings. Many corporate events or galas have a stage, screens, or presentations of some kind that guests are viewing. The lack of center poles means a great view from every seat and doesn't limit the setup inside (ie. placement of staging, dancing, tables, seating, etc.) Even when we install other style tents, the frame tent can be a great accessory tent for a bar, cocktail space, catering or food prep and more!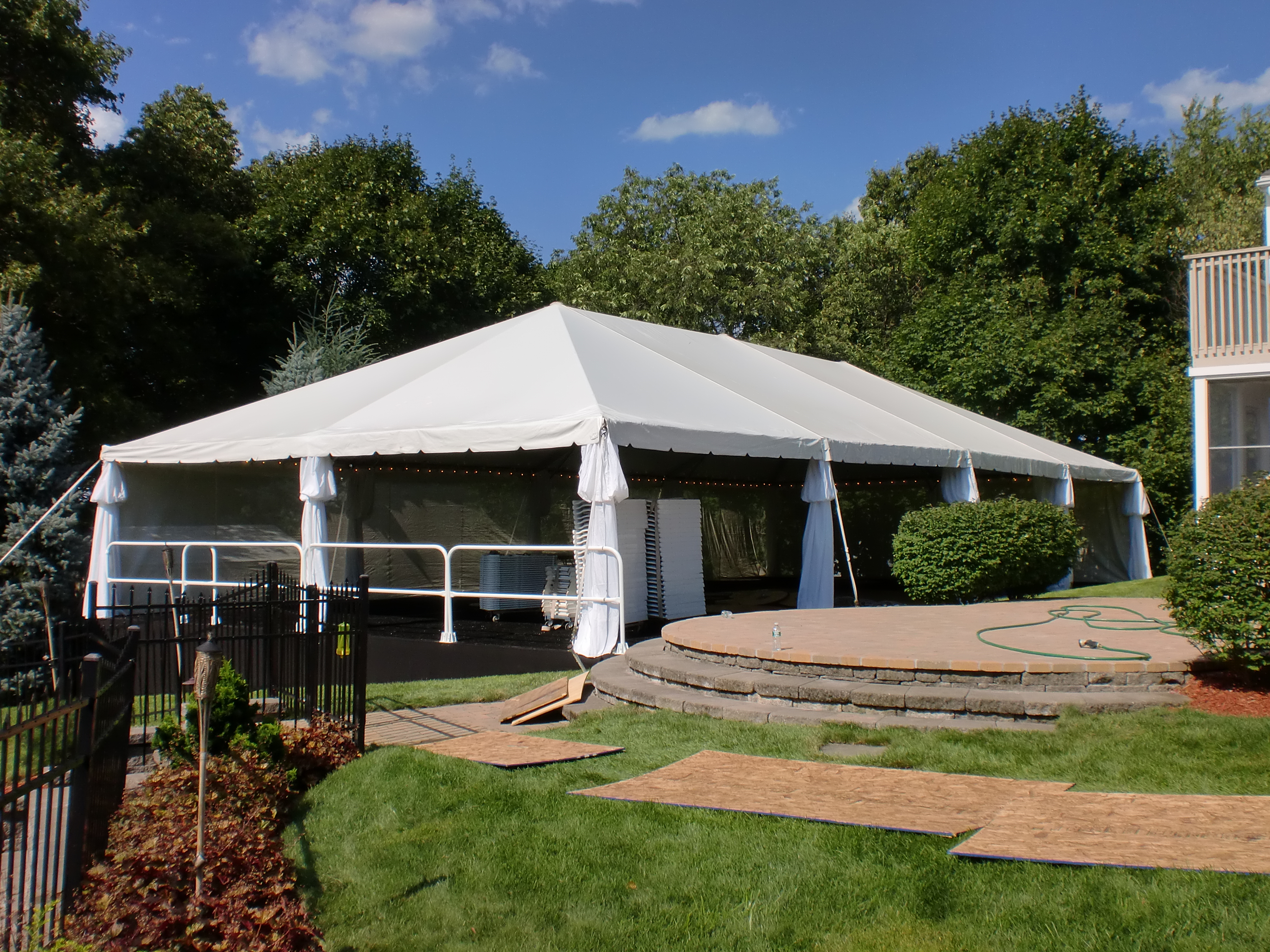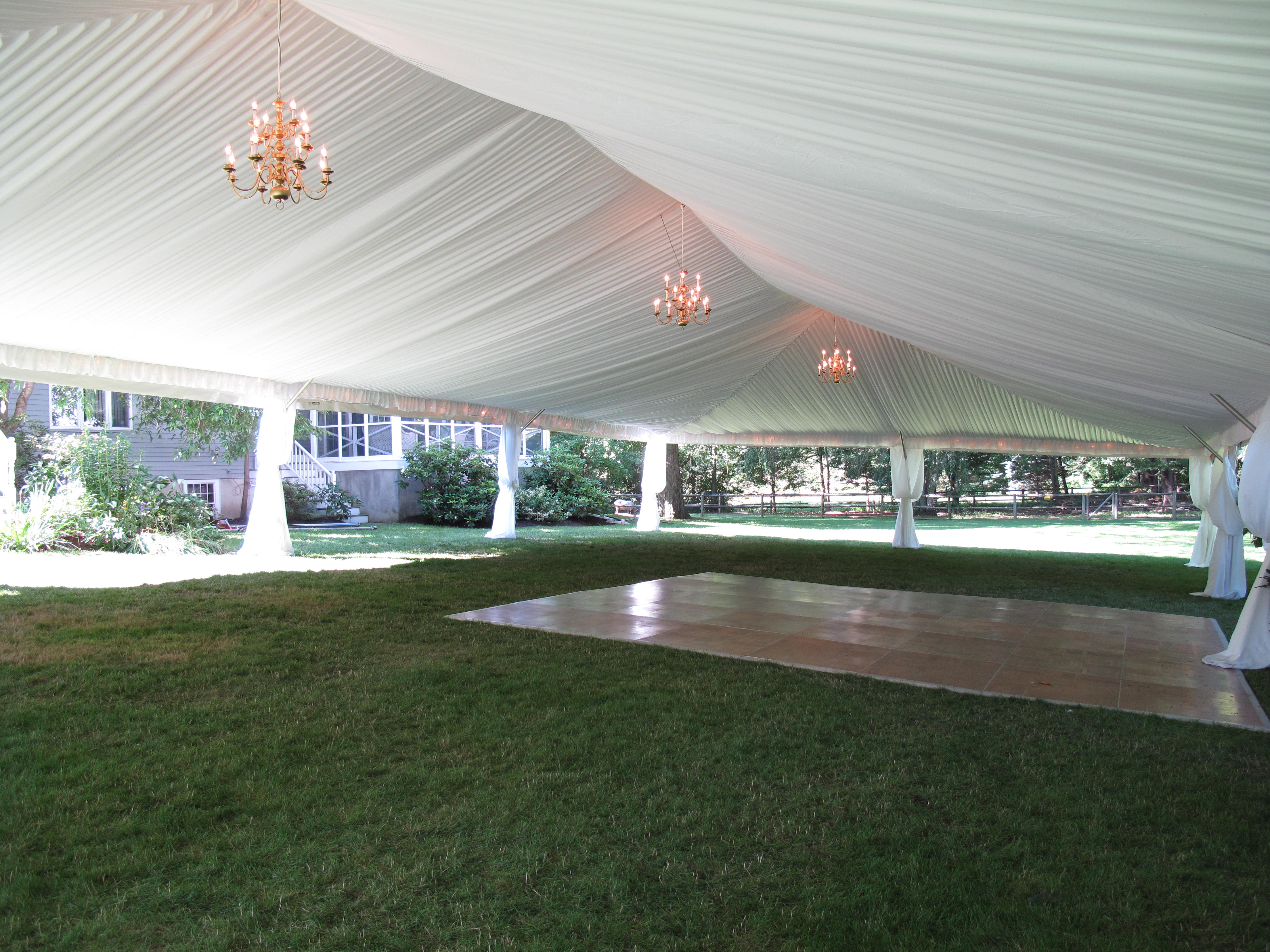 There are many ways to accessorize the frame tent. Most common is the gathered white tent liner. It is a silk-like fabric interior that is secured to the frame of the tent, hiding the frame and creating a soft look and feel. White leg drapes can be added to cover the side poles and complete the look! We offer a wide range of clear frame tents as well. The clear tents are amazing on a beautiful starry night, with accent lighting or surrounded by beautiful scenery. Our staff designed and fabricated some great custom drapery to accent the clear tent and hide the frame inside the tent.  Some clients choose to keep it simple and some love to jazz it up, either way we have the perfect tent for every event!
The Elegant Victorian Tent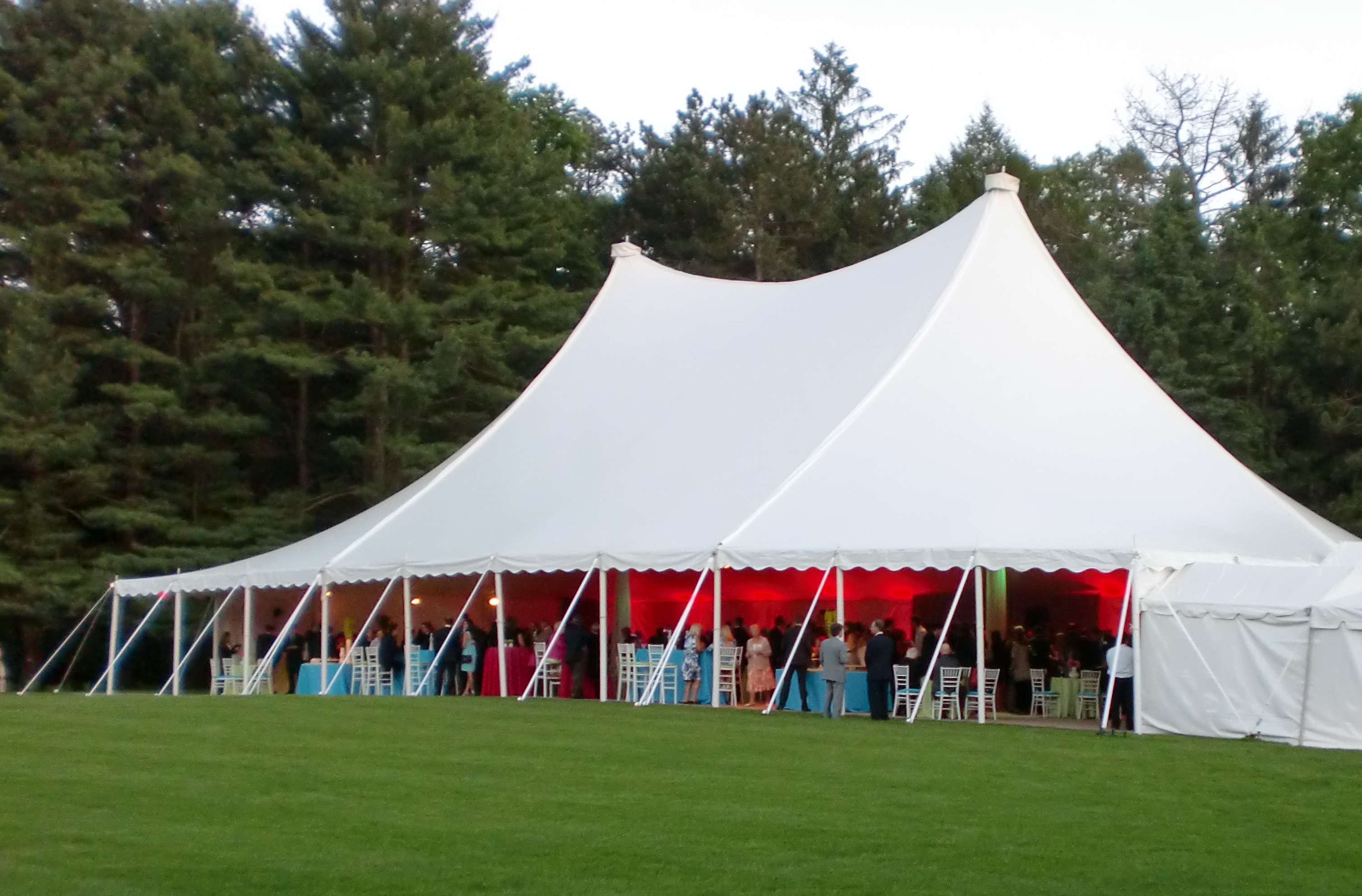 The Victorian Style tent offers the same benefits of the party tent with an added elegance. Often referred to as a Century tent or a High Peak Pole tent, the Victorian tents have exaggerated peaks giving them a grander appearance from both the interior and the exterior. The high ceilings and peaks are a great backdrop to create a majestic space for your event!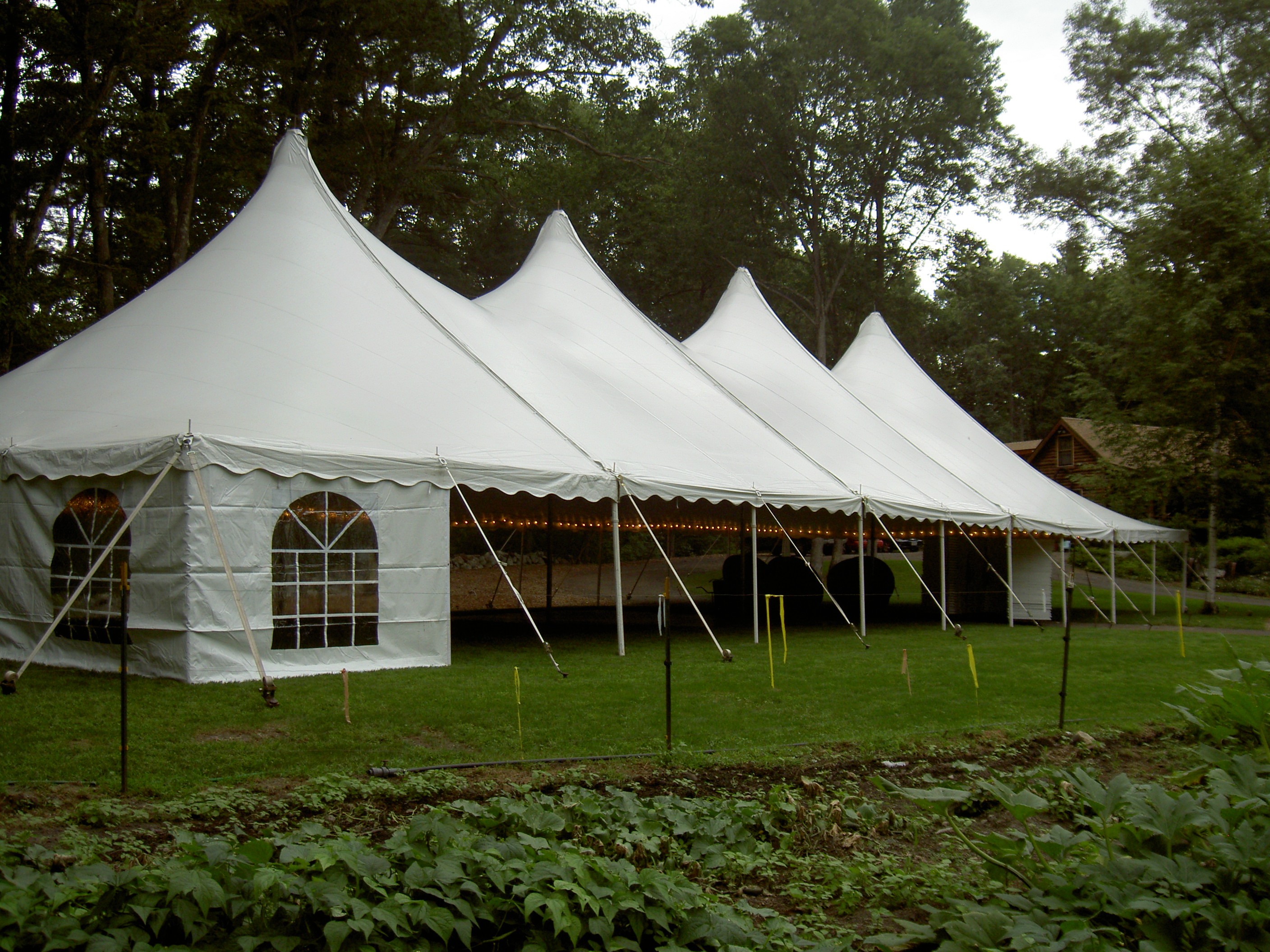 We stock sizes ranging from 20′ x 20′ to 120′ x 700′ in the Victorian style. These tents can be installed on grass or staked into the pavement. If staking is not permitted we can use concrete blocks or weights to secure the guy ropes as well. The Victorian tent is used for a wide range of events including weddings, corporate events, galas, auctions, fundraisers, church festivals, and commencements.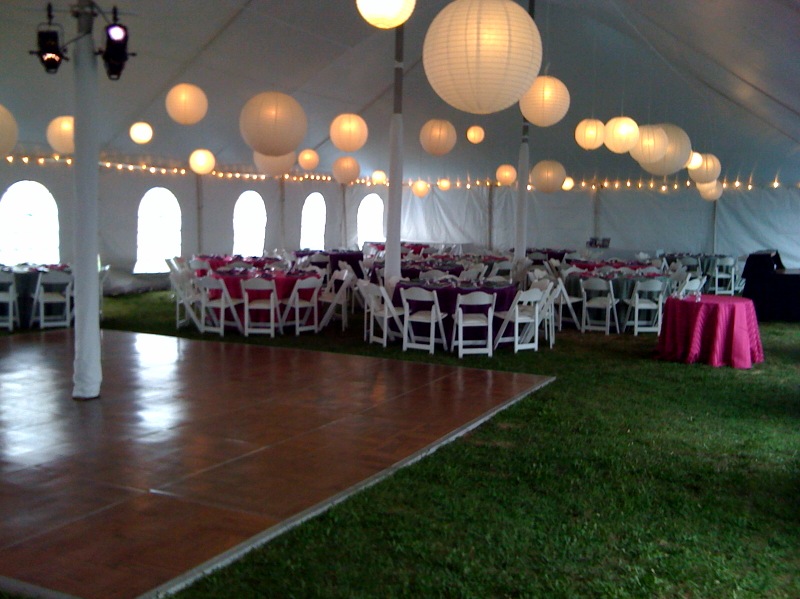 The Victorian tent has a very clean, seamless interior. It it is supported by large center poles, side poles, and guy ropes. Unlike the frame tent with an aluminum pipe interior, the Victorian tent is an empty canvas. Many clients will project images or monograms on the fabric of the tent, or use other lighting such as paper lanterns or string lights to enhance the sleek style of the tent.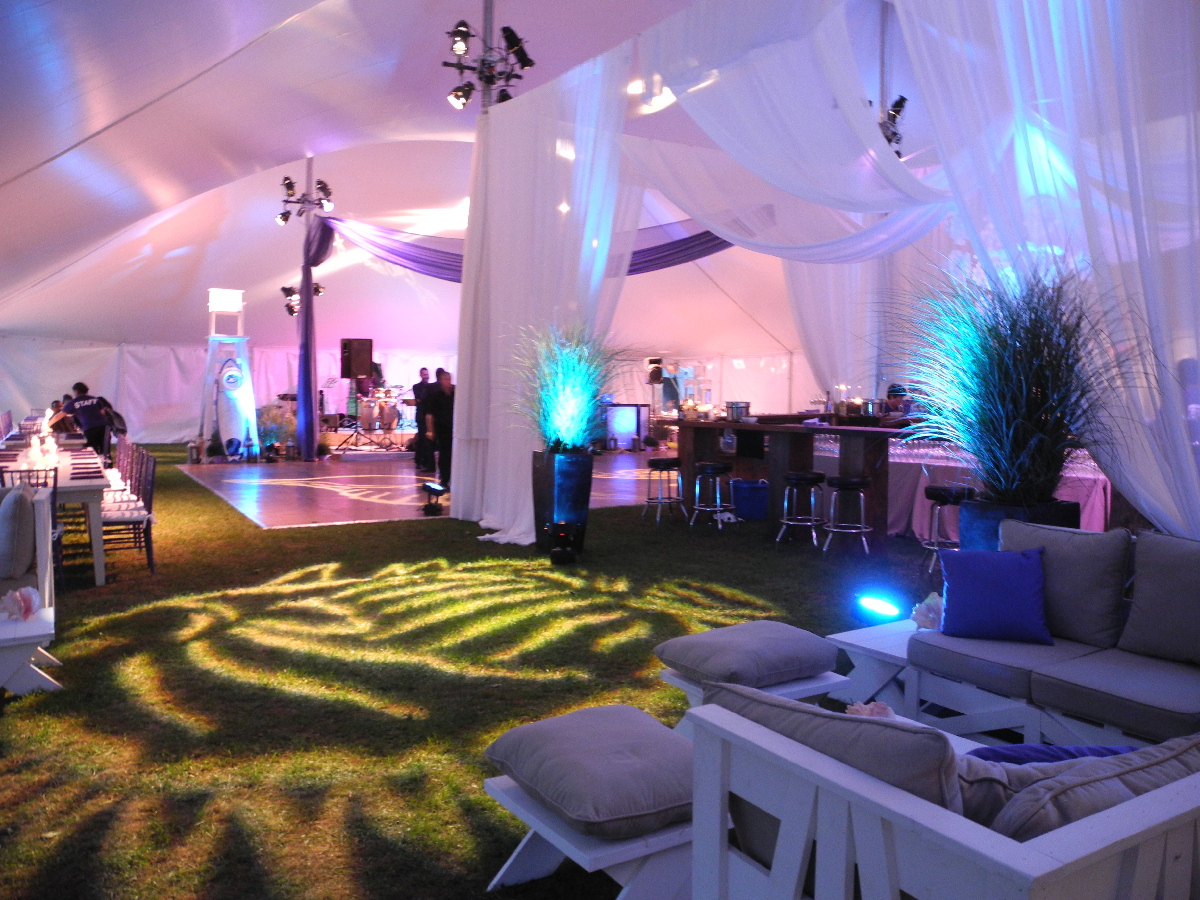 There is no limit to the accessories, enhancements and decorations that can be added to the Victorian tent to create a space unique to your event and style. We have white sheer leg drapery that can be installed on the center or side poles. Some of our clients use greenery, ribbon, fabric, lights or other accessories to enhance the poles, while others choose to leave them as is and let them blend into the rest of the decor. In our years of experience we have seen some very impressive transformations to our tents. You can check out more photos on our Facebook Page or on our Website!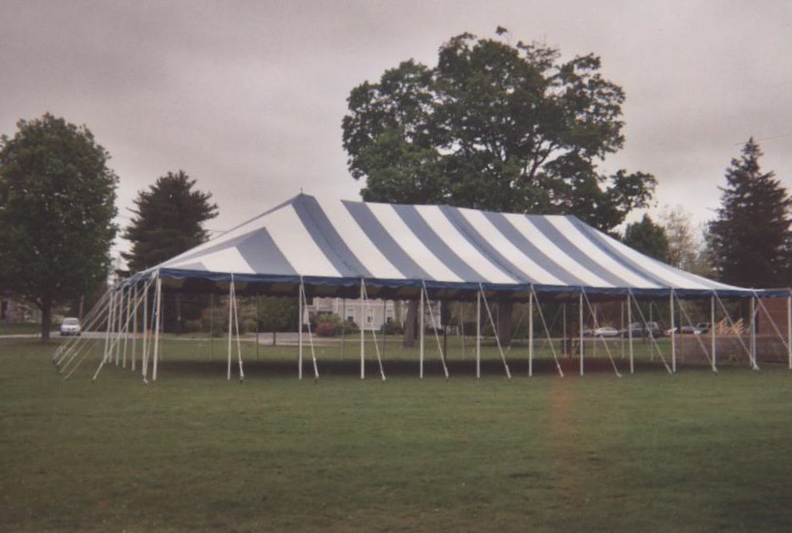 The Party tent has the ability to essentially become an outside room with the addition of sidewall. It is a pole style tent which means it has center and side poles for support like a basic canopy tent; however we have larger party tents available for rental. The party tent also must be staked into the ground and requires additional space to be secured.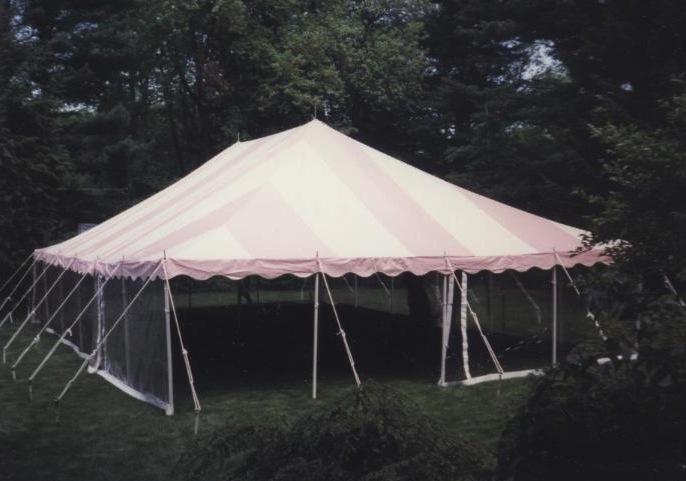 Having the ability to add sides to a party tent substantially increases the functions of the space. You may choose to enclose the tent on all sides and heat the interior or perhaps just shelter your guests from rain, wind or other elements. The New England weather tests us with not only heavy rains, but snow storms, hurricanes, high winds, even tornadoes!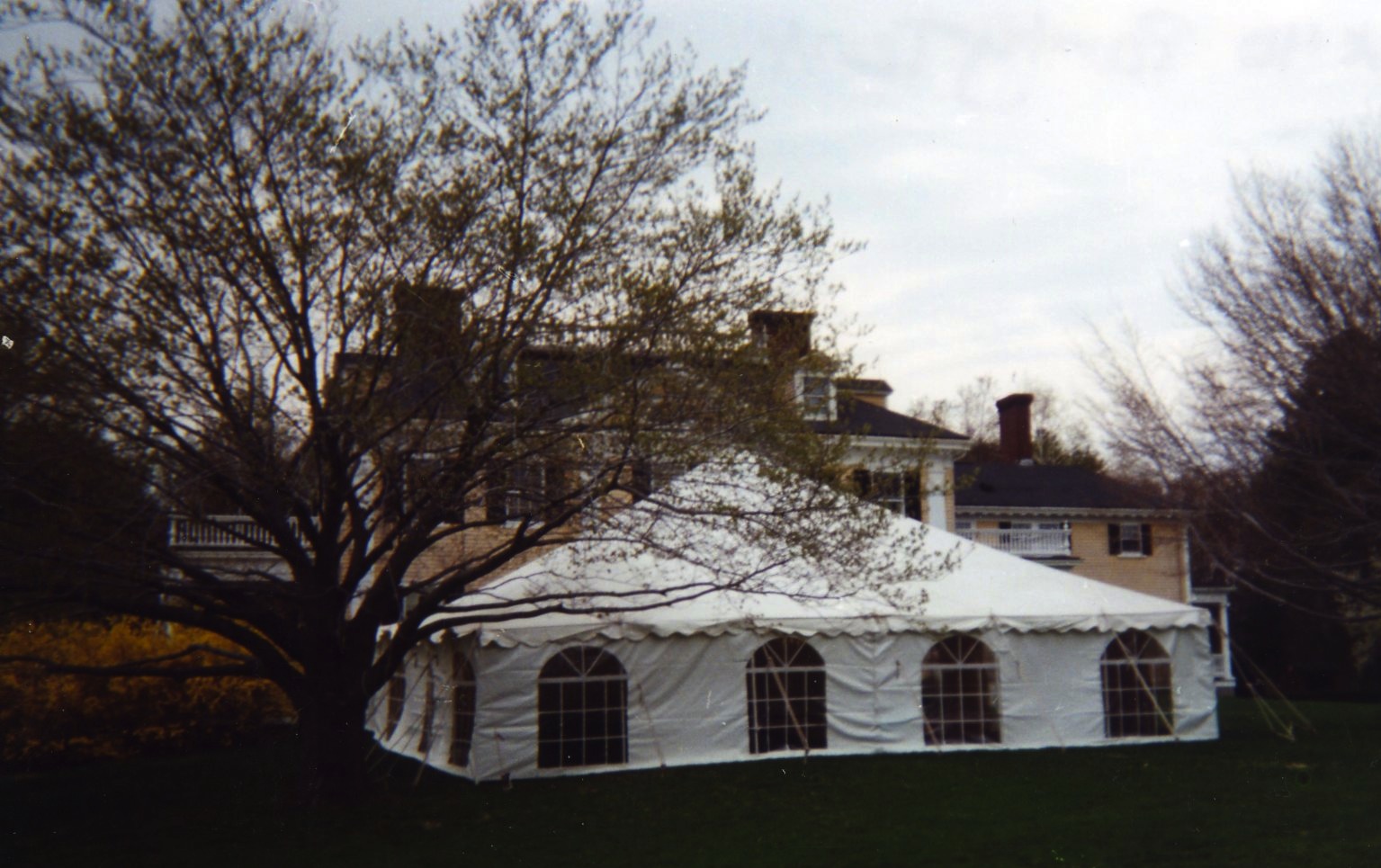 The tent does not feel enclosed with clear or window sidewalls as an option. Solid white sidewall can be great as well to serve as a backdrop, block the view of the street/neighboring property and it saves money. The clear is great to still feel connected to the outside space or perhaps to expose a beautiful view. The cathedral window wall has the perks of both the clear and the solid wall, while also adding a charming character to the tent!
Choosing the Best Tent for Your Event!
There are many different styles of tents to choose from when you are considering a rental for your event. Many variables play a part in deciding which tent is best suited to the event space, the theme and any additional rental needs. It can seem overwhelming when we begin to explain the different styles over the phone, as it is a lot of information to consume. I want to try to make it a little easier to understand, so I'm creating a short summary of the different tent styles we offer.
I have always found that explaining the most simple tent style first, and making my way to the more complex styles works well, so I'll start with the Canopy. The Canopy style tent is only the tent top, it has no sidewalls. It is very economical if you are simply looking for a little shade, rain cover, or ambiance! The Canopy must be staked into the ground and requires 4-5 additional feet on all four sides for staking. (Ex. A 20′ x 20′ canopy requires a 30′ x 30′ space).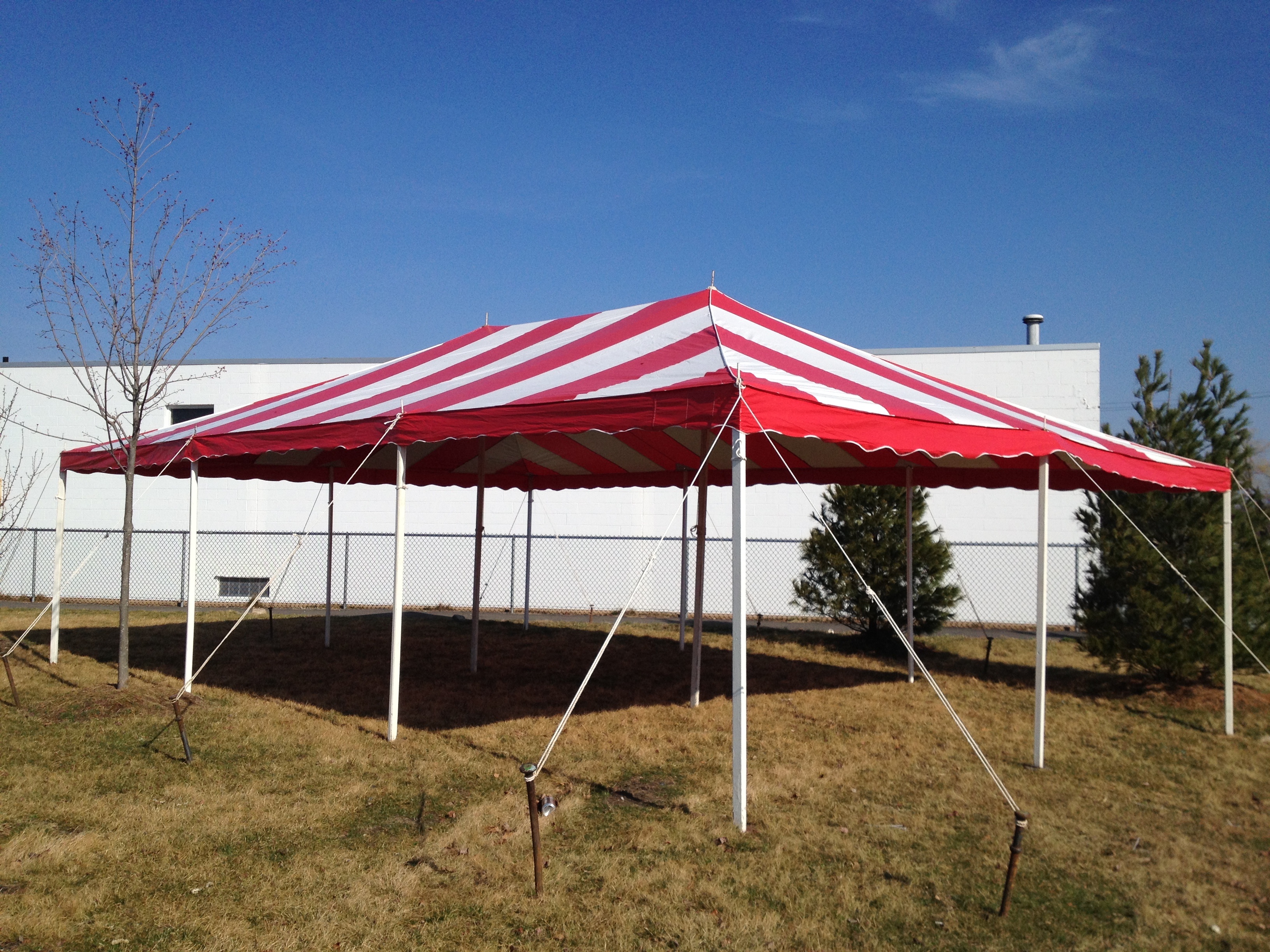 We offer customer pick options as well, which is great if you are trying to keep the cost down. You can pick up your tent (and furniture, linens, etc.) a few days before the event and return a few days after. This flexibility gives you ample time to setup and breakdown, rather than rushing around to get ready for your event and to return the equipment. The top is in a canvas bag about the size of a large duffel bag and the poles break down to fit in any size car. We offer (4) canopy sizes that can accommodate up to 80 guests.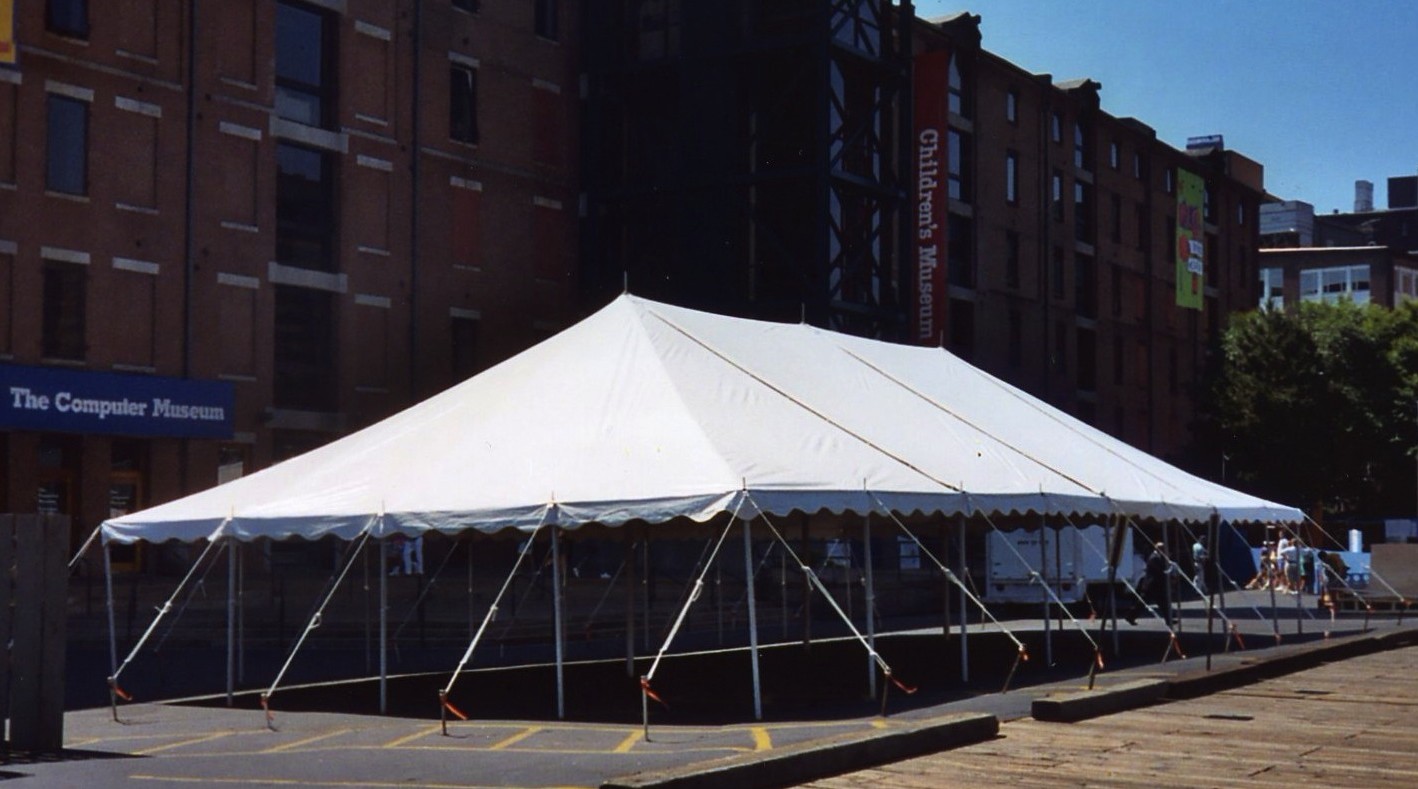 If you would like sidewalls or need to accommodate more people or equipment, the Party style tents are great to choose from. The Party tent is similar in style to the Canopy but is not available for customer pick up. With larger sizes available, the Party tent can host events for hundreds of guests. Our installers use solid wood side poles to ensure the tents are strong enough to handle the additional structural load as a result of the sidewalls exposure to the wind. You may choose to hang sides on all or just a portion of the tent. The sidewalls are available in solid white, cathedral window, clear or mesh.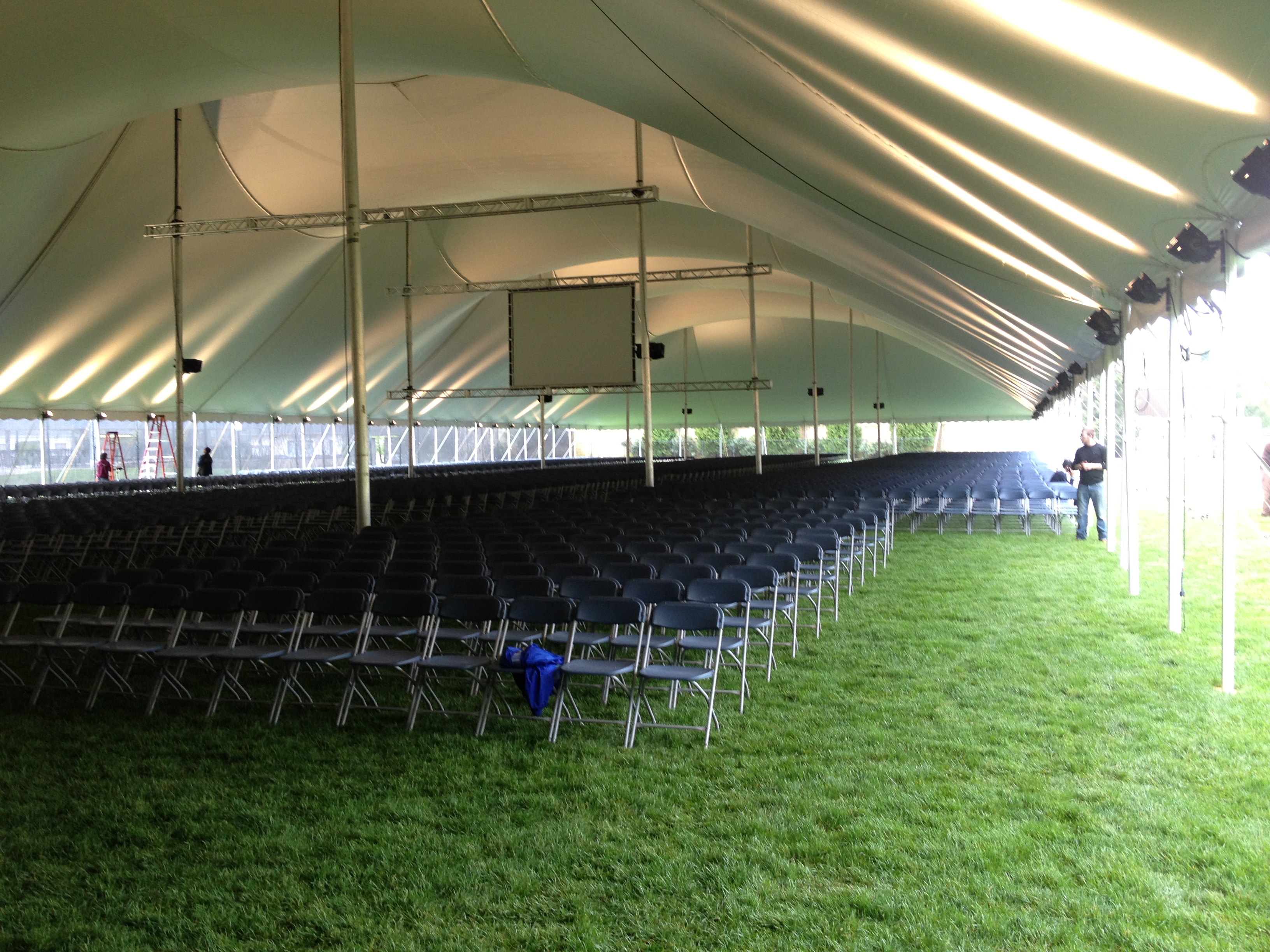 The Victorian style tent is similar to canopies and party tents in that it is also a pole style tent; however it is more elegant with its exaggerated high peak pitched ceilings. It is great for a variety of events from showers and weddings to large festivals, commencements and corporate events. Atent for Rent has a vast inventory of Victorian style tents, allowing us to rent hundreds of thousands of square feet at a time. I think the Victorian style is probably my favorite, it has all the elegance and grandeur that a tent should have with the great high peaks and clean, frame-free interior! Victorian tents also require additional space for the guy ropes and staking like the canopy and party tents, but the Victorian tent can secured with concrete weights if necessary.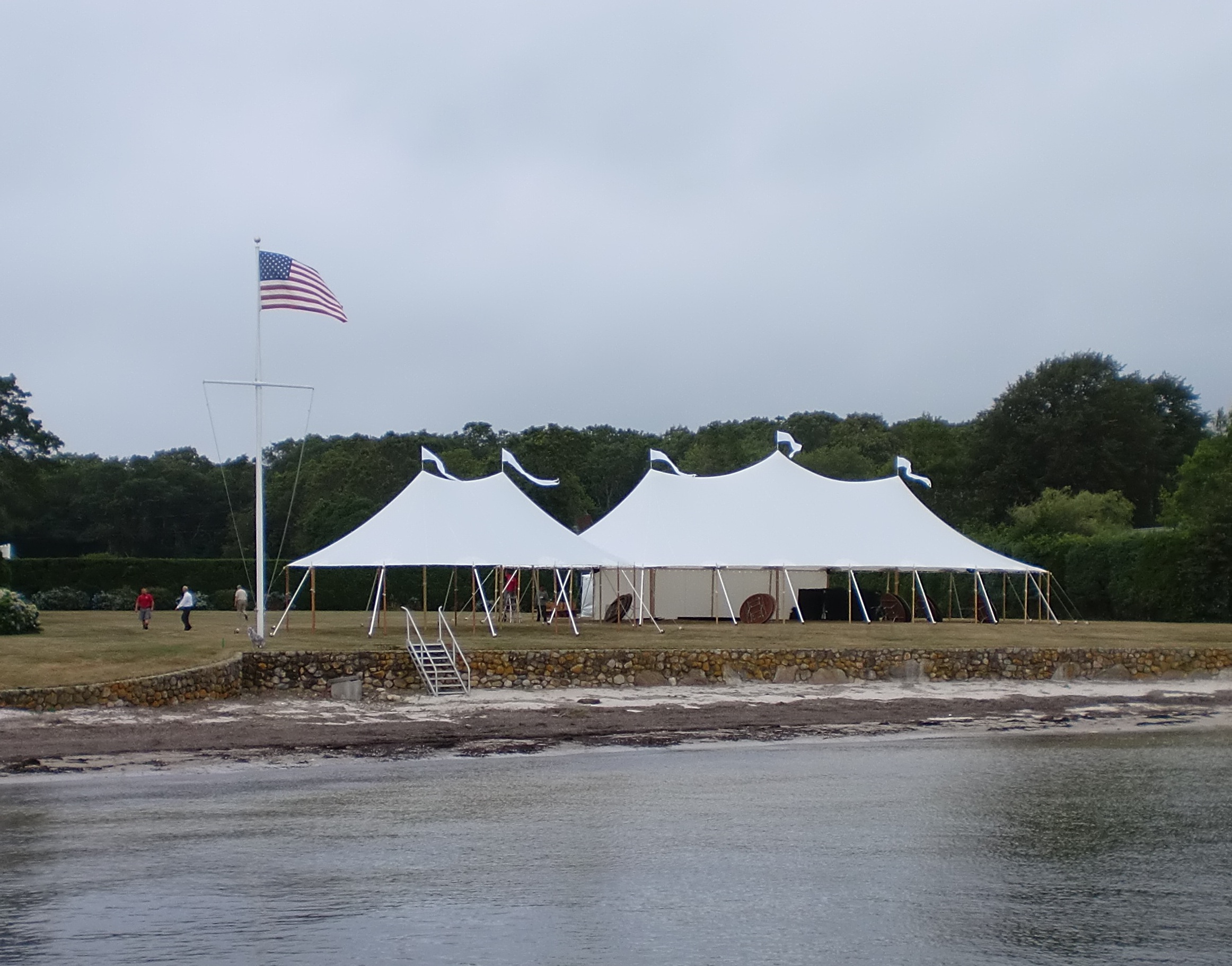 The Sailcloth style tents are similar to the Victorian style, also having guy ropes, center poles and high peaks. Sailcloths have no valance on the perimeter and have a natural feel with the cloth top, flags on the peaks and natural wood poles. The Sailcloth tent top is a translucent cloth material great for projecting lights and letting natural light through; but offers less water resistance in soaking rains than our other style tents with their traditional vinyl tops.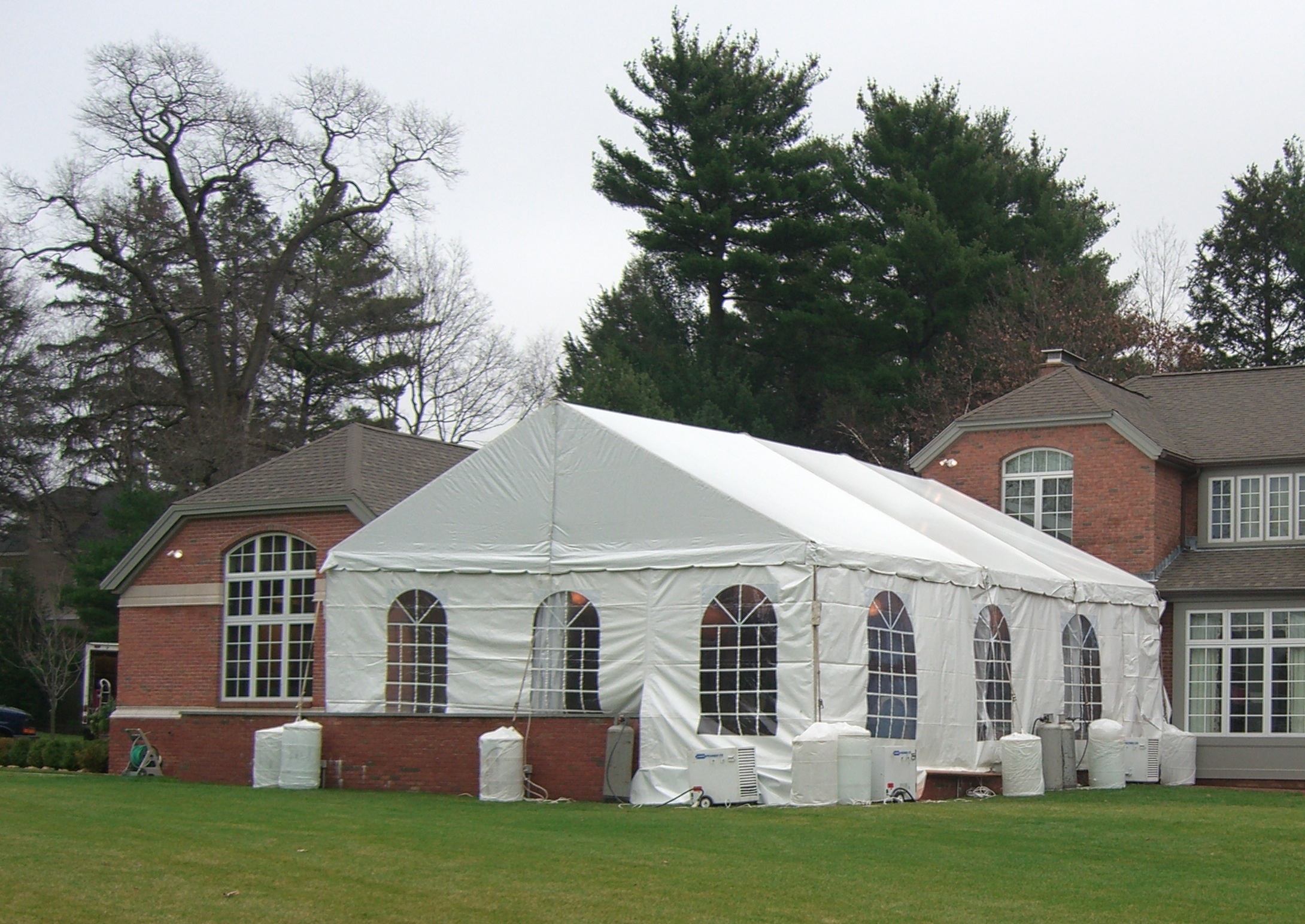 The Frame style tent is ideal when there is no extra space for guy ropes, if you can't stake or when installing in custom locations such as: decks, patios, rooftops, construction sites, up against other structures, buildings or tents, even on large boats! The Frame is typically built on the ground, skinned with fabric and raised into place. The freestanding metal structure supports itself and does not rely on the tension of guy ropes to keep it standing. It can be staked into the ground, anchored to inserts, tied off to weights or in many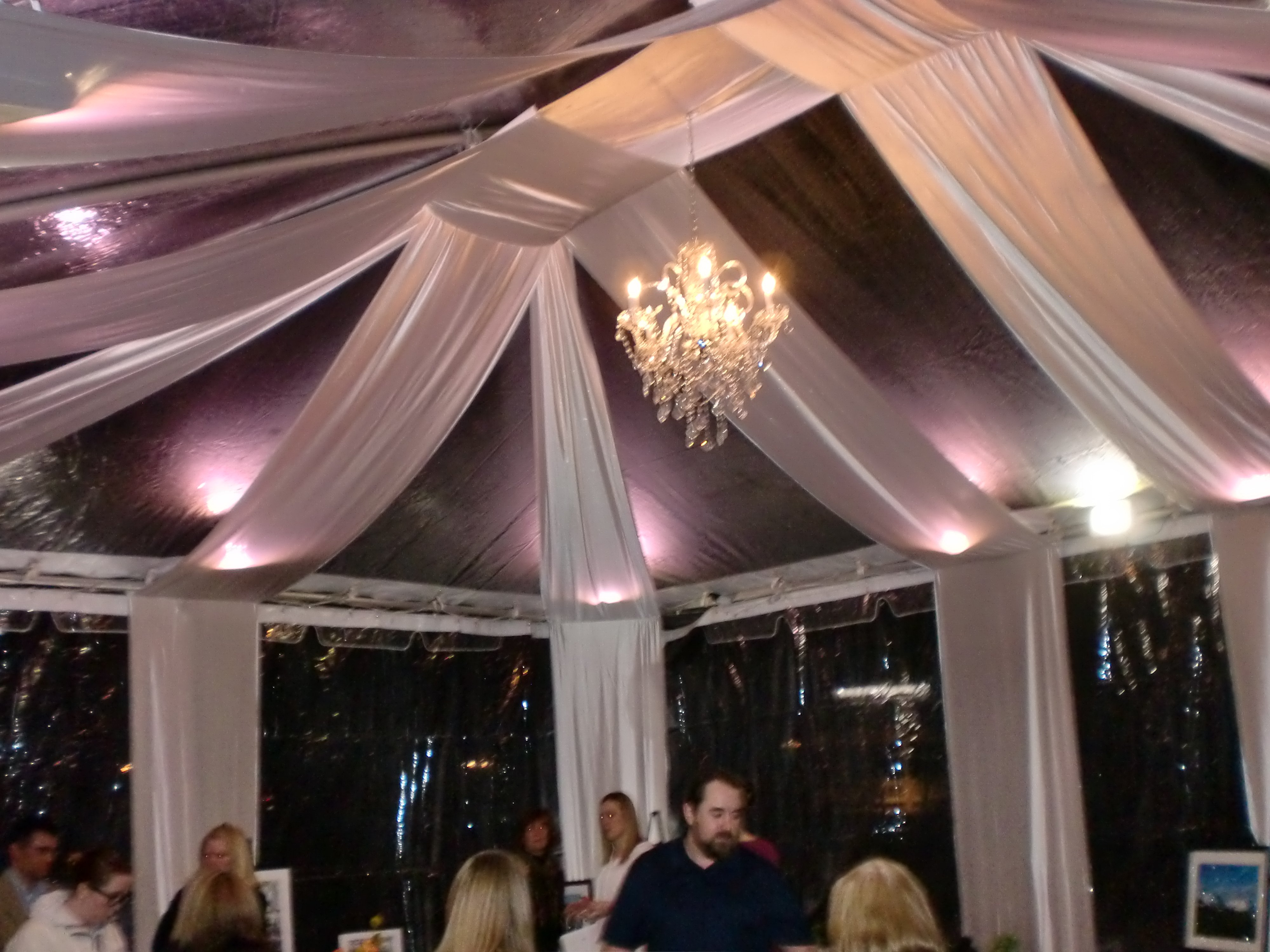 cases a combination of securing methods might be used. The Frame tent has no center poles allowing more flexibility with the interior layout. It also makes them great for tight spaces, maximizing the space inside of the tent, and increasing mobility under the tent for construction sites and catering tents. Frame tents are more sturdy than other styles and can handle high winds and heavier snow loads. We also have a large inventory of clear top frame tents!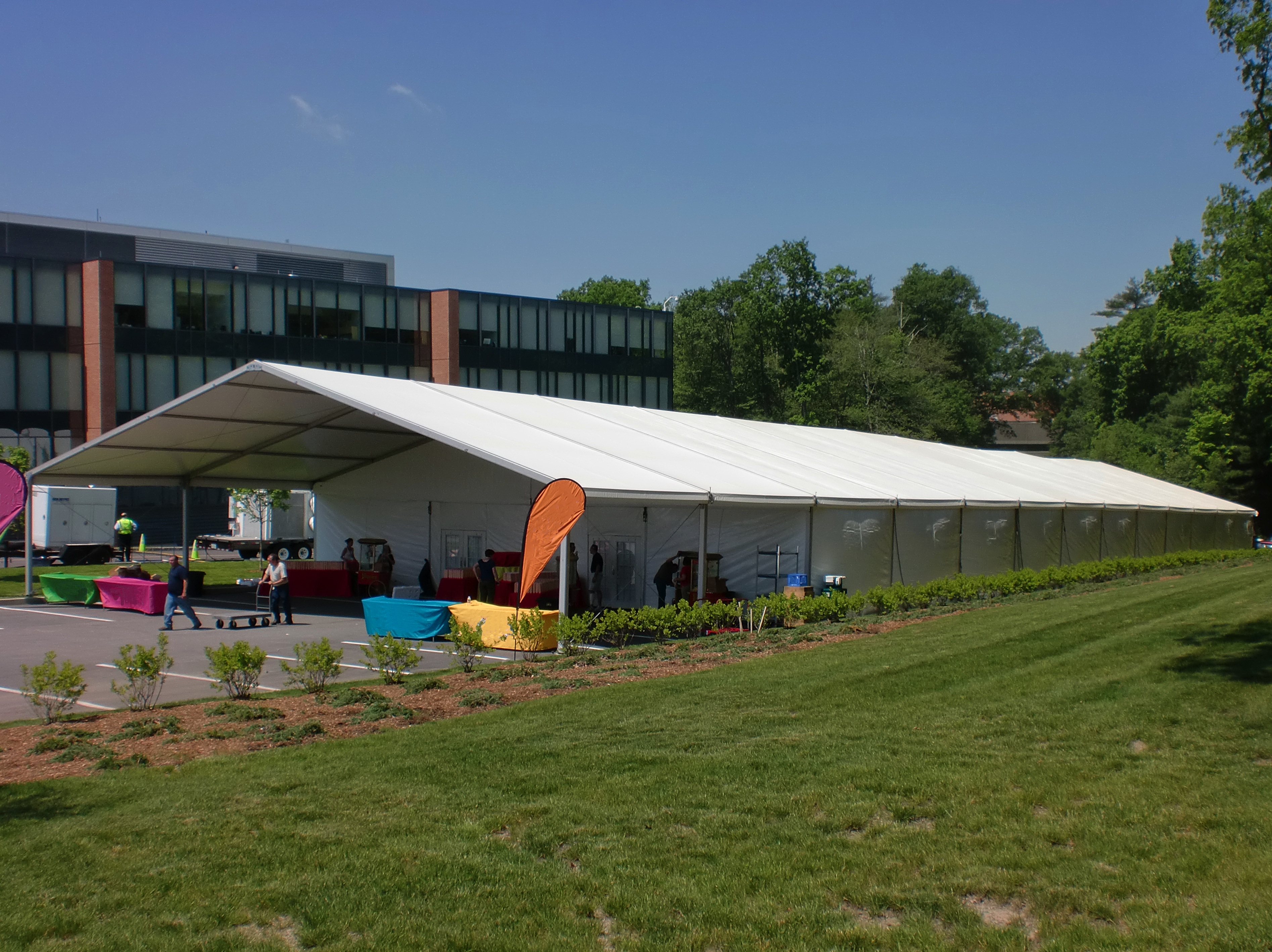 If you need to go even larger than the frame tents, the clearspan structures might be the best option. We use them often for commencements, weddings, corporate events, construction sites and long term installations. The clearspans are built with gable ends and have a basic "A" frame interior comprised of heavy duty metal construction. Our crew builds one bay at a time and raises it into place. You can check out the process in this time lapse installation of an 82′ x 148′ structure they installed this past April.
The marquee style tents are great to enhance an entrance, to connect tents to buildings or each other, to cover walkways, or can be used in smaller spaces, like decks, patios, or even to cover a port-a-toilet! We have simple pop-up tents, umbrella tables, Victorian frame tents, pavilion style tents and more! Check out our website or call us for more information!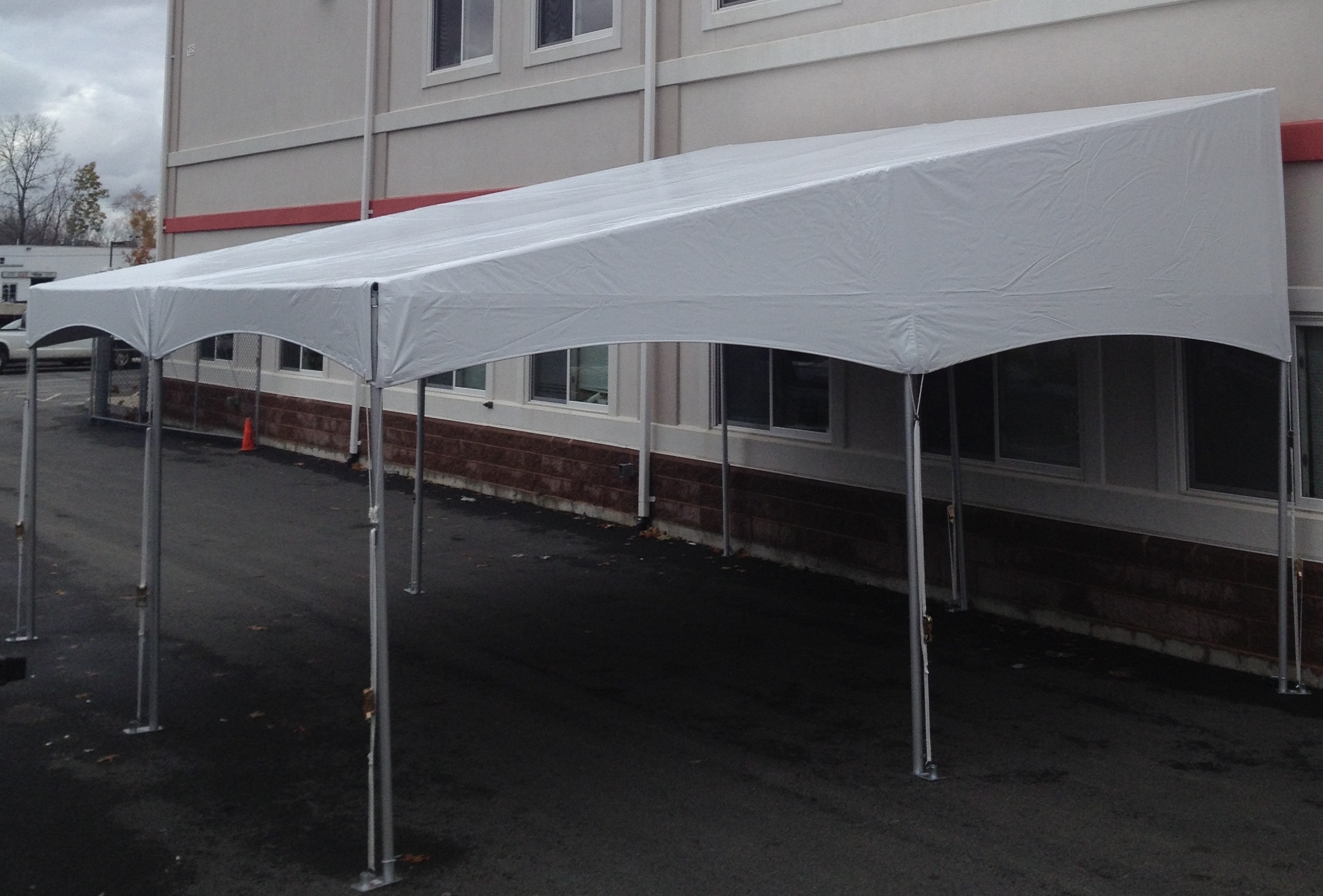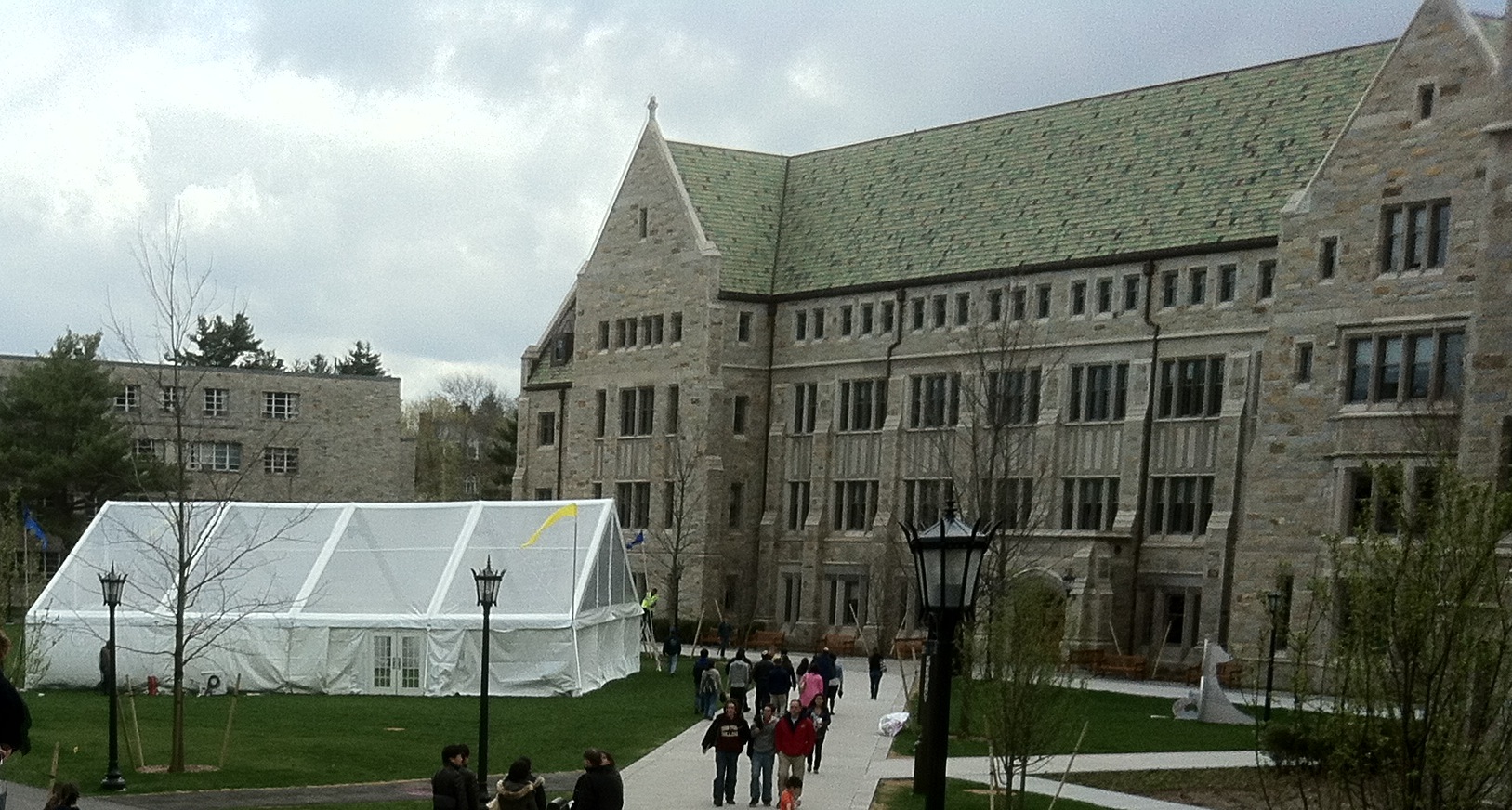 This week the crew at Atent for Rent installed a variety of tents for the 15th Annual Boston College Arts Festival. The inspiring event will host a variety of musicians, artists, painters, dancers, writers, sculptors & more that have all come together to entertain and celebrate the arts. You may also participate in several hands on events making for a very interactive and even educational experience. It's wonderful to see the tents we have installed, merely a blank canvas, become an event space filled with color, art, talent, emotion & beauty!
This year is not just the 15th year for the Festival, but the College is celebrating it's 150th Anniversary!  We installed a 60′ x 132′ clearspan structure in place of the 50′ x 100′ tent setup in years past. We also have two of our clear top tents on campus! This excerpt from the Festival's Brochure does a great job summarizing the changes this year to the program:
"This year, the Boston College Arts Council is thrilled to celebrate the 15th anniversary of the Arts Festival simultaneously with the University's sesquicentennial. In honor of this milestone year, the Arts Festival will feature a new performance and exhibition venue with fresh, collaborative arts programming. The Stokes Art Tent is a combination gallery and small performance space, allowing for innovative programs, increased access to students' visual art, and an intimate setting for receptions aimed at celebrating the arts. In addition to our new venue on Stokes Lawn, we have updated the Main Tent in response to the University's renovations to O'Neill Plaza, increasing the size of the tent and the main stage inside. We hope you will enjoy extra performance space, more seating, and increased visibility and accessibility. Happy Birthday to Boston College and the Arts Festival!"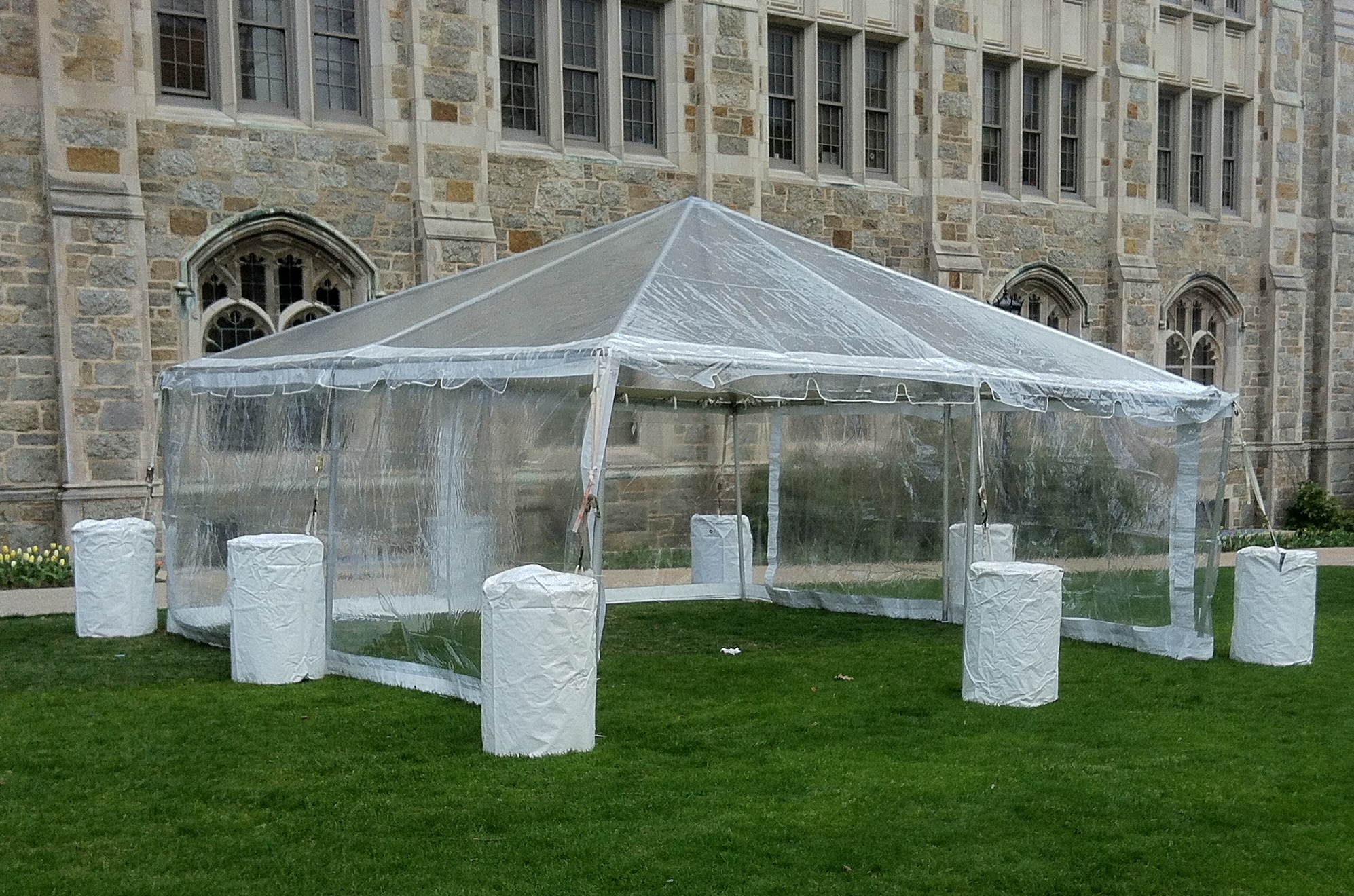 We are excited to be a part of such an inspiring event! The Festival runs from Thursday 4/25 through Saturday 4/27. There is so much to do and enjoy, everything from a poetry reading to A Cappella performances. You can see a detailed list of the events, here. Be sure to check it out! The feedback we received from the staff was great.  We are sure this will be another successful Festival!
First, let me tell you that we really appreciate you and your team's hard work today. We really were thrilled with the tents this year, and we are only one day into festival week! -Victoria
Why the Elephant, Atent for Rent?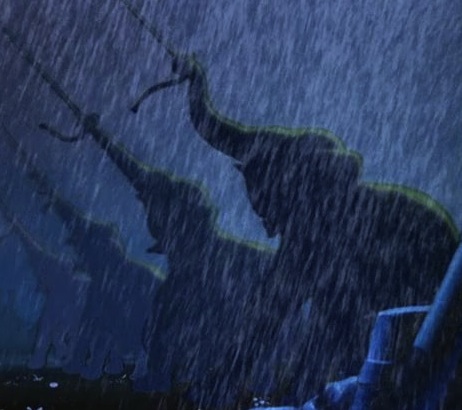 Did you know that before we had heavy machinery and nifty gadgets to help install tents, elephants often assisted the crew and in some circuses they still do! I was sporting my Atent for Rent hat with the logo and someone commented, "I love how you have a random elephant in your logo!" I told them the elephant was a powerful symbol and was helping install the tent in our logo. They seemed shocked to hear it could be true and were in disbelief to the point I was questioning myself. Of course we all remember the movie "Dumbo" but I'm not sure that would pass as a reliable source.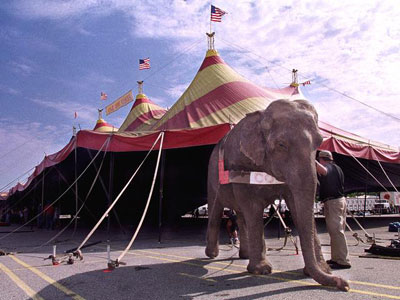 I did a little research and found out a few circuses that keep the spirit of the circus alive and still have elephants assist to raise their tents. The Cole Bros Circus has been entertaining audiences since 1884 and still takes place under the traditional big top tent! A newspaper article from 1985 refers to "man and beast" working together raising the big top tent as "a modern day miracle handled in a old-fashioned manner." They actually encouraged people to come view the installation of tent and called it "the show before the show."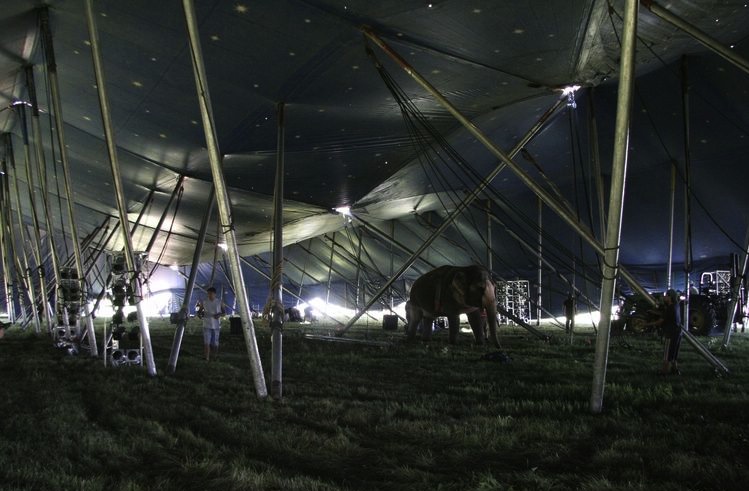 I came across a great blog, "Traveling Circus – An Endangered Species". The author reminisces about being young and attending the circus with his older brother. He posted a great picture of the The Carson & Barnes Circus big top going up! Another one of the few big tops remaining and entertaining, the Carson & Banes Circus was established in 1937 and still performs today. The Big Apple Circus is in the city for another few weeks. It's a Circus in the City on a smaller scale, but still a blast for the family and worth checking out!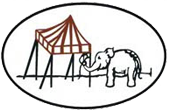 As a event rental company we found that the elephants would have been inefficient and more costly to maintain than the forklift, so we don't currently house any elephants, but the idea is fun! We have been approached to update our logo, rebrand, even change our name. Certainly we see the benefits and possible consequences of such a change, but really we all agree we would have a hard time letting go of the elephant! The elephant is a symbol of prosperity, loyalty, grace, strength and wisdom. It has come to represent our company and our values!
The 117th Annual Boston Marathon: Forever In Our Hearts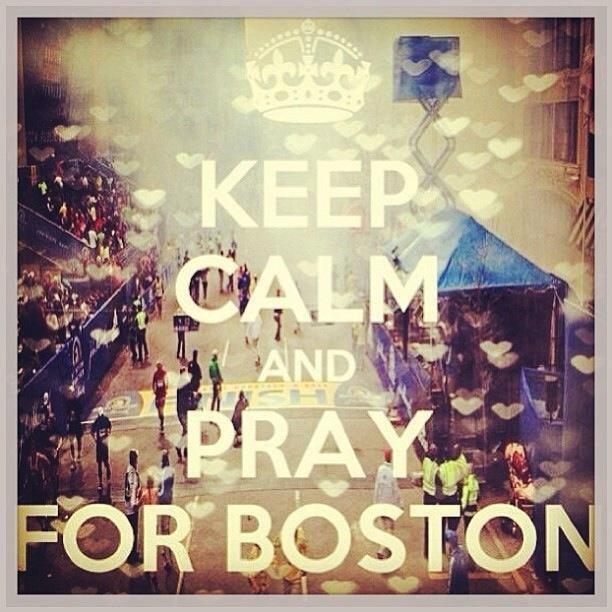 Just last night I posted a blog about the great people & accomplishments that encompass the Boston Marathon. The charities that are supported, the funds raised and the thousands of people coming together from all over the world for a common goal. It is not just inspirational, it's a truly emotional event that brings encouragement and motivation to so many. Marathon Monday is supposed to be a joyous day, an inspirational day, a day of accomplishment. I'm sad to see a beautiful day tarnished with horror.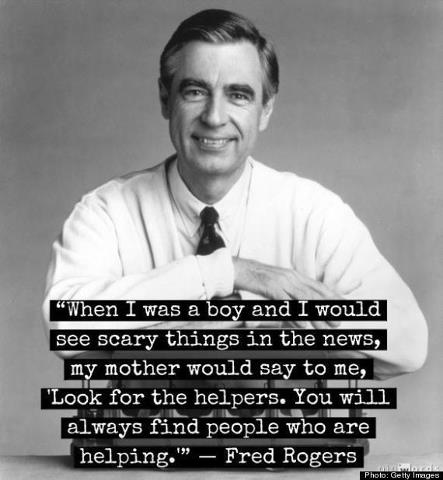 Participates train for months and dedicate themselves to complete this event. This year so many who worked so hard were not even able to cross the finish line. The emotions were very different than years past as these incredibly tragic events unfolded and will undoubtedly shape the future of the Boston Marathon in many ways. Although it has only been a few hours, I am certain Boston will not let this unspeakable event hinder the goals or future accomplishments of the City, the Marathon, and what we stand for. We will always remember the events that occurred today and will keep the victims and memories close to our hearts. Boston is a strong city that will not tolerate this sickening behavior. We will grieve and we will pray, but ultimately we will stand strong and continue on! 

The Boston Marathon: Start to Finish!
Our office is open on Marathon Monday as it marks the beginning of our busiest season. It is a nice, quiet day in the office with several businesses and town halls closed, even some roads inaccessible. Still sometimes I think we all wish we could break away from work and join the hustle and bustle on the streets and in the city surrounding the Marathon. For those of you participating and running to support a cause or family member, friend etc. we certainly wish you the best of the luck! At least those of us not able to attend in person can read about it online.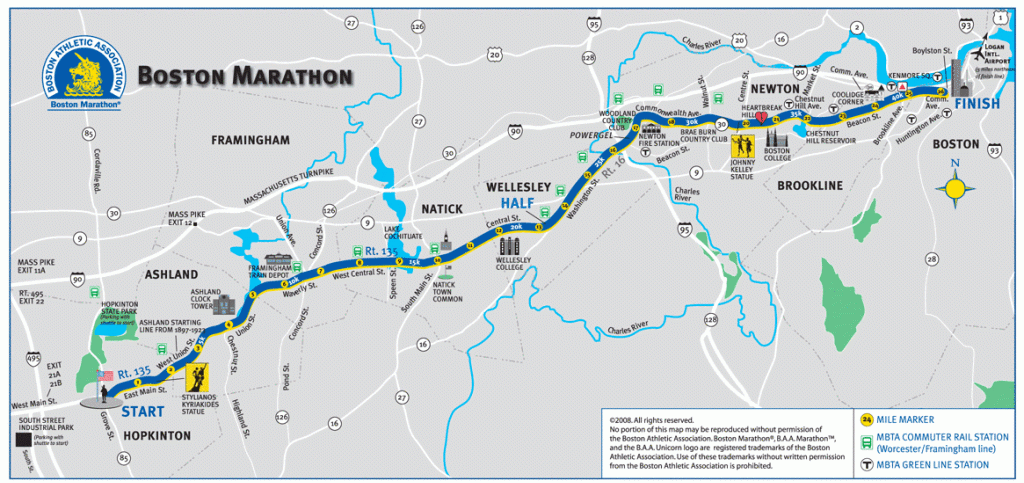 In addition to being a historic sporting event, the Boston Marathon has become an inspiration for many. There are countless participants that are running with the encouragement of someone or something great backing them. This year there are participants and parents running to honor the victims on Newtown. The Marathon has set up a special marker at the end of the 26th mile to honor the victims as well. For those everyday people who train, sacrifice, and dedicate themselves to this event are amazing! Although I have never participated it is no secret that this race is true journey that tests the physical and emotional limits of most people.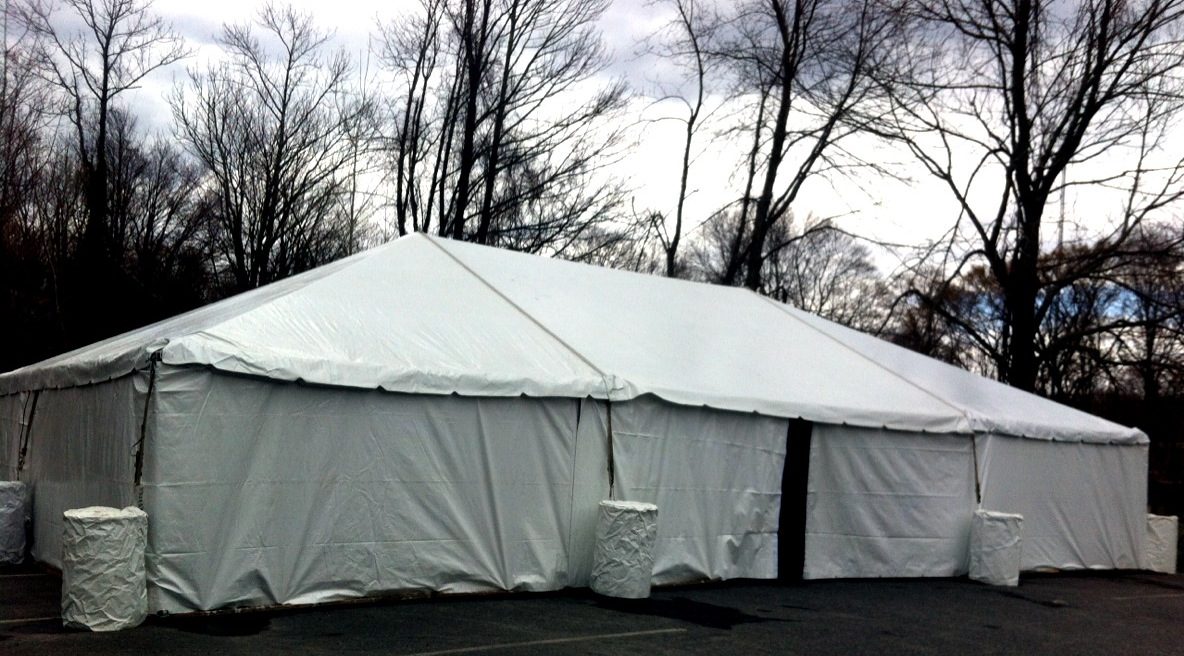 We install a 30′ x 50′ tent in Hopkinton and more in Newton for the MGH Marathon Team. The MGH team runs to support fighting kids' cancer and has raised nearly 8 million dollars since being established in 1998. The Museum of Science team is running to raise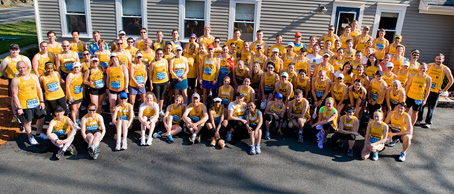 funds for traveling programs that bring science to over 100,000 students annually. Brigham & Women's Team Stork runs to raise money for healthier babies and moms! All very important causes and impressive feats of monies raised and goals accomplished!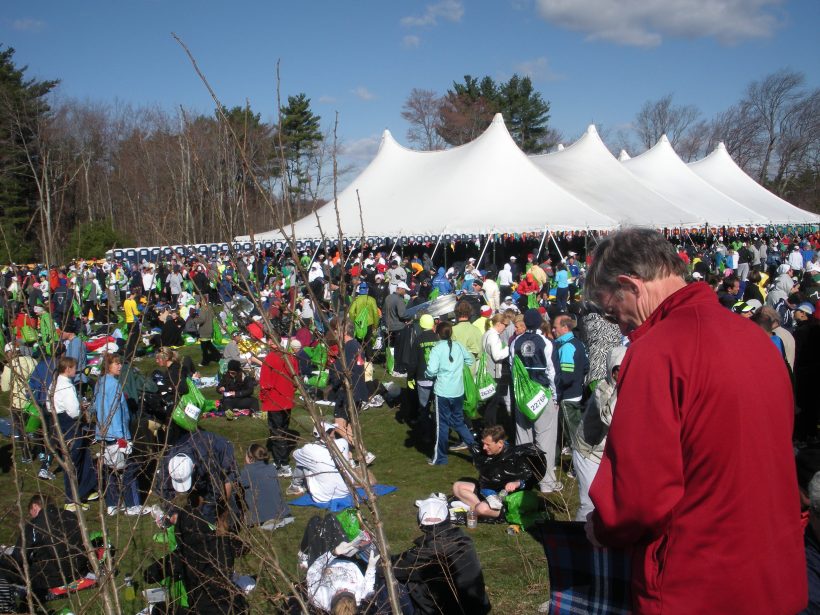 The "Chronicles of the Traveling Runner" is a great post by a woman who ran the Marathon in 2011. She documented her experience very well. This is an interesting read and insight into the marathon runner's world.
So, let's take a step back. How did it all begin? The legend has it that in 490 B.C., a soldier, Pheidippides, ran from a battlefield in Marathon, Greece to Athens to deliver the message of victory, moments after he collapsed and died. Known as the original marathon course, the Athens Marathon course runs from Marathon Bridge to Olympic stadium, 24.85 miles (40,000 meters).  At the first Olympics games in 1896 the legend was honored by a marathon event that ran the course. The U.S. participated in the event and was inspired to begin our own Marathon that began the very next year in April of 1897. The Boston Marathon is now the oldest annual marathon in the world! Runners come from all over the world to participate in one of the most difficult marathon courses! Check out this link to see more about Heartbreak Hill, a unique Boston Marathon feature, and its relation to these statues: What inspired the Creation of the Tortoise and Hare in Copley Square?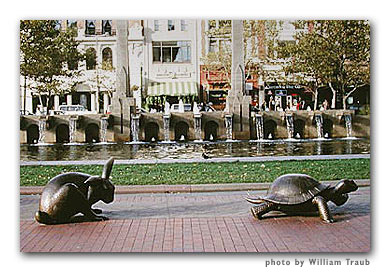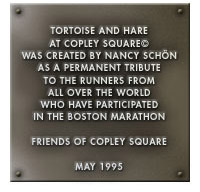 Today, there are marathons that take place all over the world. The standard distance has become 26 miles although it had previously varied over years and places. In 1908 it is said that the race was extended from 25 miles to 26.2 miles so the race could start from Windsor Castle and finish in front of the royal box at White City Stadium. The New York City Marathon runs through all five boroughs and over four bridges. It is one of the largest marathons in terms of participants with over 45,000 finishers in 2010. But for those of us from Boston, there is no other like the Boston Marathon. Good Luck Everyone!!
Need More Space? Hosting Impromptu Dinners & Events at Your Home
Don't let your "cozy" dining room or small entertaining space keep you from hosting large dinner events or holiday parties. There are many ways to create valuable space using your deck, patio, yard, and perhaps even the garage. We have seen some incredible transformations to these spaces for a range of events using our tents, drapery, lighting, furniture and accessories.
Atent for Rent also has a very talented fabrication team that can create custom sidewall for many porches or patio areas that already have an existing roof structure. We have several size frame tents in stock that can be installed on adjustable legs, with sides, rain gutters, lighting heat, air conditioning, flooring and more. You can essentially create another room in your house!
The frame style tent is a "free
standing" structure with a metal frame that supports the tent top. The frame tent is still secured by staking or with weights to be sure it remains safe and in place. The pole style tents just have center poles and side poles with guy ropes that support the tent. This makes them easier to install, but they require additional space and have more restrictions. The frame tent can be installed right against the house or existing structure. It can also be installed in smaller yards or on a patio or driveway for homeowners in the city with limited yard space or as an extension of the garage space. Personally I think the garage can be a little tacky, but if done right it can look great. Check out this link on How to Covert a Garage Into a Party Hall.
My niece's 2nd birthday was an impromptu garage party thanks to a hurricane. I had a moonwalk and a tent, but I was afraid to even set them up. Her 1st birthday was a success with great weather. We rented a 10′ x 20′ frame tent and had the band, Beatles for Sale, set up under the tent because it was so sunny and hot! That is one thing you can be certain to be unsure about in New England… the weather!
There are a lot of ways to decorate and use the new space. I love the concept of utilizing existing furniture
and accessories to really bring the warmth and decor from your home into the new space. You might use plants, patio furniture, lighting, artwork or tables from inside your home to accessorize. Atent for Rent has fabricated custom drapery for the clear top tents to hide the metal frame and adda great accent to the tent. It looks amazing! You can see the stars at night with the clear top. If it is cloudy and rainy, you win too because you rented a tent! Now you can listen to the rain outside and see it pour down the sides of the tent while you and and your guests party on!
Lakeside Wedding – Hosting Events at Your Home
The amazing transformations that take place to create a unique event space are truly incredible. The possibilities are almost endless with today's technology and our resources. Hosting an event at your home (or a family member or friend's house) is unique also in that it creates an irreplaceable memory in that space! Visiting the lake in the summer and spending time on the boat with family and friends is a favorite pastime of mine, so this event was particularly close to my heart.
Getting the house and grounds ready to host a formal event can be a lot of work, even quite overwhelming at times. Having reliable, helpful and informative vendors to work with goes a long way!
Perhaps some of the household improvements/preparations needed to be done regardless of the impending event date. It just might be the kick you needed to cross the rest of the items off that "To Do List". If you focus on the right improvements, temporary verses permanent, the money spent can increase the value of your home and help maintain the house. In my mind, that is money well spent!
At this particular estate, the grounds were amazing, the lakeside location was a beautiful setting, the perfect backdrop for a spectacular wedding! Our General Manager, Jon, met with the client and developed the concept to build a custom staging system level with the existing patio and abutting roof of the porch above. This design allowed flow from the house to the tent to be wide open and seamless while also creating additional useable space on the patio!
The 40′ x 60′ tent has a beautiful cleartop, natural light into the tent and not obstructing the beautiful view from any space in the house. The tent and staging are nestled between the trees perfectly, helpful to keep the clear tent cool in the summer!  Guests on the balcony above can see down into the tented space and out on to the lake! The house and the tent accentuate each other very well, while not taking away from the waterfront setting!
Some of the other accessories on the installation include the paper lanterns and string lighting adding a great ambiance at night. We also installed leg drapes to soften the metal side poles and side rails to keep the guests safe. The crew, the caterer, the client and all the event staff did a great job putting this together!
Event Staging & Performance Bandstands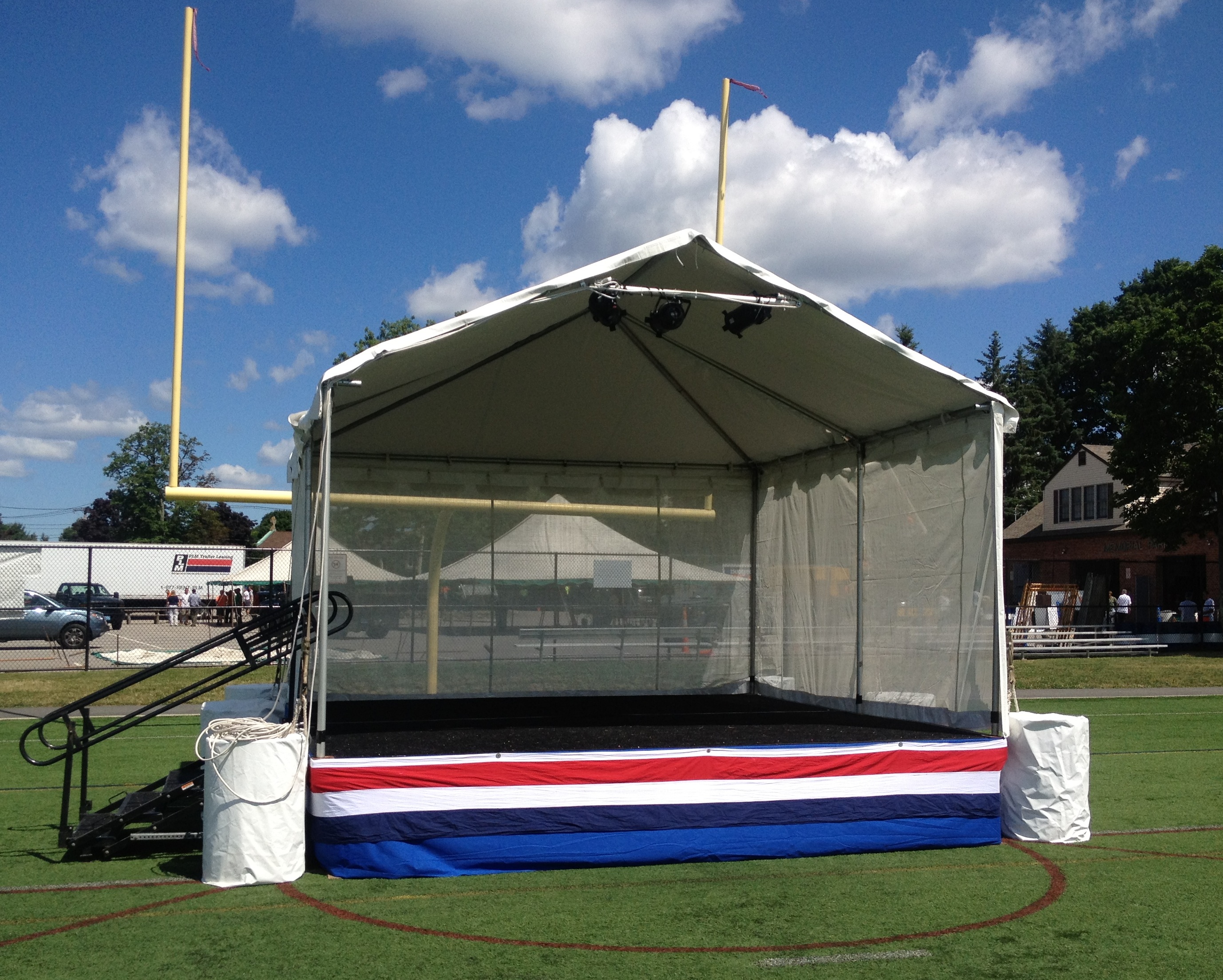 Atent for Rent has a wide range of inventory available to create the perfect custom stage tailored specifically to your event! We install everything from small bandstands for casual 4th of July celebrations to custom staging that remains in use all summer long. There are so many tents in our inventory the possibilities are endless.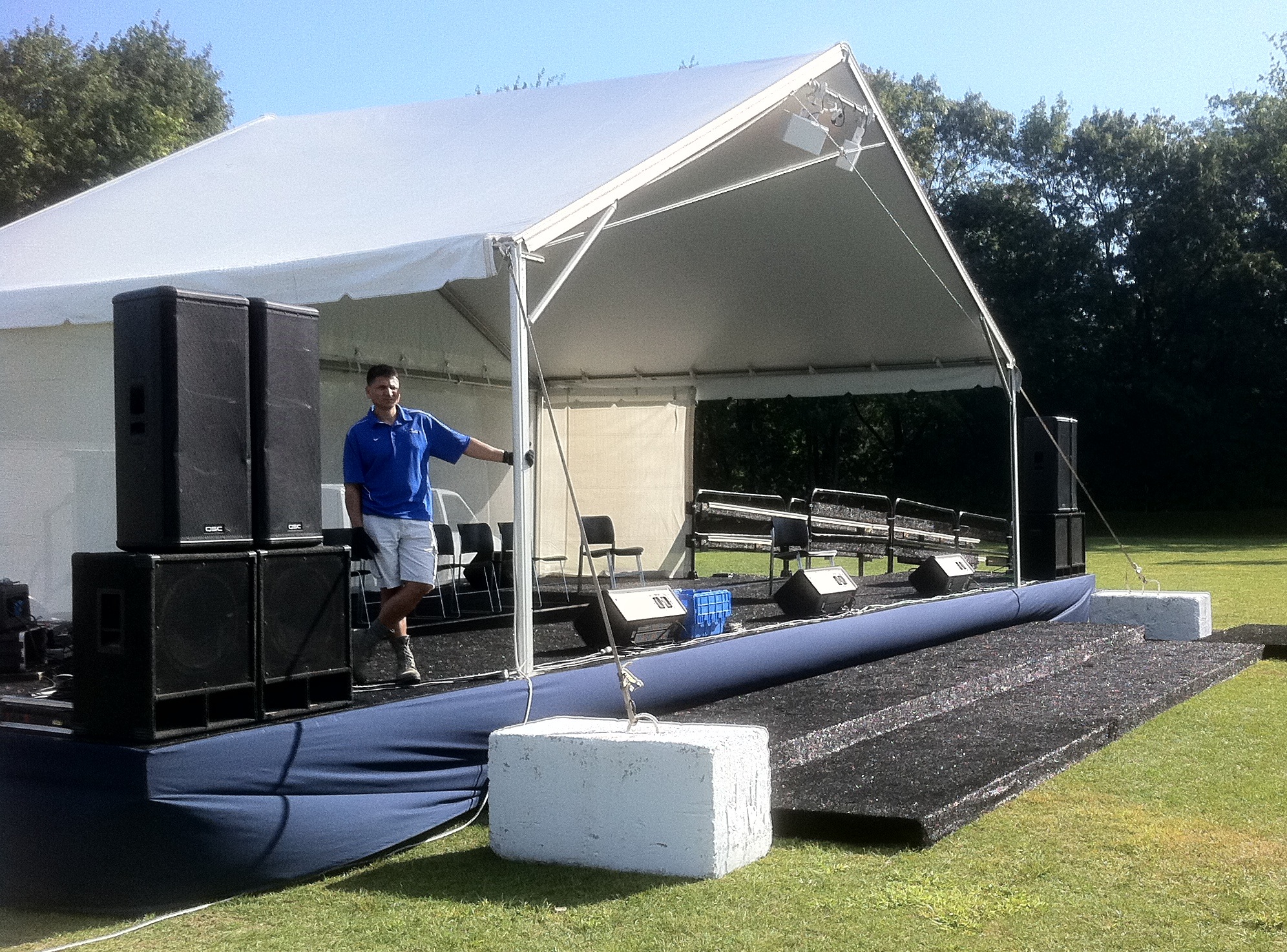 There are two main styles of tents that we commonly use to create these sheltered performance platforms. A hip end tent that slopes down on the end and a gable end tent that has flat end. The flat end is great for installing against houses and building and also to gain more overall cubic footage or "headspace" under the tent. We use both styles to create some of the custom bandstands by simply installing only one end on the tent and leaving the front side open for your viewing pleasure!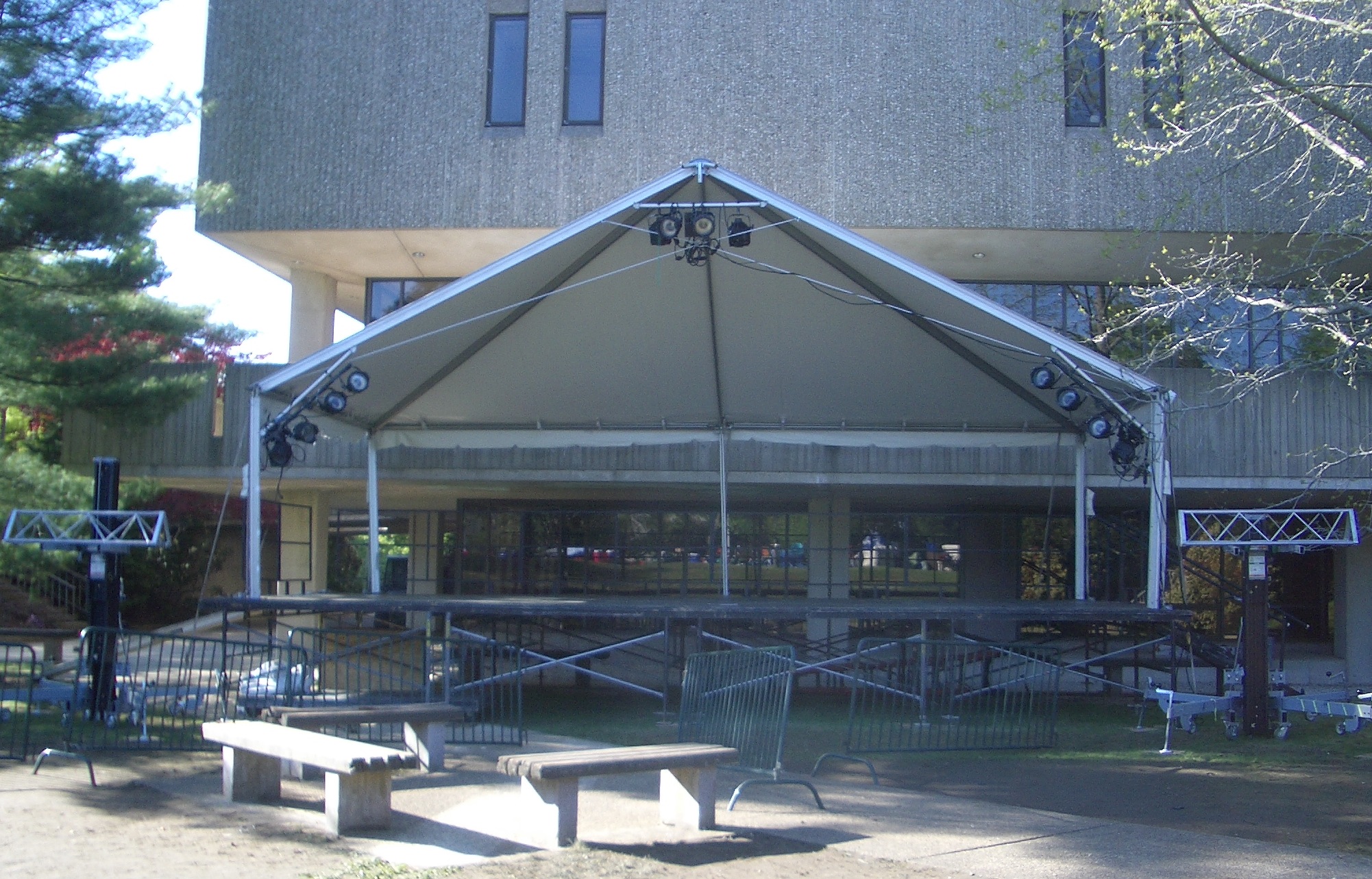 We can use concrete weights or water barrels to secure the tent when staking is not permitted, enabling us to install on most surfaces. There are several accessories that we offer such as sidewalls, lighting, sound systems, turf, skirting, railings, stairs, ramps and even a new electric lift.
Our engineer on staff, Jimmy focuses largely on permitting our events. The codes and restrictions vary from city to town, are ever changing and enforced uniquely across the board. The staging systems we install meet and often exceed the codes necessary to satisfy the requirements to ensure a safe event for your performers and your guests.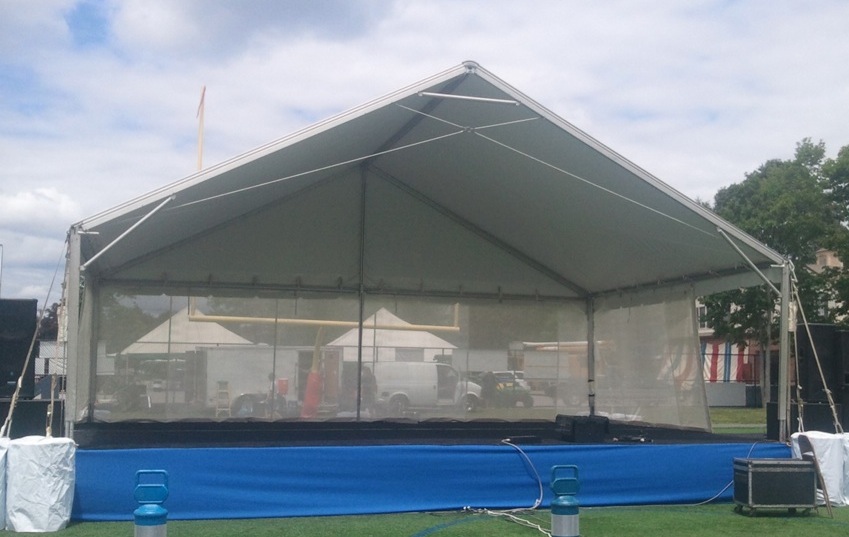 We have the capabilities to create custom and site specific CAD drawings when necessary. Depending on the scale of the event, it is often the case that inspectors will require these drawings to approve the necessary permits. Jimmy is very patient and knows how to handle the inspectors as well as work with the clients to ensure everyone is happy!
Stages are used for so many applications, including commencements, weddings, bar/bat mitzvahs, awards ceremonies, open houses, lectures, speeches, parades, political events, fundraisers, and of course for performances!
Good Old Easter Memories & Fun New Traditions!
We all remember those creepy Easter bunnies hopping all over town this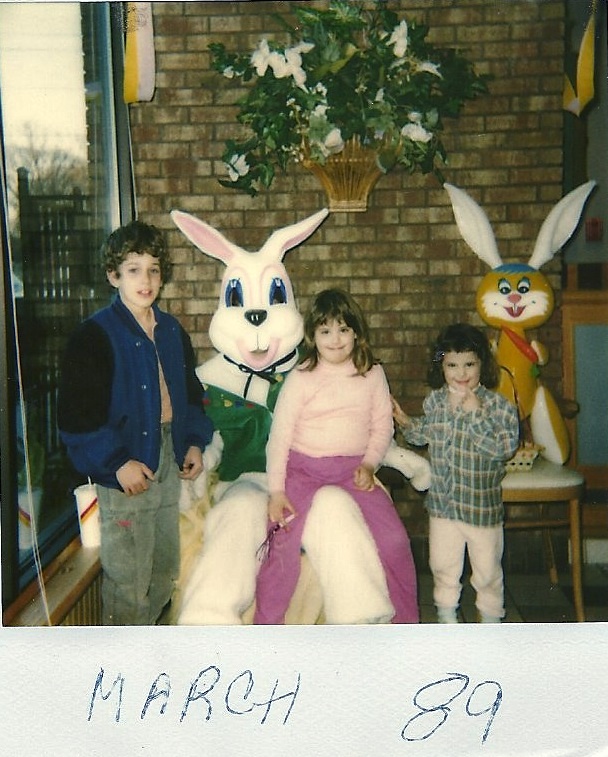 time of year. I really don't recall much from when I was 4 years old, but I absolutely remember this picture taken in the corner of Burger King. I don't remember what I ate or what toy I got with my meal, but I remember thinking two things very specifically:
1. I think I might be a little scared of the Easter bunny!! I'll just look evil and that freaky bunny thing will fear me instead!
2. I HATE this plaid sweater my mom always makes me wear that she no doubt picked up for me on family Wednesdays at the Salvation Army! (more…)
"Quigs" & The James Quigley Fund: An Inspirational Story!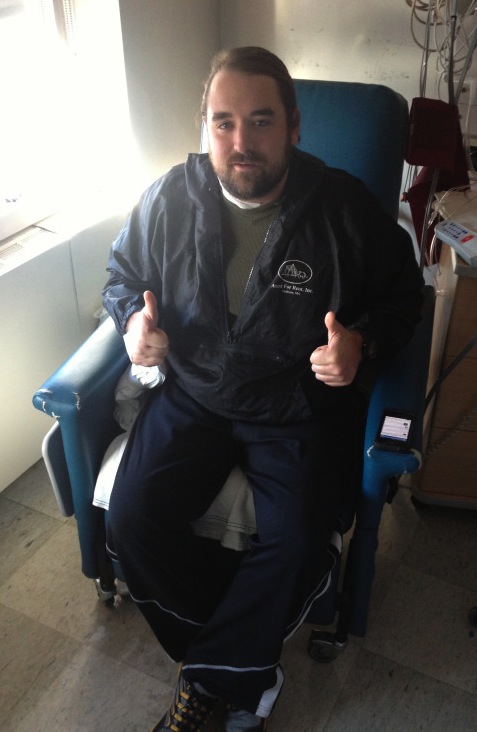 Jimmy has been with Atent for Rent since 2004. We have seen him grow into the respectable burly man he is today! He is our Permit Expert and In-house Engineer, a valued worker, and a great friend! But more than anything else he is an inspiration to so many of us.
Jimmy, or as I like to call him "Quigs" or "Quigley", embarked on a very unique, difficult journey in August 2011. Doctors unexpectedly discovered a softball size tumor on his adrenal gland, that had spread to his kidney and spots on his lungs. Jimmy was diagnosed with Malignant Pheochromocytoma. It had to be scary for him and a lot to handle and manage at his young age. But he has persevered and kept his head held high, with his luscious golden hair growing out to donate to Locks of Love.
All of Jimmy's family and friends know just how lucky we are to have him in our lives. His
 good spirit and strong will encourage us every day. His girlfriend, Kathryn Aldrich started a website The James Quigley Fund, that documents his journey and helps raise awareness about Pheochromocytoma. She has been an immense support to Jimmy. One of his best friends and former Atent for Rent extraordinar, "Huff" started a group to support Jimmy as well, Track the Huff.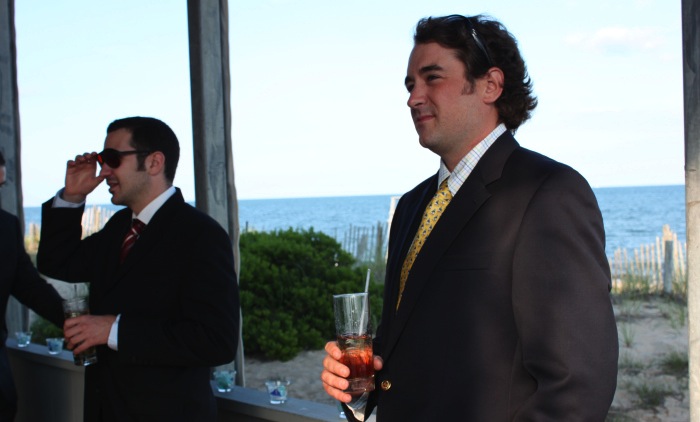 Despite all of the tests, treatments, surgeries, scans, medications and medical bills, Quigs is always in good spirits, joking, laughing, of course doing by far the best impersonnations I have ever heard! I have the privilege to work with Jimmy every day and his infectious personality has truly inspired me. We all have a lot on our plates as life is generally complicated these days. When I need to vent about my family or work, he is ready to listen. I know I am not alone here. So many people have expressed their love and respect for Jimmy over these past years.
Last night at work, I was nonchalantly tossing out an idea that perhaps Atent for Rent could host a Fundraising event to help bring people together to support Jimmy. The idea was well perceived by the owner and the few people left in the office. Not a minute later, Kevin from Boston's Baddest Burger walked in the door to rent some equipment and asked if Jim still worked here. Of course, I burst out about how ironic that was to the gentlemen. He handed me his business card and said he would absolutely be a part of anything that was to support Jimmy. It just reminded me how many people Jimmy has impacted, and how important it is to me to support him on this journey! Please go to thejamesquigleyfund.org to learn more about Jimmy and Pheochromocytoma and click here to donate.
Thank you!
Atent for Rent Hosts ARAM Meeting
Last week Atent for Rent transformed its warehouse into an event space as they opened their doors to several vendors and leaders in the industry, hosting a dinner conference for the American Rental Association of Massachusetts. The featured speaker of the night was the Massachusetts State Police Truck Team.
Under a Magnificent Canopy
A Canopy style tent is sure to add comfort and ambiance to your outdoor functions, transforming a patch of grass into a backyard party experience! When planning an event in a backyard a canopy tent allows you some relief from the sun or rain without sacrificing the beauty of your surroundings. They are aesthetically pleasing, making them perfect for social events like company outings, showers, birthdays and graduation parties.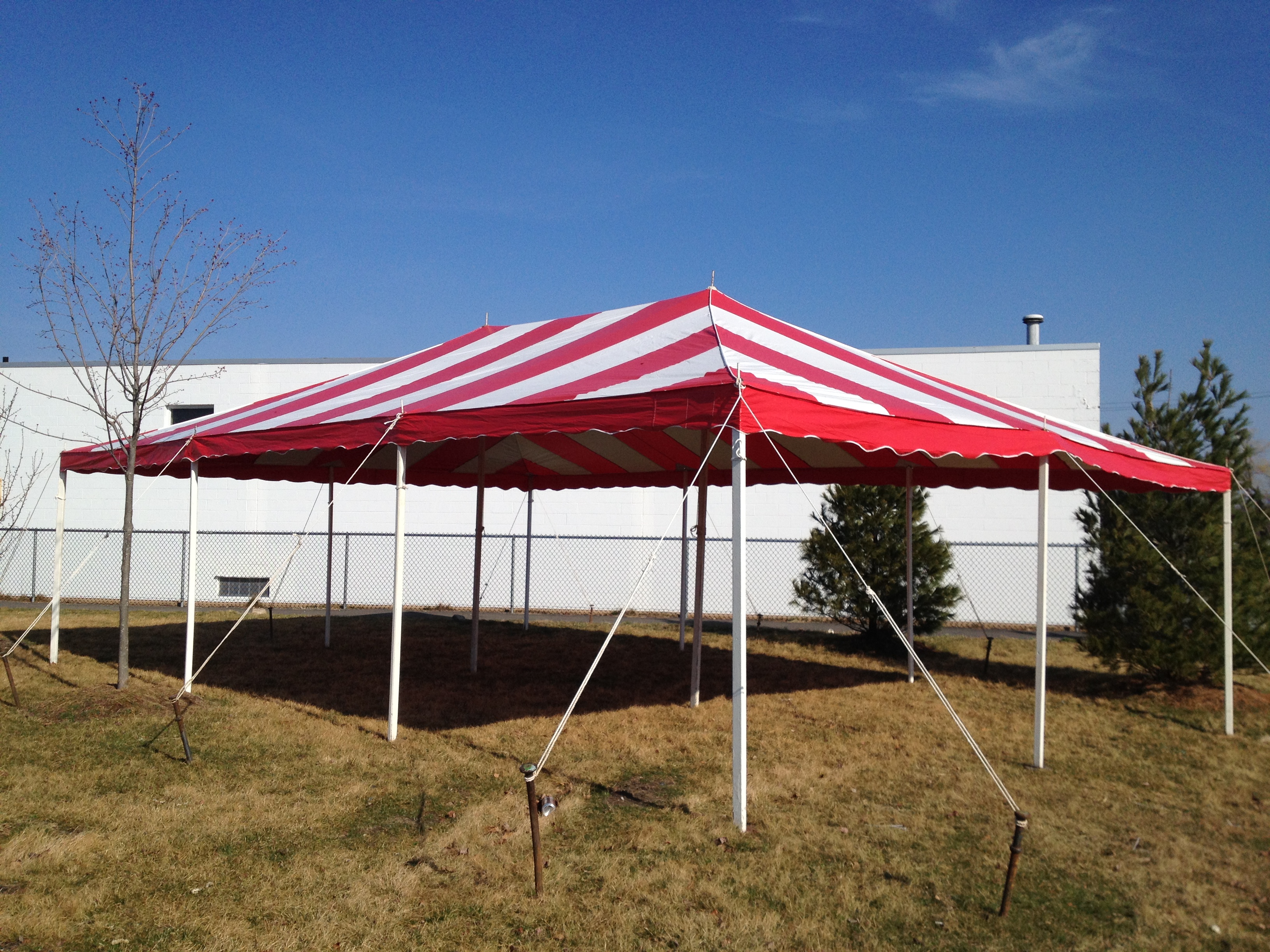 The Canopy tents are small center pole tents that are supported by a system of poles and guy ropes. They require 10 feet larger than their actual dimensions and need to be staked. The lack of a sidewall makes the canopy perfect for warm weather. The Canopy also allows for a less expensive alternative to some of the more complex tents that allow sides. The simplicity of this tent also enables us to allow our customers to install and remove on their own to save even more money!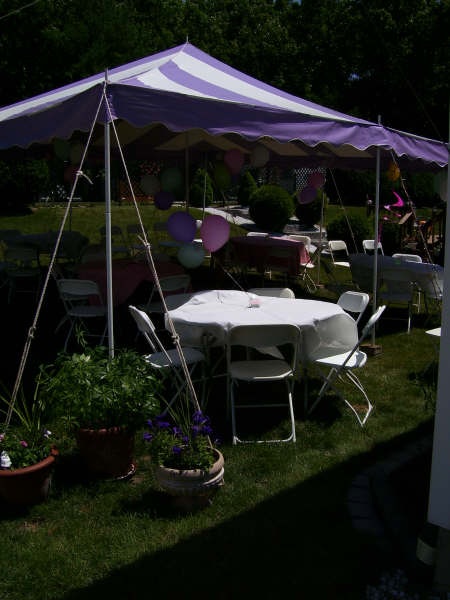 You can pick the tent up a few days prior to your event and return it to us a few days after. This gives you time to decorate the tent and get ready for the party ahead of time and leaves you in no rush to break it down afterwards. You should be enjoying the party as well! The poles on the canopy tents conveniently breakdown to fit in any sized car. (Well maybe not a Smart car)
So, whether you are having a BBQ, school function, yard sale, open house or just want to throw a good party, our canopy tents could be just what your looking for.  Email us to rent a canopy tent for your next party or event at your home or at your business, whatever your needs, let us help you set the scene.
Check out this instructional video of how to install the canopy, should you decide to save some bucks and do it yourself!   Click here to view video
The Right Table For Your Event
Square or Circle? Rectangle or Banquet? How do you know what type of table is going to be the right choice for your next event? When deciding what type of table to use for your next event there are a few variables you should consider.
Tips For Your Holiday Events
The holidays can be stressful and they shouldn't be. The holidays should be a time to enjoy your family and friends, not stressing about a dinner party or other holiday function. To (hopefully) make your holiday season more cheery and bright, we've put together a list of tips to help you through.
1. Only make recipes you've made before. When you have a table of extended family waiting around the dining room table for dinner, you do not want to serve them an experiment. Serving a meal your comfortable making will take some stress out of our prep and you won't be wondering throughout the whole meal if the nut crusted turkey stuffed with seafood was a hit or not. (Disclaimer, that is not a real recipe!)
2. Shop smart. Holiday shopping can cause a headache but there are a few ways to make it less stressful:
Make a list of the people you want to buy presents for with gift options and stick to it
Start your shopping early
Shop online or use the Internet to research the best prices
When in doubt, buy gift cards!
3. Hire an event planner. We wouldn't recommend hiring an event planner for your family Christmas dinner but for larger events they can be worth the costs. Event planners are trained to take care of everything and can be a huge help in keeping your holiday season stress free.
4. Rent equipment in advance. You don't want to be worrying about how many tables and chairs you need 2 days before your holiday event. Device a plan in advance and make arrangements for your rentals as early as possible. Speaking of equipment…
5. Rent equipment from a reputable source. Some rental companies are just not as organized as others and some are not licensed which can put your event and business in jeopardy. You can never go wrong choosing vendors that are Better Business Bureau accredited or check out gatheringguide.com to see information about company licenses and insurance.
From everyone at ATent for Rent, we wish you all a Happy Holiday season and success with your Holiday events.
Oh No! Where'd My Facebook Posts Go?
Two weeks ago we talked about many of the great features of the Facebook timeline for event planners, but there is one big disadvantage that came with the timeline. Your posts do not get shown to as many of your fans.
If your company is not on Pinterest yet and is in the event industry, we highly recommend joining. Take a look at what we've used our page for. In addition to repins and followers we have also increased our website traffic because so many users are interested to see the origin of the images. Check out our last post about why the event industry can benefit from Pinterest and be sure to follow us!
What Makes Pinterest So Pinteresting?
What is Pinterest you ask? It's a place to bookmark (Pin) images and
videos you find from around the web. Your pins are visible to other Pinterest users even if they don't follow your page and you can see the pin boards of others.  If you are considering creating a Pinterest page be sure to read on to find out why we think its so great!
The Clear Choice For Construction Sites: Clearspan
A clear span tent or construction site cover can take the guess work out of your next job. The ultimate in design flexibility, a clearspan tent provides a well secured environment for short and long term projects.
Benefiting From A Facebook Timeline
The Facebook Timeline has been mandatory for Facebook pages since March, but some companies are still not taking full advantage of the new offering because they aren't convinced its any better than before. The Facebook timeline presents a great opportunity to show off your events from throughout the years.
We're very excited to welcome you to our new blog that came with our new website.
Our new site is much more user friendly and includes much more great information about our company, including; About Our Staff, Equipment Sales and all of our Social Networks.
Our new blog will cover information that will make planning your next events easier and more fun. Make sure you come back often and see our latest posts!