Typically in New England construction work comes to a halt as the cold weather rolls in and the snow starts to pile up. Our climate controlled tents will make sure the show goes on. Completing projects on time means saving money and keeping production going straight through winter. Atent for Rent's vast array of tents, combined with heaters, generators, lighting and more are the complete package to create a climate controlled environment for your job site.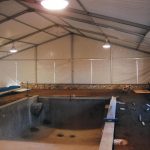 Although we have tented several pools for summer events, winter construction tents are much more popular. Pool enclosures, in particular just may be the most popular construction tents we build. Installing these tents and structures over a large hole in the ground in freezing temperatures certainly makes for a difficult installation but our experienced crews have become very accustomed to working under special conditions and circumstances. They have the knowledge and determination to complete installations on even the most complicated job sites.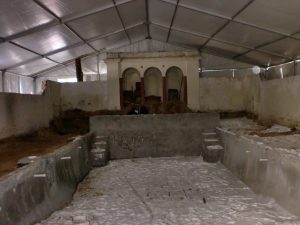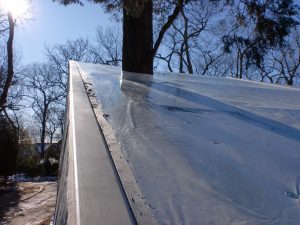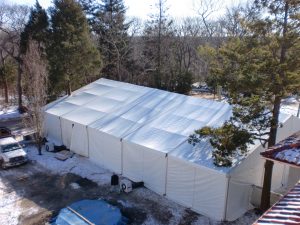 You may notice in the photos above there is a large tree poking through the top of the tent! That is definitely a custom installation to keep the large tree in tact for the client. This structure allowed the pool restoration work to continue through the cold winter months. Although pool construction is one of the our most common winter project tents we have installed tents for a number of other job sites. One of our most unique installations might be the tent we installed on the dry dock so their crews could repair and repaint the ship's anchor.
Our tent experts have battled the elements to make way for a tent installation as well. In some cases contractors are a little late to the punch and the snow has already started to fly before a site is tented. The crews do their best to clear the site for the tent and once the heat is cranking any remaining snow will melt away. The tent has to continue to be maintained in the event of snow by snow raking the top or heating the tent to keep the new flakes melting as they land on the warm tent vinyl.
Typically when we think of renting a tent we imagine a wedding, graduation or some other outdoor summer party, but tents can be used in so many more applications in the construction trade, from routine maintenance on a transformer to covering playgrounds, pools, driveways, stone walls, job sites and much more.