Rent a Tent For Any Event: Weddings, School, Corporate!
The beautiful, fall weather makes it the perfect time for outdoor festivities. How can you turn your backyard into your dream location for your party? When you rent a tent, there are many different ways that you can customize it to your personal style and needs.
Do you have an upcoming wedding? School function? Corporate event?
Here are some suggestions to perfect your event with our multiple tent options:
Wedding
An outdoor wedding is the thing Pinterest boards are made of. Before you get started pinning pictures of flowers and tablecloths, don't forget about the tent essentials.
Create the perfect setting for your outdoor wedding.
For an outdoor wedding, you need a space where guests can mingle and you can dance the night away. Let the Victorian tent be this backdrop for your beautiful, summer wedding. With its tall, white peaks and exaggerated pitch, this suspension tent has high, spacious ceilings that will bring elegance and grandeur to your event.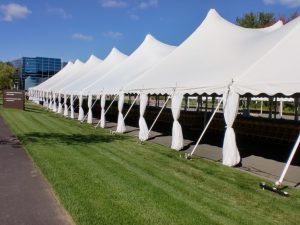 If you want to truly make the outdoor scenery a part of your wedding, try the clear frame tent instead.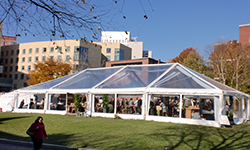 With transparent walls and ceiling, this tent is perfect for giving your guests a subtle taste of the outdoors. Let the sun shine in during the day, or the stars twinkle at night. (Even better, with the clear frame tent, there's no chance that a little bit of rainfall will ruin your day!)
Turn your tent into your fairytale wedding.
What's the key to setting the mood and creating an ambience of warmth and sophistication? Good lighting.
For a truly beautiful sparkle, nothing is more timeless and elegant than a delicate chandelier. But when hung up in a tent outside, this traditional lamp fixture becomes a delightfully whimsical feature that is as eye-catching as it is brightening. But if you're looking for lighting that's a little more refined, but just as elegant, consider bistro lighting. Strung throughout the ceiling of your tent, these tiny bulbs will gently illuminate the tables and delight your guests!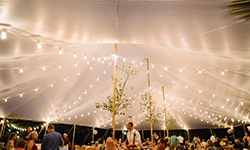 When you want to give your dancing feet a rest, give yourself a space to sit that's just as fun as the dancefloor. And what's more fitting for a wedding than a romantic sweetheart table? Include this special table among your wedding décor and you and your partner will have the best seat in the house all night long.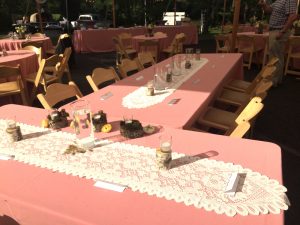 And don't forget about seating for your guests! To give them a space that is as comfortable as it is stylish, consider our selection of wooden garden chairs. Available in black, white, or a natural finish, these wooden chairs will add a rustic elegance to your affair.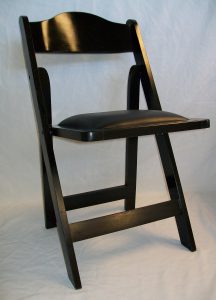 Or maybe you're looking for something a little more pristine? Take a more traditional approach to your wedding décor with our ballroom chairs, available in white, silver, fruitwood or gold.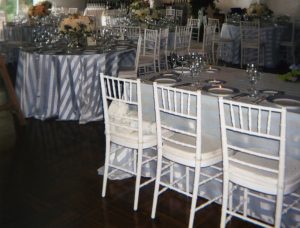 School function
The next time you need to host a graduation event, team dinner or any other school function, rent a tent to transform your backyard into the coolest party scene. With the right touch, you can turn your backyard into a party scene that will please both the staff, students and the parents.
Make your backyard the sweetest hang-out spot in town.
For a school function that won't make kids groan with boredom, the canopy tent is the top choice. The vibrant, striped pattern or white is a stand-out point piece – one the kids are sure to love.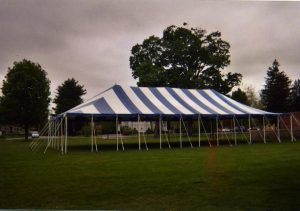 Looking for another style tent that's just as fun, but also a little more sophisticated? Take a look at the sailcloth tent. With its high peaks adorned with small flags, this tent looks like you brought the circus to your very own backyard.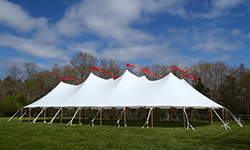 Accessorize Your Tent!
Now that you've set the stage for your school function, it's time to turn up the volume with a few, fun accessories.
Looking to impress the young crowd? LED lighting is a great way to keep the tent lit and bring a bit of color onto the scene. Our LED lights fasten onto the tents' poles so that you can bring bright color to the whole party.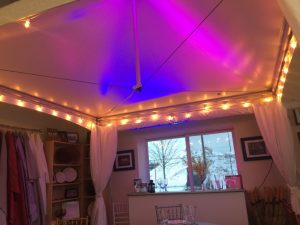 If you want lighting that brings together mature sophistication and child-like fun, why not give paper lanterns a try? After all, there's a reason you'll see paper lanterns all over Pinterest party boards: they're one of the best options for lighting that's both whimsical and refined.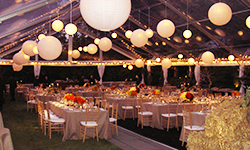 To add some life to your tent expertly for a school function, there's one very important element you don't want to miss: music. Use one of our DJ tables to play the right tunes and keep the guests having fun!
When there's a lot of kids at the party, you want to keep the seating arrangement simple. Use our round or rectangular tables (or a mix of both) to give your guests somewhere to sit that won't get in the way of the dance floor!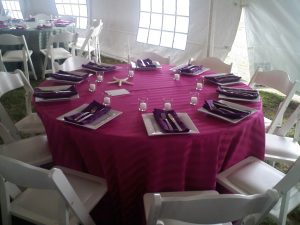 Finally, if you're hosting a school function for children, don't forget to accommodate the extra small ones. Use some of our special children's chairs to make sure that every guest has a seat at the party.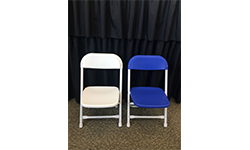 Corporate Event
Was your last work party unbearably boring? Don't make the same mistake again. Instead, rent a tent to host an outdoor party that will put a smile on your colleagues' faces. Also try our extra large Jenga game or Cornhole.
Think about your audience.
When renting a tent, make sure that the frame suits the audience. For example, the colorful canopy tent? While its whimsicality is great for a kids' party, it may not the best choice for an elegant corporate event.
Instead, when selecting a tent for corporate event, the standard frame tent is the way to go. The classic, white style leaves you plenty of room to get creative with decorations, or you can stick to a simple, clean aesthetic.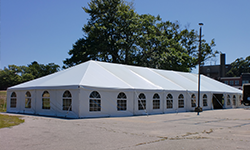 Keep it classy and professional.
Colorful, LED lighting may not be the best pick for a professional atmosphere. Instead, to brighten up your corporate event, trying using string lights. These strands of tiny bulbs are a classic: polished, timeless, but with enough power to light up a room!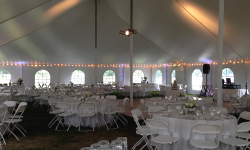 Want to double up on lighting? For the standard frame tent, par lights are another perfect match. Mounted on the tents' poles and ceiling, these lights will softly illuminate the party from above while staying up and out of the way!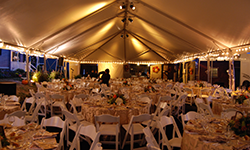 At a corporate event, there's one mood you do not want to recreate: the mood of the office! Instead of tables with a rigid seating chart, use a beverage station and food service to let your guests mingle and enjoy the party space.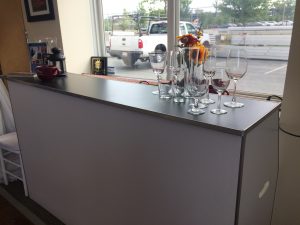 Moreover, to prevent your corporate event from looking too much like a wedding, here's a tip: steer clear of the ballroom chairs. Instead, try a mix of barstools to give your event a vibe that's a little less garden-party and a little more cosmopolitan.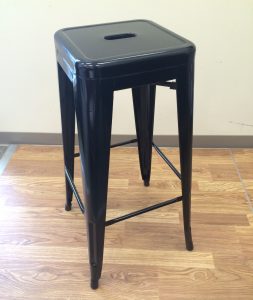 How can you transform your backyard into a space fit for a wedding, a school function, or a corporate event?
Rent a tent from A Tent For Rent and get creative with your setup!
Use our Event Builder to find the perfect tent, lighting, and furnishings for your event.
Visit A Tent For Rent to get started.
Food trucks are a great addition to any event. They are fun, convenient, full of variety and, most importantly, they are tasty! From burgers, to grilled cheese, to cookies, to ice cream, to bahn mi, you are guaranteed to find whatever fare you crave for your big event.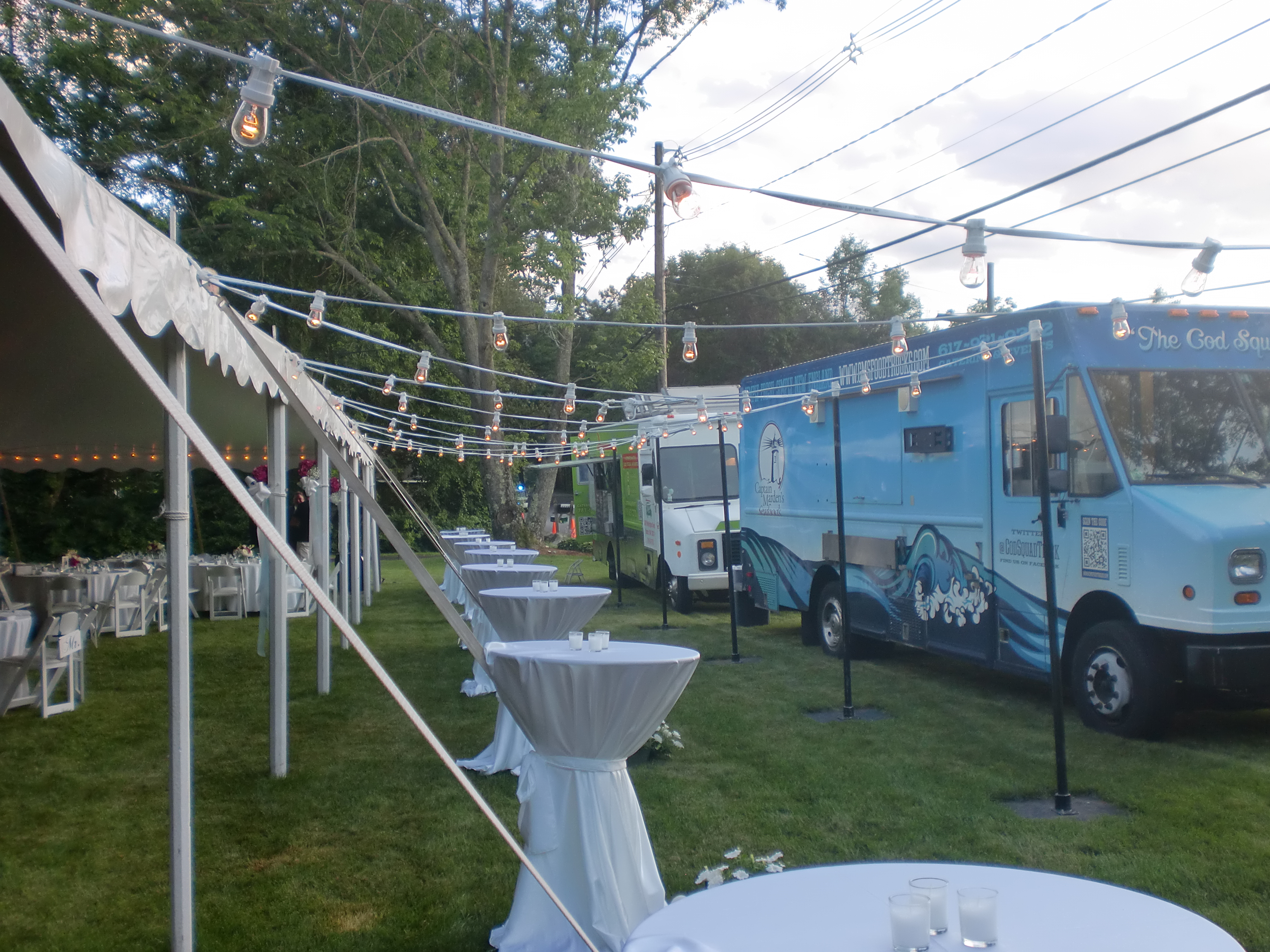 Boston has a growing food truck scene and now hosts multiple festivals and markets where you can sample a variety of cuisines. When planning for your event, check out the SoWa Market at www.newenglandopenmarkets.com. This annual market is open every Sunday from May 4 – October 26, 2015 from 10am – 4pm. SoWa Market has more than 35 food truck vendors, highlighting the best that Boston has to offer.
If you're looking for a more competitive edge to your food truck hunt, check out the Providence/Boston Food Truck Showdown on June 6th at India Point Park in Providence, RI. This festival puts Boston and Providence's best food trucks head-to-head, and YOU decide which you like best. For more information, click here.
How about a cookie or cupcake truck at your child's birthday party? Or perhaps a taco truck at the next big graduation party? Or maybe a truck that serves up seaside delicacies at your next beach party? Or go off the beaten path and have your whole wedding catered by food trucks! This tradition has been popular for late night snacking after dancing all night and building a hefty appetite, but bringing in the trucks for the main course makes for an exciting (and delicious!) alternative to traditional catering. And bonus! Food trucks usually do not require additional power distribution or dishware from an outside vendor. Though keep in mind that not everyone may like the offerings, so two or more food trucks might be a good idea. And also remember that most food is made to order, so wait time should be a consideration. Consider having either stationary or passed hors devours during cocktail hour. No one likes "hangry" wedding guests.
Last year we did the tents for one of our favorite wedding set ups. This couple wanted something unique so they made the food mobile. As you can see in the above picture, they created a casual dining area covered by bistro lights to connect their main tent with their food truck area. This wedding was certainly one that all the guests will remember.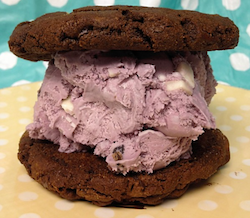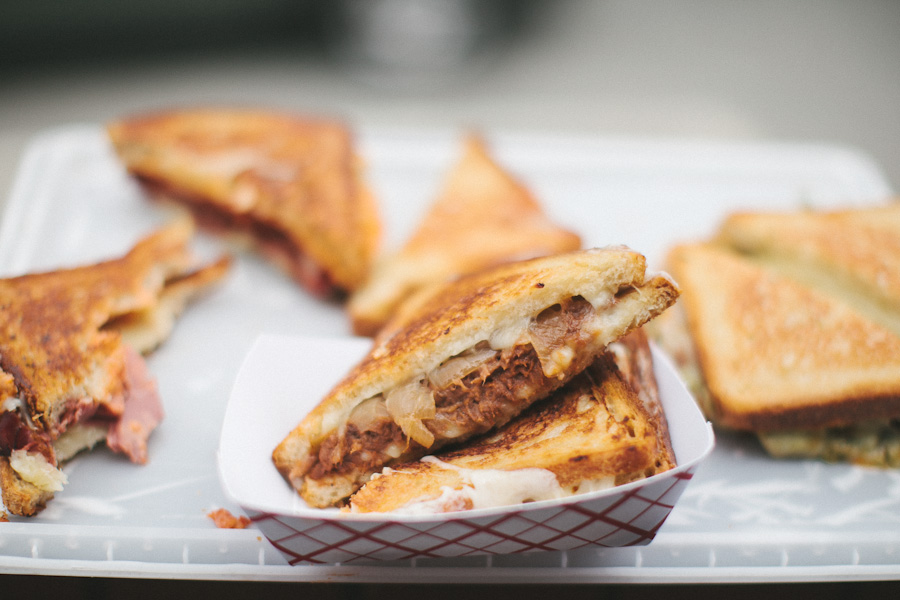 Some of our staff favorites for local food trucks are Roxy's Gourmet Grilled Cheese, Teri-Yummy, Mei Mei Kitchen, and The Cookie Monstah.
This year marks the 25th year of festivals at Harpoon Brewery. Harpoon is a Boston-based brewery that was founded in 1986 by three friends who enjoyed beer and decided to brew the beers they loved, making them always available for themselves and their friends. The brewery started on the Boston waterfront in a single warehouse space and now has two fully operational brewery locations, one in Boston, MA and the other in Windsor, VT.
Harpoon hosts multiple functions throughout the year and supports various charities throughout New England through their Harpoon Helps initiatives. In addition to the many events each month, they have 5 festivals each year.
Atent for Rent has been working with Harpoon since their first OctoberFest in October of 1990. The scale of the event has grown immensely and they now house over 20,000 people over the weekends of the May HarpoonFest and the OctoberFest events. Along with their growing guest count, their tent needs have increased along with it.  The tents for the OctoberFest in 2015 covered over 27,000 square feet, providing ample space for their record-breaking event.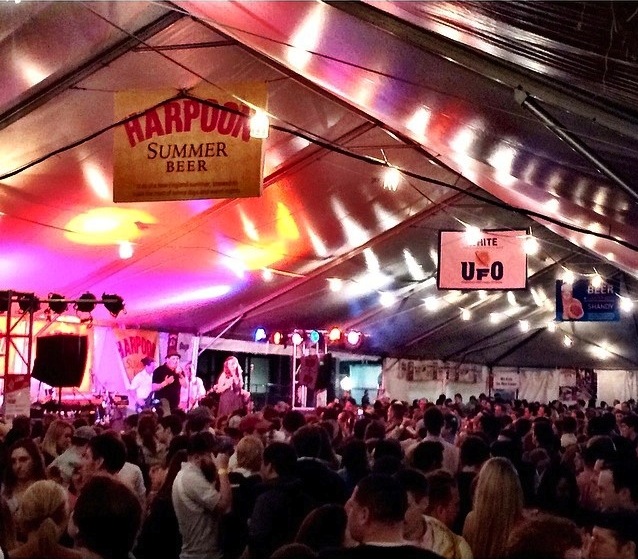 The festivals are events loved by people all around New England, and are particular favorites amongst college students in Boston. Take a look at these photos courtesy of event-goers, doesn't it look fun? This year's HarpoonFest is taking place May 16 and 17, 2015. Cover charge is 20.00 (cash only!) and includes a souvenir pint cup, one (1) drink ticket. In addition to the great beer, there are tons of local bands playing live and many food vendors. Of course, you must be 21+ to enter.
The event is rain or shine, but don't worry- we have you covered.
To learn more, visit http://www.harpoonbrewery.com/festivals.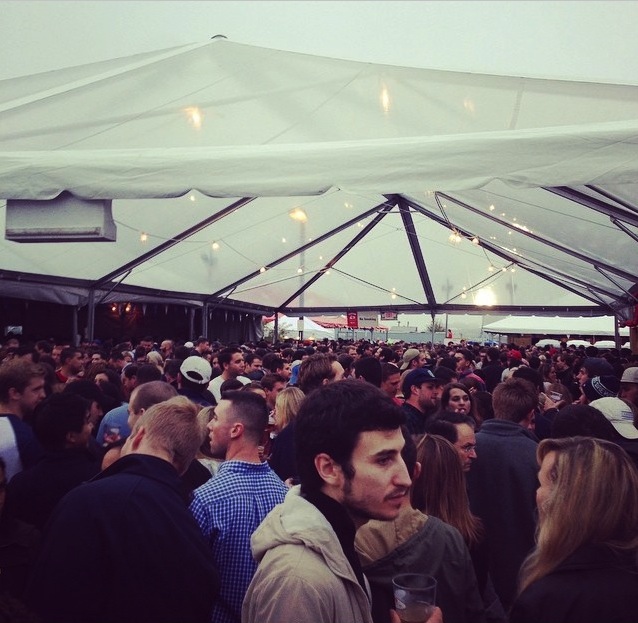 Advancing Technology in the Tent Industry
Remember the days when we used encyclopedias and phone books? We do too, but just barely! With technology constantly around us and readily at our fingertips, it's difficult to recall times like those.
Of course, advancing technology has changed every aspect of day-to-day life and it is no different here at Atent for Rent. From the way we store and wash our equipment, to the way we write orders and communicate with customers, we utilize helpful technological tools daily. One of favorite tools is Google Earth, we use it all the time! With Google Earth, we can get an idea of a customer's yard and even measure to have an idea of what will fit.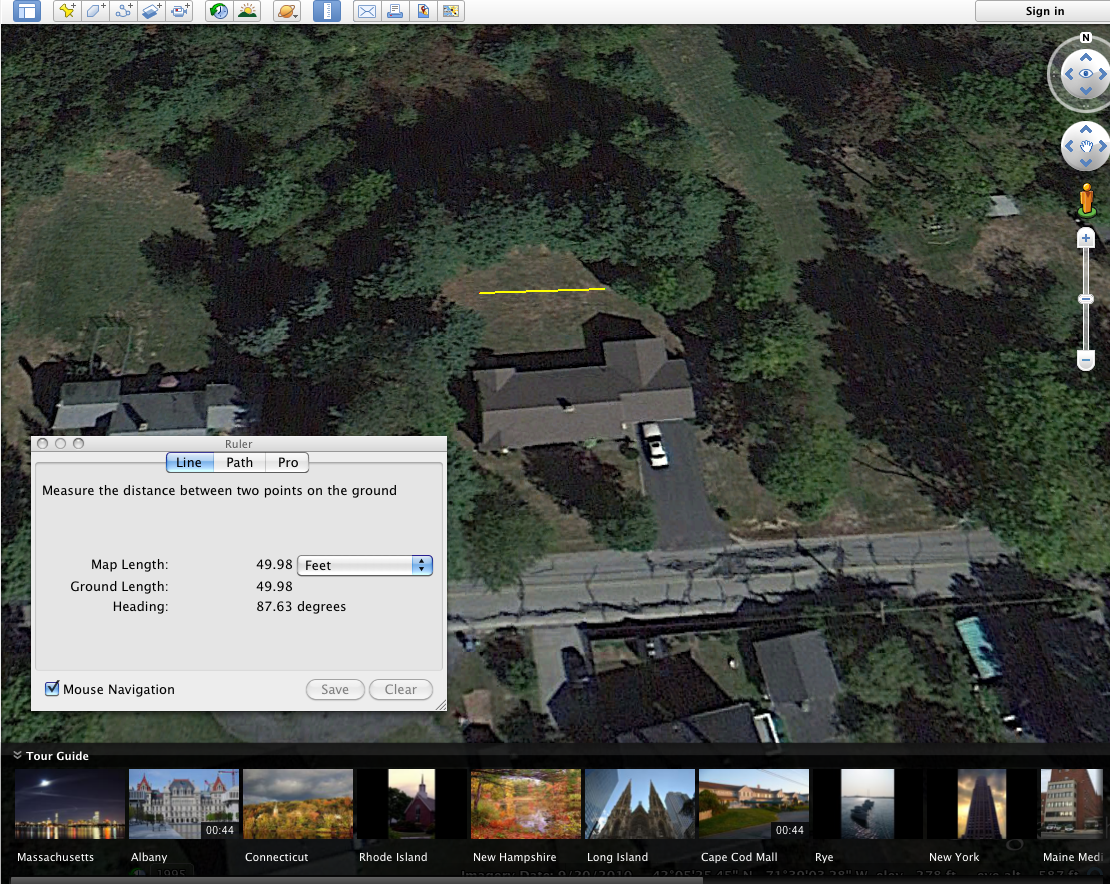 From there, we can impose a to-scale CAD diagram on top of a Google Earth image like we have done here. This helps give our installers an idea of the layout, and helps our customers visualize how the tent will fit in their space.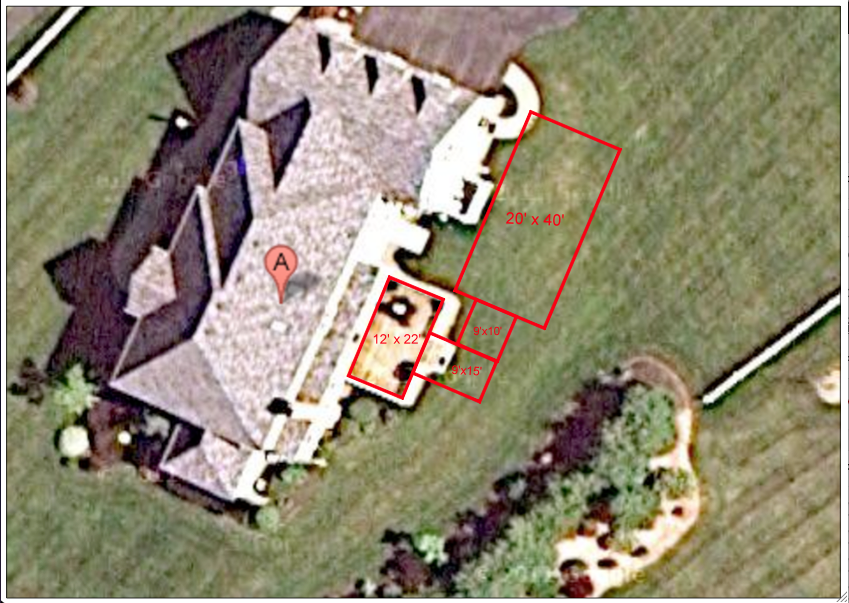 We have even happened to come across a number of Google Earth images showing our tents in them.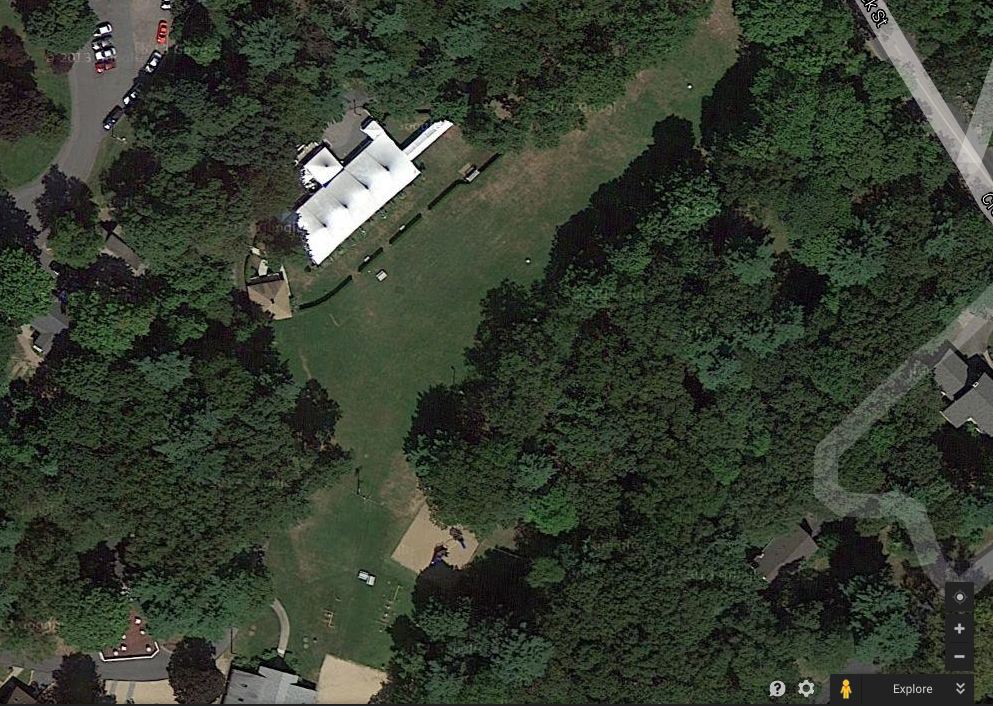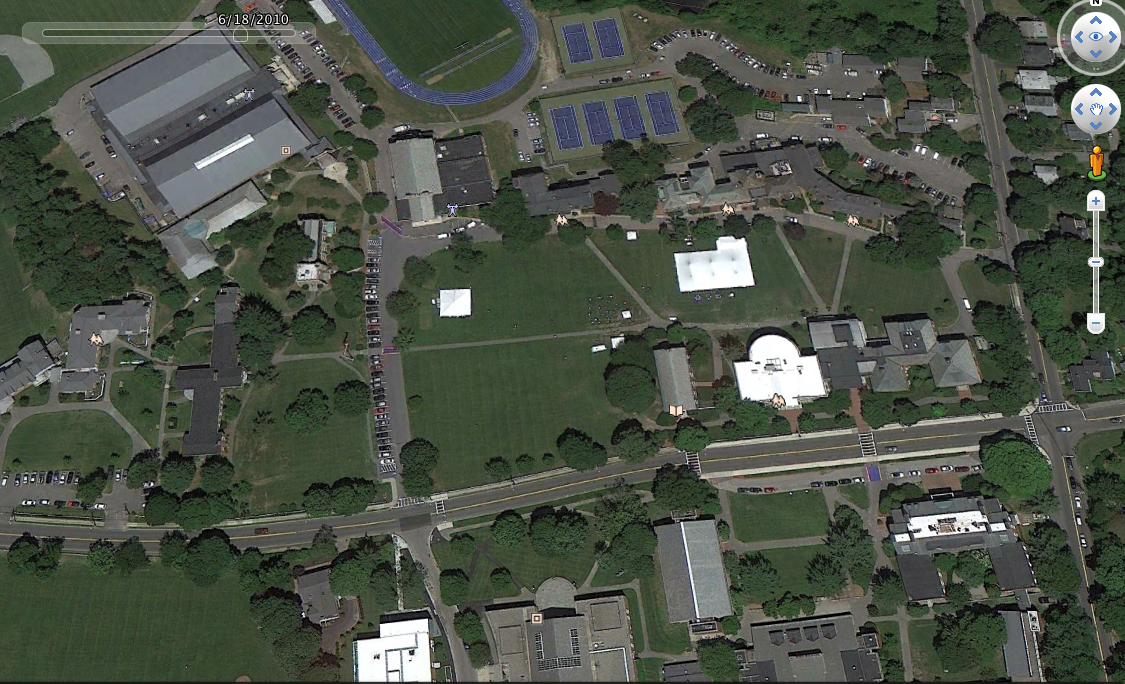 Though not as grand or wondrous as the Egyptian Pyramids, we still get pretty excited to see our handy work captured in internet history. And take a look at the beautiful peacock that some boats (possibly accidentally) created, now captured forever.
You have quite the eye for art, Google Earth.
Just like everything else, Google Earth has its flaws too. Take a look at this image that was captured—let's hope the bridge doesn't actually look like that!
We encourage our customers to use this as a tool when planning for your upcoming event. And as always, if you need assistance or have any questions, we are always here to help.
Congrats Graduates! Commencement 2015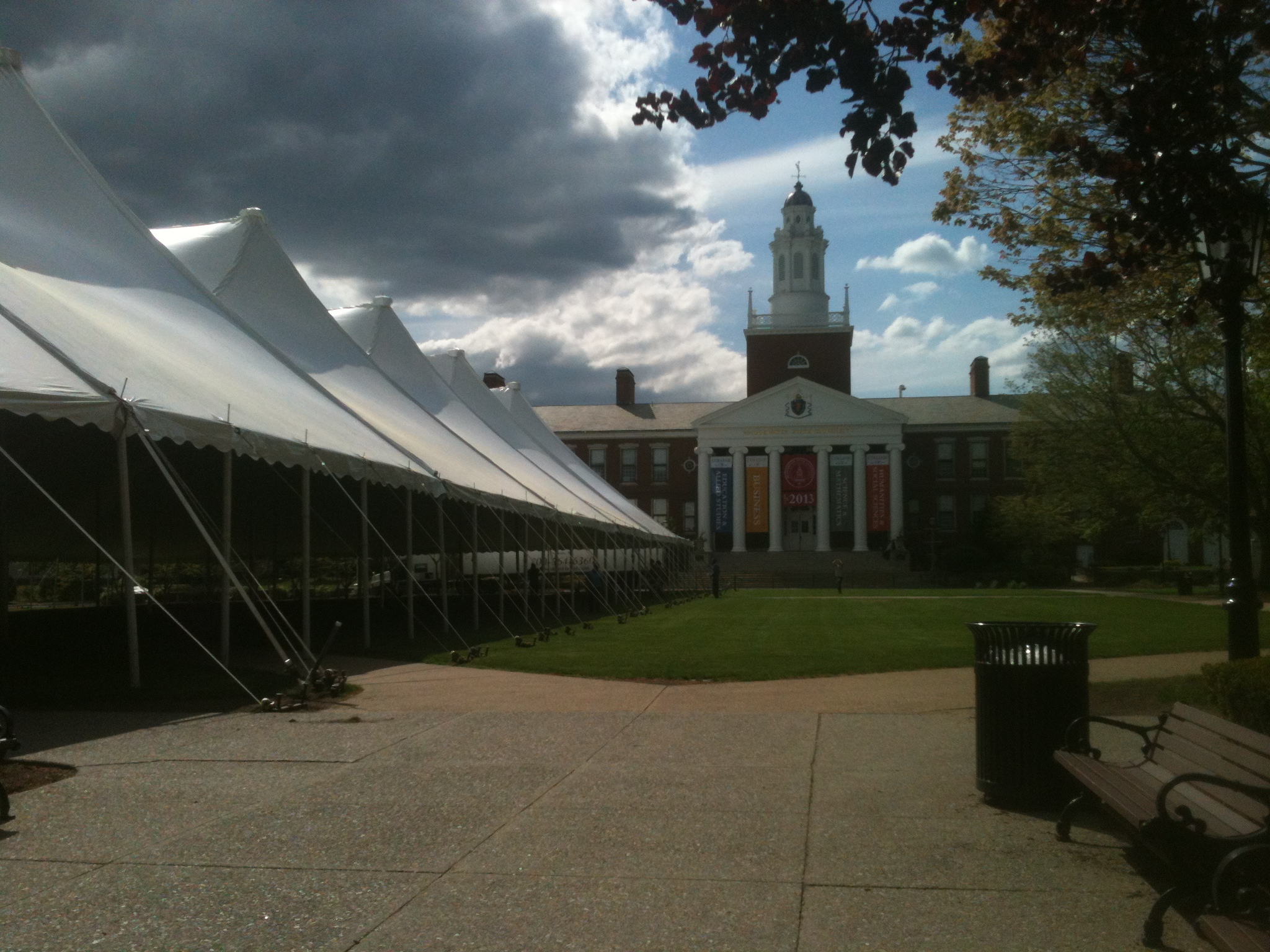 Here at Atent for Rent we are gearing up for the busiest of our seasons- Commencement Season. The 10,000+ square foot tents are being washed, chairs and stages being inventoried, and pipe and drape counted and cleaned.
Boston is known for a few things, notably its health care, its historic charm, and its many top rated colleges. In celebration of the graduates completing years of intense schooling, the colleges and the universities in the area plan weekend-long events. While students wrap up their final exams and papers, colleges and universities focus on beautifying their grounds and preparing for thousands of attendees.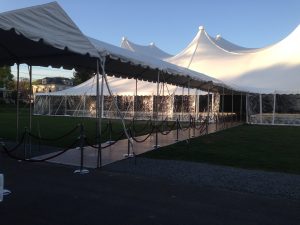 The third weekend in May is historically the busiest for Atent for Rent. This year is no different. We prepare for commencement season starting as early as the year prior, working with university officials to make the following year's commencement that much more memorable than the last. Not only does the actual installation take a lot of planning, but also requires many logistics in preparation for the events. Towns require multiple permits, public safety officials on site, and crowd control to ensure the safety off all graduates and attendees.
 During commencement season this year, we will install over 335,000 square feet of fabric. That is the equivalent of 7.69 acres, 71 NBA basketball courts, over 6 White Houses, and nearly 4 Versailles Palaces! In addition to the tents, we provide nearly 60,000 chairs. Then we do flooring, staging, and lighting for nearly all of these tents. Needless to say, we stay busy here during commencement season.  Our crew of 60, office staff of 8, and fleet of 12 trucks and 2 tractor trailers work around the clock to meet the needs of our clients. Take a look at this incredible time-lapse video installing one of the large commencement tents.
To all the graduates in and around Boston- Congratulations!
It may have taken a while to arrive, but summer is now in full swing! From summer weddings, to graduation parties, to clambakes on the beach, the summer is a perfect time of year to have an outdoor function.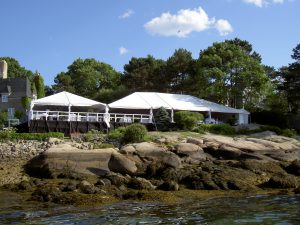 The ocean is an ideal backdrop to any function, but there are things to keep in mind when planning a tented event ocean-side. First, consider your land. Will you be on the beach with soft sand? Will you be on a rocky ledge overlooking the water? Varying factors like these will affect the installation of your tent.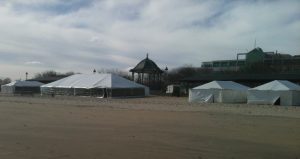 This fundraising event decided to place their tent on the beach. Installing on the beach can present some logistical considerations but it certainly makes for an unforgettable event! Take into considerations the ground—Is it a hard, packed sand? Or perhaps it's soft sand? Also take into consideration the wind. Installing a tent oceanfront usually requires using extra long (60"!) stakes to secure it. It may even require a Frame Tent, which will provide additional support in case of high winds. All that said, even best-laid plans can need changing—so keep an eye on that weather forecast, confer with your tenting specialists, and be prepared to adjust plans accordingly!
Speaking of high winds, don't forget the fast passing, stormy weather that New England summers often bring. In this area, especially towards the Cape and Islands, we are known for short lived but strong, and sometimes dangerous, storms. While it may interrupt your party, keep everyone's safety in mind when it comes to stormy weather. A heavy rain, or even gusty winds, should not affect your event (some of our tents are engineered for winds as high as 50mph) but if thunder and lightning rolls around, best to move indoors until it passes.  We do not recommend holding the tent in place while the storm passes, like these party-goers did here.
While your land and weather may determine the style tent you need, you will still be able to customize many other things. Consider a cleartop tent and clear sidewall to take in the amazing views and ocean side sunsets.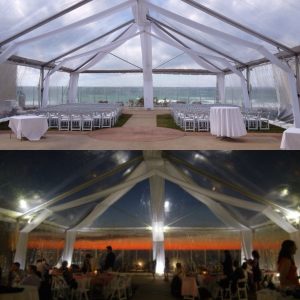 And of course, there is the ever-popular Sailcloth Tent, perfect for summer or beach functions.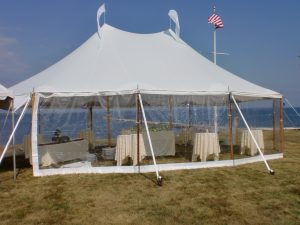 Perhaps you are just too afraid of what your hair might look like if you do have an outdoor function in the summer (Massachusetts does average 88% humidity during summer days, after all). If this is the case, we have solutions for you. First, consider leaving that sidewall off the tent completely. An enclosed tent will act like a greenhouse and trap the hot air. It is usually best to leave the wall off to allow the air to move. Another option is to use mesh sidewall, which will allow some airflow but will help keep out those pesky mosquitoes! You may also consider adding pedestal fans. These 30" industrial fans will get the air moving and help everyone stay cool. And did you know it's possible to cool a tent using air conditioning? Though it can be costly, it is often a worthwhile luxury to complete your perfect wedding or function.
So whether you planning your wedding, a summer clambake (you might even be serving the best oysters around), or just a party on the beach, we can help you make it beautiful and unforgettable.