It may have taken a while to arrive, but summer is now in full swing! From summer weddings, to graduation parties, to clambakes on the beach, the summer is a perfect time of year to have an outdoor function.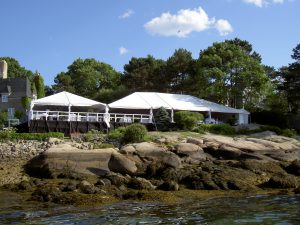 The ocean is an ideal backdrop to any function, but there are things to keep in mind when planning a tented event ocean-side. First, consider your land. Will you be on the beach with soft sand? Will you be on a rocky ledge overlooking the water? Varying factors like these will affect the installation of your tent.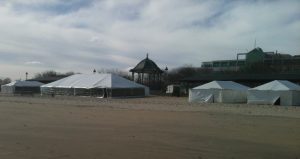 This fundraising event decided to place their tent on the beach. Installing on the beach can present some logistical considerations but it certainly makes for an unforgettable event! Take into considerations the ground—Is it a hard, packed sand? Or perhaps it's soft sand? Also take into consideration the wind. Installing a tent oceanfront usually requires using extra long (60"!) stakes to secure it. It may even require a Frame Tent, which will provide additional support in case of high winds. All that said, even best-laid plans can need changing—so keep an eye on that weather forecast, confer with your tenting specialists, and be prepared to adjust plans accordingly!
Speaking of high winds, don't forget the fast passing, stormy weather that New England summers often bring. In this area, especially towards the Cape and Islands, we are known for short lived but strong, and sometimes dangerous, storms. While it may interrupt your party, keep everyone's safety in mind when it comes to stormy weather. A heavy rain, or even gusty winds, should not affect your event (some of our tents are engineered for winds as high as 50mph) but if thunder and lightning rolls around, best to move indoors until it passes.  We do not recommend holding the tent in place while the storm passes, like these party-goers did here.
While your land and weather may determine the style tent you need, you will still be able to customize many other things. Consider a cleartop tent and clear sidewall to take in the amazing views and ocean side sunsets.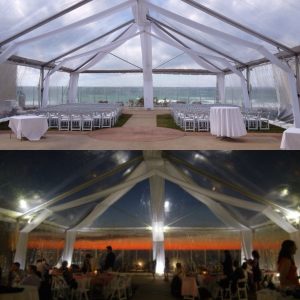 And of course, there is the ever-popular Sailcloth Tent, perfect for summer or beach functions.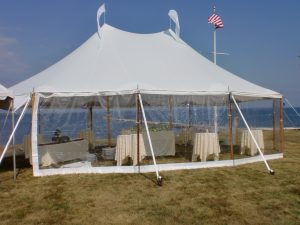 Perhaps you are just too afraid of what your hair might look like if you do have an outdoor function in the summer (Massachusetts does average 88% humidity during summer days, after all). If this is the case, we have solutions for you. First, consider leaving that sidewall off the tent completely. An enclosed tent will act like a greenhouse and trap the hot air. It is usually best to leave the wall off to allow the air to move. Another option is to use mesh sidewall, which will allow some airflow but will help keep out those pesky mosquitoes! You may also consider adding pedestal fans. These 30" industrial fans will get the air moving and help everyone stay cool. And did you know it's possible to cool a tent using air conditioning? Though it can be costly, it is often a worthwhile luxury to complete your perfect wedding or function.
So whether you planning your wedding, a summer clambake (you might even be serving the best oysters around), or just a party on the beach, we can help you make it beautiful and unforgettable.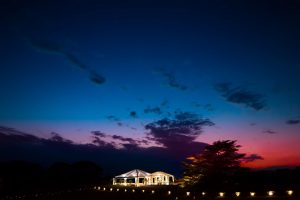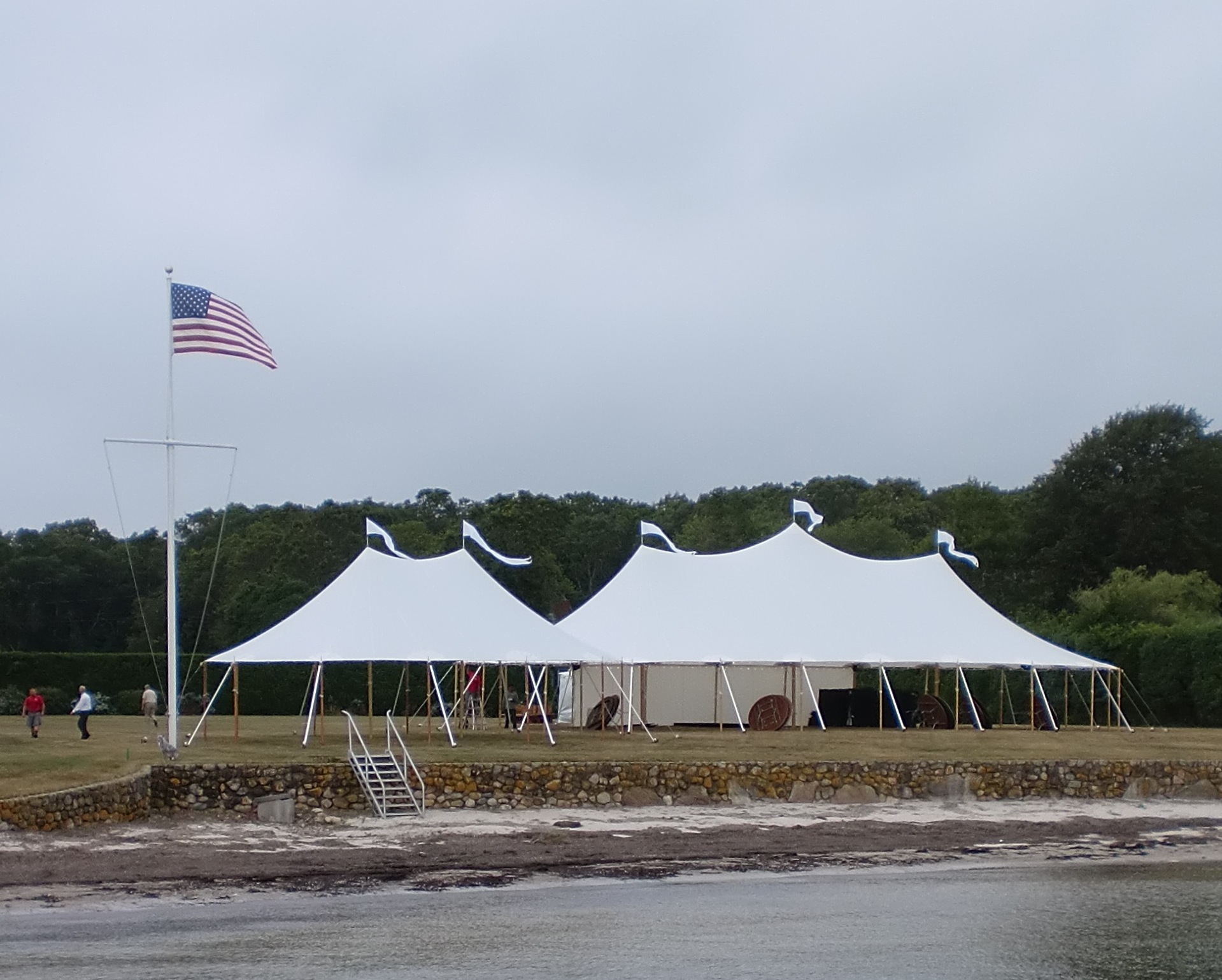 The Sailcloth tent is relatively new to the tenting industry. The concept was born about 30 years ago, but it only really set sail recently in the past few years gaining popularity across the country. The sailcloth tent design was created in Massachusetts, targeting clients in many sailing communities along the east coast, but has since boomed across the nation.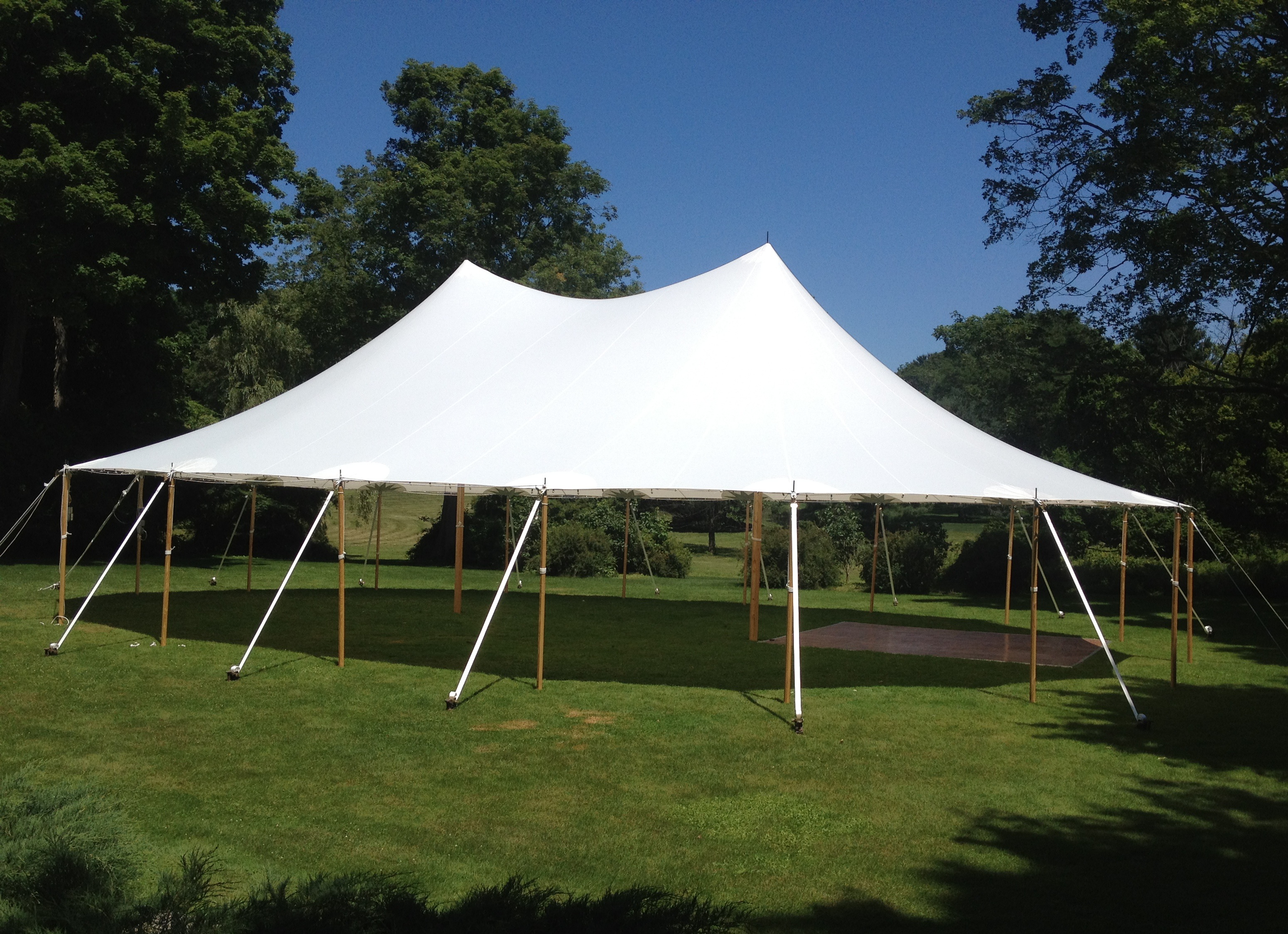 The sailcloth tent differs from the rest of the tents we carry in many ways. It is constructed of a sailcloth material as opposed to the tradition vinyl tent tops. The translucent fabric allows light to flow inside the tent during daytime events and beams an a amazing glow when lit up for evening events. The tent has a more natural feel with this fabric top and wooden side and center poles.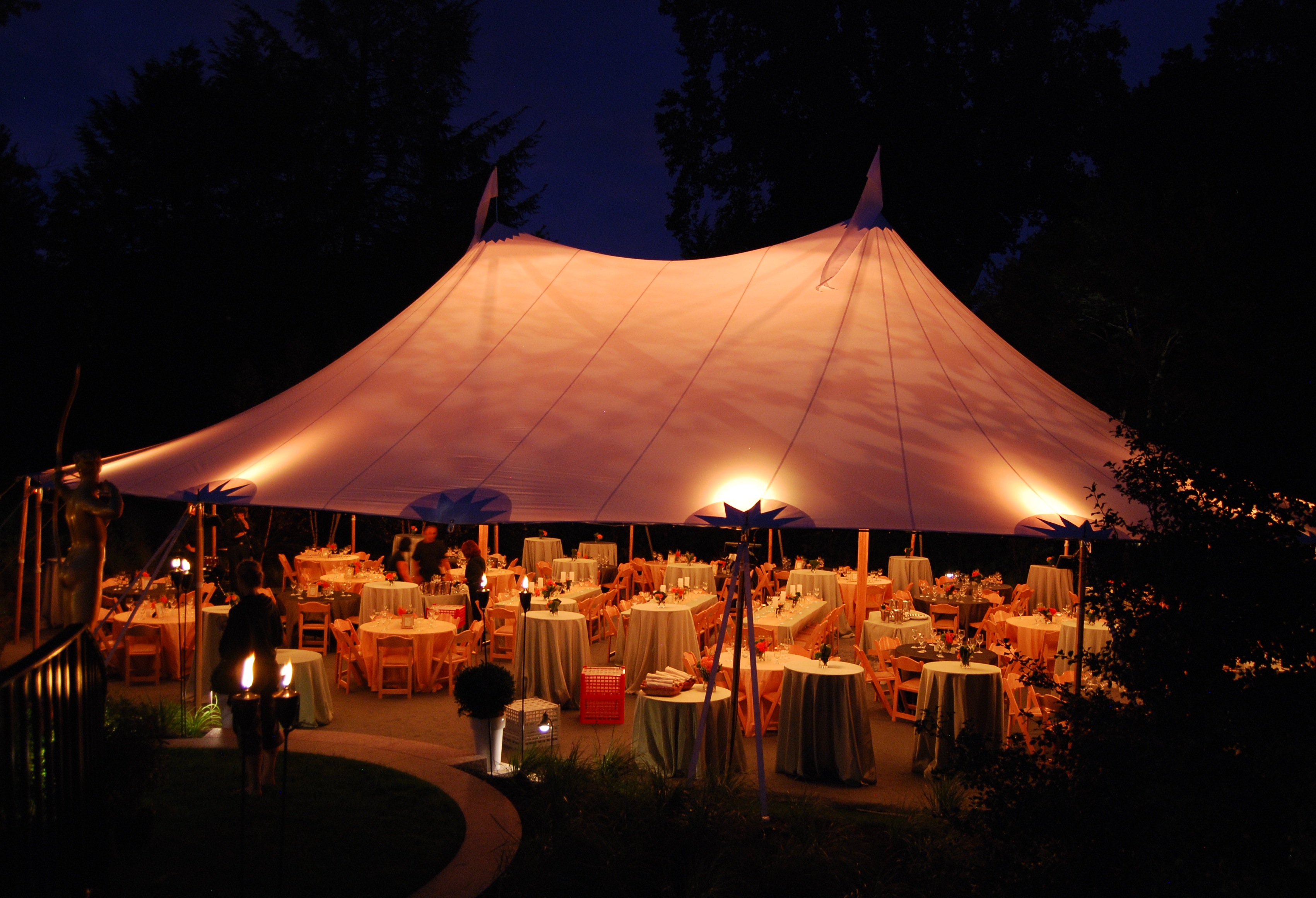 We are excited to have the sailcloth tents in our inventory and available for our clients to rent for their functions. The sailcloth tents offer a sleek style that can be enhanced and dramatized with decorations and lighting, but also looks amazing as is, on its own. The clean interior and lack of valance around the perimeter gives the tent a very smooth, magical look that is simply elegant.
Check out this link to the manufacturer's website for even more information on Tidewater Tents.