Do I need Permits for My Event?
Clients are generally surprised to learn that a permit may be required for their event rentals. As an event company we are very involved with many of the local Building and Fire Departments. We work diligently to stay up to date on the state building and fire codes and the town by-laws. We are always educating ourselves and our clients as the policies are ever-changing and in many cases becoming more strict.
If you are installing a small canopy for a backyard party chances are you just need a simple building permit for the tent. However, if it is 400 square feet or less you are off the hook in most towns. Some of the more complex installations with larger tents, heat, power, sidewall, large guest counts, etc. will require more advance permitting from several departments.
We have updated our technology so we are able to provide to scale internal and external diagrams. These are great for the client to get a sense of the space and setup on site. Scaled plans are also required by most towns or cities. Officials want to make sure there is adequate egress, aisles, spacing between furniture, etc. to provide safe flow for your guests in the event of an emergency.  As a tent contractor we maintain a Construction Supervisor License, Insurance and provide flame certificates for all of our tent and sidewalls. We also have several staff with gas fitters licenses for installing and permitting heaters as well as an electrician on staff for temporary power needs and permitting.
Some cities such as Boston require a special G-28 License for tent permitting and they also do their own fabric testing. If you are hosting an event in the City it is important to work with a vendor who is familiar with the process and has the necessary items to ensure your event is not hung up in permitting. Most cities and towns appreciate vendors who have their ducks in a row so to speak, it makes the process easier on them as well. We have established good rapport with all of the towns and cities in Massachusetts that we have worked with, easing the process for us and our clients. These towns know to expect a proper installation with all the safety protocol met or exceeded from Atent for Rent.
So, if you are planning to have a large scale event at your residence or public venue we recommend you ask your vendor if permits will be required and if this is something they can handle for you. You can also call the Town Hall yourself or look online. Many Town Departments have information online and sometimes you can even apply online to save on running costs. We understand permits can add to the cost and logistics of planning an event, but they are designed to look out for your best interest and the safety of your guests.
Rent a Tent For Any Event: Weddings, School, Corporate!
The beautiful, fall weather makes it the perfect time for outdoor festivities. How can you turn your backyard into your dream location for your party? When you rent a tent, there are many different ways that you can customize it to your personal style and needs.
Do you have an upcoming wedding? School function? Corporate event?
Here are some suggestions to perfect your event with our multiple tent options:
Wedding
An outdoor wedding is the thing Pinterest boards are made of. Before you get started pinning pictures of flowers and tablecloths, don't forget about the tent essentials.
Create the perfect setting for your outdoor wedding.
For an outdoor wedding, you need a space where guests can mingle and you can dance the night away. Let the Victorian tent be this backdrop for your beautiful, summer wedding. With its tall, white peaks and exaggerated pitch, this suspension tent has high, spacious ceilings that will bring elegance and grandeur to your event.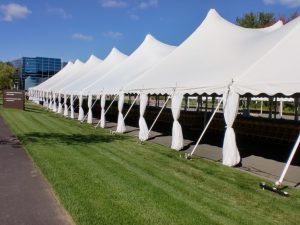 If you want to truly make the outdoor scenery a part of your wedding, try the clear frame tent instead.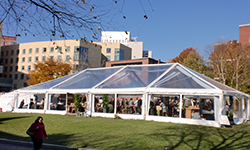 With transparent walls and ceiling, this tent is perfect for giving your guests a subtle taste of the outdoors. Let the sun shine in during the day, or the stars twinkle at night. (Even better, with the clear frame tent, there's no chance that a little bit of rainfall will ruin your day!)
Turn your tent into your fairytale wedding.
What's the key to setting the mood and creating an ambience of warmth and sophistication? Good lighting.
For a truly beautiful sparkle, nothing is more timeless and elegant than a delicate chandelier. But when hung up in a tent outside, this traditional lamp fixture becomes a delightfully whimsical feature that is as eye-catching as it is brightening. But if you're looking for lighting that's a little more refined, but just as elegant, consider bistro lighting. Strung throughout the ceiling of your tent, these tiny bulbs will gently illuminate the tables and delight your guests!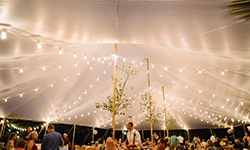 When you want to give your dancing feet a rest, give yourself a space to sit that's just as fun as the dancefloor. And what's more fitting for a wedding than a romantic sweetheart table? Include this special table among your wedding décor and you and your partner will have the best seat in the house all night long.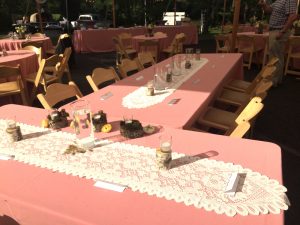 And don't forget about seating for your guests! To give them a space that is as comfortable as it is stylish, consider our selection of wooden garden chairs. Available in black, white, or a natural finish, these wooden chairs will add a rustic elegance to your affair.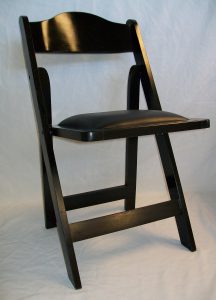 Or maybe you're looking for something a little more pristine? Take a more traditional approach to your wedding décor with our ballroom chairs, available in white, silver, fruitwood or gold.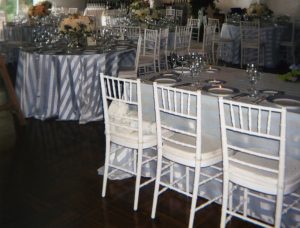 School function
The next time you need to host a graduation event, team dinner or any other school function, rent a tent to transform your backyard into the coolest party scene. With the right touch, you can turn your backyard into a party scene that will please both the staff, students and the parents.
Make your backyard the sweetest hang-out spot in town.
For a school function that won't make kids groan with boredom, the canopy tent is the top choice. The vibrant, striped pattern or white is a stand-out point piece – one the kids are sure to love.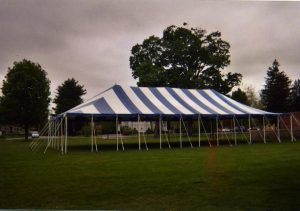 Looking for another style tent that's just as fun, but also a little more sophisticated? Take a look at the sailcloth tent. With its high peaks adorned with small flags, this tent looks like you brought the circus to your very own backyard.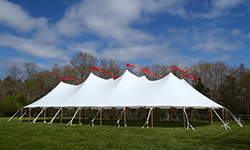 Accessorize Your Tent!
Now that you've set the stage for your school function, it's time to turn up the volume with a few, fun accessories.
Looking to impress the young crowd? LED lighting is a great way to keep the tent lit and bring a bit of color onto the scene. Our LED lights fasten onto the tents' poles so that you can bring bright color to the whole party.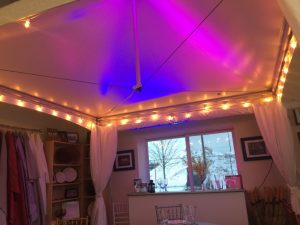 If you want lighting that brings together mature sophistication and child-like fun, why not give paper lanterns a try? After all, there's a reason you'll see paper lanterns all over Pinterest party boards: they're one of the best options for lighting that's both whimsical and refined.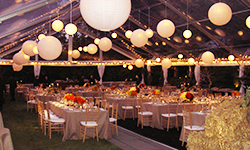 To add some life to your tent expertly for a school function, there's one very important element you don't want to miss: music. Use one of our DJ tables to play the right tunes and keep the guests having fun!
When there's a lot of kids at the party, you want to keep the seating arrangement simple. Use our round or rectangular tables (or a mix of both) to give your guests somewhere to sit that won't get in the way of the dance floor!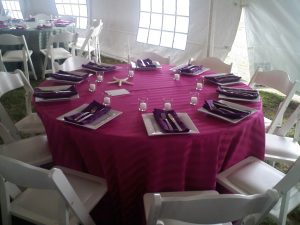 Finally, if you're hosting a school function for children, don't forget to accommodate the extra small ones. Use some of our special children's chairs to make sure that every guest has a seat at the party.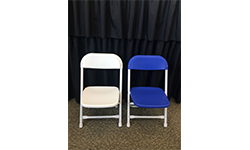 Corporate Event
Was your last work party unbearably boring? Don't make the same mistake again. Instead, rent a tent to host an outdoor party that will put a smile on your colleagues' faces. Also try our extra large Jenga game or Cornhole.
Think about your audience.
When renting a tent, make sure that the frame suits the audience. For example, the colorful canopy tent? While its whimsicality is great for a kids' party, it may not the best choice for an elegant corporate event.
Instead, when selecting a tent for corporate event, the standard frame tent is the way to go. The classic, white style leaves you plenty of room to get creative with decorations, or you can stick to a simple, clean aesthetic.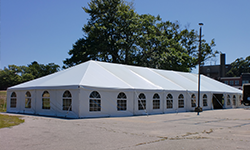 Keep it classy and professional.
Colorful, LED lighting may not be the best pick for a professional atmosphere. Instead, to brighten up your corporate event, trying using string lights. These strands of tiny bulbs are a classic: polished, timeless, but with enough power to light up a room!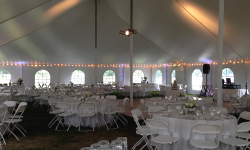 Want to double up on lighting? For the standard frame tent, par lights are another perfect match. Mounted on the tents' poles and ceiling, these lights will softly illuminate the party from above while staying up and out of the way!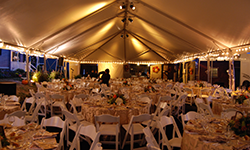 At a corporate event, there's one mood you do not want to recreate: the mood of the office! Instead of tables with a rigid seating chart, use a beverage station and food service to let your guests mingle and enjoy the party space.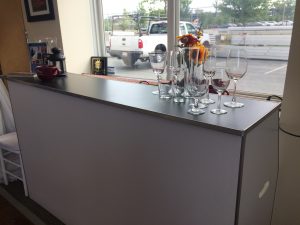 Moreover, to prevent your corporate event from looking too much like a wedding, here's a tip: steer clear of the ballroom chairs. Instead, try a mix of barstools to give your event a vibe that's a little less garden-party and a little more cosmopolitan.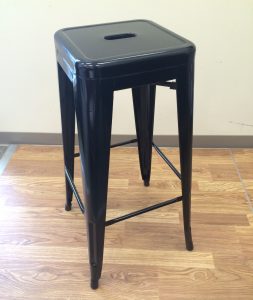 How can you transform your backyard into a space fit for a wedding, a school function, or a corporate event?
Rent a tent from A Tent For Rent and get creative with your setup!
Use our Event Builder to find the perfect tent, lighting, and furnishings for your event.
Visit A Tent For Rent to get started.
Planning a Benefit or Fundraiser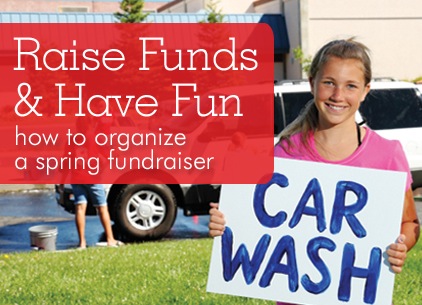 Fundraising events come in many forms: formal galas, car washes, sporting tournaments, bake sales, walks or runs, raffles, etc. If you have decided to take on the task of coordinating or hosting a fundraising event, you don't have to be overwhelmed and stressed out. Enjoying what you are doing and why you are doing it is important to your success and will help you along the way. It is no secret, the goal of a fundraiser is to raise funds. Every expense you incur must be carefully considered.
When you make educated choices on where to spend money and where to cut back, you can substantially increase your profits. It requires a unique balance of effort, creativity, donations, volunteers, sponsors and participants to be successful. No one likes going around asking for hand-outs, but it is an appropriate time to ask a favor of friends, family, the community or perhaps someone you have helped out in the past. It might also be appropriate to trade goods or services for advertisement or sponsorship benefits.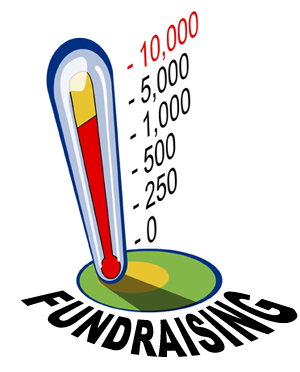 One of the first steps is to create a committee that will work together from start to finish to plan the event. Several people will want to get involved, ask people and groups that are affected by the cause or family and friends if it is for a specific person. Now, together as a group, you must set a date, pick a venue and create a goal. Pick a date a few months away at least, so you have adequate time to plan all the fine details and create a buzz about the event. There are many venues that might be willing to donate their space or cut you a deal: local town facilities, schools, estates, churches, halls, parks, etc. Perhaps someone who is part of organizing the event has a private residence that would be suitable as well.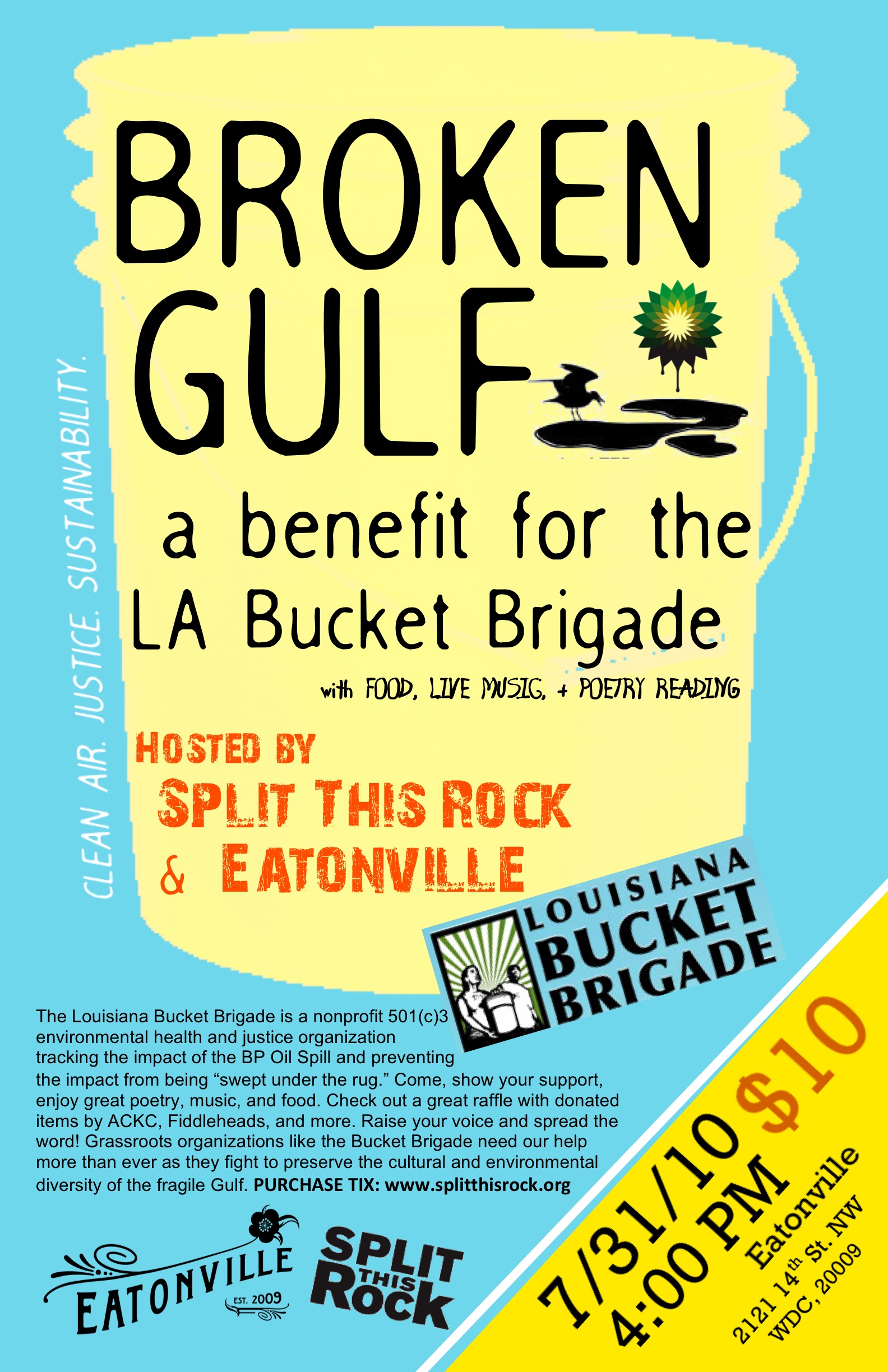 After you have a date and location locked down, you must create awareness, get the word out! Print up some brochures and literature, create mailing lists for friends and family or other targeted audiences. Create signs to hang at local businesses and brochures to leave with them. Printing T-Shirts, water bottles, wrist bands, etc. to sell and use to promote the event can be a great idea and produce revenue as well. The best way to market the event is in person, explain what you are doing and why they might want to be a part of it. Speak to local businesses that you frequent or in the area you are hosting the event; there are a lot of people who are willing to help if you ask.
Now that you have the location, the date and the support you need, plan-plan-plan to make it an event to remember. Making the event fun and hands on will help stimulate your guests to participate in the fund raising! Many benefits host a live or silent auction and have entertainment such as a band/DJ or comedian and guest speakers. A dunk tank or photo booth can be fun too!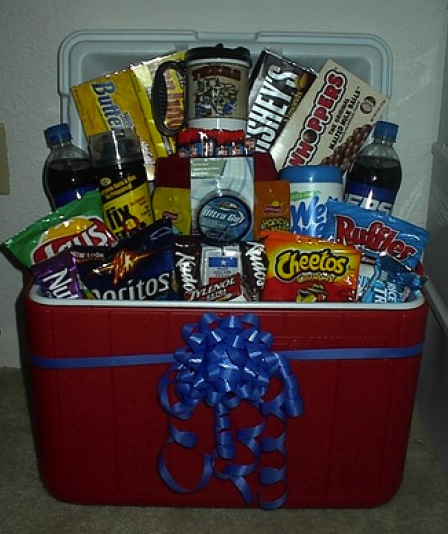 Raffles are alway a hit, many times donations are made in the form of gifts rather than cash and raffles are a great way to create a fun friendly competition. Sometimes a big ticket item like a flat screen TV can attract more attention to the raffle and generate ticket sales in advance. Creating themed "baskets" is a great way to target individual people who tend to be more likely to participate if there is something they are interested in. You can even get creative with the "baskets" using things such as an ice pail for a wine raffle, a wash pail for a car detailing kit, a dog bed, flower box, lunch box, wagon, tool box, cooler, etc. Some ideas for themed raffle items might also include a family day out, camping items, beach gear, movie night in, candy or for the gambler, scratch tickets. Check out this link for some great ideas all mapped out for you!
The ideas are unlimited and the potential rewards are priceless. If you have the passion, drive and support to make the event a success… it will all come together in the end!
Corporate Clearspan Tent Rentals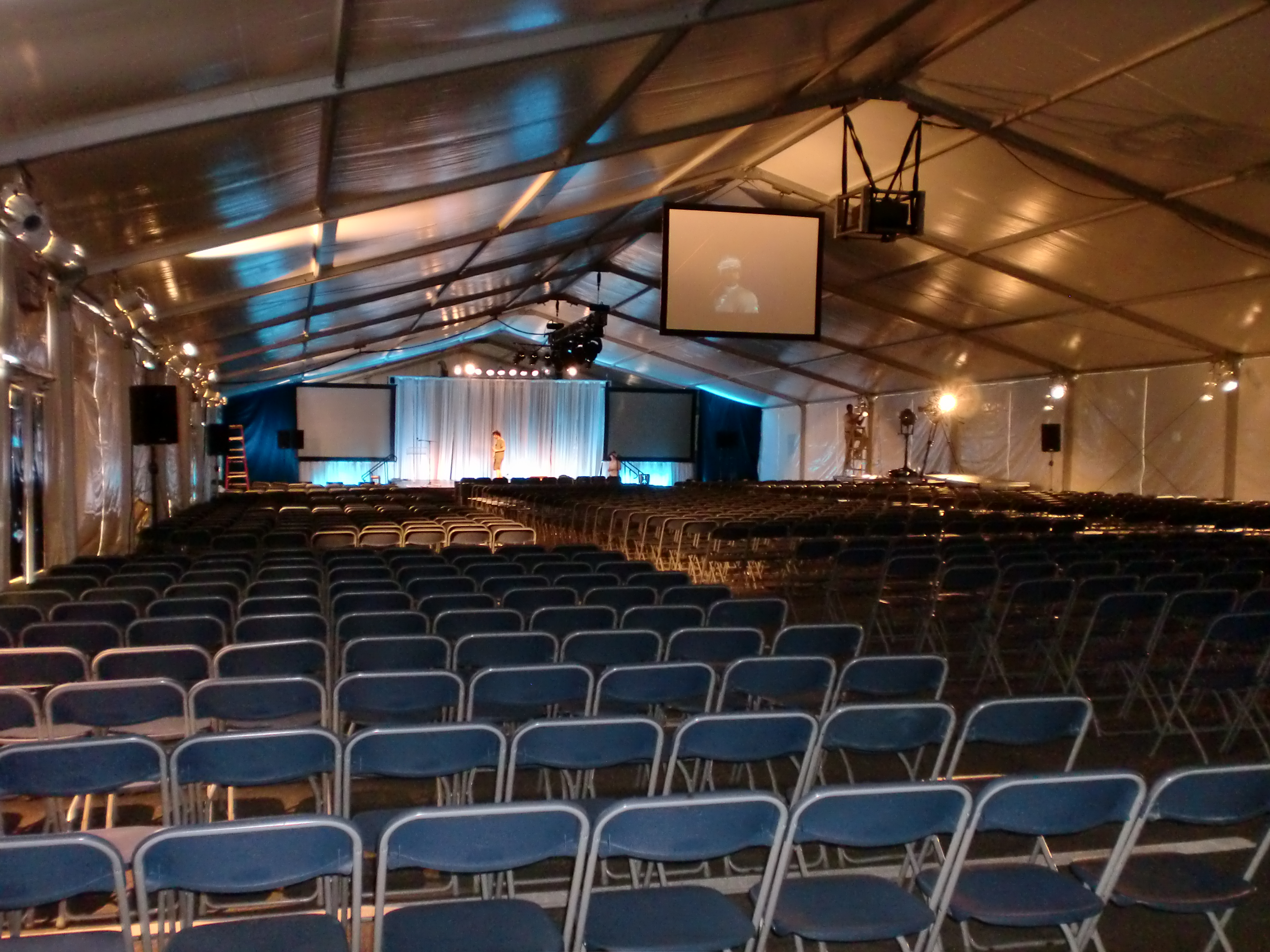 Many corporate clients use tents to create a temporary venue unique to their event or function. Whether it is a large presentation, product launch, ribbon cutting, annual company meeting, or small gathering there are many ways to utilize the blank tent canvas, accessorizing and customizing it to fit your needs.
Atent for Rent has a wide variety of tents that are just the right style or perhaps combination of styles perfect for your next corporate event. The Clearspan structure can accommodate small informal as well as very large, complex events. Often times at corporate gatherings there are a series of events, presentations, dinners, team building exercizes, etc. and the venue must adapt to each event. Tents are the perfect solution!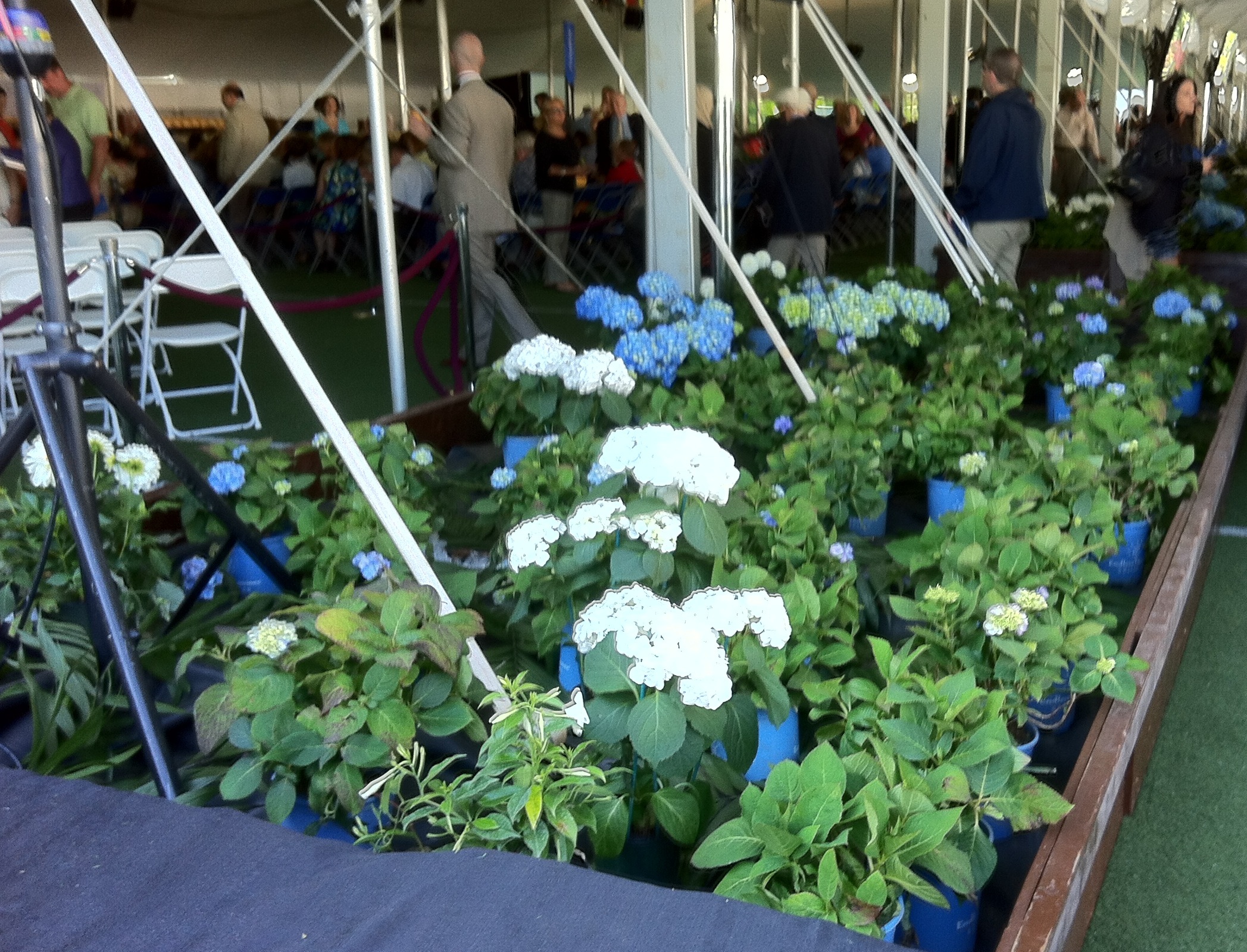 These large engineered clearspan structures can be installed on a variety of surfaces. Our licensed CDL drivers can tractor in truckloads of large concrete blocks to site to secure the tent. The manufacturing crew fabricated white vinyl covers to hide the concrete and give the block a clean look. We have also installed custom flower boxes and black banjo fabric to cover the blocks.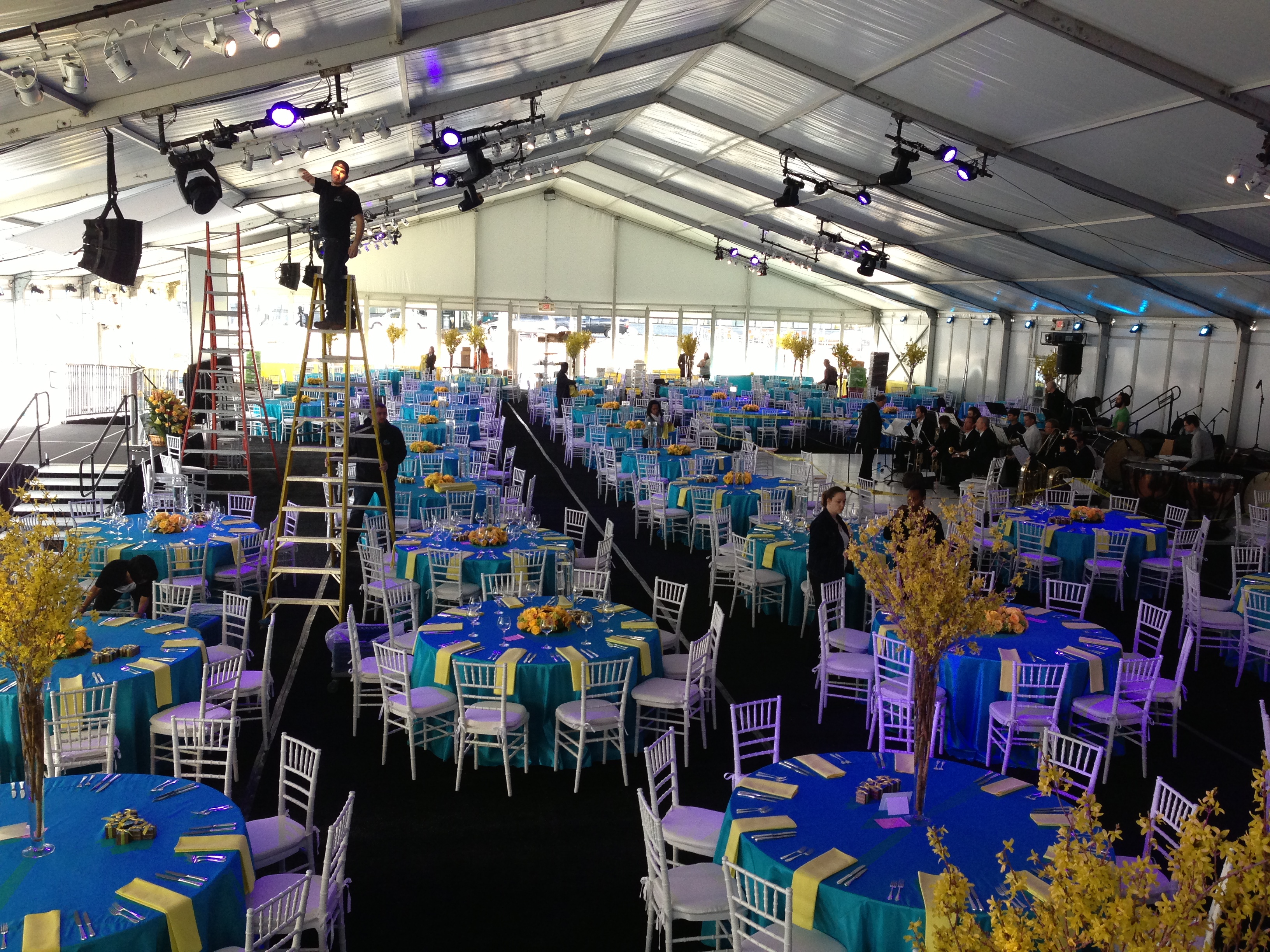 The metal frame structure that supports the tent allows the tent to stand erect without any center poles. This lack of poles allows for unobstructed views within the tent, and the frame structure is great to secure lighting, projectors and screens to the interior ceiling of the tent.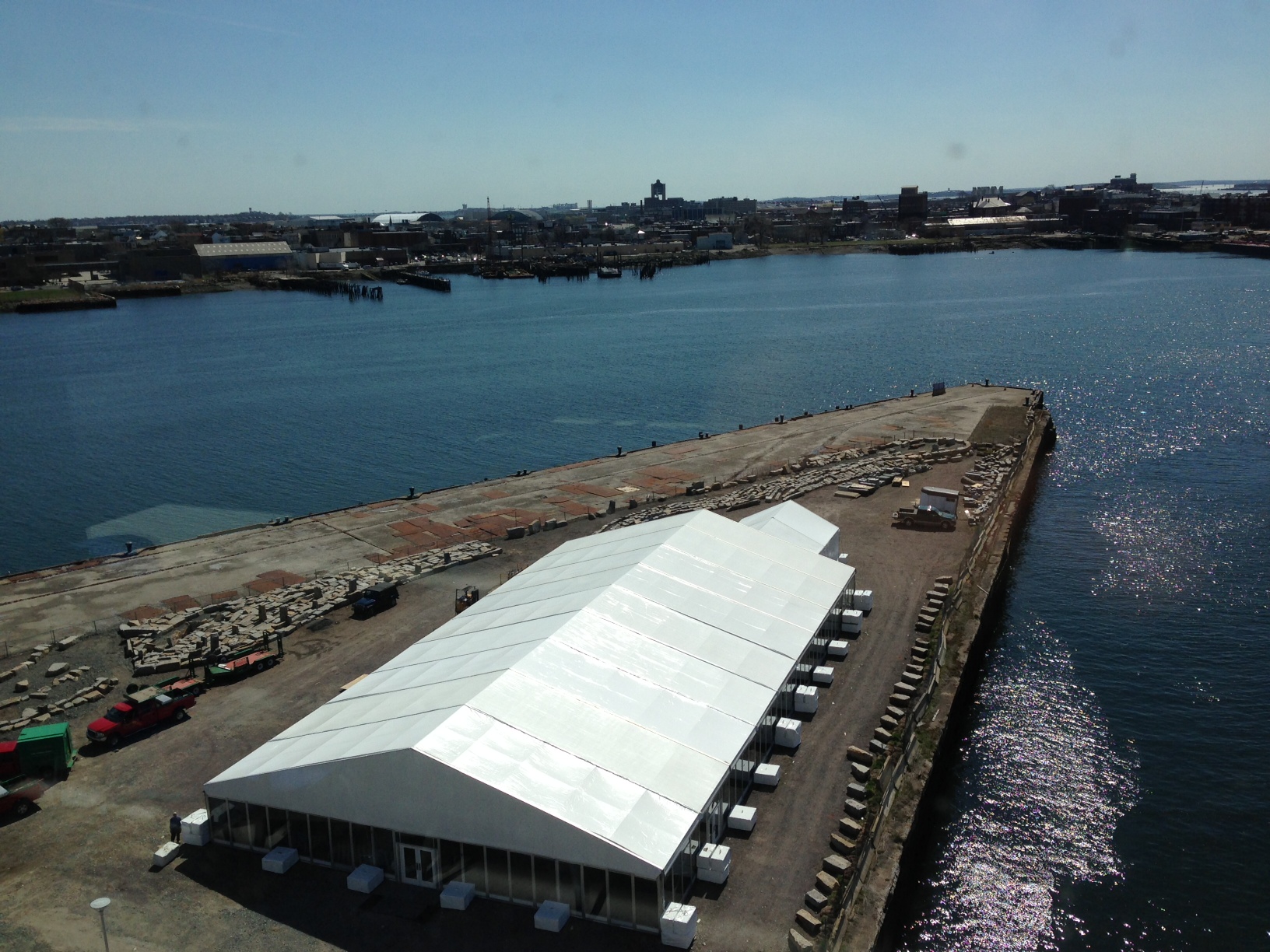 The heavy duty engineered frames can withstand higher winds and more inclement weather than the traditional pole style tents. We installed solid glass windows on this structure to minimize noise from the wind and city surroundings. The white walls blocked out the construction views, while the clear walls accentuate the city views, and the view of the establishment that was celebrating its grand opening events.