The 117th Annual Boston Marathon: Forever In Our Hearts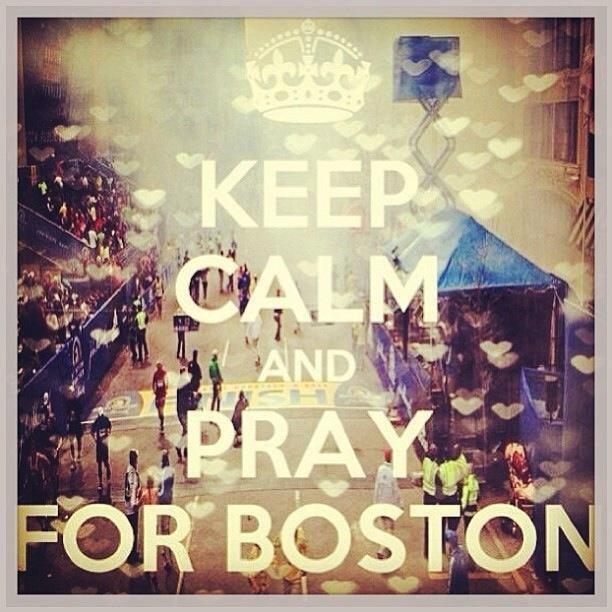 Just last night I posted a blog about the great people & accomplishments that encompass the Boston Marathon. The charities that are supported, the funds raised and the thousands of people coming together from all over the world for a common goal. It is not just inspirational, it's a truly emotional event that brings encouragement and motivation to so many. Marathon Monday is supposed to be a joyous day, an inspirational day, a day of accomplishment. I'm sad to see a beautiful day tarnished with horror.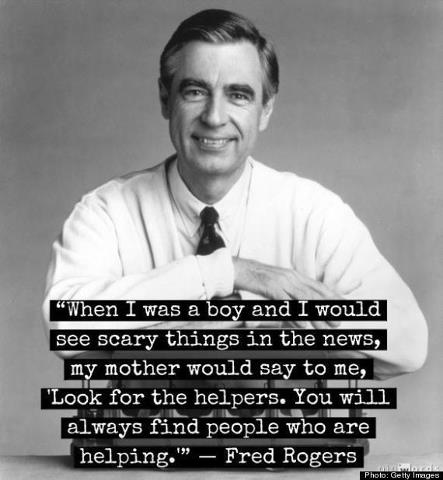 Participates train for months and dedicate themselves to complete this event. This year so many who worked so hard were not even able to cross the finish line. The emotions were very different than years past as these incredibly tragic events unfolded and will undoubtedly shape the future of the Boston Marathon in many ways. Although it has only been a few hours, I am certain Boston will not let this unspeakable event hinder the goals or future accomplishments of the City, the Marathon, and what we stand for. We will always remember the events that occurred today and will keep the victims and memories close to our hearts. Boston is a strong city that will not tolerate this sickening behavior. We will grieve and we will pray, but ultimately we will stand strong and continue on! 

The Boston Marathon: Start to Finish!
Our office is open on Marathon Monday as it marks the beginning of our busiest season. It is a nice, quiet day in the office with several businesses and town halls closed, even some roads inaccessible. Still sometimes I think we all wish we could break away from work and join the hustle and bustle on the streets and in the city surrounding the Marathon. For those of you participating and running to support a cause or family member, friend etc. we certainly wish you the best of the luck! At least those of us not able to attend in person can read about it online.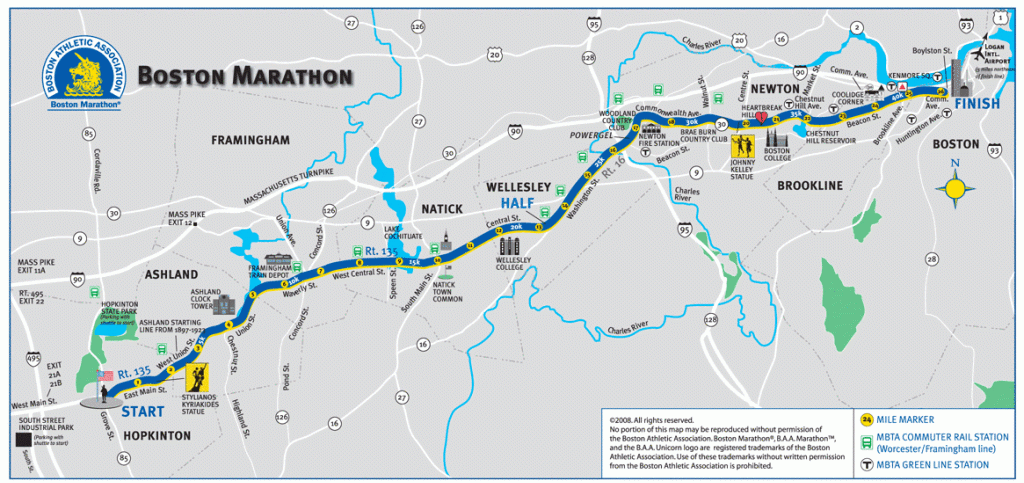 In addition to being a historic sporting event, the Boston Marathon has become an inspiration for many. There are countless participants that are running with the encouragement of someone or something great backing them. This year there are participants and parents running to honor the victims on Newtown. The Marathon has set up a special marker at the end of the 26th mile to honor the victims as well. For those everyday people who train, sacrifice, and dedicate themselves to this event are amazing! Although I have never participated it is no secret that this race is true journey that tests the physical and emotional limits of most people.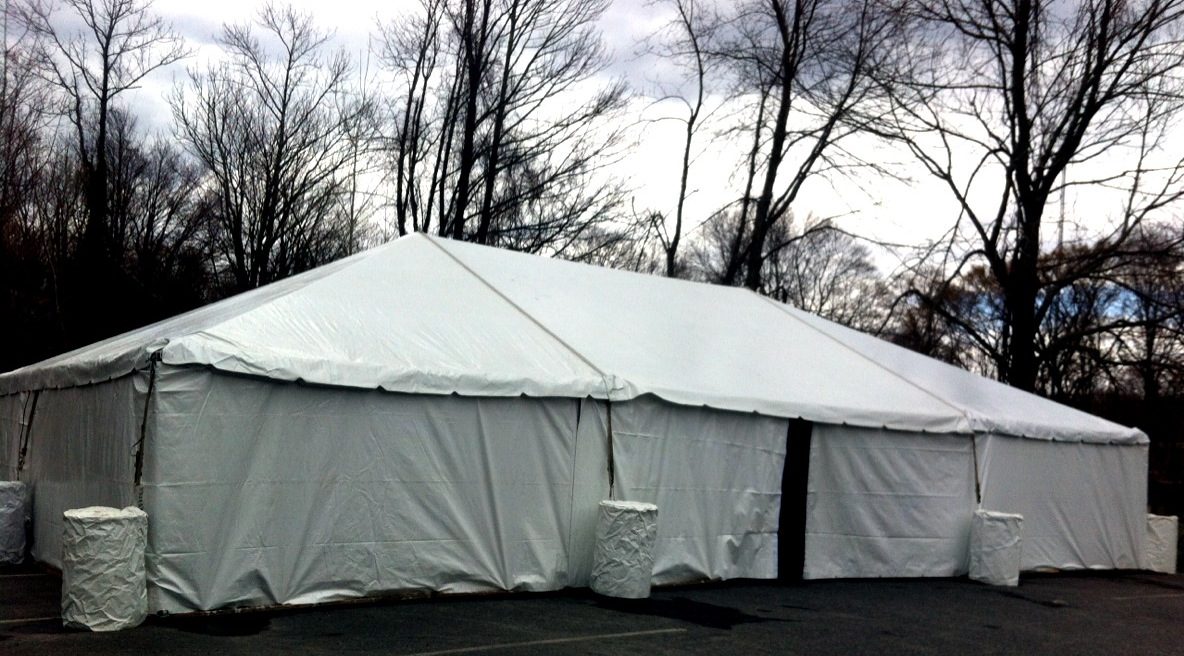 We install a 30′ x 50′ tent in Hopkinton and more in Newton for the MGH Marathon Team. The MGH team runs to support fighting kids' cancer and has raised nearly 8 million dollars since being established in 1998. The Museum of Science team is running to raise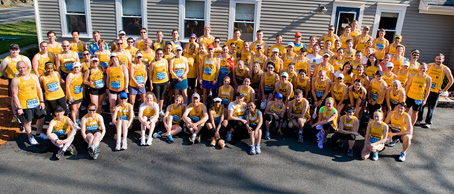 funds for traveling programs that bring science to over 100,000 students annually. Brigham & Women's Team Stork runs to raise money for healthier babies and moms! All very important causes and impressive feats of monies raised and goals accomplished!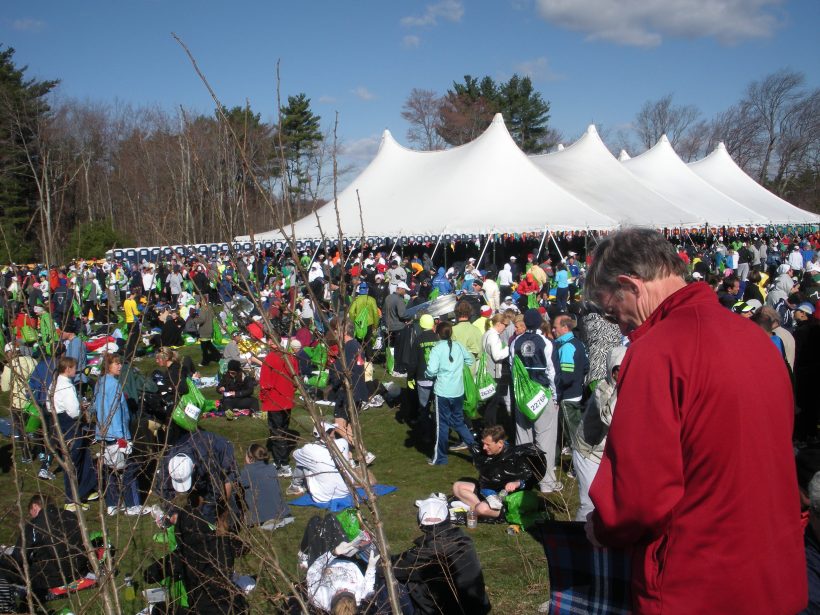 The "Chronicles of the Traveling Runner" is a great post by a woman who ran the Marathon in 2011. She documented her experience very well. This is an interesting read and insight into the marathon runner's world.
So, let's take a step back. How did it all begin? The legend has it that in 490 B.C., a soldier, Pheidippides, ran from a battlefield in Marathon, Greece to Athens to deliver the message of victory, moments after he collapsed and died. Known as the original marathon course, the Athens Marathon course runs from Marathon Bridge to Olympic stadium, 24.85 miles (40,000 meters).  At the first Olympics games in 1896 the legend was honored by a marathon event that ran the course. The U.S. participated in the event and was inspired to begin our own Marathon that began the very next year in April of 1897. The Boston Marathon is now the oldest annual marathon in the world! Runners come from all over the world to participate in one of the most difficult marathon courses! Check out this link to see more about Heartbreak Hill, a unique Boston Marathon feature, and its relation to these statues: What inspired the Creation of the Tortoise and Hare in Copley Square?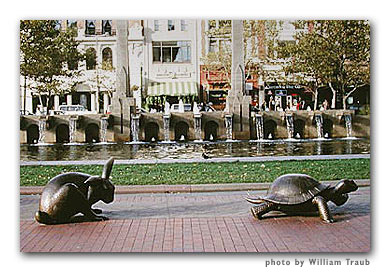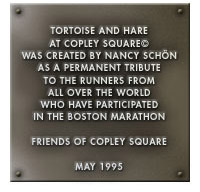 Today, there are marathons that take place all over the world. The standard distance has become 26 miles although it had previously varied over years and places. In 1908 it is said that the race was extended from 25 miles to 26.2 miles so the race could start from Windsor Castle and finish in front of the royal box at White City Stadium. The New York City Marathon runs through all five boroughs and over four bridges. It is one of the largest marathons in terms of participants with over 45,000 finishers in 2010. But for those of us from Boston, there is no other like the Boston Marathon. Good Luck Everyone!!