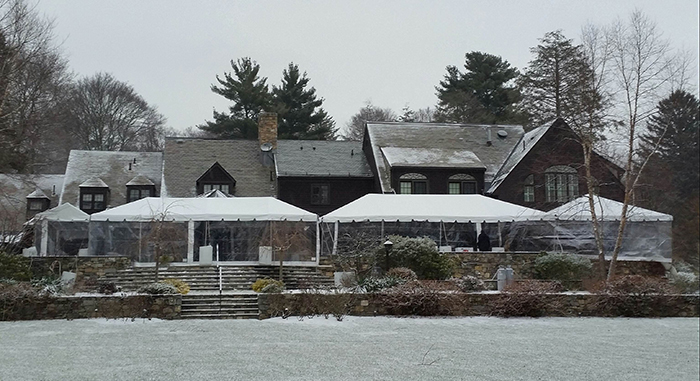 Just imagine a venue filled with white and silver glistening with your candle-lit tables, snow flakes and crystals hanging from white branches that are scattered throughout, hot cocoa served during cocktail hour, a horse-drawn sleigh to welcome your guests as they arrive, a quiet snow falling outside.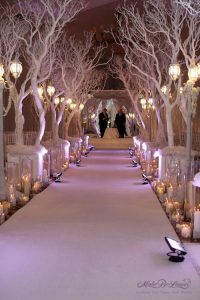 The Winter Wonderland is a popular theme for both weddings and seasonal parties. The options for décor are endless, and if done well, can create a cozy and beautiful setting for any special event.
There are many websites with ideas to make your Winter Wonderland come to life. Just look at some of these venues that have been transformed here and here. And don't forget the tablescape, white flowers, some mercury glass, and candles will transform your venue. If your budget doesn't allow for Swarovski crystals to light up the sky, don't worry– there are plenty of budget conscience ideas for beautiful decor. White fabric, glitter and white spray paint, carefully chosen lighting, and a commitment to giving a little elbow grease will change your space from drab to fab! Check out these simple and inexpensive yet beautiful snowballs and these tips for handmade faux mercury glass. Silver, glitter, and white ornaments in a glass centerpiece can also spruce things up on a budget. Oh, and don't forget Gypsophilia—You know, the filler flowers you know as baby's-breath that you usually pick out from your fresh bouquet and throw away. Yeah, those flowers. They are inexpensive and look like snow!
A great way to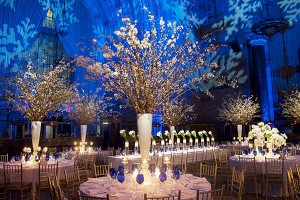 change your space is to bring in some branches. Go ahead– take a walk in the woods and pick up or cut down some 6-8' branches (just don't let your neighbors catch you) and some smaller ones for your centerpieces. Use white and glitter spray paint to change their look. You can also purchase white huckleberry willow branches (or something similar) that already have glitter and sparkle at stores like Michael's.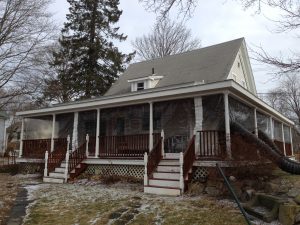 You might also like to enclose and heat your porch to give your guests some extra space to spread out and stay warm. Our tent sidewall can often be installed as is, but we can also customize walls specifically for your porch or overhang.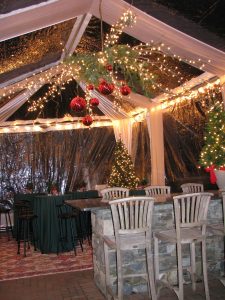 Thought a tent wasn't an option for your Winter Wonderland event? Think again. A tent is an option any time of year, but keep in mind there can be some obstacles when putting up a tent in the winter. You will have to clear any snow before your tent crew arrives to install the tent, and will need to keep the snow from piling up on the roof of the tent (if you want, you can hire our crew to do this). You may need a full floor built under the tent and will certainly need sidewall and heaters to keep your guests warm.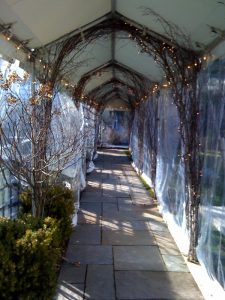 You may also want to consider a walkway tent to prevent your guests from ever going out into the cold. We call these tents marquees and use them to connect the tent to the house or to restrooms, another tent, or as an entrance to the tent.
If your budget allows for it you can get very creative and you can rent a tent and have a unique and beautiful space to create your Winter Wonderland in the Winter!
Stay warm and happy planning!