How to Keep Your Tent Cool During the Summer
The beautiful weather in July is perfect for an outdoor party. But, sometimes, it can also be just a little too hot to handle! Don't let the heat ruin your party. When the thermometer starts getting high, use these tips to keep your tent cool and comfortable.
Here's how to keep your tent cool during the summer:
Select a cooling device.
To keep the inside of your tent cool (and to keep you and your guests from sweating!), use a cooling device. Check out some options:
Cool boxes
Cool boxes are large, stand-up boxes that you can put in the corner of your tent to keep the whole atmosphere cool.
What makes this different than a traditional fan?
The tank evaporates water and makes your tent like an ocean breeze: the air above remains a bit cooler, since the water is evaporating and cooling it down. Though cool boxes do not help against humidity, they oscillate and create a very generous breeze of air that is 10 degrees cooler than room temperature. To see some of the cool boxes available at Atent For Rent, click here.
Fans
When it comes to fans, you have a few options. With smaller, hanging fans, you can position these on the tent's posts throughout the tent for distributed cooling. Or, you can use bigger, stand-up fans in the tent's corners for maximum, powerful air circulation. To see some of the fans available at Atent For Rent, click here.
A/C rentals
If you have an extra large tent that you want to keep exceptionally cool, consider an A/C rental.  A/C will pack a more powerful punch than most cool boxes and fans. With A/C rentals from Atent For Rent, we can pump air-conditioning directly into your tent, creating a perfectly cool environment so that you can enjoy your party, no matter the heat.  To see some of the A/C rentals available at Atent For Rent, click here.
Add an element of water to your party.
A cooling device will definitely get the job done, but if you want to keep your tent cool and add a bit of flair to your party, consider adding an element of water. (Particularly, if you're hosting an event with children, a little bit of water is great way to keep them cool and entertained.)
Sprinklers
If you're putting up a tent in your backyard, try positioning a few sprinklers around the tent. The misting water will not only help to keep everyone cool, but it will also give the kids a chance to run around outside and play and burn off some energy (so that the adults can finally have a moment to relax!). Just remember, don't put the sprinklers too close to the tent, or suddenly all of the guests will get splashed!
Water inflatables
Another great way to keep cool during an outdoor, summer event is with water inflatables. Use these in conjunction with your tent to complete the party experience. Find great water inflatables, like the Big Kahuna or the Double Splash from our friends at Busy Bee Jumpers. For a party with kids, a water inflatable will help to keep them cool and it will act as an extra party delight!
Pick the right tent to stay cool.
While adding cooling devices and elements of water will help to keep your tent cool on these hot, summer days, it is also important to pay attention to what kind of tent you are using to begin with. At Atent For Rent, we offer specific styles of tents that are designed to help keep you cool: the Canopy, Victorian, and Frame style tents. All of these tents employ blockout fabric. This special material does just what it claims: it "blocks out" the sun, thus, significantly reducing the amount of heat entering your tent. To browse all of the tents available at Atent for Rent, click here.
Are you cool enough?
July is the perfect time to rent a tent for an outdoor party. But you're also going to want to find ways to beat the heat on these hot, summer days. First, find the best tent for a summer, outdoor party. Then, to keep your tent cool, check out the available cooling devices at Atent For Rent. 
To reserve a tent and supplies for your upcoming party, contact us!
Food trucks are a great addition to any event. They are fun, convenient, full of variety and, most importantly, they are tasty! From burgers, to grilled cheese, to cookies, to ice cream, to bahn mi, you are guaranteed to find whatever fare you crave for your big event.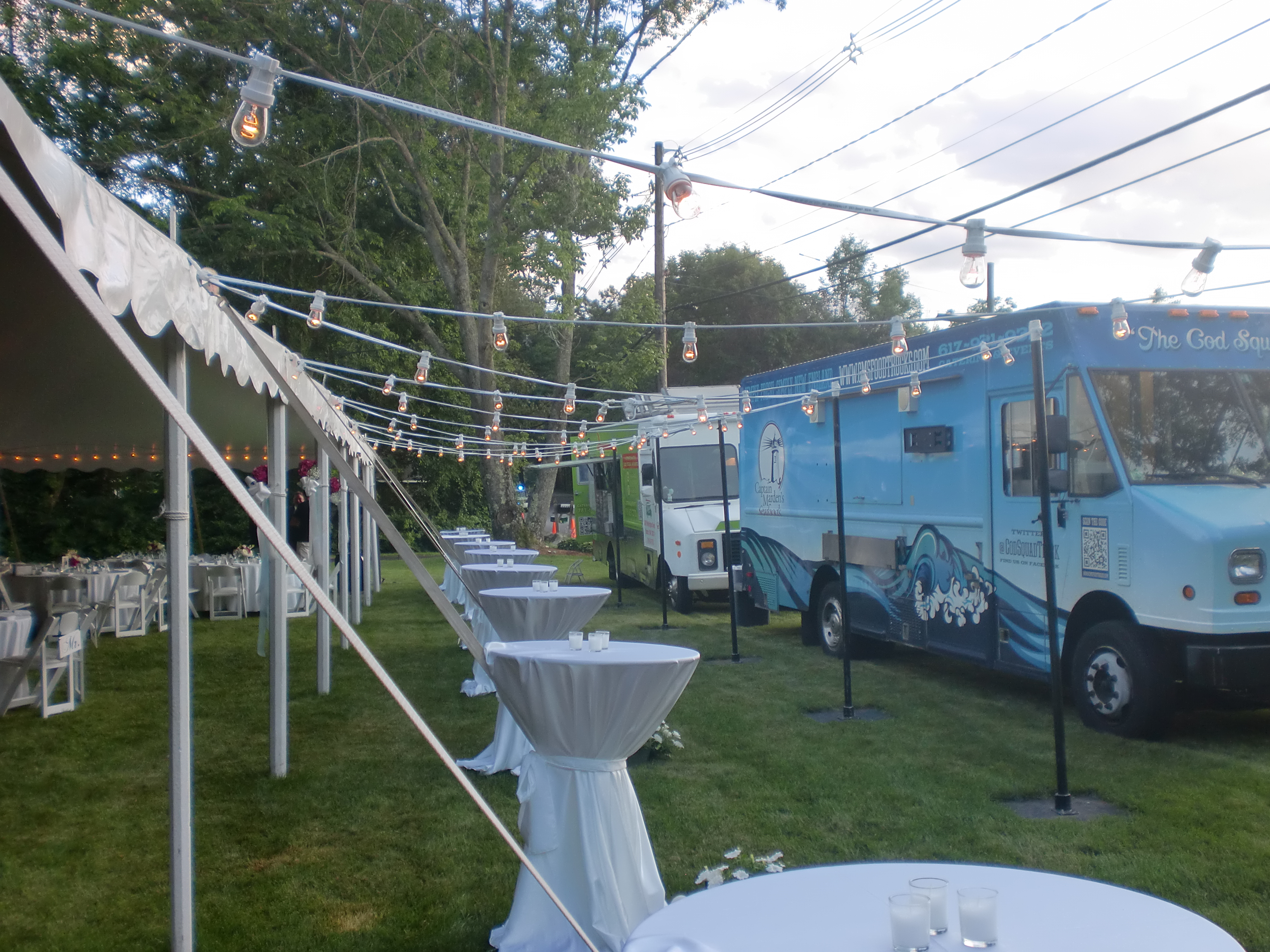 Boston has a growing food truck scene and now hosts multiple festivals and markets where you can sample a variety of cuisines. When planning for your event, check out the SoWa Market at www.newenglandopenmarkets.com. This annual market is open every Sunday from May 4 – October 26, 2015 from 10am – 4pm. SoWa Market has more than 35 food truck vendors, highlighting the best that Boston has to offer.
If you're looking for a more competitive edge to your food truck hunt, check out the Providence/Boston Food Truck Showdown on June 6th at India Point Park in Providence, RI. This festival puts Boston and Providence's best food trucks head-to-head, and YOU decide which you like best. For more information, click here.
How about a cookie or cupcake truck at your child's birthday party? Or perhaps a taco truck at the next big graduation party? Or maybe a truck that serves up seaside delicacies at your next beach party? Or go off the beaten path and have your whole wedding catered by food trucks! This tradition has been popular for late night snacking after dancing all night and building a hefty appetite, but bringing in the trucks for the main course makes for an exciting (and delicious!) alternative to traditional catering. And bonus! Food trucks usually do not require additional power distribution or dishware from an outside vendor. Though keep in mind that not everyone may like the offerings, so two or more food trucks might be a good idea. And also remember that most food is made to order, so wait time should be a consideration. Consider having either stationary or passed hors devours during cocktail hour. No one likes "hangry" wedding guests.
Last year we did the tents for one of our favorite wedding set ups. This couple wanted something unique so they made the food mobile. As you can see in the above picture, they created a casual dining area covered by bistro lights to connect their main tent with their food truck area. This wedding was certainly one that all the guests will remember.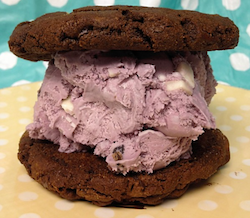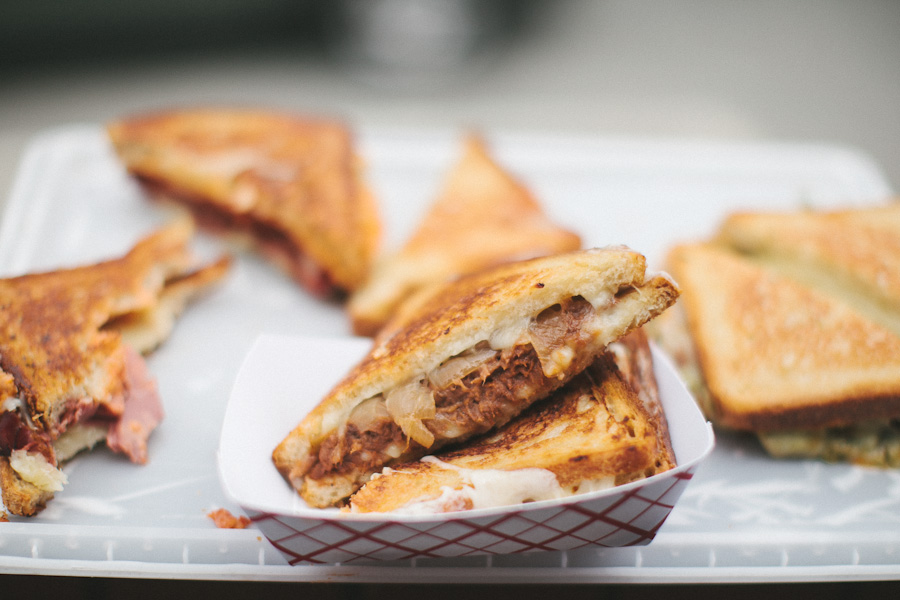 Some of our staff favorites for local food trucks are Roxy's Gourmet Grilled Cheese, Teri-Yummy, Mei Mei Kitchen, and The Cookie Monstah.
It may have taken a while to arrive, but summer is now in full swing! From summer weddings, to graduation parties, to clambakes on the beach, the summer is a perfect time of year to have an outdoor function.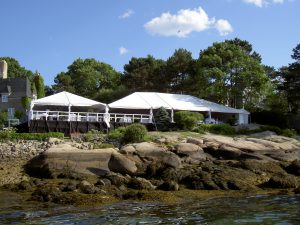 The ocean is an ideal backdrop to any function, but there are things to keep in mind when planning a tented event ocean-side. First, consider your land. Will you be on the beach with soft sand? Will you be on a rocky ledge overlooking the water? Varying factors like these will affect the installation of your tent.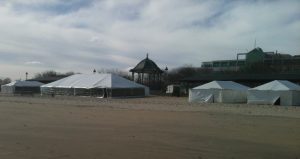 This fundraising event decided to place their tent on the beach. Installing on the beach can present some logistical considerations but it certainly makes for an unforgettable event! Take into considerations the ground—Is it a hard, packed sand? Or perhaps it's soft sand? Also take into consideration the wind. Installing a tent oceanfront usually requires using extra long (60"!) stakes to secure it. It may even require a Frame Tent, which will provide additional support in case of high winds. All that said, even best-laid plans can need changing—so keep an eye on that weather forecast, confer with your tenting specialists, and be prepared to adjust plans accordingly!
Speaking of high winds, don't forget the fast passing, stormy weather that New England summers often bring. In this area, especially towards the Cape and Islands, we are known for short lived but strong, and sometimes dangerous, storms. While it may interrupt your party, keep everyone's safety in mind when it comes to stormy weather. A heavy rain, or even gusty winds, should not affect your event (some of our tents are engineered for winds as high as 50mph) but if thunder and lightning rolls around, best to move indoors until it passes.  We do not recommend holding the tent in place while the storm passes, like these party-goers did here.
While your land and weather may determine the style tent you need, you will still be able to customize many other things. Consider a cleartop tent and clear sidewall to take in the amazing views and ocean side sunsets.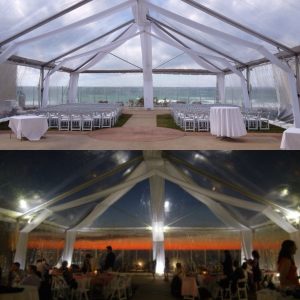 And of course, there is the ever-popular Sailcloth Tent, perfect for summer or beach functions.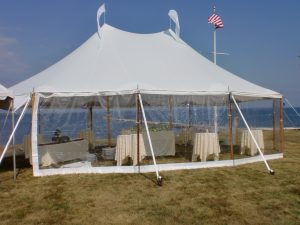 Perhaps you are just too afraid of what your hair might look like if you do have an outdoor function in the summer (Massachusetts does average 88% humidity during summer days, after all). If this is the case, we have solutions for you. First, consider leaving that sidewall off the tent completely. An enclosed tent will act like a greenhouse and trap the hot air. It is usually best to leave the wall off to allow the air to move. Another option is to use mesh sidewall, which will allow some airflow but will help keep out those pesky mosquitoes! You may also consider adding pedestal fans. These 30" industrial fans will get the air moving and help everyone stay cool. And did you know it's possible to cool a tent using air conditioning? Though it can be costly, it is often a worthwhile luxury to complete your perfect wedding or function.
So whether you planning your wedding, a summer clambake (you might even be serving the best oysters around), or just a party on the beach, we can help you make it beautiful and unforgettable.