Rent a Tent For Any Event: Weddings, School, Corporate!
The beautiful, fall weather makes it the perfect time for outdoor festivities. How can you turn your backyard into your dream location for your party? When you rent a tent, there are many different ways that you can customize it to your personal style and needs.
Do you have an upcoming wedding? School function? Corporate event?
Here are some suggestions to perfect your event with our multiple tent options:
Wedding
An outdoor wedding is the thing Pinterest boards are made of. Before you get started pinning pictures of flowers and tablecloths, don't forget about the tent essentials.
Create the perfect setting for your outdoor wedding.
For an outdoor wedding, you need a space where guests can mingle and you can dance the night away. Let the Victorian tent be this backdrop for your beautiful, summer wedding. With its tall, white peaks and exaggerated pitch, this suspension tent has high, spacious ceilings that will bring elegance and grandeur to your event.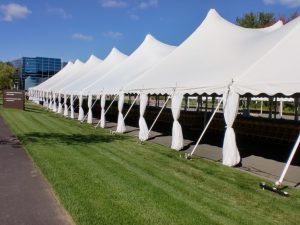 If you want to truly make the outdoor scenery a part of your wedding, try the clear frame tent instead.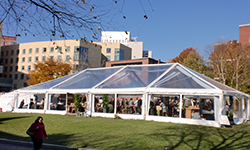 With transparent walls and ceiling, this tent is perfect for giving your guests a subtle taste of the outdoors. Let the sun shine in during the day, or the stars twinkle at night. (Even better, with the clear frame tent, there's no chance that a little bit of rainfall will ruin your day!)
Turn your tent into your fairytale wedding.
What's the key to setting the mood and creating an ambience of warmth and sophistication? Good lighting.
For a truly beautiful sparkle, nothing is more timeless and elegant than a delicate chandelier. But when hung up in a tent outside, this traditional lamp fixture becomes a delightfully whimsical feature that is as eye-catching as it is brightening. But if you're looking for lighting that's a little more refined, but just as elegant, consider bistro lighting. Strung throughout the ceiling of your tent, these tiny bulbs will gently illuminate the tables and delight your guests!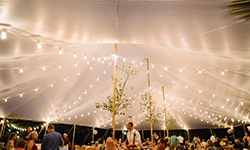 When you want to give your dancing feet a rest, give yourself a space to sit that's just as fun as the dancefloor. And what's more fitting for a wedding than a romantic sweetheart table? Include this special table among your wedding décor and you and your partner will have the best seat in the house all night long.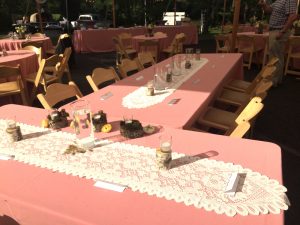 And don't forget about seating for your guests! To give them a space that is as comfortable as it is stylish, consider our selection of wooden garden chairs. Available in black, white, or a natural finish, these wooden chairs will add a rustic elegance to your affair.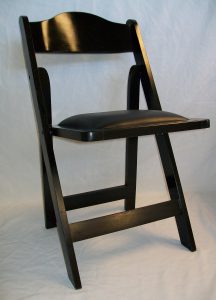 Or maybe you're looking for something a little more pristine? Take a more traditional approach to your wedding décor with our ballroom chairs, available in white, silver, fruitwood or gold.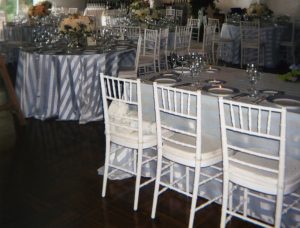 School function
The next time you need to host a graduation event, team dinner or any other school function, rent a tent to transform your backyard into the coolest party scene. With the right touch, you can turn your backyard into a party scene that will please both the staff, students and the parents.
Make your backyard the sweetest hang-out spot in town.
For a school function that won't make kids groan with boredom, the canopy tent is the top choice. The vibrant, striped pattern or white is a stand-out point piece – one the kids are sure to love.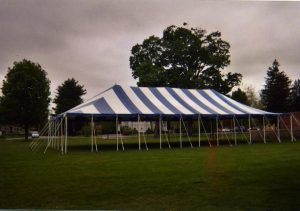 Looking for another style tent that's just as fun, but also a little more sophisticated? Take a look at the sailcloth tent. With its high peaks adorned with small flags, this tent looks like you brought the circus to your very own backyard.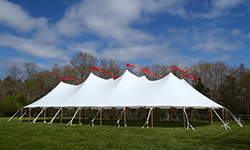 Accessorize Your Tent!
Now that you've set the stage for your school function, it's time to turn up the volume with a few, fun accessories.
Looking to impress the young crowd? LED lighting is a great way to keep the tent lit and bring a bit of color onto the scene. Our LED lights fasten onto the tents' poles so that you can bring bright color to the whole party.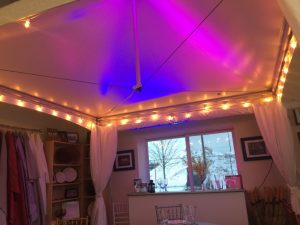 If you want lighting that brings together mature sophistication and child-like fun, why not give paper lanterns a try? After all, there's a reason you'll see paper lanterns all over Pinterest party boards: they're one of the best options for lighting that's both whimsical and refined.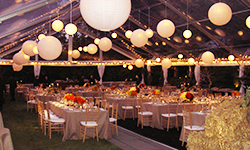 To add some life to your tent expertly for a school function, there's one very important element you don't want to miss: music. Use one of our DJ tables to play the right tunes and keep the guests having fun!
When there's a lot of kids at the party, you want to keep the seating arrangement simple. Use our round or rectangular tables (or a mix of both) to give your guests somewhere to sit that won't get in the way of the dance floor!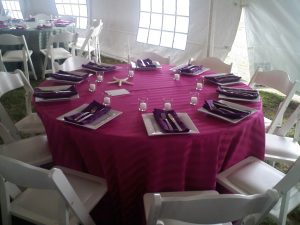 Finally, if you're hosting a school function for children, don't forget to accommodate the extra small ones. Use some of our special children's chairs to make sure that every guest has a seat at the party.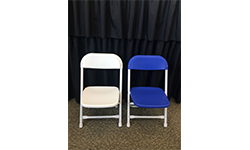 Corporate Event
Was your last work party unbearably boring? Don't make the same mistake again. Instead, rent a tent to host an outdoor party that will put a smile on your colleagues' faces. Also try our extra large Jenga game or Cornhole.
Think about your audience.
When renting a tent, make sure that the frame suits the audience. For example, the colorful canopy tent? While its whimsicality is great for a kids' party, it may not the best choice for an elegant corporate event.
Instead, when selecting a tent for corporate event, the standard frame tent is the way to go. The classic, white style leaves you plenty of room to get creative with decorations, or you can stick to a simple, clean aesthetic.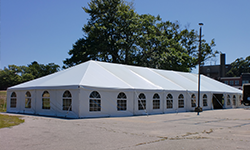 Keep it classy and professional.
Colorful, LED lighting may not be the best pick for a professional atmosphere. Instead, to brighten up your corporate event, trying using string lights. These strands of tiny bulbs are a classic: polished, timeless, but with enough power to light up a room!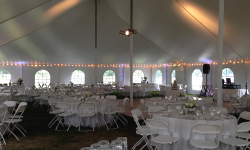 Want to double up on lighting? For the standard frame tent, par lights are another perfect match. Mounted on the tents' poles and ceiling, these lights will softly illuminate the party from above while staying up and out of the way!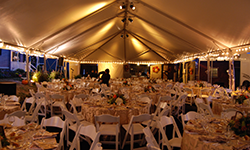 At a corporate event, there's one mood you do not want to recreate: the mood of the office! Instead of tables with a rigid seating chart, use a beverage station and food service to let your guests mingle and enjoy the party space.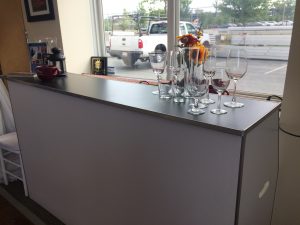 Moreover, to prevent your corporate event from looking too much like a wedding, here's a tip: steer clear of the ballroom chairs. Instead, try a mix of barstools to give your event a vibe that's a little less garden-party and a little more cosmopolitan.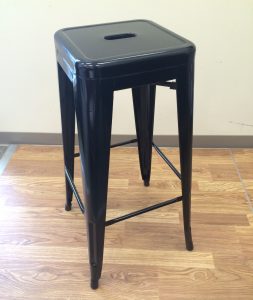 How can you transform your backyard into a space fit for a wedding, a school function, or a corporate event?
Rent a tent from A Tent For Rent and get creative with your setup!
Use our Event Builder to find the perfect tent, lighting, and furnishings for your event.
Visit A Tent For Rent to get started.
How to Keep Your Tent Cool During the Summer
The beautiful weather in July is perfect for an outdoor party. But, sometimes, it can also be just a little too hot to handle! Don't let the heat ruin your party. When the thermometer starts getting high, use these tips to keep your tent cool and comfortable.
Here's how to keep your tent cool during the summer:
Select a cooling device.
To keep the inside of your tent cool (and to keep you and your guests from sweating!), use a cooling device. Check out some options:
Cool boxes
Cool boxes are large, stand-up boxes that you can put in the corner of your tent to keep the whole atmosphere cool.
What makes this different than a traditional fan?
The tank evaporates water and makes your tent like an ocean breeze: the air above remains a bit cooler, since the water is evaporating and cooling it down. Though cool boxes do not help against humidity, they oscillate and create a very generous breeze of air that is 10 degrees cooler than room temperature. To see some of the cool boxes available at Atent For Rent, click here.
Fans
When it comes to fans, you have a few options. With smaller, hanging fans, you can position these on the tent's posts throughout the tent for distributed cooling. Or, you can use bigger, stand-up fans in the tent's corners for maximum, powerful air circulation. To see some of the fans available at Atent For Rent, click here.
A/C rentals
If you have an extra large tent that you want to keep exceptionally cool, consider an A/C rental.  A/C will pack a more powerful punch than most cool boxes and fans. With A/C rentals from Atent For Rent, we can pump air-conditioning directly into your tent, creating a perfectly cool environment so that you can enjoy your party, no matter the heat.  To see some of the A/C rentals available at Atent For Rent, click here.
Add an element of water to your party.
A cooling device will definitely get the job done, but if you want to keep your tent cool and add a bit of flair to your party, consider adding an element of water. (Particularly, if you're hosting an event with children, a little bit of water is great way to keep them cool and entertained.)
Sprinklers
If you're putting up a tent in your backyard, try positioning a few sprinklers around the tent. The misting water will not only help to keep everyone cool, but it will also give the kids a chance to run around outside and play and burn off some energy (so that the adults can finally have a moment to relax!). Just remember, don't put the sprinklers too close to the tent, or suddenly all of the guests will get splashed!
Water inflatables
Another great way to keep cool during an outdoor, summer event is with water inflatables. Use these in conjunction with your tent to complete the party experience. Find great water inflatables, like the Big Kahuna or the Double Splash from our friends at Busy Bee Jumpers. For a party with kids, a water inflatable will help to keep them cool and it will act as an extra party delight!
Pick the right tent to stay cool.
While adding cooling devices and elements of water will help to keep your tent cool on these hot, summer days, it is also important to pay attention to what kind of tent you are using to begin with. At Atent For Rent, we offer specific styles of tents that are designed to help keep you cool: the Canopy, Victorian, and Frame style tents. All of these tents employ blockout fabric. This special material does just what it claims: it "blocks out" the sun, thus, significantly reducing the amount of heat entering your tent. To browse all of the tents available at Atent for Rent, click here.
Are you cool enough?
July is the perfect time to rent a tent for an outdoor party. But you're also going to want to find ways to beat the heat on these hot, summer days. First, find the best tent for a summer, outdoor party. Then, to keep your tent cool, check out the available cooling devices at Atent For Rent. 
To reserve a tent and supplies for your upcoming party, contact us!
The Historic Endicott Estate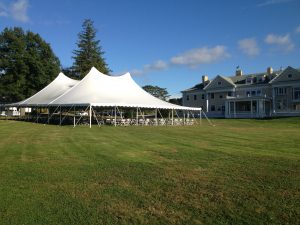 The Endicott Estate in Dedham is one of our favorite venues to work with. Situated on a 15 acre plot just outside the city, the grounds have large old trees, a beautitful gazebo and an expansive lawn for tents of all sizes. Dedham is a town rich in history and the Estate is just a small glimpse into it's past.  The Dedham Historical Society does a great job maintaining artifacts and documents keeping the town's history thriving.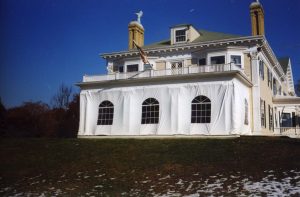 The mansion was rebuilt in 1904 after a fire destroyed the original property, inspiring Henry Bradford Endicott, the owner of a multi-million dollar shoe company, to rebuild a new, grandeur, more expansive estate! The house was left to the town after Henry's daughter died in 1967.  Since then it has been used for a range of events, public, private, formal, informal, small and large.
Aside from weddings, corporate events, and meetings, several annual events and special town celebrations are held at the Estate.  The 43rd Annual Bay State Antique Auto Club Car Show will be held this year in July at the Estate, and just this past weekend in April the James Joyce Ramble took place.  The first 10K Ramble hit the ground running in 1984 with 244 runners and has grown into the thousands with runners of all varieties winding through the streets of Dedham past several Historical Landmarks rooted deep in the town's History.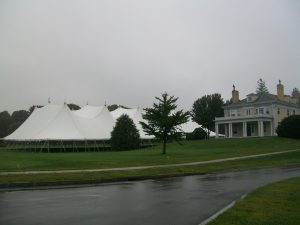 For Dedham's 375th Anniversary, we installed one of our larger tents, spanning across the lawn 120 feet x 220 feet.  The house also has two beautiful porticos that can also be utilized for cocktail hours or smaller events.  Our manufacturing team has fabricated custom window sidewall enclosures for the porticos so they can be used in cold or inclement weather. Lighting and heat can be added as well.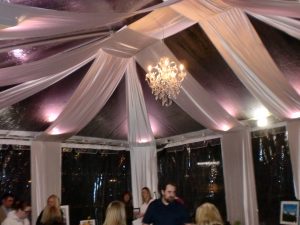 If it is raining we rent umbrellas or can install a marquee to connect the tent to the house. For a bridal show held at the Estate we featured custom staging that expanded the portico to create a larger tented area connected to the house. The options are endless! If you are considering a venue for your next event, it is definitely worth checking out.   The caretakers and event coordinators are great to work with and very helpful! Check out their website, www.endicottestate.com, for more information, to see the floor plan of the estate, and for more great photos!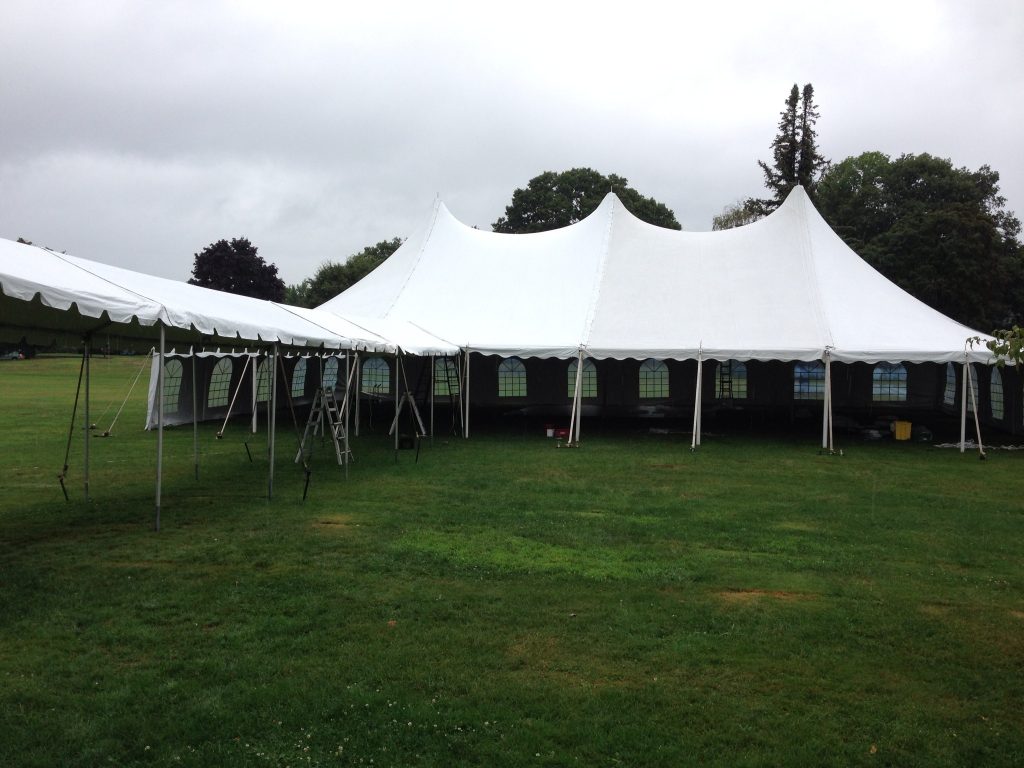 Outdoor Winter Holiday Parties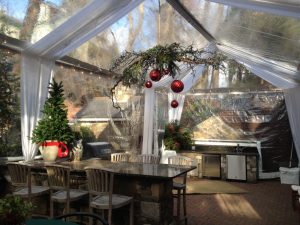 This winter we had several events on the calendar that were confronted with unpredictable New England weather. If you can pull it off, a party in the winter, surrounded by the white covered ground and snowflakes falling overhead, can be fun and magical! A client featured in a previous post for their Thanksgiving gathering came back to the drawing board when they wanted to expand the space for a larger Holiday party.
The outdoor entertaining areas on this property are naturally beautiful with unique stonework, solid surface counters, amenities of a kitchen and other custom features. Creating a patio enclosure was the perfect way to extend the entertaining area into the outdoors and utilize the stunning space. Installing clear fabric on the top and sides of the tent allows you to feel like you are standing outside while staying warm and dry!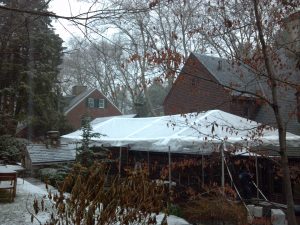 The sales team did a great job measuring the site to fit the perfect tent into the tight area, maximizing all the usable space. The manufacturing department created the tent drapery and custom sidewall to fit around the client's stonework and countertops. Once on site, the installers took extreme care building the frame in the somewhat restricted area and wedged the tent perfectly into place.
The new enclosed patio area was stunning when it all came together with the lighting, drapes, chandelier, tables, decorations and of course, the ice sculpture!! It snowed during the event, making for an exciting night for the host and party-goers as they watched the snow fall down right above them through the clear top tent! Despite the weather, or maybe in part due to the weather, the party was a huge success!
The Functional Frame Tent
The Frame style tent is more adaptable to its surroundings, allowing for more custom installations than the traditional pole tents. The frame tent, as you might imagine, has a frame structure that allows it to stand freely without the support of center poles and guy ropes. The structure makes it more capable to handle strong wings and snow loads. Although the frame tents are free-standing and do not rely on the tension of guys ropes, we still secure them with stakes, blocks, water barrels, etc. for added safety.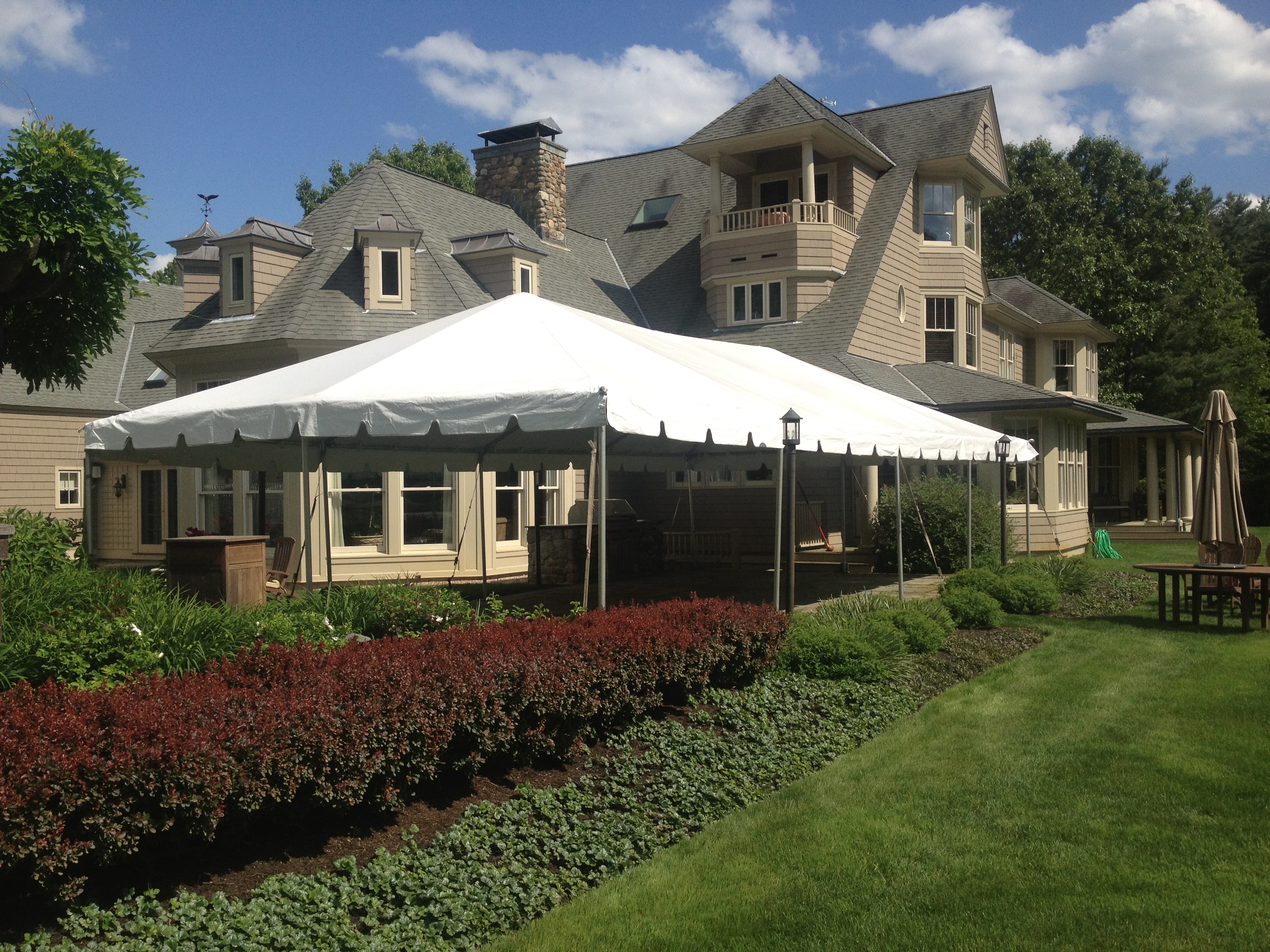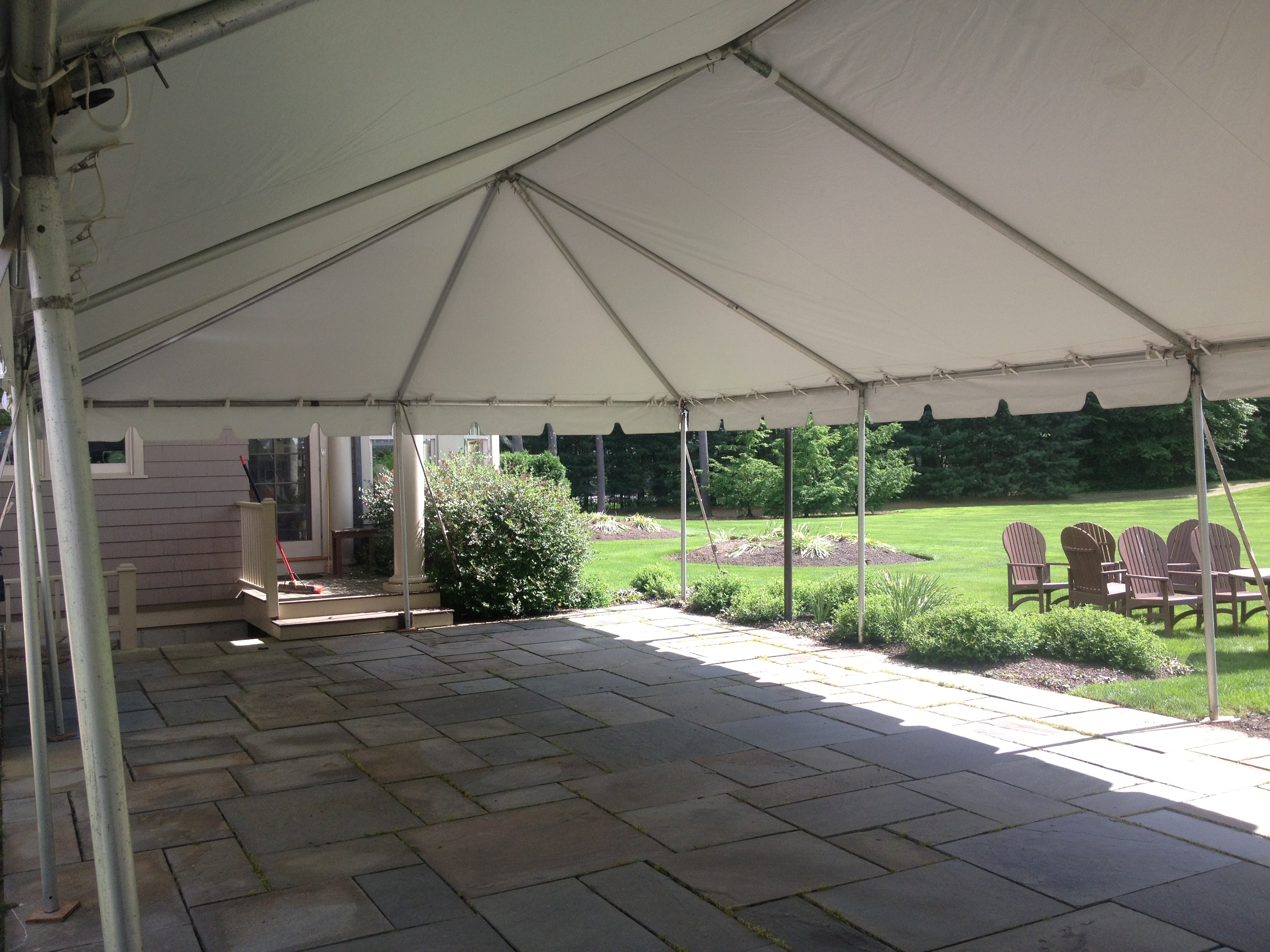 The stakes or weights on the frame tent can be installed close to the tent, creating more walking room around the tent and enabling it to be installed where there is limited space available. The frame tent is often used on construction sites where machinery might have to drive around and even under the tent. Frame tents are also commonly used on driveways, parking lots, or even on grass when customers prefer not to stake through the ground. We installed a 20′ x 40′ frame tent for a groundbreaking event in this time lapse video!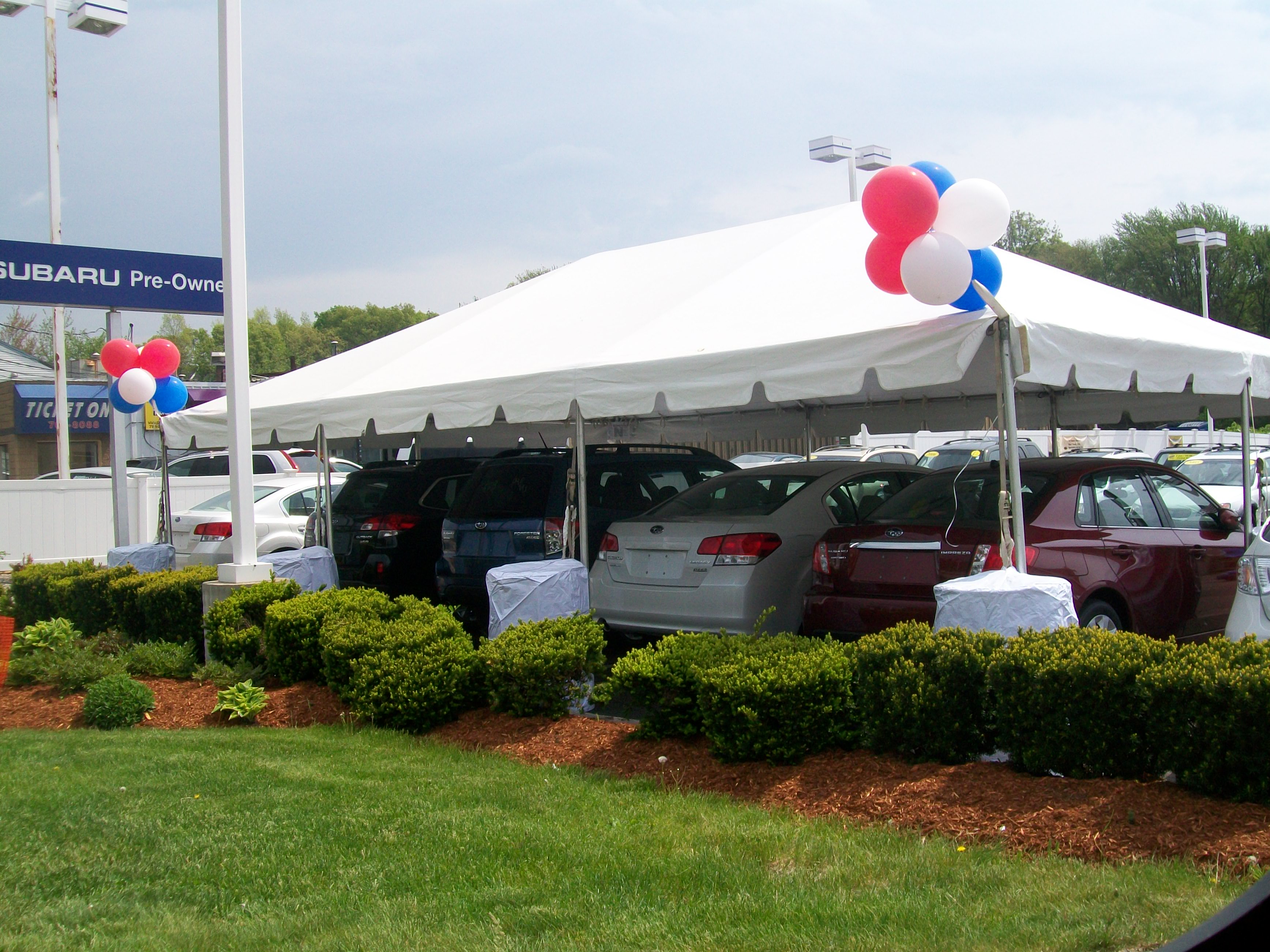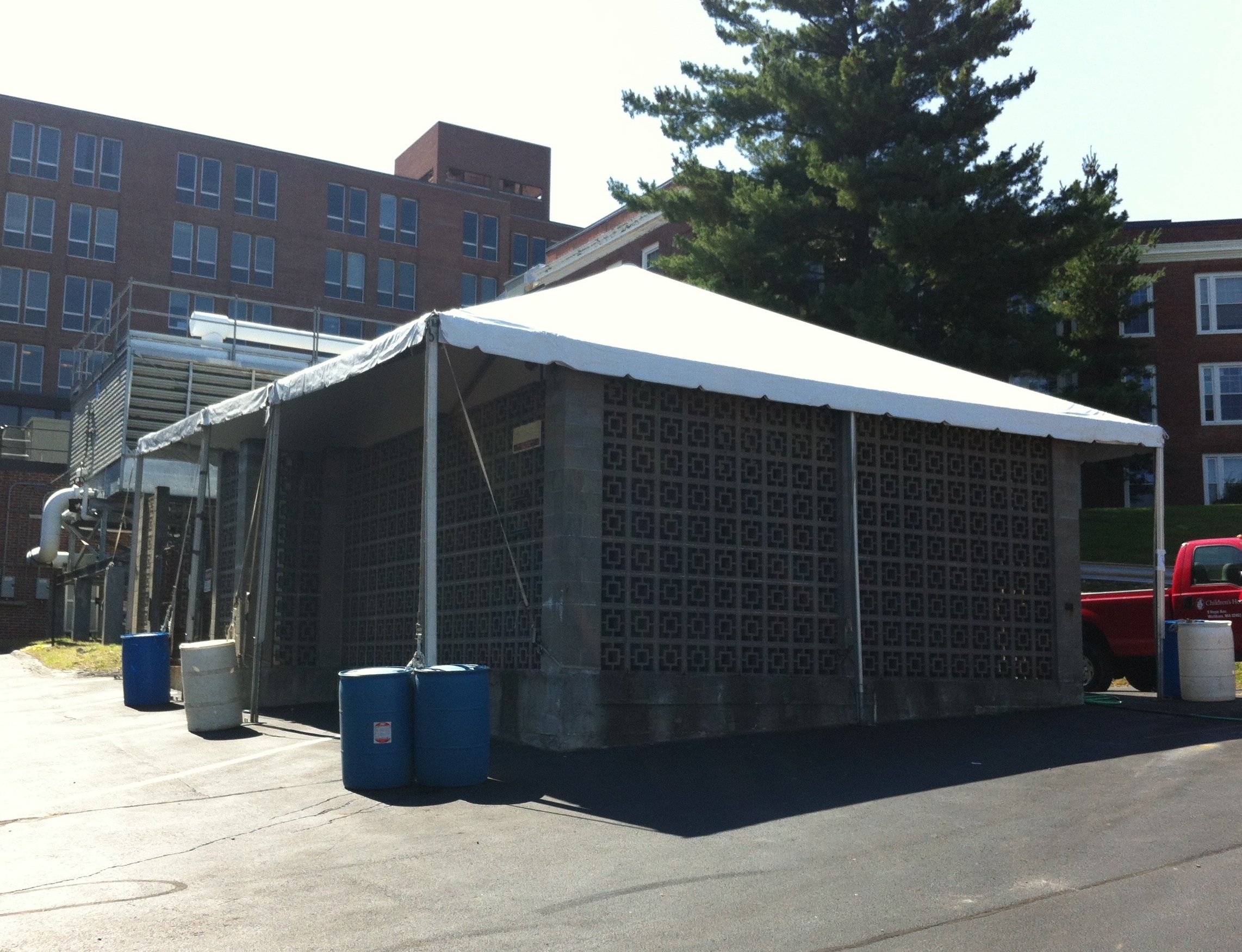 Frame tents are also used often for corporate events, commencements and weddings. Many corporate events or galas have a stage, screens, or presentations of some kind that guests are viewing. The lack of center poles means a great view from every seat and doesn't limit the setup inside (ie. placement of staging, dancing, tables, seating, etc.) Even when we install other style tents, the frame tent can be a great accessory tent for a bar, cocktail space, catering or food prep and more!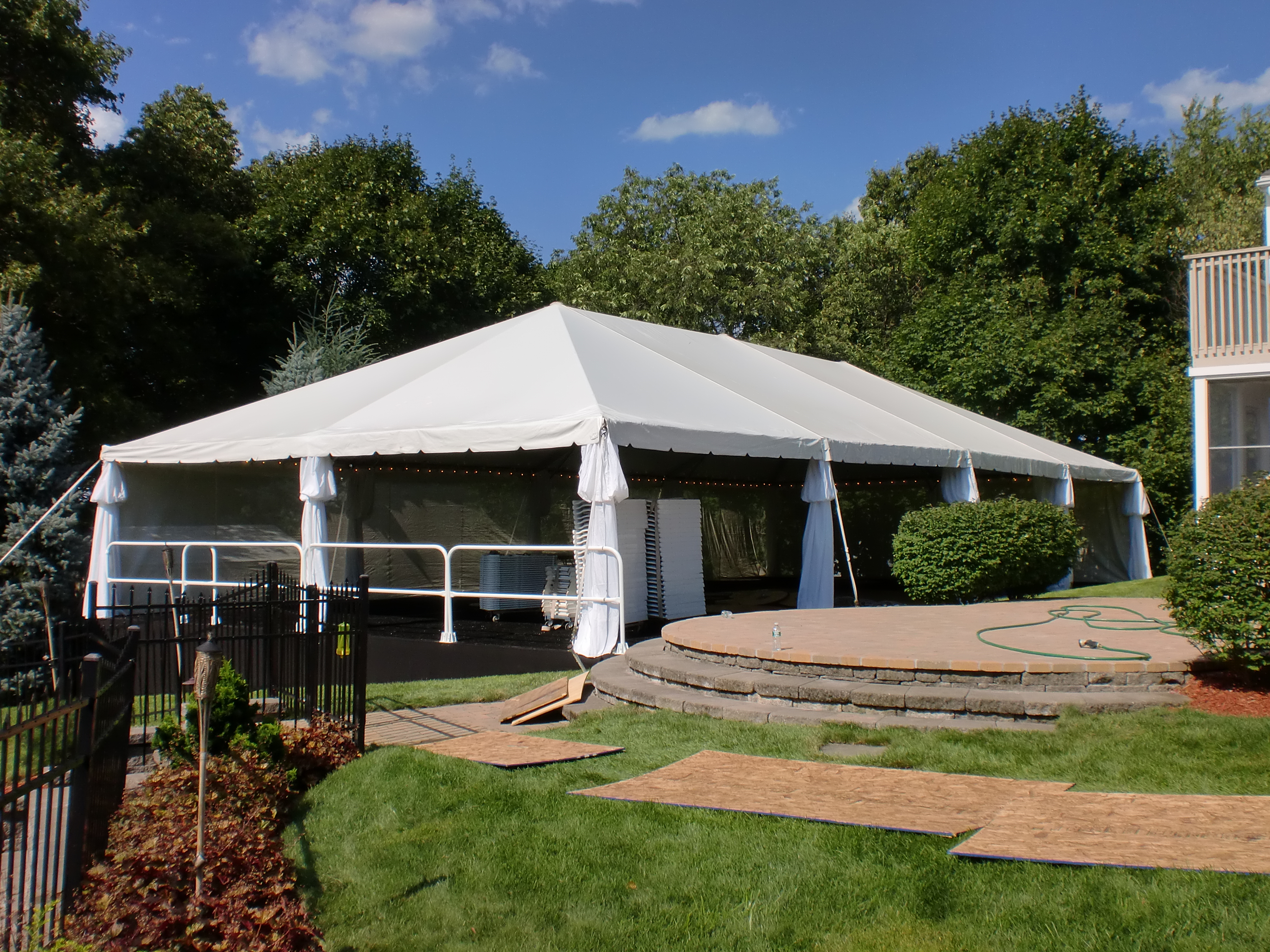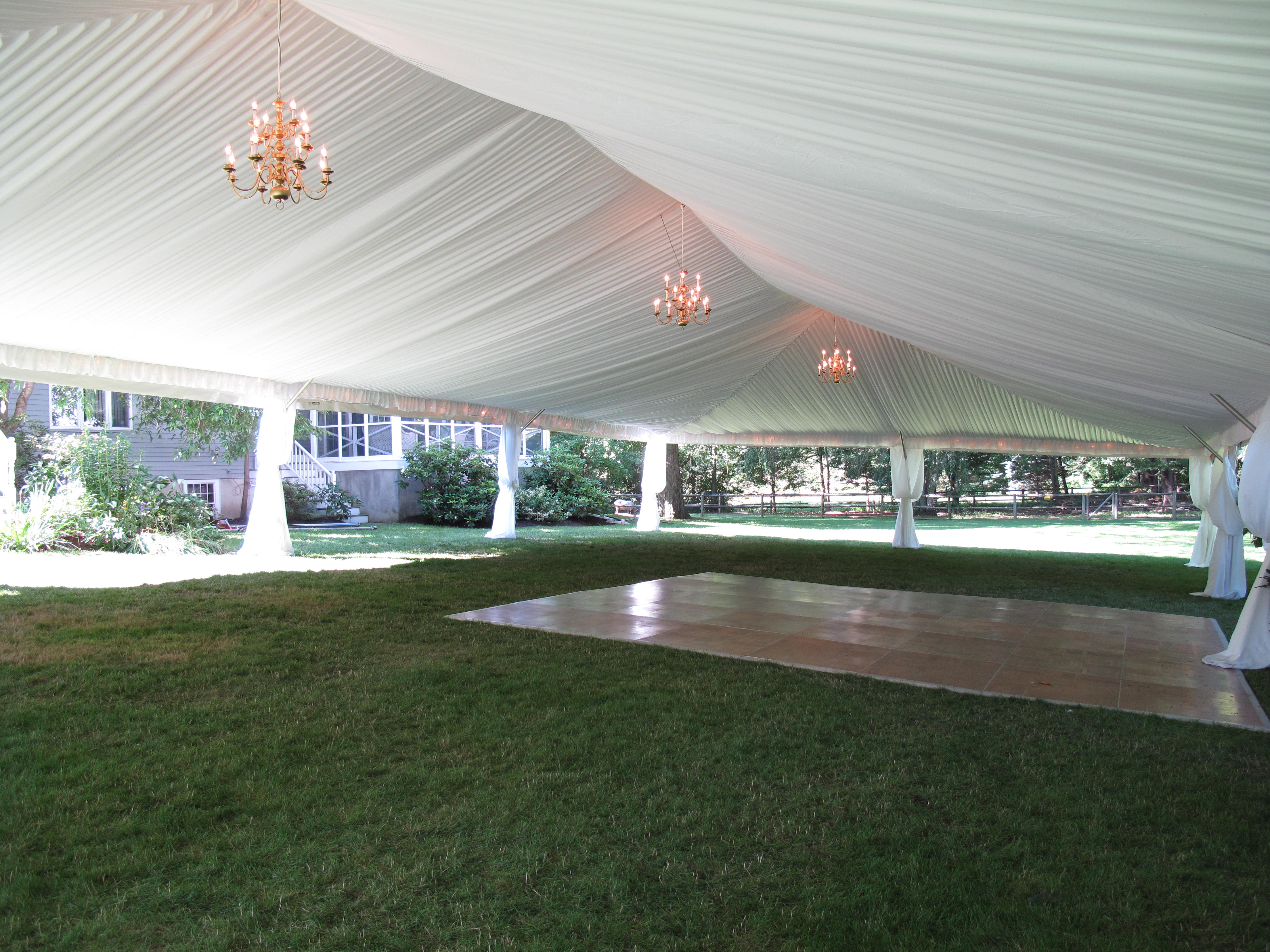 There are many ways to accessorize the frame tent. Most common is the gathered white tent liner. It is a silk-like fabric interior that is secured to the frame of the tent, hiding the frame and creating a soft look and feel. White leg drapes can be added to cover the side poles and complete the look! We offer a wide range of clear frame tents as well. The clear tents are amazing on a beautiful starry night, with accent lighting or surrounded by beautiful scenery. Our staff designed and fabricated some great custom drapery to accent the clear tent and hide the frame inside the tent.  Some clients choose to keep it simple and some love to jazz it up, either way we have the perfect tent for every event!
The Elegant Victorian Tent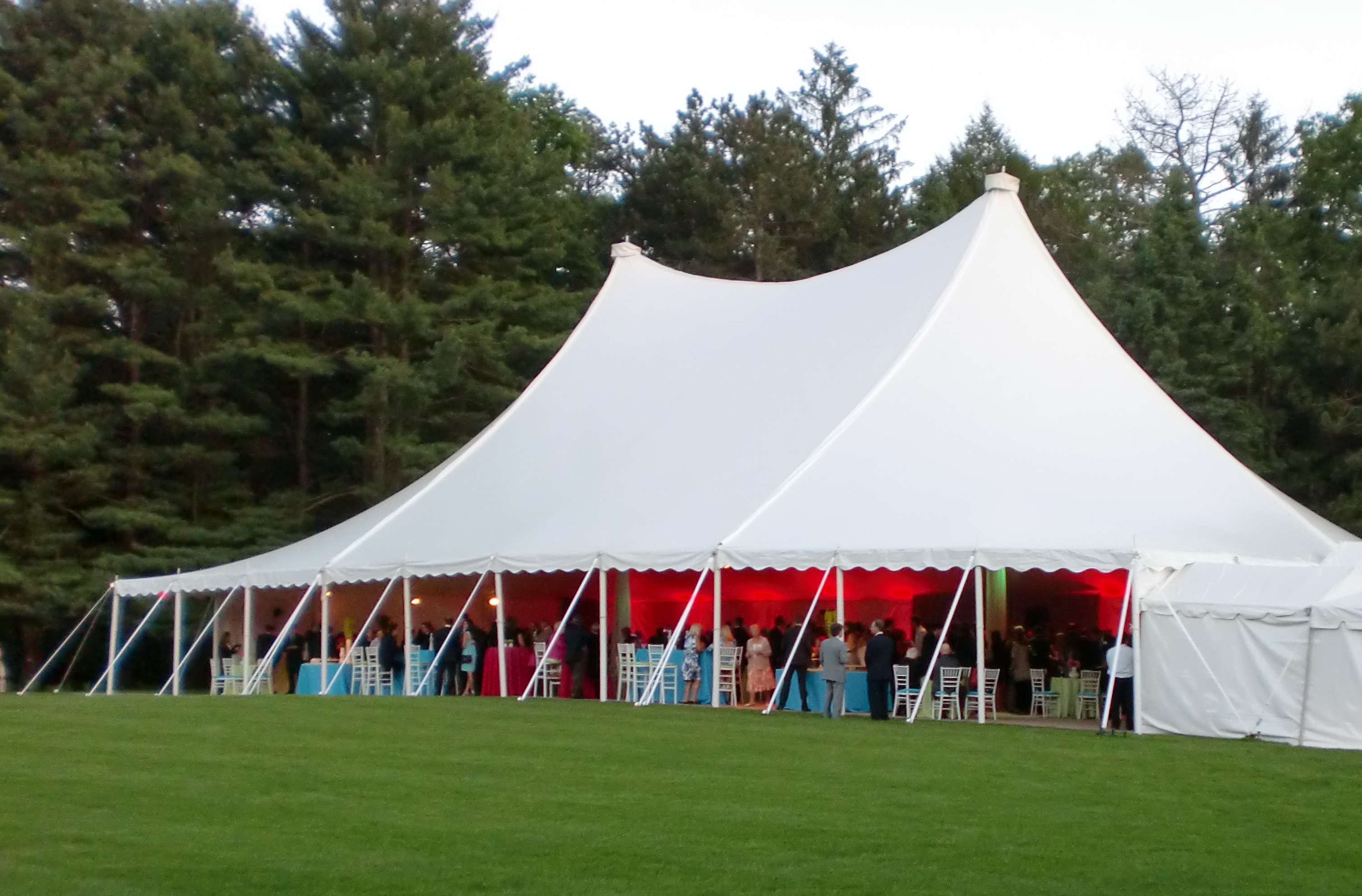 The Victorian Style tent offers the same benefits of the party tent with an added elegance. Often referred to as a Century tent or a High Peak Pole tent, the Victorian tents have exaggerated peaks giving them a grander appearance from both the interior and the exterior. The high ceilings and peaks are a great backdrop to create a majestic space for your event!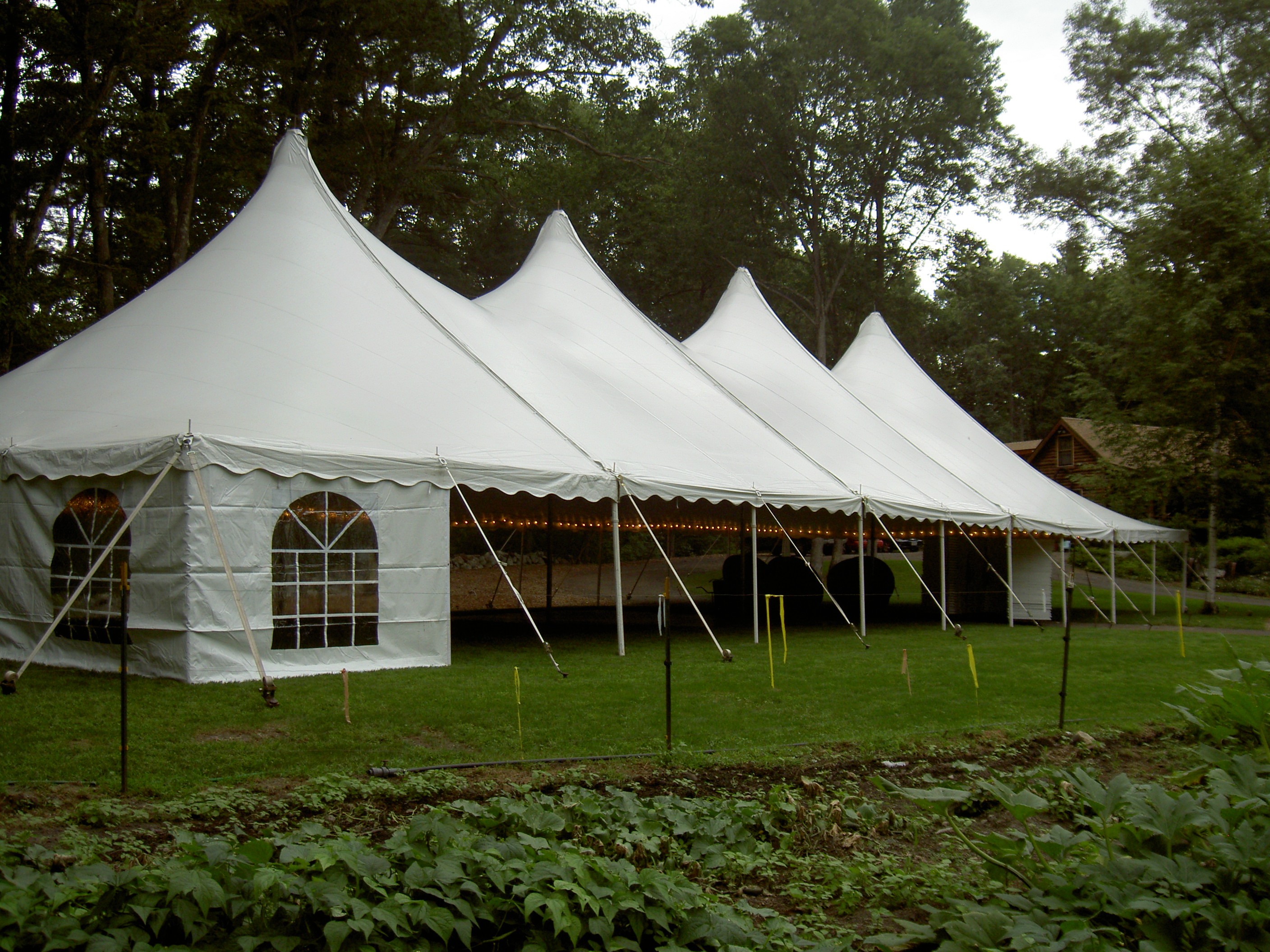 We stock sizes ranging from 20′ x 20′ to 120′ x 700′ in the Victorian style. These tents can be installed on grass or staked into the pavement. If staking is not permitted we can use concrete blocks or weights to secure the guy ropes as well. The Victorian tent is used for a wide range of events including weddings, corporate events, galas, auctions, fundraisers, church festivals, and commencements.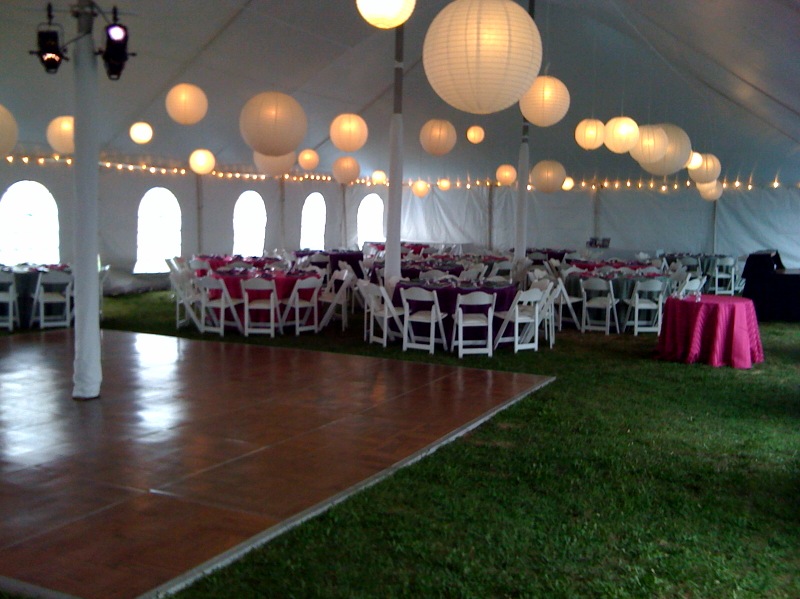 The Victorian tent has a very clean, seamless interior. It it is supported by large center poles, side poles, and guy ropes. Unlike the frame tent with an aluminum pipe interior, the Victorian tent is an empty canvas. Many clients will project images or monograms on the fabric of the tent, or use other lighting such as paper lanterns or string lights to enhance the sleek style of the tent.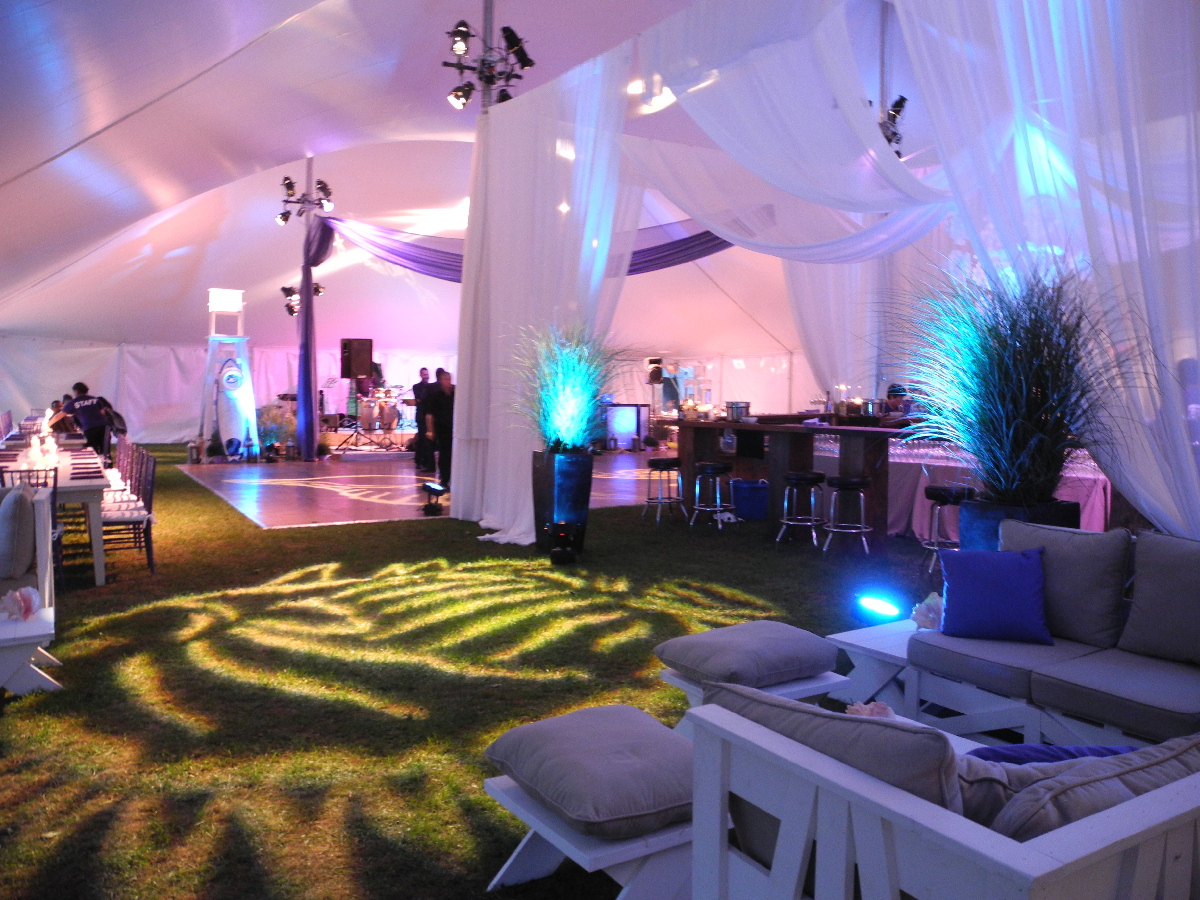 There is no limit to the accessories, enhancements and decorations that can be added to the Victorian tent to create a space unique to your event and style. We have white sheer leg drapery that can be installed on the center or side poles. Some of our clients use greenery, ribbon, fabric, lights or other accessories to enhance the poles, while others choose to leave them as is and let them blend into the rest of the decor. In our years of experience we have seen some very impressive transformations to our tents. You can check out more photos on our Facebook Page or on our Website!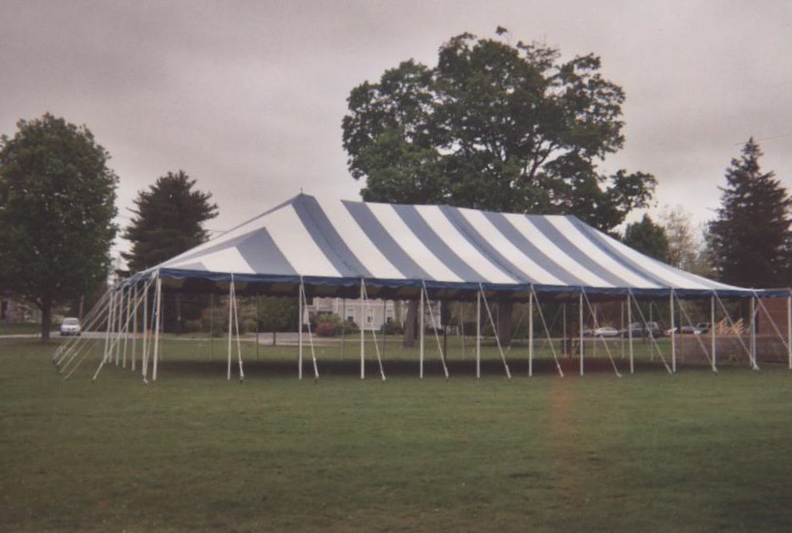 The Party tent has the ability to essentially become an outside room with the addition of sidewall. It is a pole style tent which means it has center and side poles for support like a basic canopy tent; however we have larger party tents available for rental. The party tent also must be staked into the ground and requires additional space to be secured.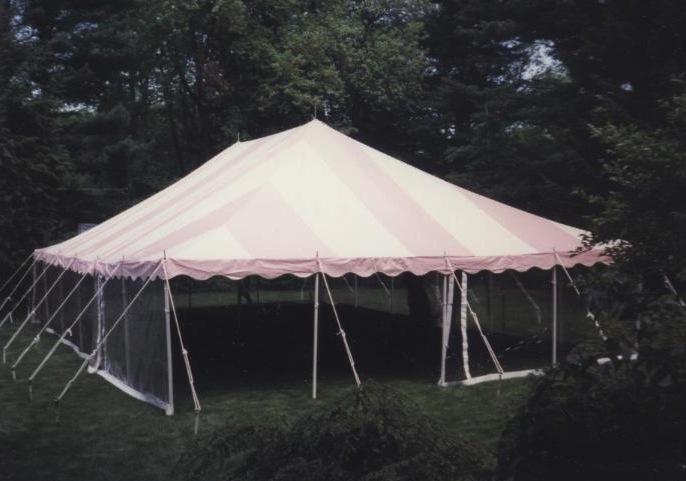 Having the ability to add sides to a party tent substantially increases the functions of the space. You may choose to enclose the tent on all sides and heat the interior or perhaps just shelter your guests from rain, wind or other elements. The New England weather tests us with not only heavy rains, but snow storms, hurricanes, high winds, even tornadoes!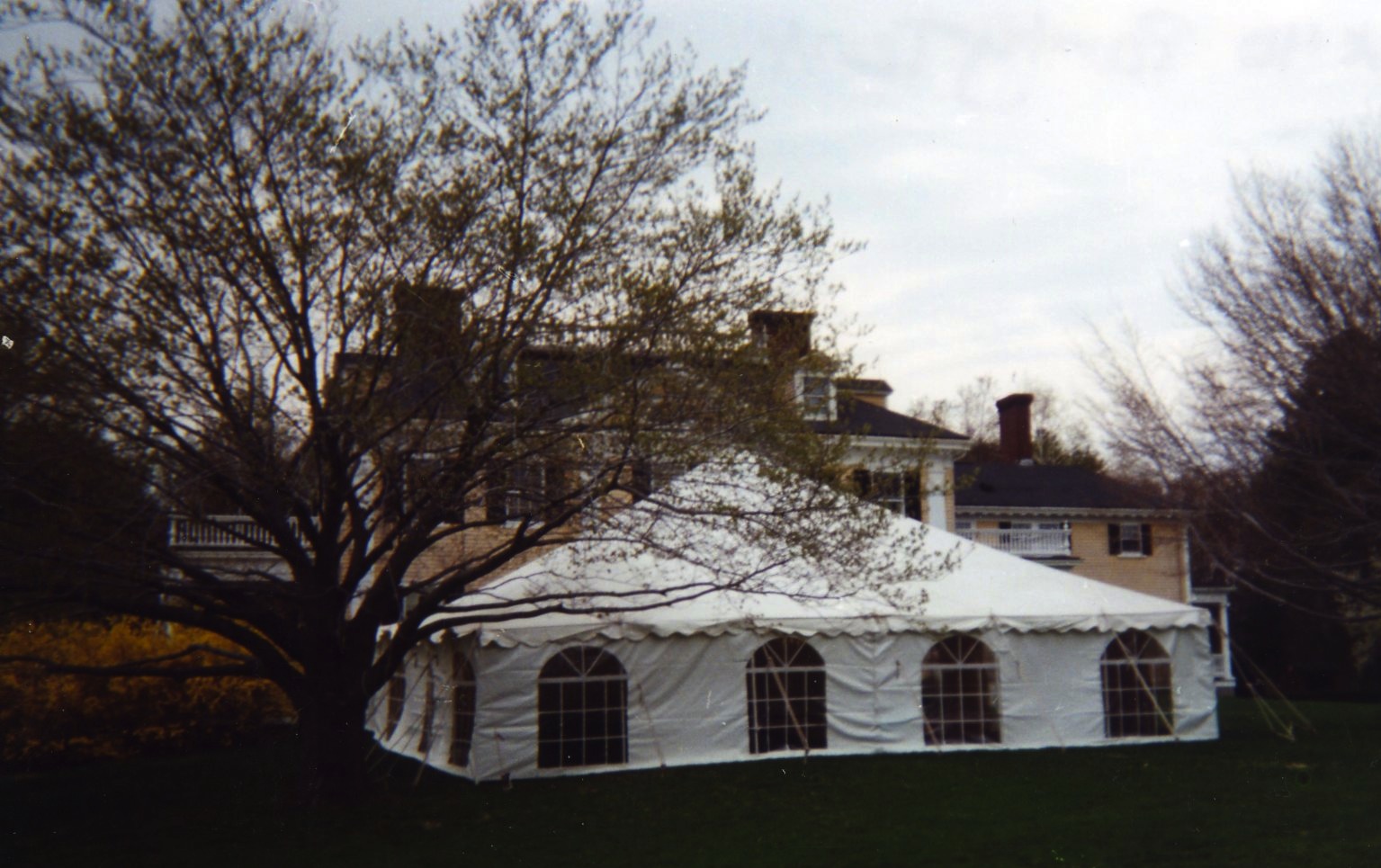 The tent does not feel enclosed with clear or window sidewalls as an option. Solid white sidewall can be great as well to serve as a backdrop, block the view of the street/neighboring property and it saves money. The clear is great to still feel connected to the outside space or perhaps to expose a beautiful view. The cathedral window wall has the perks of both the clear and the solid wall, while also adding a charming character to the tent!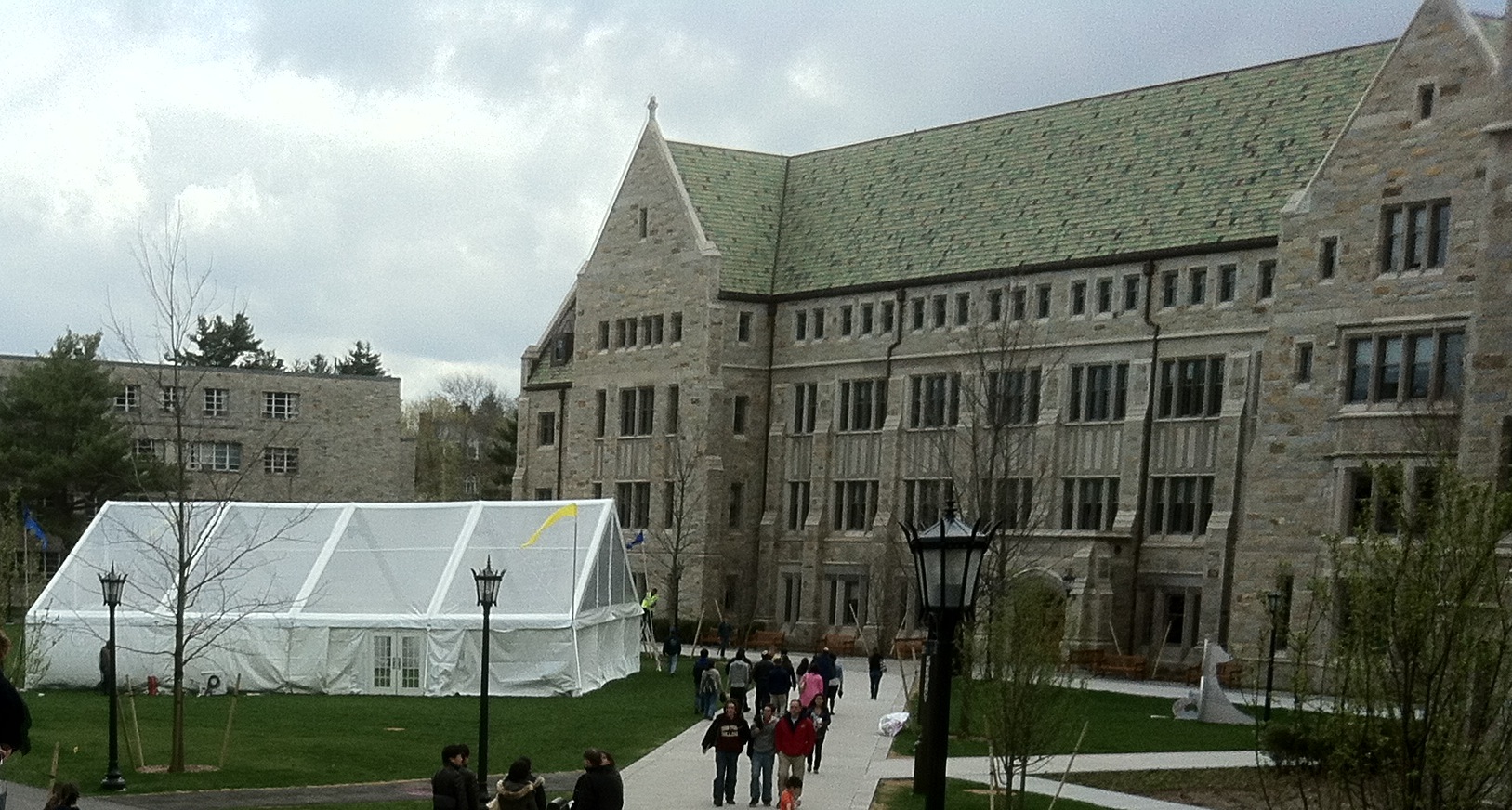 This week the crew at Atent for Rent installed a variety of tents for the 15th Annual Boston College Arts Festival. The inspiring event will host a variety of musicians, artists, painters, dancers, writers, sculptors & more that have all come together to entertain and celebrate the arts. You may also participate in several hands on events making for a very interactive and even educational experience. It's wonderful to see the tents we have installed, merely a blank canvas, become an event space filled with color, art, talent, emotion & beauty!
This year is not just the 15th year for the Festival, but the College is celebrating it's 150th Anniversary!  We installed a 60′ x 132′ clearspan structure in place of the 50′ x 100′ tent setup in years past. We also have two of our clear top tents on campus! This excerpt from the Festival's Brochure does a great job summarizing the changes this year to the program:
"This year, the Boston College Arts Council is thrilled to celebrate the 15th anniversary of the Arts Festival simultaneously with the University's sesquicentennial. In honor of this milestone year, the Arts Festival will feature a new performance and exhibition venue with fresh, collaborative arts programming. The Stokes Art Tent is a combination gallery and small performance space, allowing for innovative programs, increased access to students' visual art, and an intimate setting for receptions aimed at celebrating the arts. In addition to our new venue on Stokes Lawn, we have updated the Main Tent in response to the University's renovations to O'Neill Plaza, increasing the size of the tent and the main stage inside. We hope you will enjoy extra performance space, more seating, and increased visibility and accessibility. Happy Birthday to Boston College and the Arts Festival!"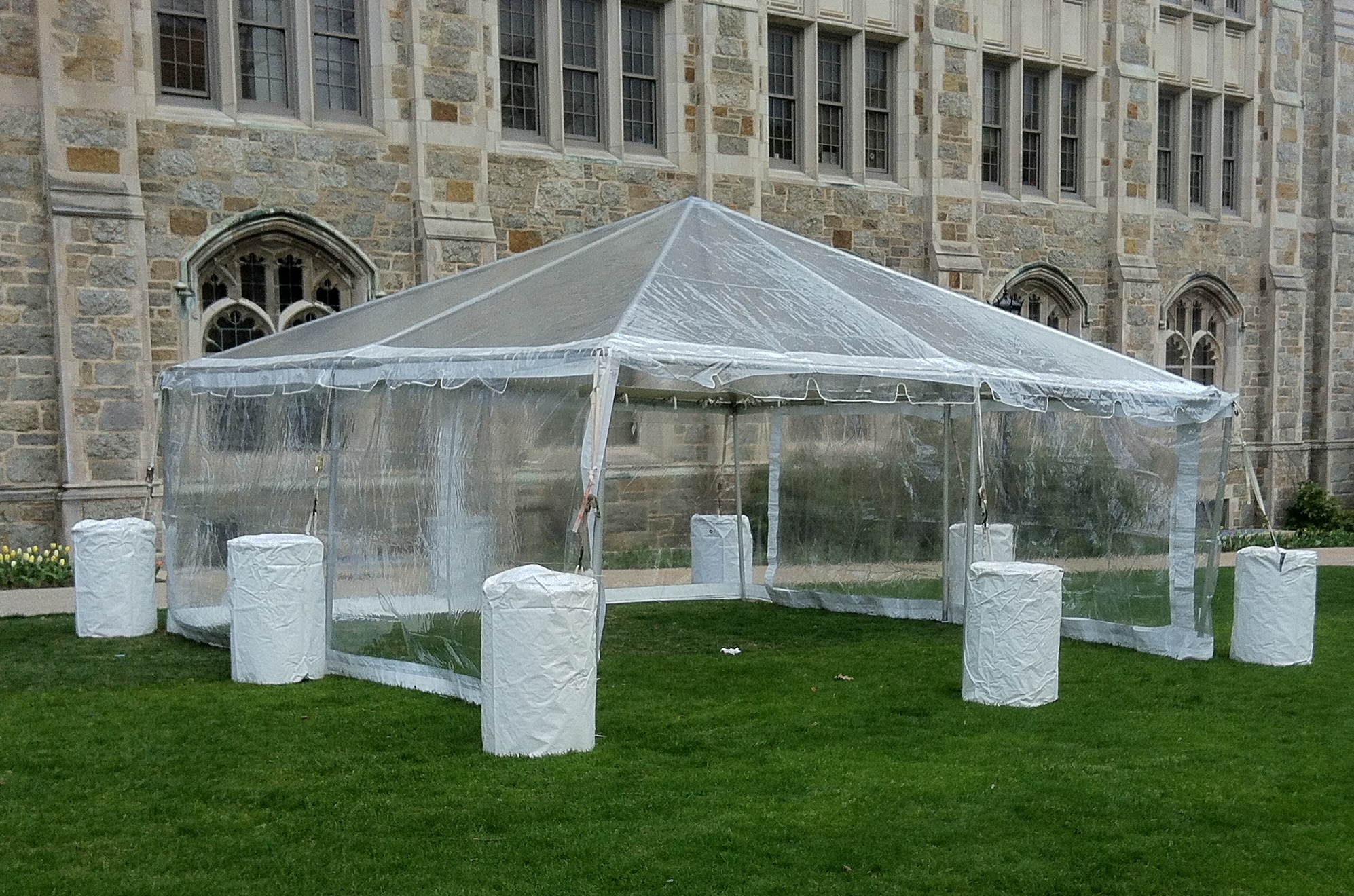 We are excited to be a part of such an inspiring event! The Festival runs from Thursday 4/25 through Saturday 4/27. There is so much to do and enjoy, everything from a poetry reading to A Cappella performances. You can see a detailed list of the events, here. Be sure to check it out! The feedback we received from the staff was great.  We are sure this will be another successful Festival!
First, let me tell you that we really appreciate you and your team's hard work today. We really were thrilled with the tents this year, and we are only one day into festival week! -Victoria
Need More Space? Hosting Impromptu Dinners & Events at Your Home
Don't let your "cozy" dining room or small entertaining space keep you from hosting large dinner events or holiday parties. There are many ways to create valuable space using your deck, patio, yard, and perhaps even the garage. We have seen some incredible transformations to these spaces for a range of events using our tents, drapery, lighting, furniture and accessories.
Atent for Rent also has a very talented fabrication team that can create custom sidewall for many porches or patio areas that already have an existing roof structure. We have several size frame tents in stock that can be installed on adjustable legs, with sides, rain gutters, lighting heat, air conditioning, flooring and more. You can essentially create another room in your house!
The frame style tent is a "free
standing" structure with a metal frame that supports the tent top. The frame tent is still secured by staking or with weights to be sure it remains safe and in place. The pole style tents just have center poles and side poles with guy ropes that support the tent. This makes them easier to install, but they require additional space and have more restrictions. The frame tent can be installed right against the house or existing structure. It can also be installed in smaller yards or on a patio or driveway for homeowners in the city with limited yard space or as an extension of the garage space. Personally I think the garage can be a little tacky, but if done right it can look great. Check out this link on How to Covert a Garage Into a Party Hall.
My niece's 2nd birthday was an impromptu garage party thanks to a hurricane. I had a moonwalk and a tent, but I was afraid to even set them up. Her 1st birthday was a success with great weather. We rented a 10′ x 20′ frame tent and had the band, Beatles for Sale, set up under the tent because it was so sunny and hot! That is one thing you can be certain to be unsure about in New England… the weather!
There are a lot of ways to decorate and use the new space. I love the concept of utilizing existing furniture
and accessories to really bring the warmth and decor from your home into the new space. You might use plants, patio furniture, lighting, artwork or tables from inside your home to accessorize. Atent for Rent has fabricated custom drapery for the clear top tents to hide the metal frame and adda great accent to the tent. It looks amazing! You can see the stars at night with the clear top. If it is cloudy and rainy, you win too because you rented a tent! Now you can listen to the rain outside and see it pour down the sides of the tent while you and and your guests party on!
Lakeside Wedding – Hosting Events at Your Home
The amazing transformations that take place to create a unique event space are truly incredible. The possibilities are almost endless with today's technology and our resources. Hosting an event at your home (or a family member or friend's house) is unique also in that it creates an irreplaceable memory in that space! Visiting the lake in the summer and spending time on the boat with family and friends is a favorite pastime of mine, so this event was particularly close to my heart.
Getting the house and grounds ready to host a formal event can be a lot of work, even quite overwhelming at times. Having reliable, helpful and informative vendors to work with goes a long way!
Perhaps some of the household improvements/preparations needed to be done regardless of the impending event date. It just might be the kick you needed to cross the rest of the items off that "To Do List". If you focus on the right improvements, temporary verses permanent, the money spent can increase the value of your home and help maintain the house. In my mind, that is money well spent!
At this particular estate, the grounds were amazing, the lakeside location was a beautiful setting, the perfect backdrop for a spectacular wedding! Our General Manager, Jon, met with the client and developed the concept to build a custom staging system level with the existing patio and abutting roof of the porch above. This design allowed flow from the house to the tent to be wide open and seamless while also creating additional useable space on the patio!
The 40′ x 60′ tent has a beautiful cleartop, natural light into the tent and not obstructing the beautiful view from any space in the house. The tent and staging are nestled between the trees perfectly, helpful to keep the clear tent cool in the summer!  Guests on the balcony above can see down into the tented space and out on to the lake! The house and the tent accentuate each other very well, while not taking away from the waterfront setting!
Some of the other accessories on the installation include the paper lanterns and string lighting adding a great ambiance at night. We also installed leg drapes to soften the metal side poles and side rails to keep the guests safe. The crew, the caterer, the client and all the event staff did a great job putting this together!
Good Old Easter Memories & Fun New Traditions!
We all remember those creepy Easter bunnies hopping all over town this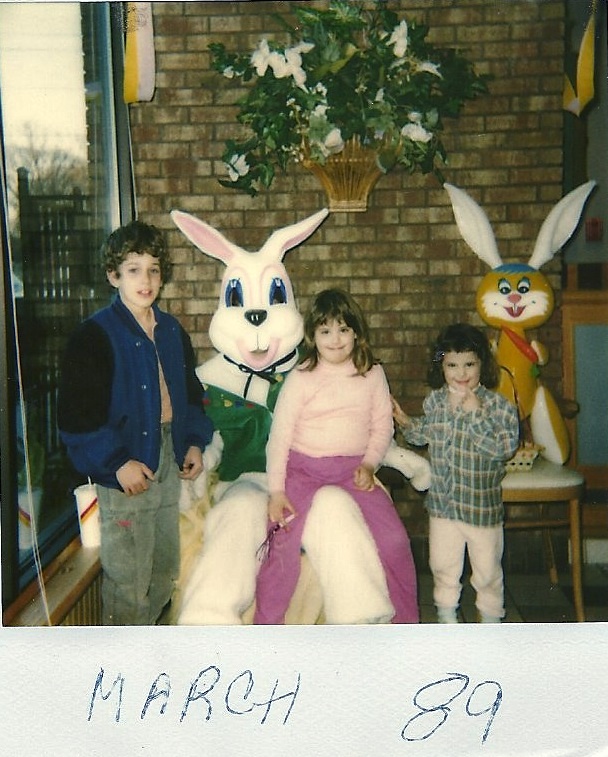 time of year. I really don't recall much from when I was 4 years old, but I absolutely remember this picture taken in the corner of Burger King. I don't remember what I ate or what toy I got with my meal, but I remember thinking two things very specifically:
1. I think I might be a little scared of the Easter bunny!! I'll just look evil and that freaky bunny thing will fear me instead!
2. I HATE this plaid sweater my mom always makes me wear that she no doubt picked up for me on family Wednesdays at the Salvation Army! (more…)
"Quigs" & The James Quigley Fund: An Inspirational Story!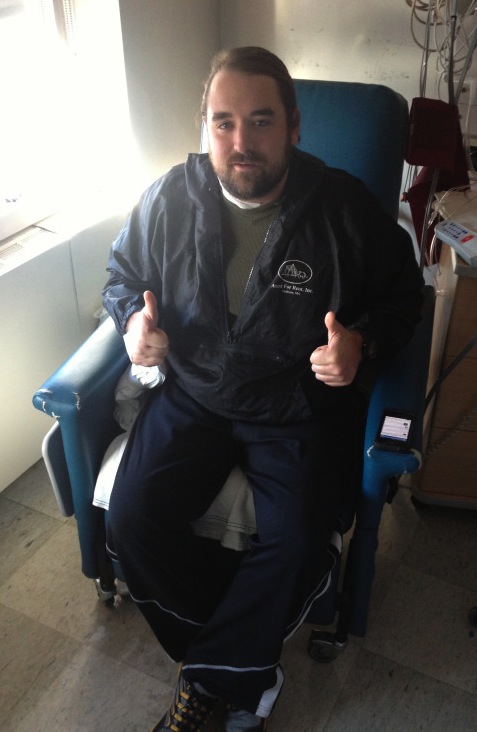 Jimmy has been with Atent for Rent since 2004. We have seen him grow into the respectable burly man he is today! He is our Permit Expert and In-house Engineer, a valued worker, and a great friend! But more than anything else he is an inspiration to so many of us.
Jimmy, or as I like to call him "Quigs" or "Quigley", embarked on a very unique, difficult journey in August 2011. Doctors unexpectedly discovered a softball size tumor on his adrenal gland, that had spread to his kidney and spots on his lungs. Jimmy was diagnosed with Malignant Pheochromocytoma. It had to be scary for him and a lot to handle and manage at his young age. But he has persevered and kept his head held high, with his luscious golden hair growing out to donate to Locks of Love.
All of Jimmy's family and friends know just how lucky we are to have him in our lives. His
 good spirit and strong will encourage us every day. His girlfriend, Kathryn Aldrich started a website The James Quigley Fund, that documents his journey and helps raise awareness about Pheochromocytoma. She has been an immense support to Jimmy. One of his best friends and former Atent for Rent extraordinar, "Huff" started a group to support Jimmy as well, Track the Huff.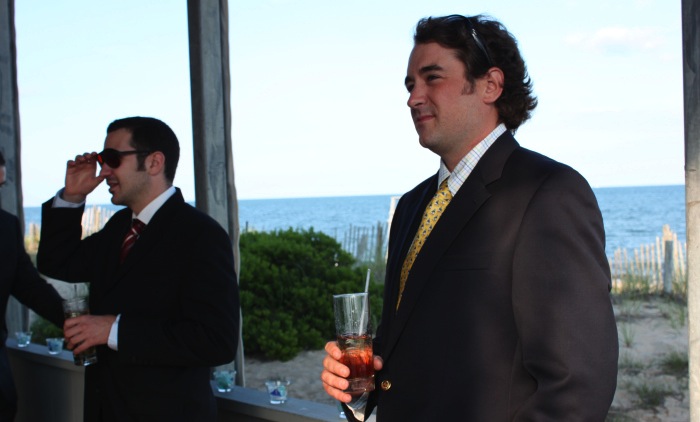 Despite all of the tests, treatments, surgeries, scans, medications and medical bills, Quigs is always in good spirits, joking, laughing, of course doing by far the best impersonnations I have ever heard! I have the privilege to work with Jimmy every day and his infectious personality has truly inspired me. We all have a lot on our plates as life is generally complicated these days. When I need to vent about my family or work, he is ready to listen. I know I am not alone here. So many people have expressed their love and respect for Jimmy over these past years.
Last night at work, I was nonchalantly tossing out an idea that perhaps Atent for Rent could host a Fundraising event to help bring people together to support Jimmy. The idea was well perceived by the owner and the few people left in the office. Not a minute later, Kevin from Boston's Baddest Burger walked in the door to rent some equipment and asked if Jim still worked here. Of course, I burst out about how ironic that was to the gentlemen. He handed me his business card and said he would absolutely be a part of anything that was to support Jimmy. It just reminded me how many people Jimmy has impacted, and how important it is to me to support him on this journey! Please go to thejamesquigleyfund.org to learn more about Jimmy and Pheochromocytoma and click here to donate.
Thank you!