The Functional Frame Tent
The Frame style tent is more adaptable to its surroundings, allowing for more custom installations than the traditional pole tents. The frame tent, as you might imagine, has a frame structure that allows it to stand freely without the support of center poles and guy ropes. The structure makes it more capable to handle strong wings and snow loads. Although the frame tents are free-standing and do not rely on the tension of guys ropes, we still secure them with stakes, blocks, water barrels, etc. for added safety.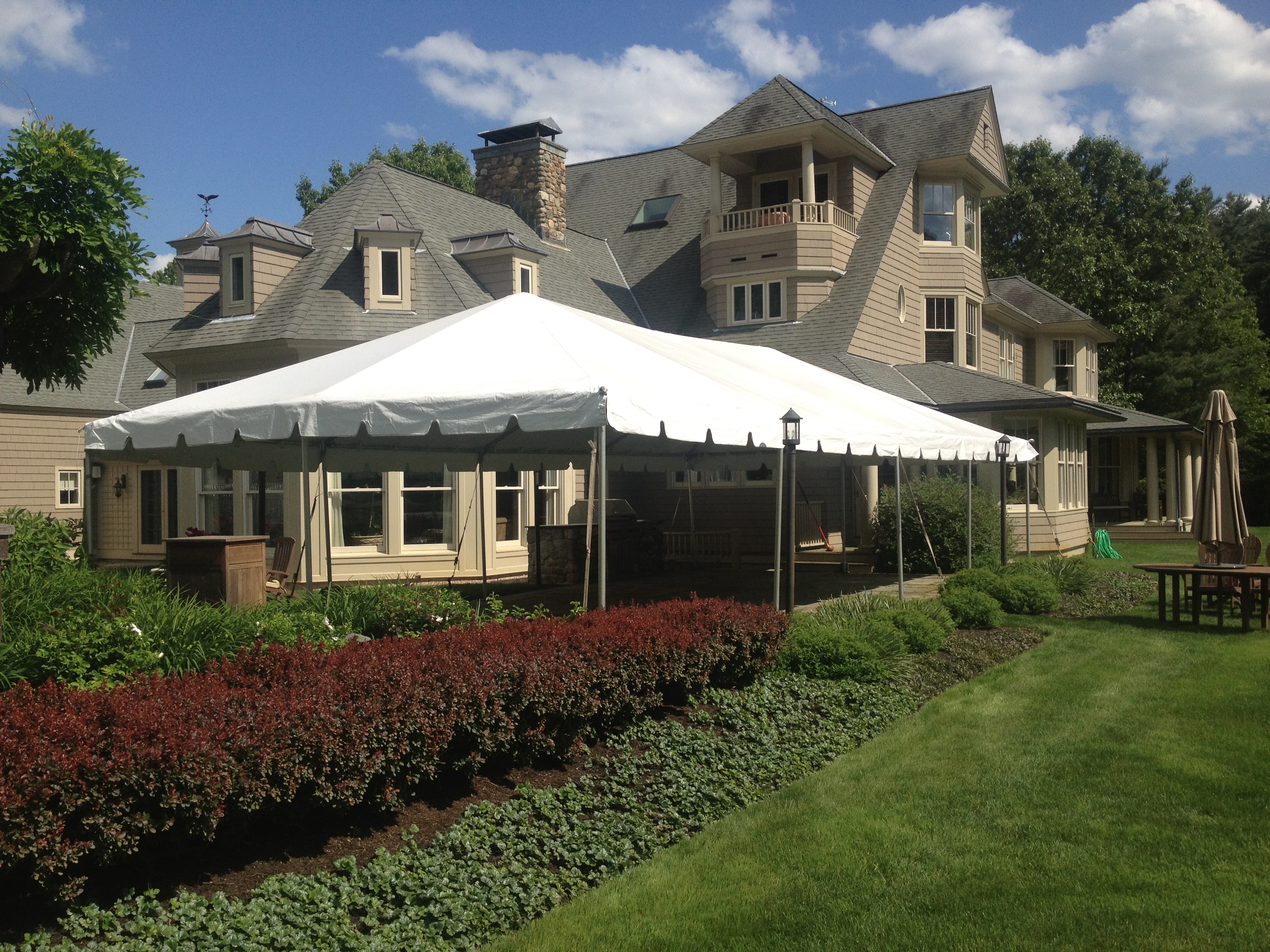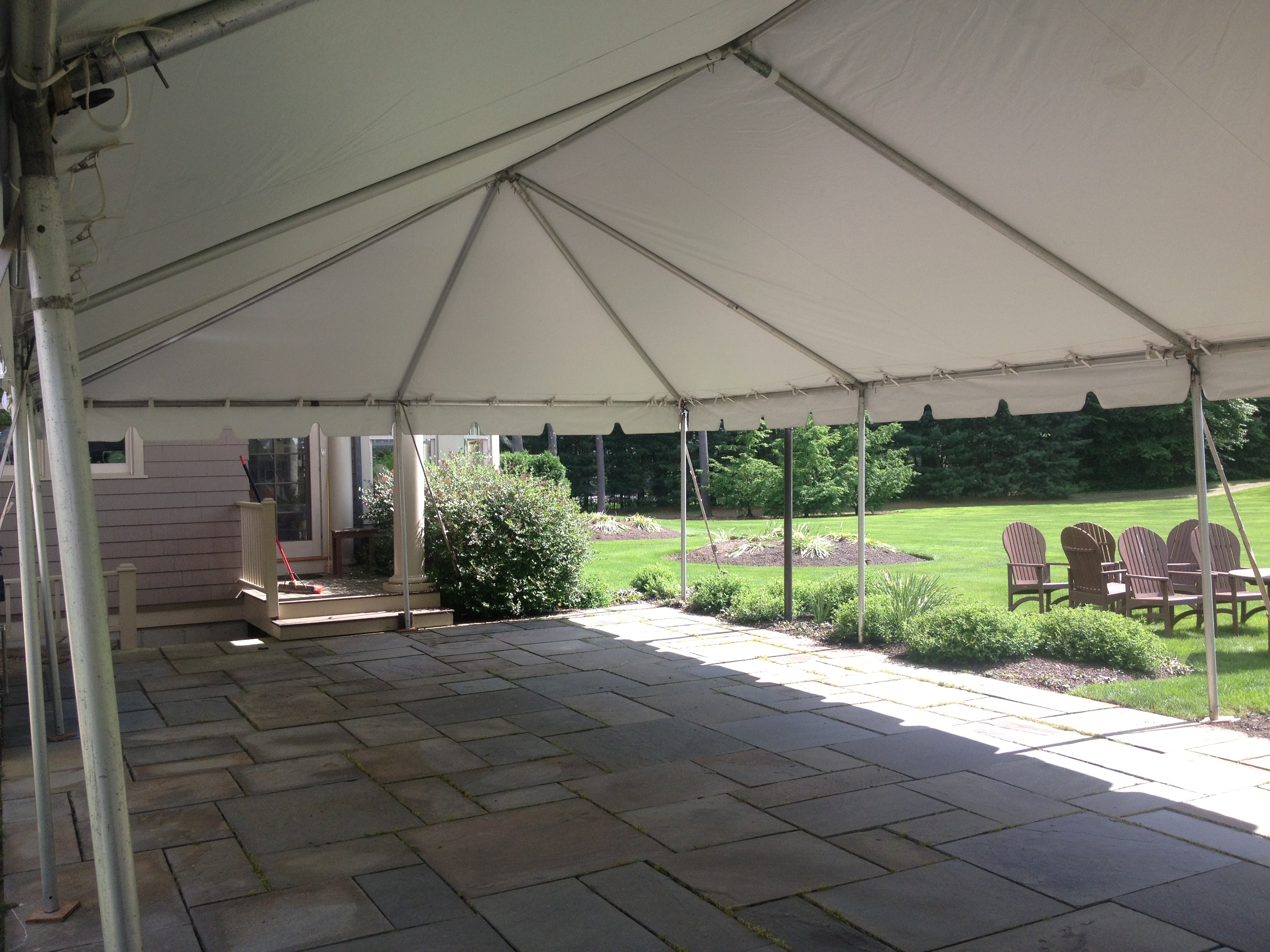 The stakes or weights on the frame tent can be installed close to the tent, creating more walking room around the tent and enabling it to be installed where there is limited space available. The frame tent is often used on construction sites where machinery might have to drive around and even under the tent. Frame tents are also commonly used on driveways, parking lots, or even on grass when customers prefer not to stake through the ground. We installed a 20′ x 40′ frame tent for a groundbreaking event in this time lapse video!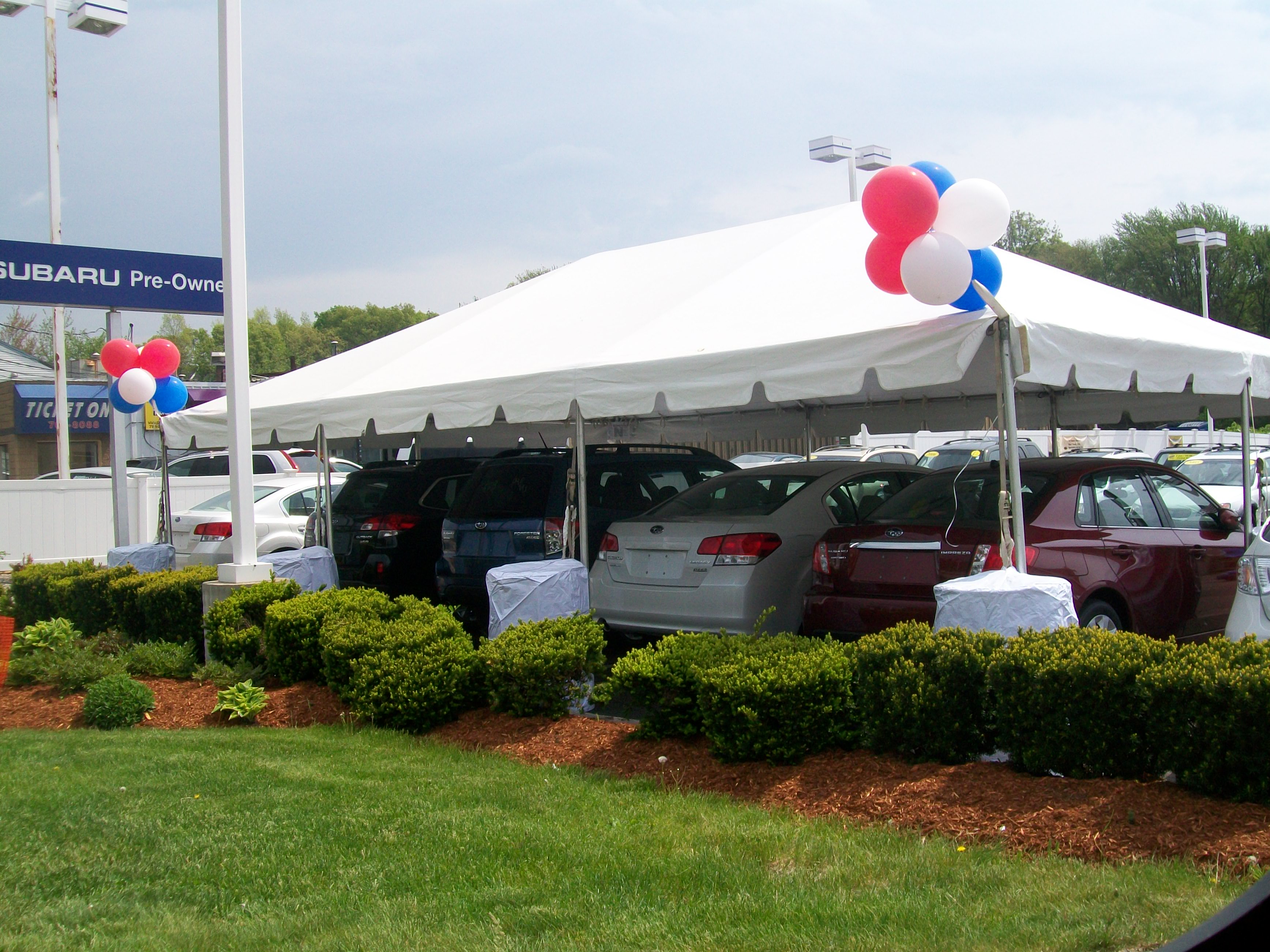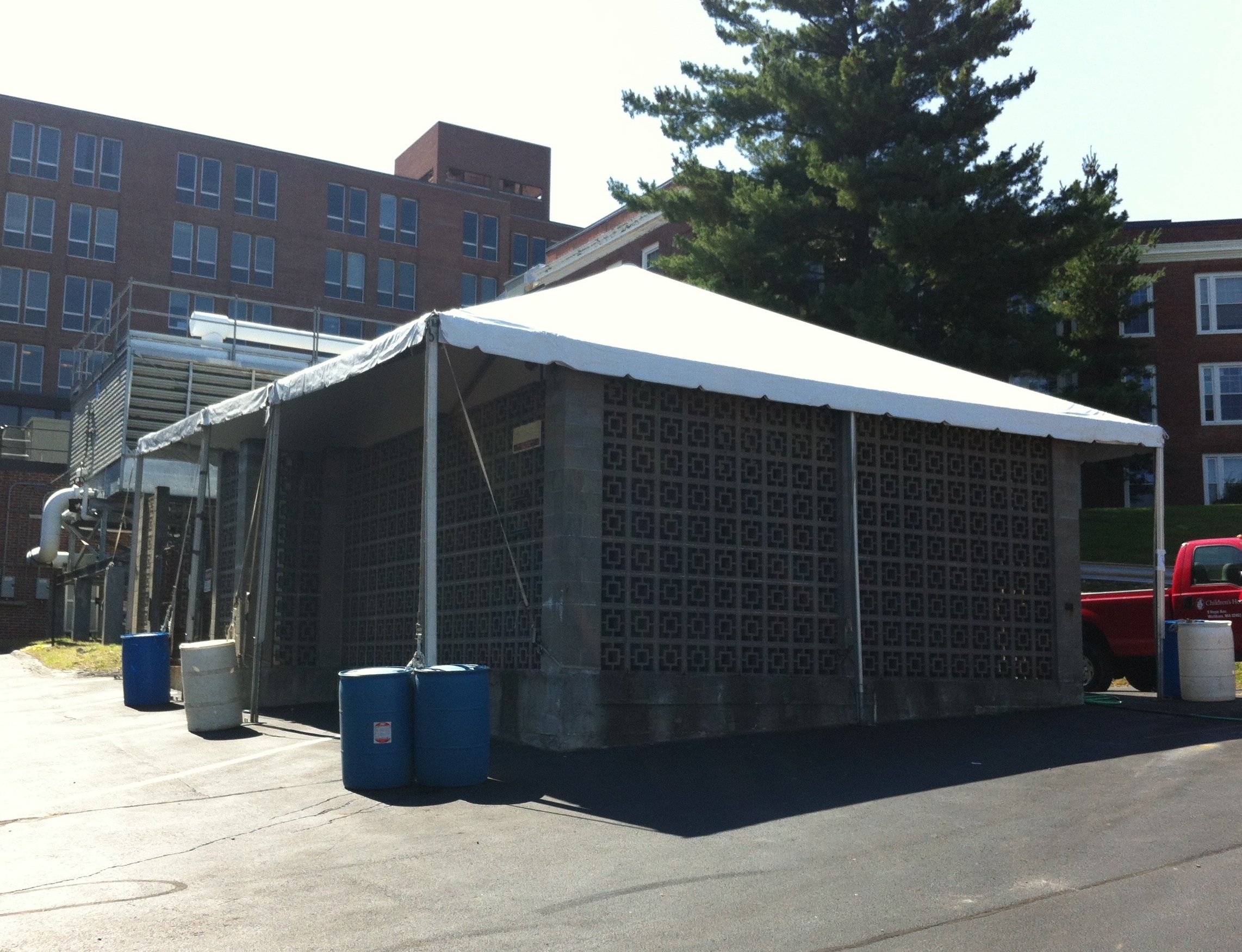 Frame tents are also used often for corporate events, commencements and weddings. Many corporate events or galas have a stage, screens, or presentations of some kind that guests are viewing. The lack of center poles means a great view from every seat and doesn't limit the setup inside (ie. placement of staging, dancing, tables, seating, etc.) Even when we install other style tents, the frame tent can be a great accessory tent for a bar, cocktail space, catering or food prep and more!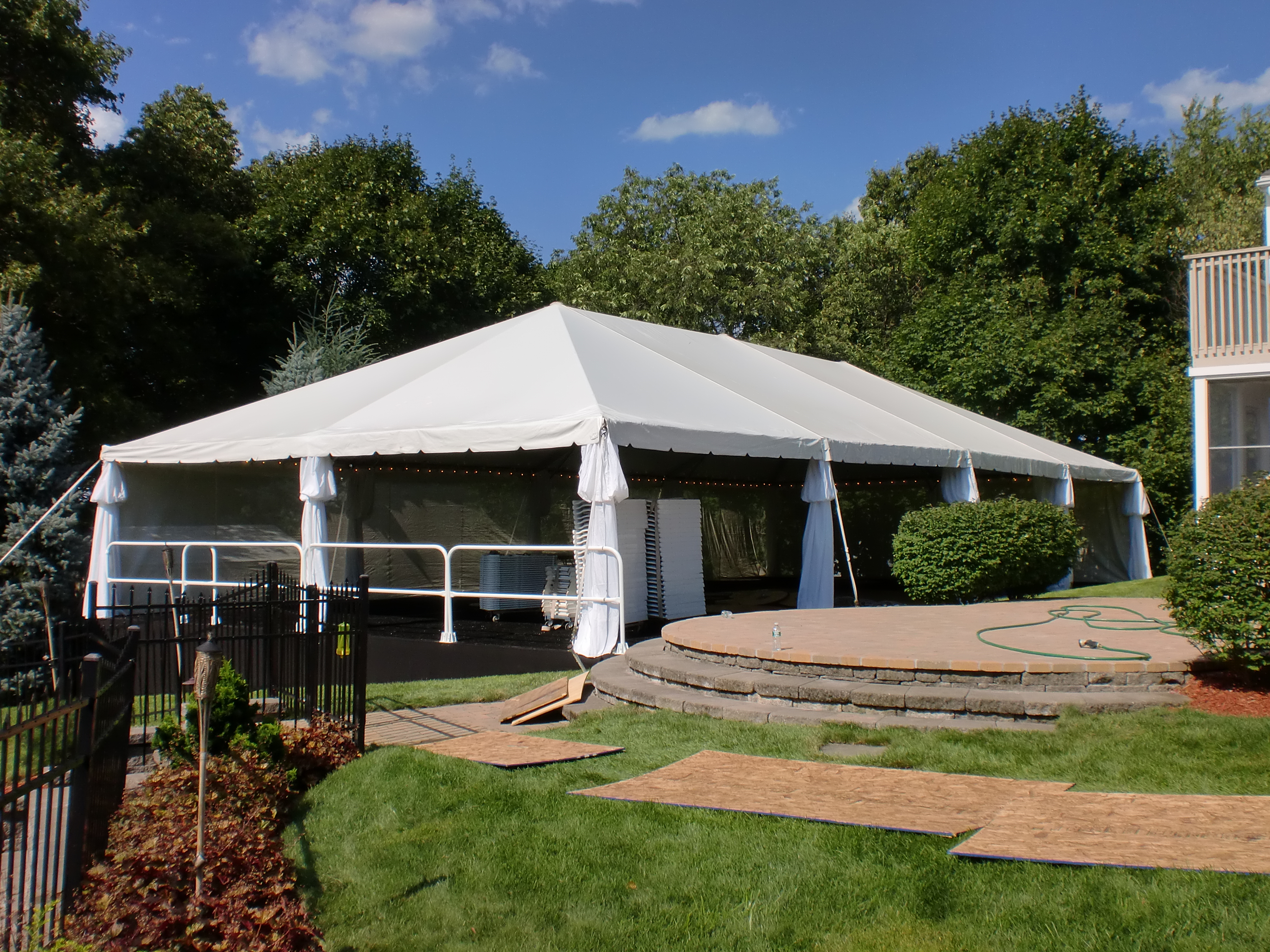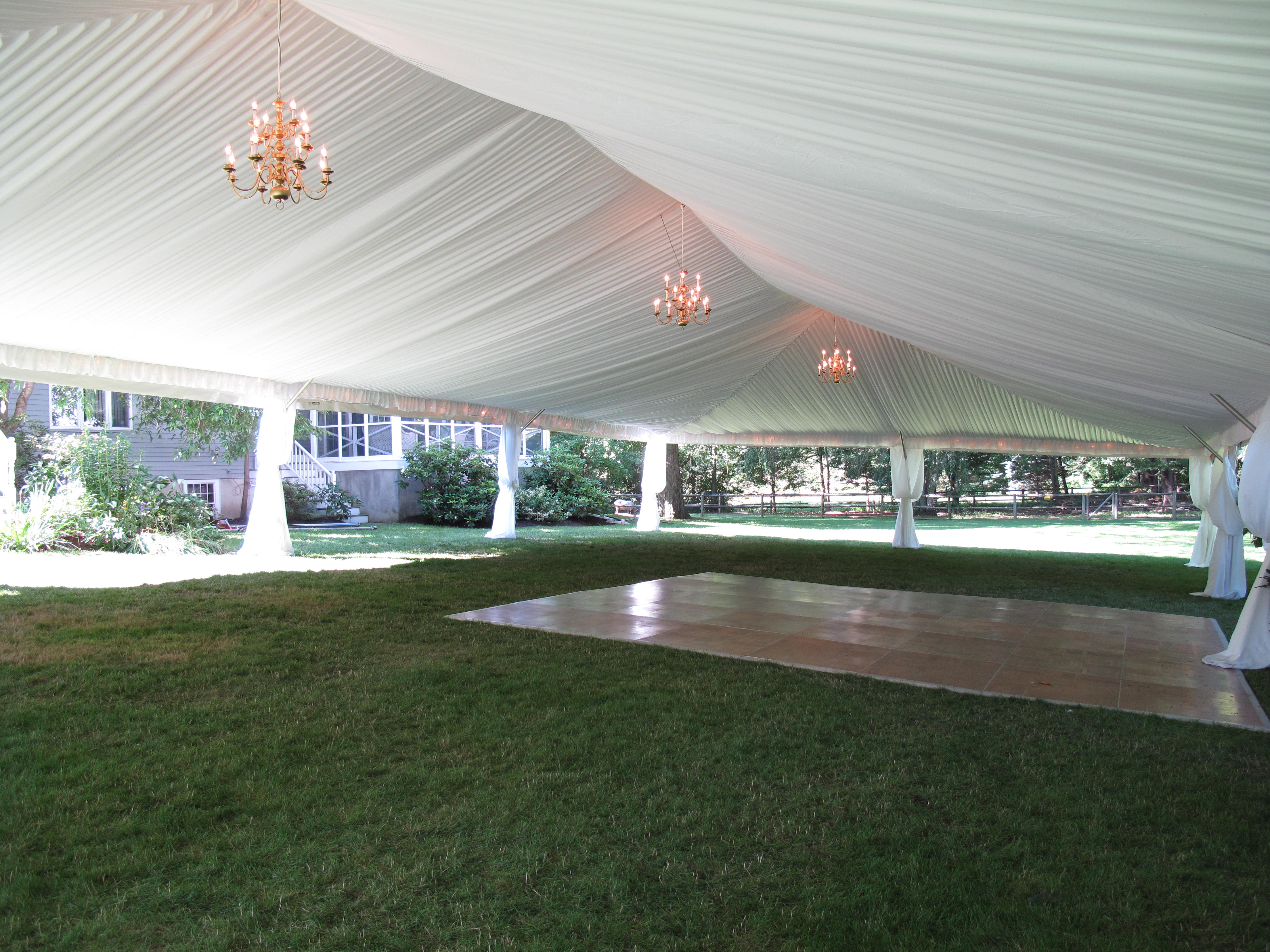 There are many ways to accessorize the frame tent. Most common is the gathered white tent liner. It is a silk-like fabric interior that is secured to the frame of the tent, hiding the frame and creating a soft look and feel. White leg drapes can be added to cover the side poles and complete the look! We offer a wide range of clear frame tents as well. The clear tents are amazing on a beautiful starry night, with accent lighting or surrounded by beautiful scenery. Our staff designed and fabricated some great custom drapery to accent the clear tent and hide the frame inside the tent.  Some clients choose to keep it simple and some love to jazz it up, either way we have the perfect tent for every event!
The Elegant Victorian Tent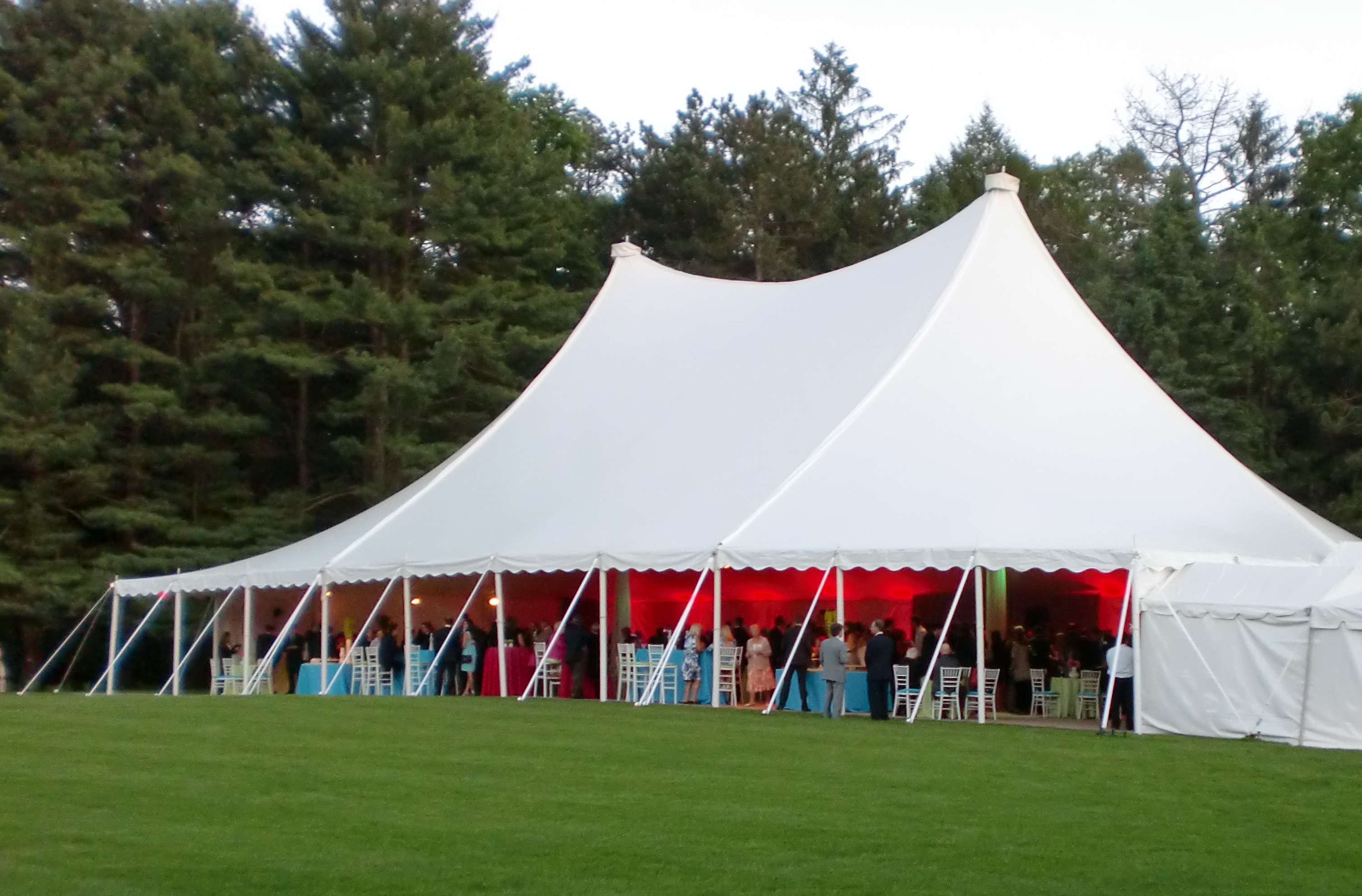 The Victorian Style tent offers the same benefits of the party tent with an added elegance. Often referred to as a Century tent or a High Peak Pole tent, the Victorian tents have exaggerated peaks giving them a grander appearance from both the interior and the exterior. The high ceilings and peaks are a great backdrop to create a majestic space for your event!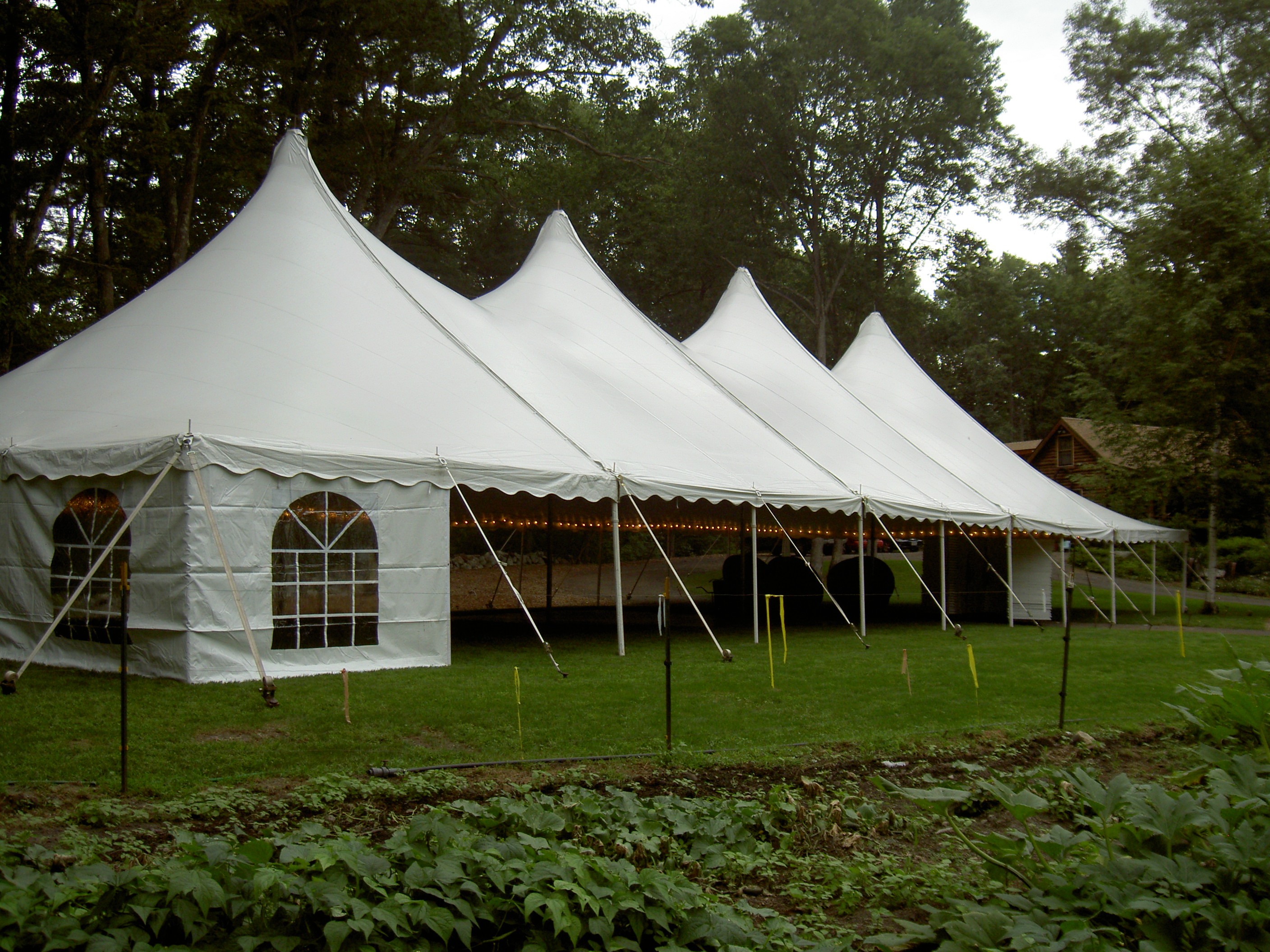 We stock sizes ranging from 20′ x 20′ to 120′ x 700′ in the Victorian style. These tents can be installed on grass or staked into the pavement. If staking is not permitted we can use concrete blocks or weights to secure the guy ropes as well. The Victorian tent is used for a wide range of events including weddings, corporate events, galas, auctions, fundraisers, church festivals, and commencements.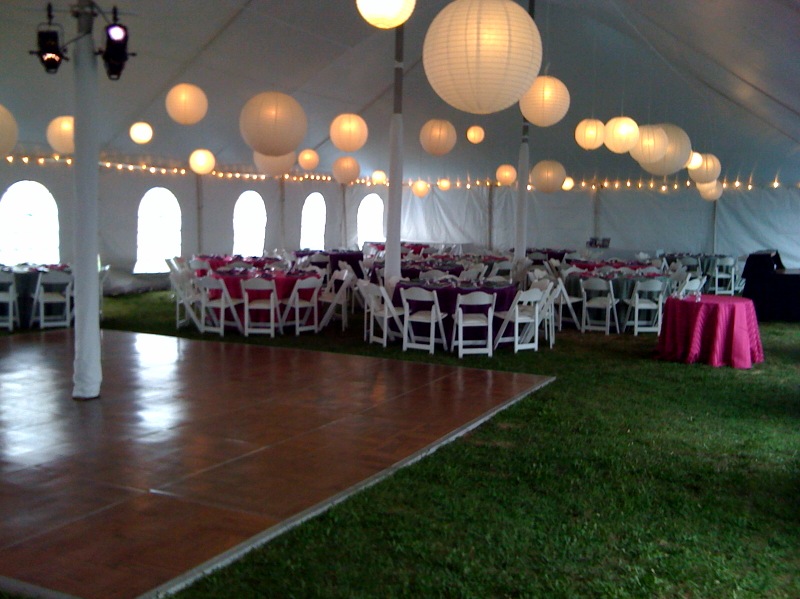 The Victorian tent has a very clean, seamless interior. It it is supported by large center poles, side poles, and guy ropes. Unlike the frame tent with an aluminum pipe interior, the Victorian tent is an empty canvas. Many clients will project images or monograms on the fabric of the tent, or use other lighting such as paper lanterns or string lights to enhance the sleek style of the tent.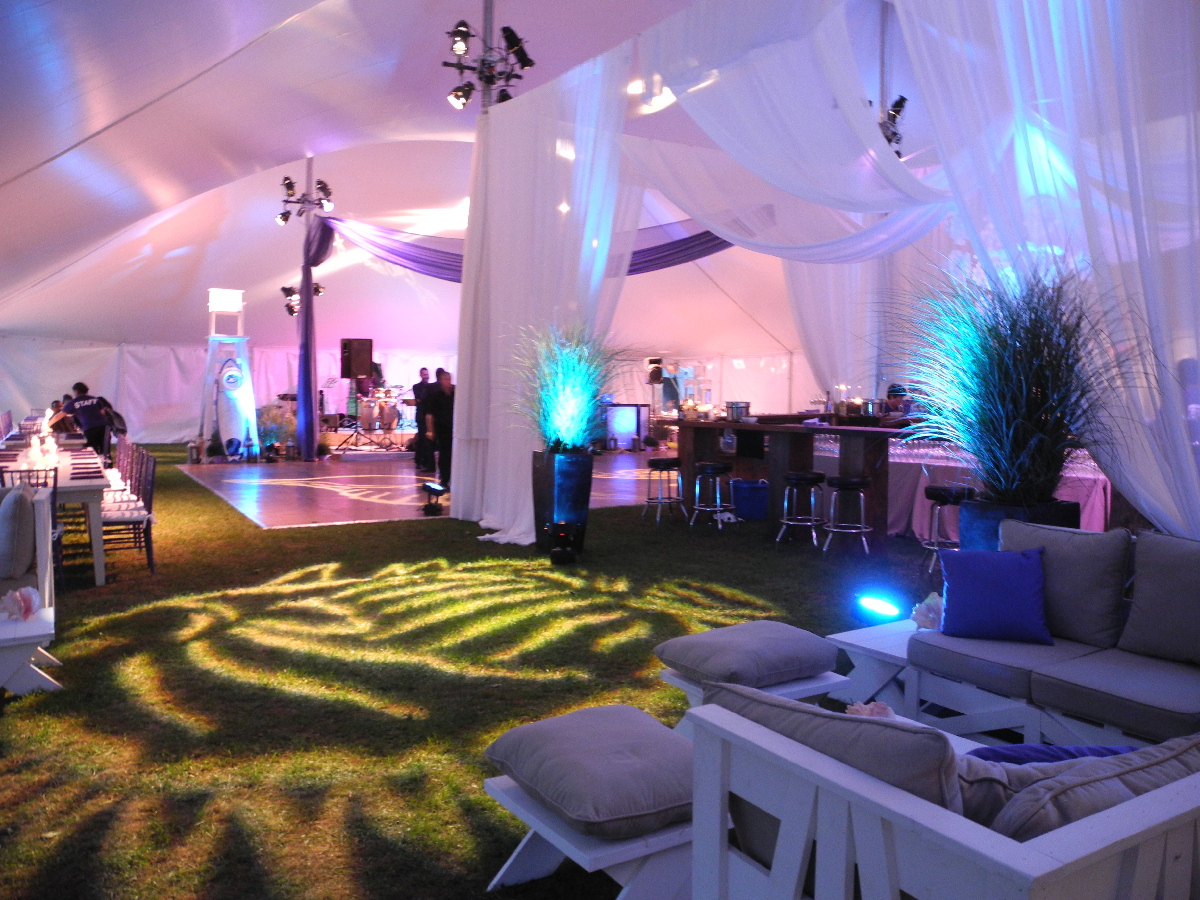 There is no limit to the accessories, enhancements and decorations that can be added to the Victorian tent to create a space unique to your event and style. We have white sheer leg drapery that can be installed on the center or side poles. Some of our clients use greenery, ribbon, fabric, lights or other accessories to enhance the poles, while others choose to leave them as is and let them blend into the rest of the decor. In our years of experience we have seen some very impressive transformations to our tents. You can check out more photos on our Facebook Page or on our Website!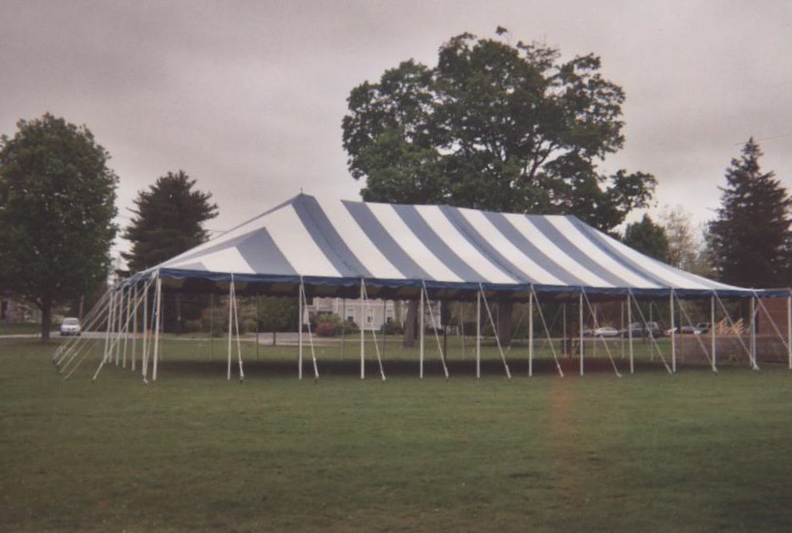 The Party tent has the ability to essentially become an outside room with the addition of sidewall. It is a pole style tent which means it has center and side poles for support like a basic canopy tent; however we have larger party tents available for rental. The party tent also must be staked into the ground and requires additional space to be secured.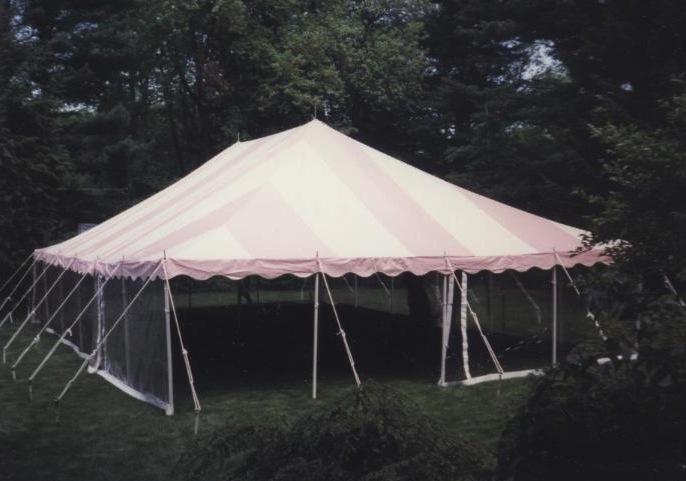 Having the ability to add sides to a party tent substantially increases the functions of the space. You may choose to enclose the tent on all sides and heat the interior or perhaps just shelter your guests from rain, wind or other elements. The New England weather tests us with not only heavy rains, but snow storms, hurricanes, high winds, even tornadoes!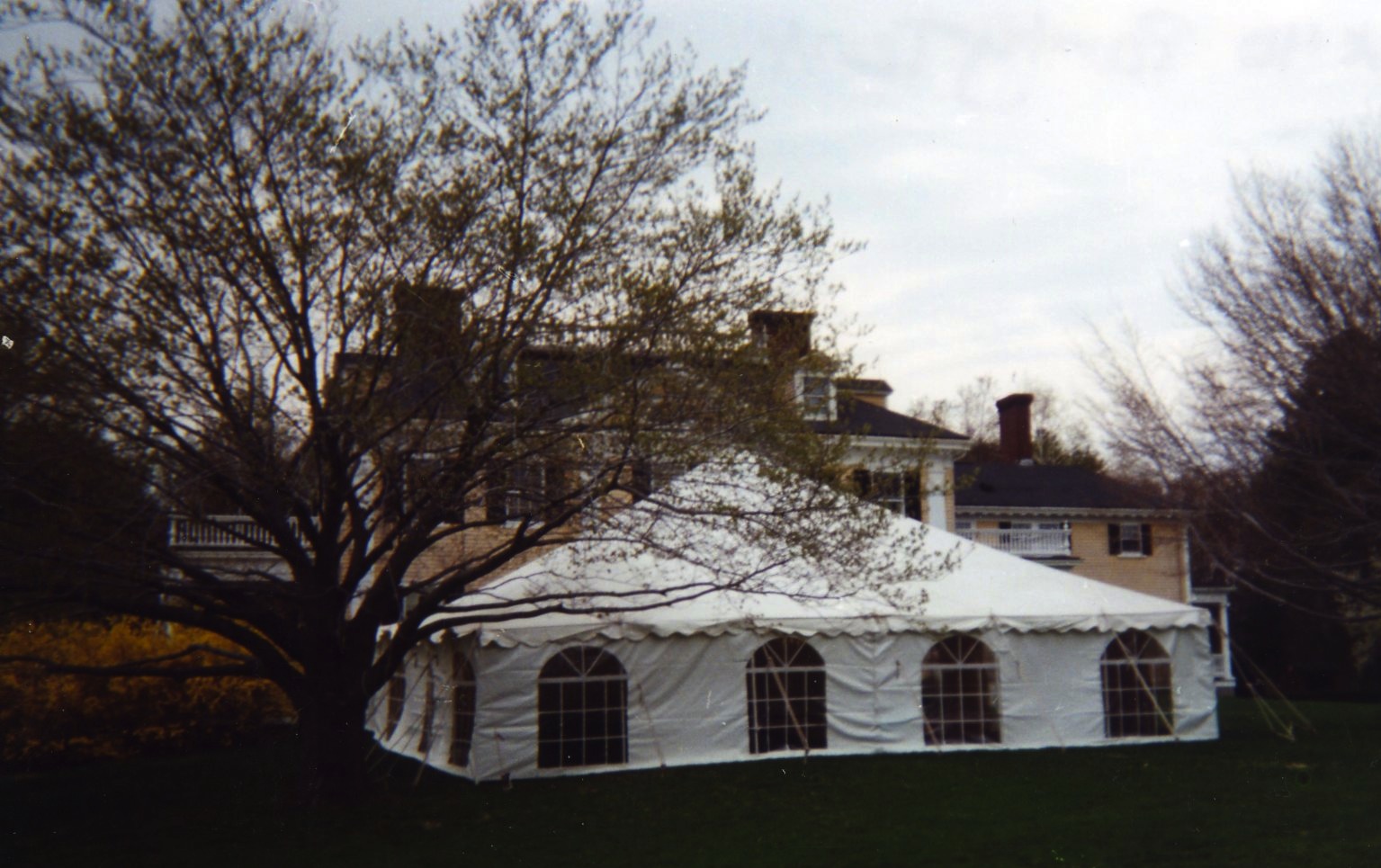 The tent does not feel enclosed with clear or window sidewalls as an option. Solid white sidewall can be great as well to serve as a backdrop, block the view of the street/neighboring property and it saves money. The clear is great to still feel connected to the outside space or perhaps to expose a beautiful view. The cathedral window wall has the perks of both the clear and the solid wall, while also adding a charming character to the tent!
Choosing the Best Tent for Your Event!
There are many different styles of tents to choose from when you are considering a rental for your event. Many variables play a part in deciding which tent is best suited to the event space, the theme and any additional rental needs. It can seem overwhelming when we begin to explain the different styles over the phone, as it is a lot of information to consume. I want to try to make it a little easier to understand, so I'm creating a short summary of the different tent styles we offer.
I have always found that explaining the most simple tent style first, and making my way to the more complex styles works well, so I'll start with the Canopy. The Canopy style tent is only the tent top, it has no sidewalls. It is very economical if you are simply looking for a little shade, rain cover, or ambiance! The Canopy must be staked into the ground and requires 4-5 additional feet on all four sides for staking. (Ex. A 20′ x 20′ canopy requires a 30′ x 30′ space).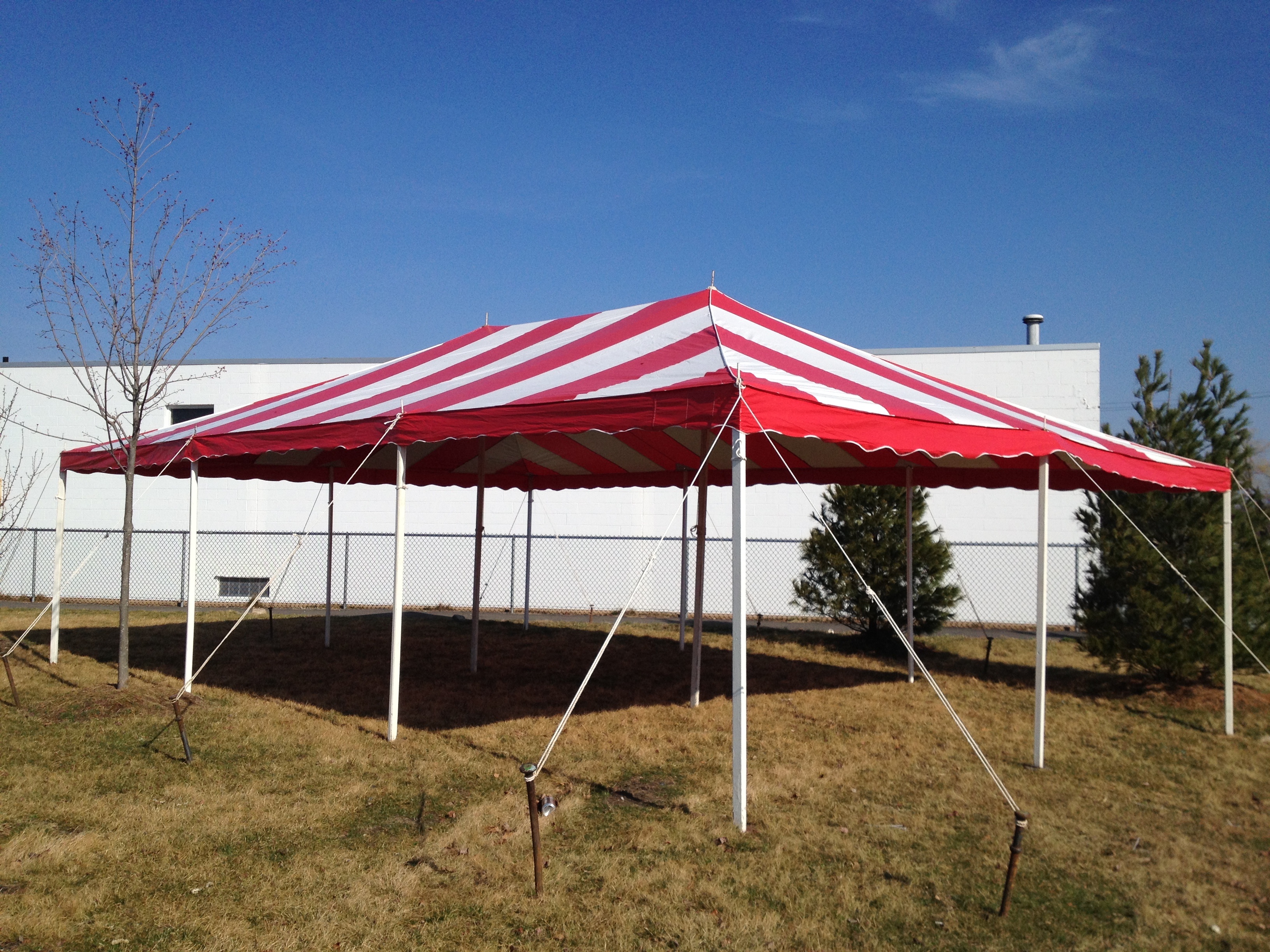 We offer customer pick options as well, which is great if you are trying to keep the cost down. You can pick up your tent (and furniture, linens, etc.) a few days before the event and return a few days after. This flexibility gives you ample time to setup and breakdown, rather than rushing around to get ready for your event and to return the equipment. The top is in a canvas bag about the size of a large duffel bag and the poles break down to fit in any size car. We offer (4) canopy sizes that can accommodate up to 80 guests.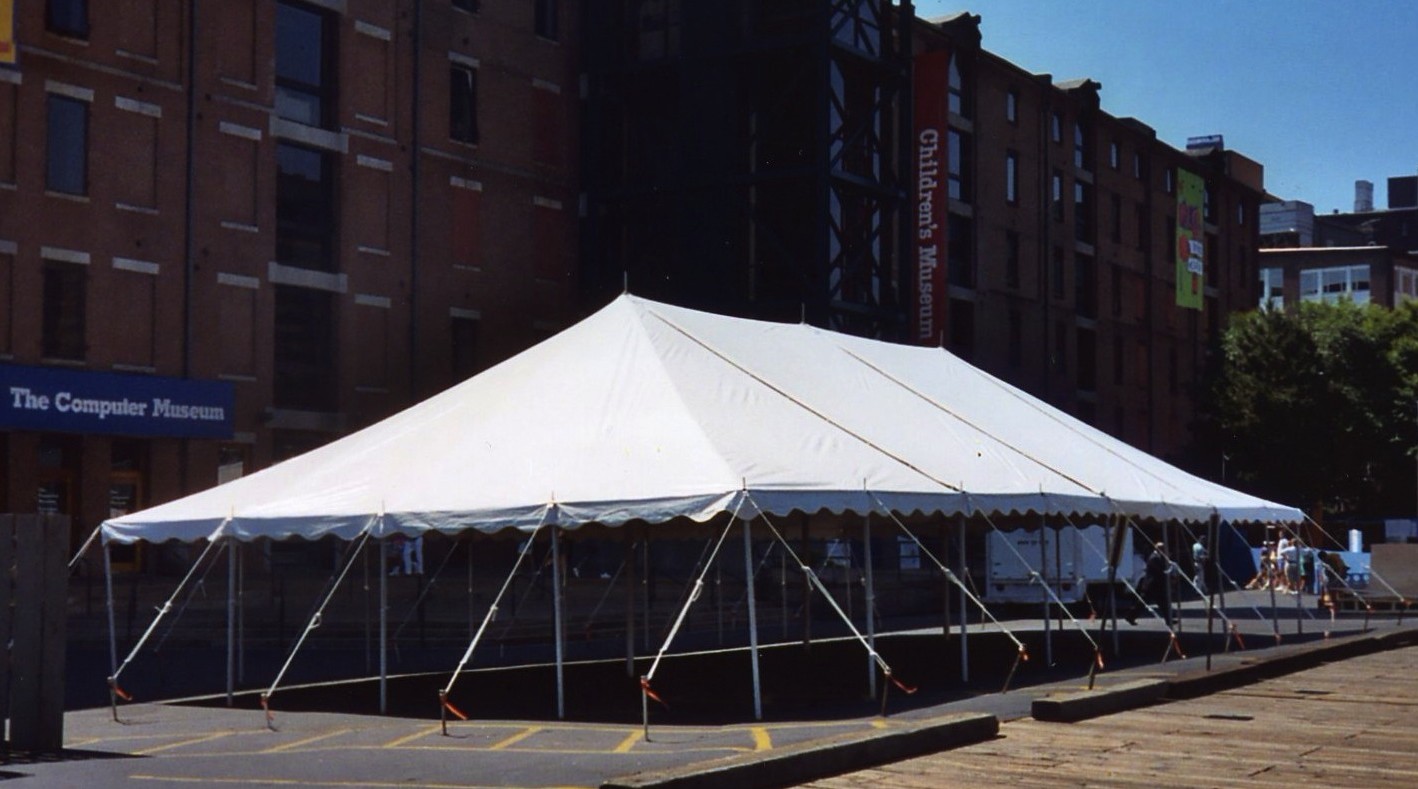 If you would like sidewalls or need to accommodate more people or equipment, the Party style tents are great to choose from. The Party tent is similar in style to the Canopy but is not available for customer pick up. With larger sizes available, the Party tent can host events for hundreds of guests. Our installers use solid wood side poles to ensure the tents are strong enough to handle the additional structural load as a result of the sidewalls exposure to the wind. You may choose to hang sides on all or just a portion of the tent. The sidewalls are available in solid white, cathedral window, clear or mesh.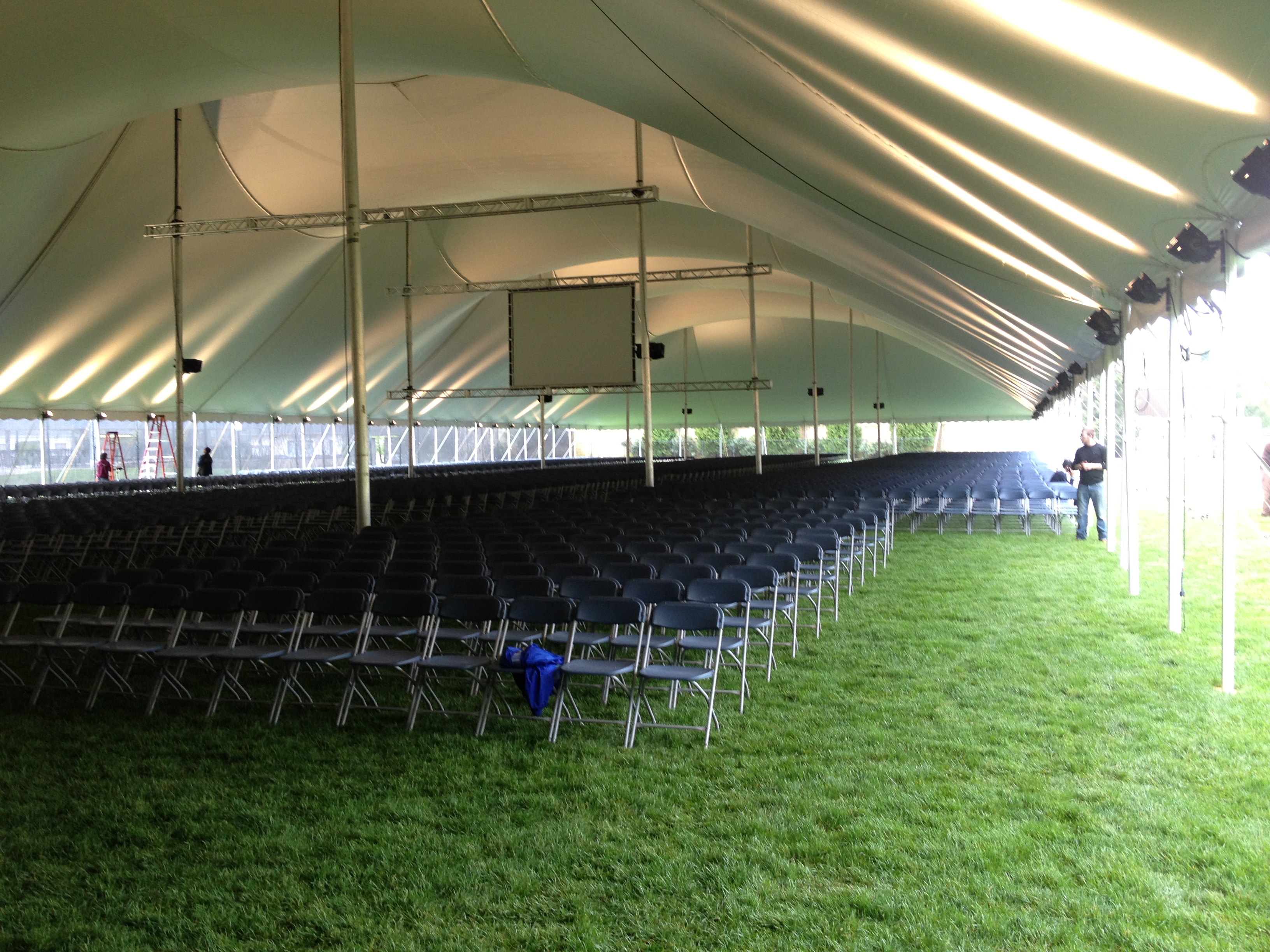 The Victorian style tent is similar to canopies and party tents in that it is also a pole style tent; however it is more elegant with its exaggerated high peak pitched ceilings. It is great for a variety of events from showers and weddings to large festivals, commencements and corporate events. Atent for Rent has a vast inventory of Victorian style tents, allowing us to rent hundreds of thousands of square feet at a time. I think the Victorian style is probably my favorite, it has all the elegance and grandeur that a tent should have with the great high peaks and clean, frame-free interior! Victorian tents also require additional space for the guy ropes and staking like the canopy and party tents, but the Victorian tent can secured with concrete weights if necessary.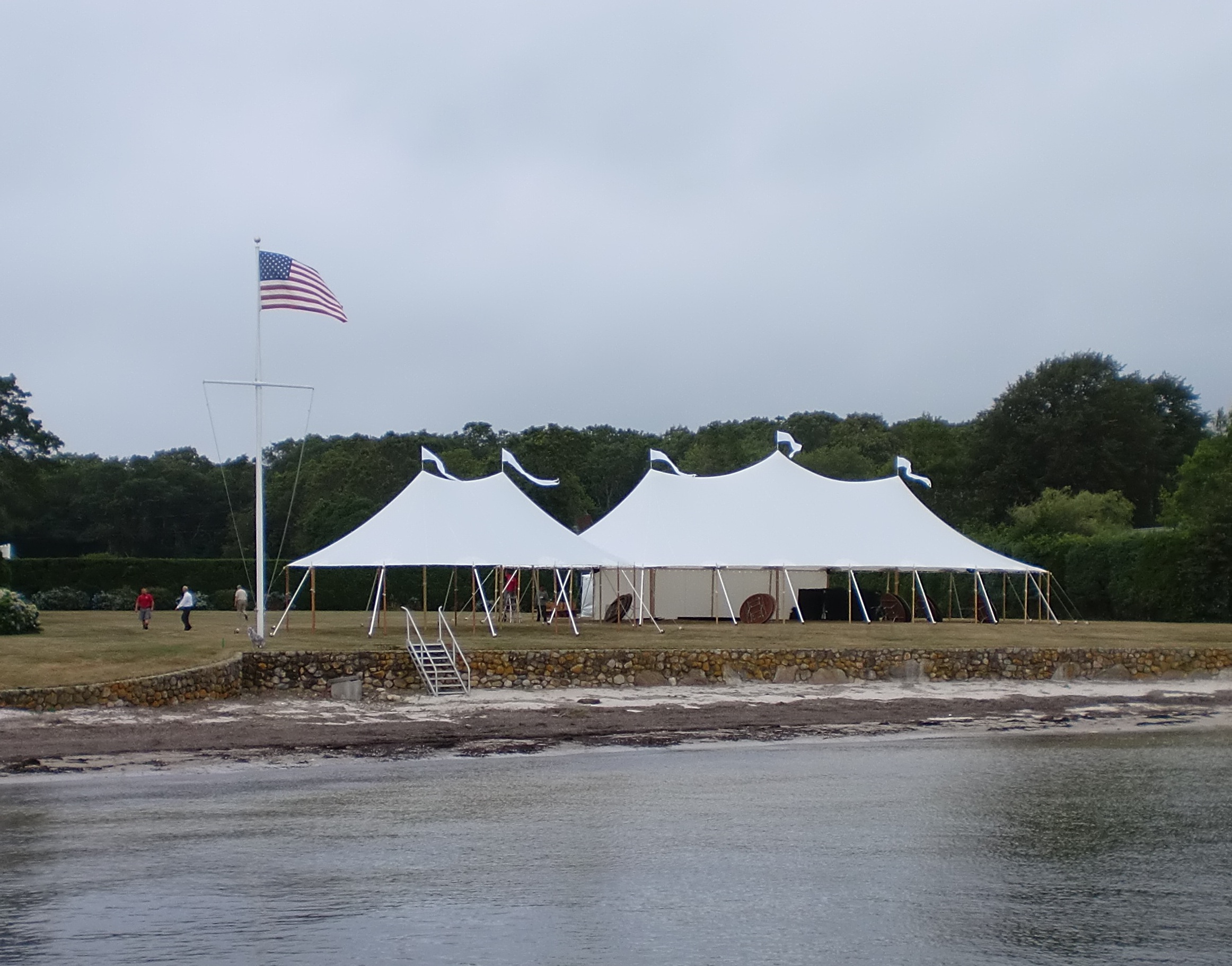 The Sailcloth style tents are similar to the Victorian style, also having guy ropes, center poles and high peaks. Sailcloths have no valance on the perimeter and have a natural feel with the cloth top, flags on the peaks and natural wood poles. The Sailcloth tent top is a translucent cloth material great for projecting lights and letting natural light through; but offers less water resistance in soaking rains than our other style tents with their traditional vinyl tops.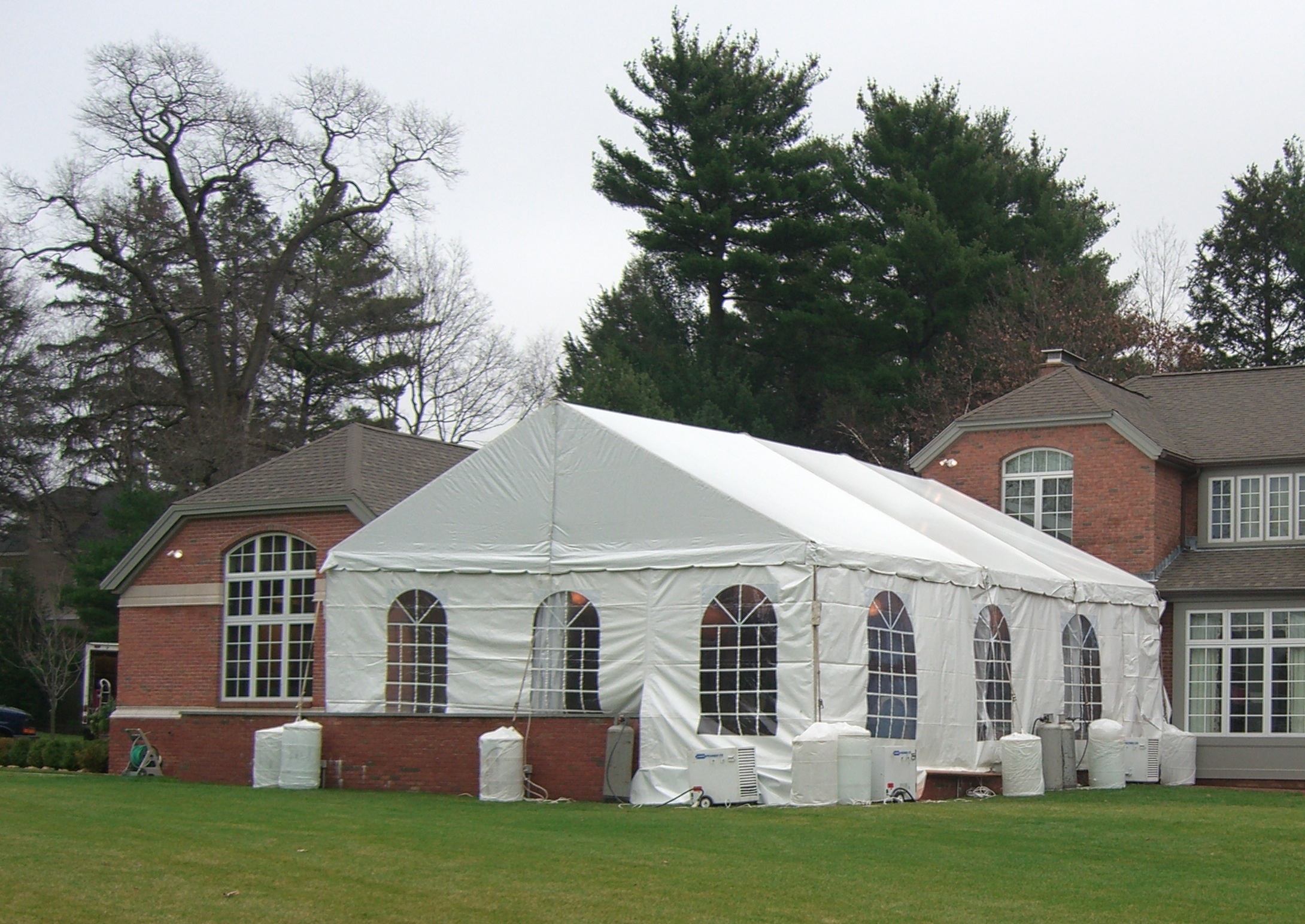 The Frame style tent is ideal when there is no extra space for guy ropes, if you can't stake or when installing in custom locations such as: decks, patios, rooftops, construction sites, up against other structures, buildings or tents, even on large boats! The Frame is typically built on the ground, skinned with fabric and raised into place. The freestanding metal structure supports itself and does not rely on the tension of guy ropes to keep it standing. It can be staked into the ground, anchored to inserts, tied off to weights or in many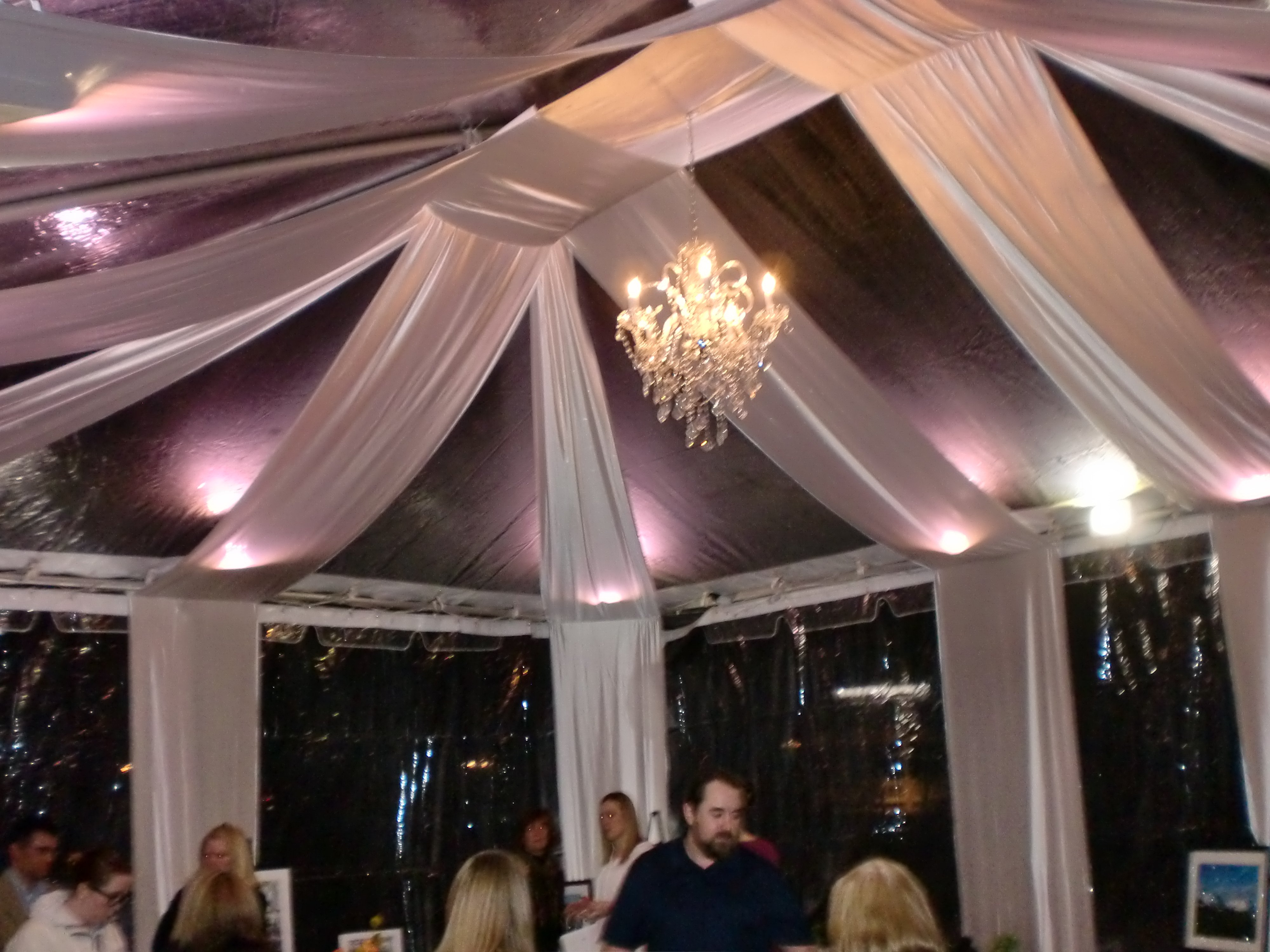 cases a combination of securing methods might be used. The Frame tent has no center poles allowing more flexibility with the interior layout. It also makes them great for tight spaces, maximizing the space inside of the tent, and increasing mobility under the tent for construction sites and catering tents. Frame tents are more sturdy than other styles and can handle high winds and heavier snow loads. We also have a large inventory of clear top frame tents!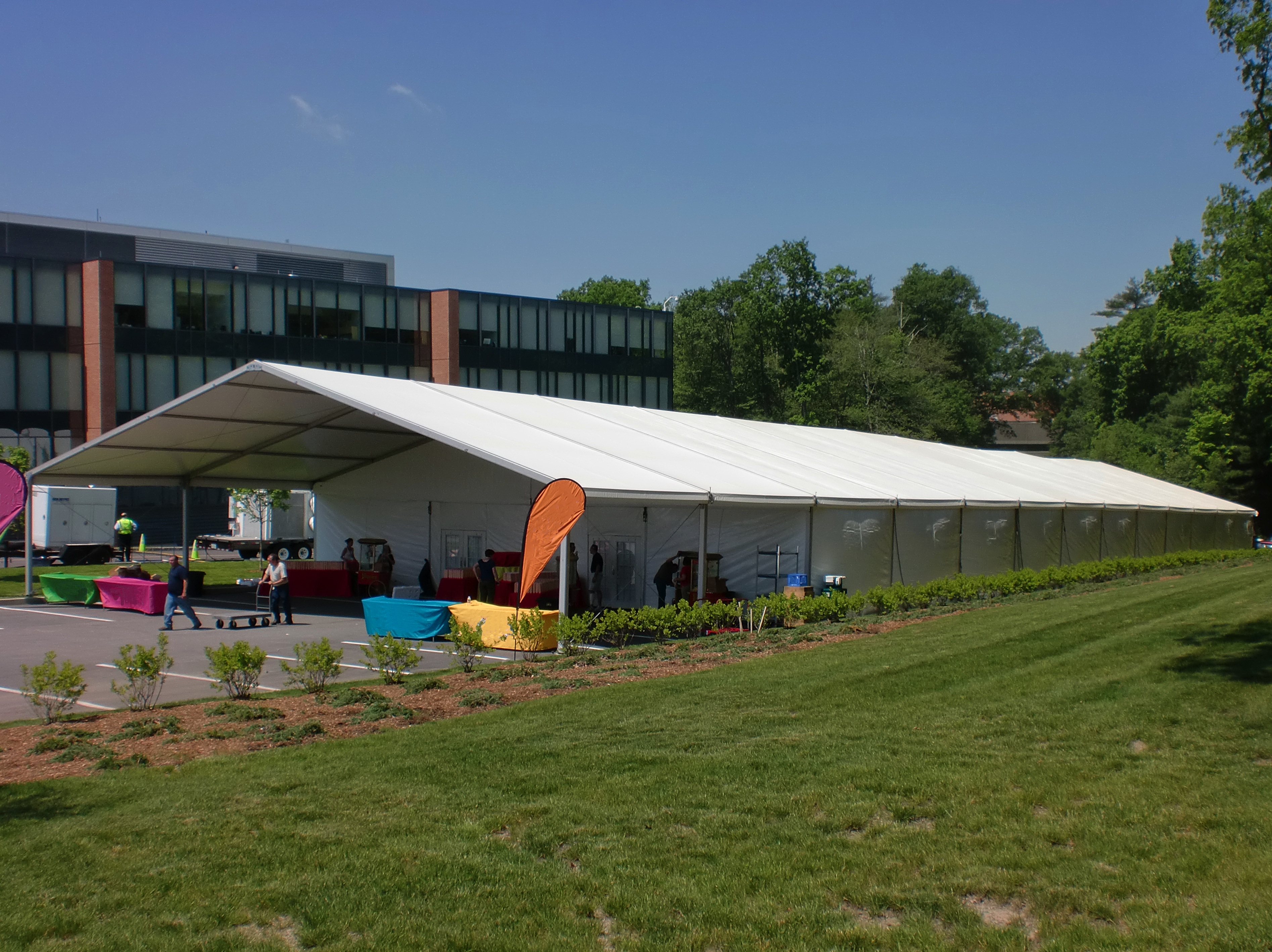 If you need to go even larger than the frame tents, the clearspan structures might be the best option. We use them often for commencements, weddings, corporate events, construction sites and long term installations. The clearspans are built with gable ends and have a basic "A" frame interior comprised of heavy duty metal construction. Our crew builds one bay at a time and raises it into place. You can check out the process in this time lapse installation of an 82′ x 148′ structure they installed this past April.
The marquee style tents are great to enhance an entrance, to connect tents to buildings or each other, to cover walkways, or can be used in smaller spaces, like decks, patios, or even to cover a port-a-toilet! We have simple pop-up tents, umbrella tables, Victorian frame tents, pavilion style tents and more! Check out our website or call us for more information!